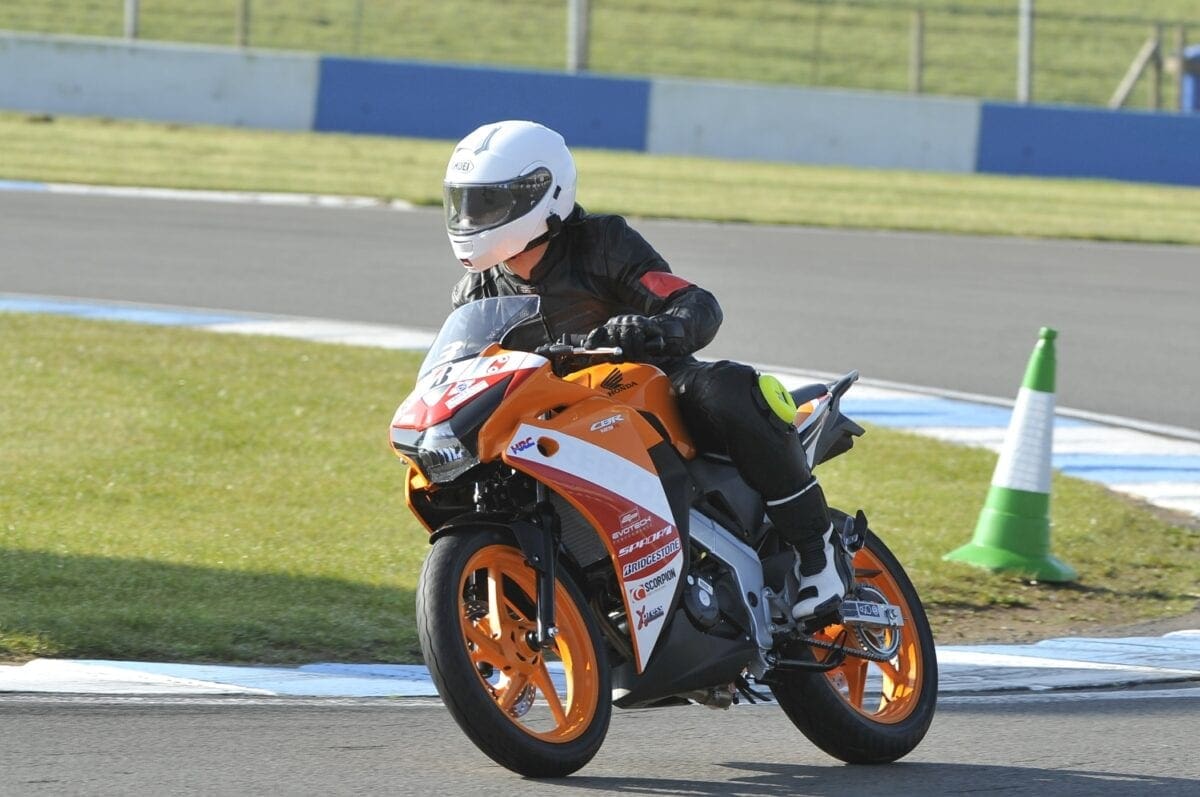 Ron Haslam Race School helps riders become faster and safer.
Where do you go if you want to improve your road riding? On track! It might sound like running before you can walk, but there's a lot to be said for improving your road riding skills on a race track. First of all, there are no other road users, distracted by their phones or car radios, just bikers concentrating on what they're doing. Secondly, the tarmac is as smooth as it gets and there's no road furniture to get in the way, so focusing on riding is easy. And finally, at the Ron Haslam Race School you can arrive on a push bike in your Panama hat and flip-flops if you like; they'll provide the bikes and all the kit from leathers to helmet and gloves to boots.
Ron Haslam had a hugely successful career as a bike racer himself, so he knows what it takes to go round a track fast. He's brought his racing knowledge to the Donington Park-based race school to offer a safe environment in which people can hone their riding skills. His instructors are also experienced racers and riders of high calibre, and on some training days you might even see some of the current British Superbike riders making cameo appearances. The team behind the school is top quality.
WHAT'S ON OFFER?
The school offers various levels of tuition, starting from the 'On Track' days that combine a bit of track riding and various bike control exercises. Since I'm a complete track novice, I opted for this package, leaving the more full-on track options for later visits. I also took full advantage of the kit provided, so I could arrive without too much clobber.
The school works closely with Honda, and the bikes on offer for customers are all from the Japanese manufacturer. I opted for a CBR125R, which is the smallest machine on offer. I figured that being a beginner I would benefit from a bike that is a manageable size and won't get me into too much trouble. For more experienced riders who want to tackle the corners with more speed, there are various different bikes on offer, all the way up to the fire-breathing Honda CBR1000RR Fireblade.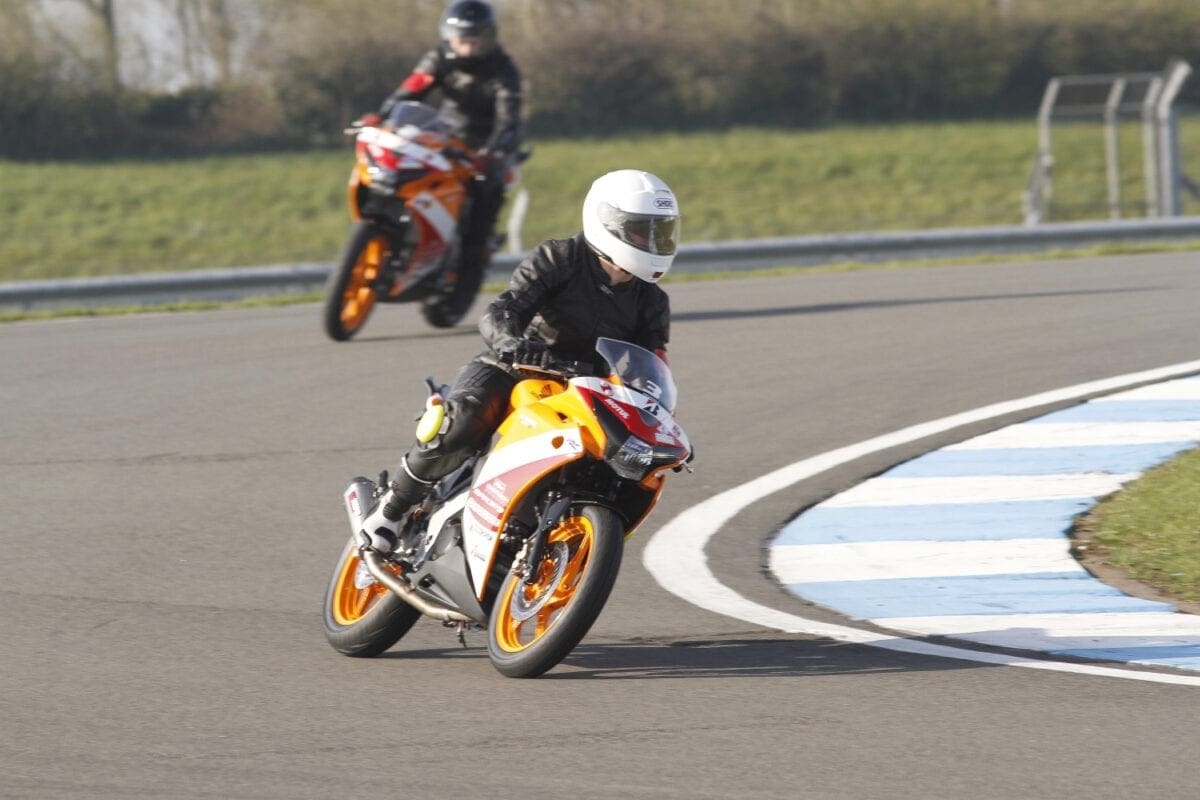 FIRST THINGS FIRST
Having never been on track, I didn't really know what to expect. Most people who are into racing have heard of Donington Park and Ron Haslam (although these days it's his son Leon who gets more of the racing news headlines). But as to what actually goes on a race school day, I had no idea.
I arrived nice and early for my 8am sign-in, competed the paperwork and grabbed a cup of coffee. It's an impressive set up: there are rows upon rows of brand-new Honda bikes, a clothing store, a cafe and a couple of screens showing footage of Ron in action in his racing days.
At 8am sharp we were called to get our kit. You can use your own gear if you like, but I went for the school leathers and boots that were available at no extra cost, keeping only my own helmet and gloves, although those are available too, if needed.
Once I had managed to squeeze into the one-piece leathers and looked remarkably like a Power Ranger, it was time for the first briefing. Our instructor, Clive, talked us though the track etiquette, what the different coloured flags meant, and what to do if we got into any trouble while out on the track. It was all pretty simple stuff, but I was so excited to get on the track that I had to keep telling myself to concentrate and pay attention to what they were saying. After a quick run through of how the day was going to pan out (first half an hour on track, then bike control exercises at the side of the track) we were done with talking and ready for riding.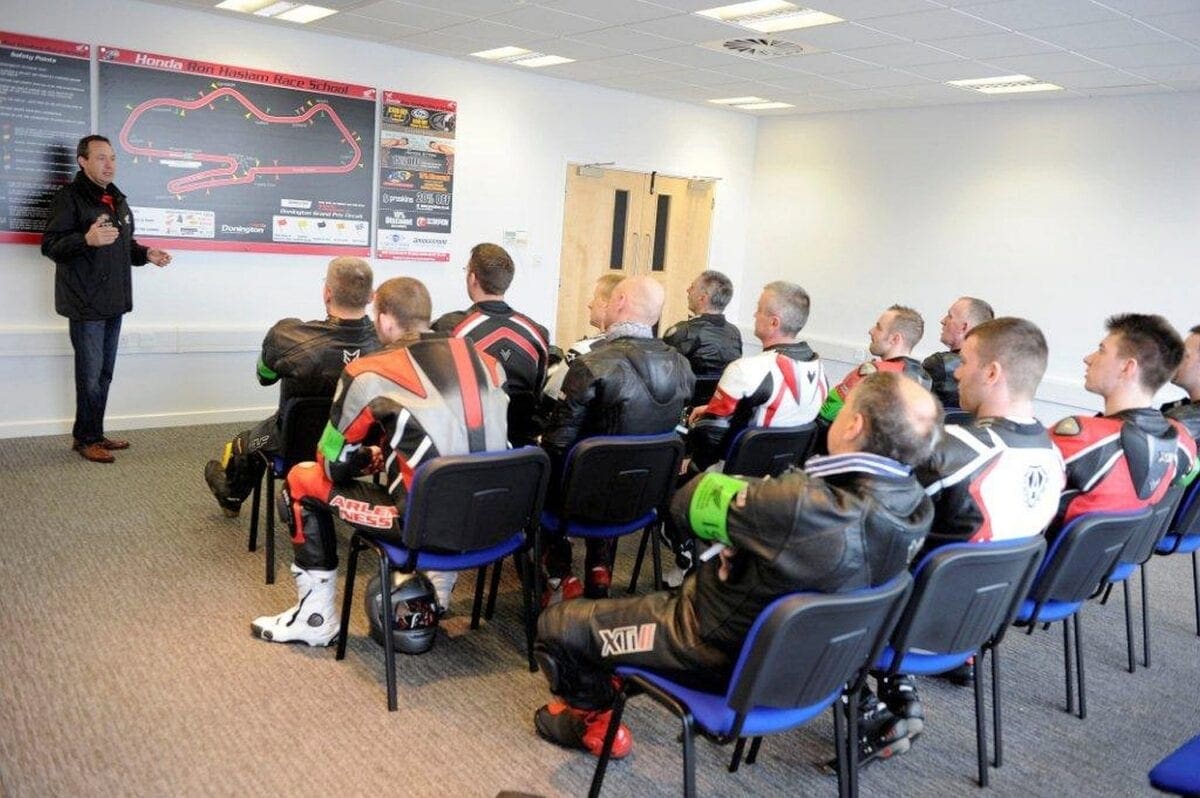 ON TRACK
The first group of the day to get on track was us 125cc riders and a group on 500cc CBRs. The faster guys on bigger bikes had to wait for us to have our fun first. I got allocated a nice CBR125R in the Honda Repsol colours. Climbing on the bike at the paddocks of Donington Park was a great feeling. Such an iconic track, and I was going to be riding it in glorious sunshine.
There were two learners to every instructor, with the instructor setting the pace at the front and us following as best we could. My instructor Derek explained that we would do a few laps, then pull in for a quick check that we were happy with everything, and then head out for a bit more.
The first lap was a slow one, so that we could get used to the bikes and the features of the track. The second lap was a bit faster, the third one even more so, and before I knew it I had the Honda pinned on full throttle. The weird thing was that it felt like the most normal thing to do. We were not fast by any racing standards, but fast enough for me to experience the thrill of speed, and to enjoy it without having to push myself so much that it became frightening. After a few laps we pulled-in and Derek encouraged us to move our bodies more on the bikes, shifting our weight to the inside of the corner so the bike didn't lean so much. Back on track and I was trying to push myself to lean into the corners, looking into where I was heading. At first the movement on the bike felt a bit forced, but soon it started to flow a bit more, and as we clocked more laps I started to edge my knee towards the tarmac more and more, gaining pace and feeling nicely in control.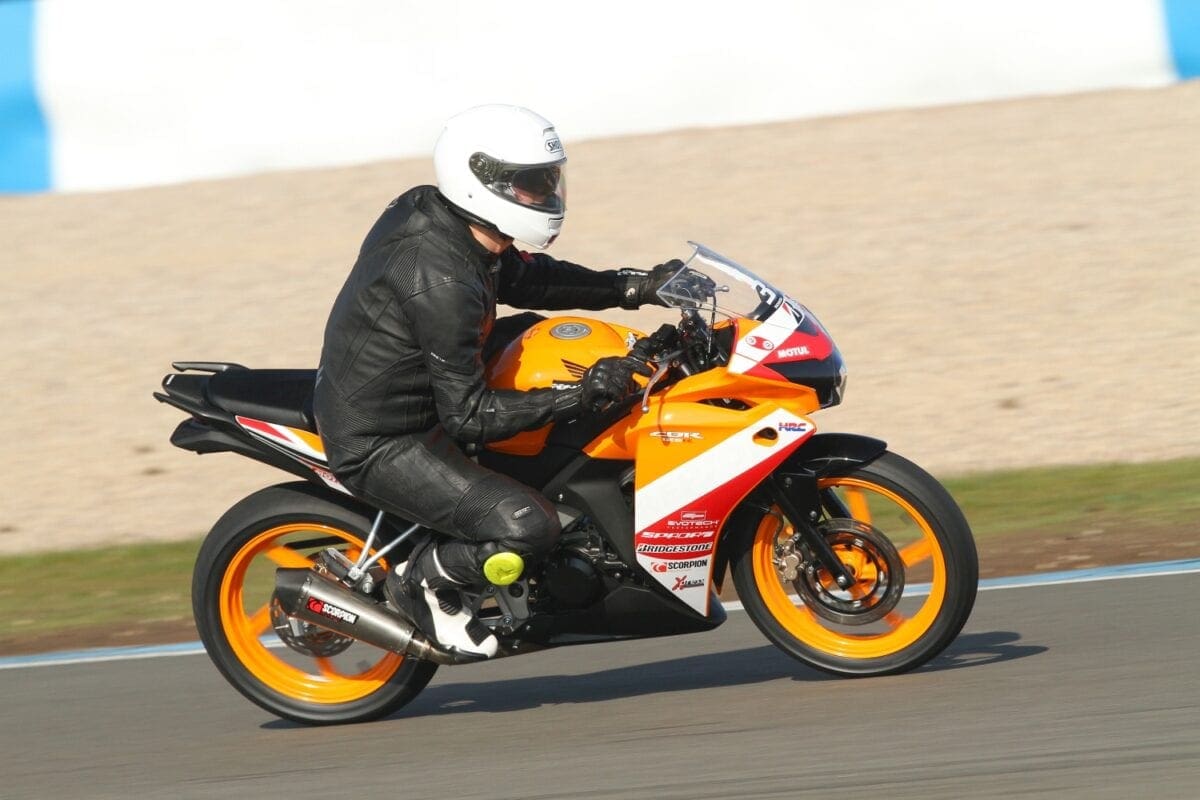 BACK TO SCHOOL
We had a good few laps on track, but it seemed to go all too quickly, and before I knew it we were back in the classroom for a quick debrief and a summary of the exercises to come.
For the exercises we moved to the side of the track where a large area of tarmac was reserved for us. The first task was negotiating a slalom course set out with a line of cones. To make it a bit more interesting, Clive suggested that we try doing it standing up, on the pegs, sitting side-saddle, or even standing on the seat. It was enough of a challenge for me to stand on the pegs and control the bike, so I left the more advanced bike acrobatics to the others. The nice thing about all the drills was that you could do as much or as little as you wanted, there was no pressure to push yourself to the limit.
Next up was cornering. It's a key skill for all bikers to have, and performed right it will bring the biggest smile to your face. But this exercise came with a bit of a twist: we were going to corner with our hands off the handlebars. Gulp! It sounded like madness, but I decided to give it a go. After a couple of hesitant approaches I started to get the hang of it and relaxed a bit more, which helped in keeping my lines smooth and made the whole business seem surprisingly easy. Maybe it wasn't pure madness after all.
The final task of the day was stopping. The idea was to brake steadily and quickly by gradually increasing the pressure on the front brakes. With the ABS of the bikes disconnected this meant that under hard braking the back wheel should lift up off the ground. Again I started gently and increased the severity of my braking bit by bit, and by the end of the session I had managed to lift my back wheel in the air. Job done! Now it was time for the final debrief before some well-deserved lunch.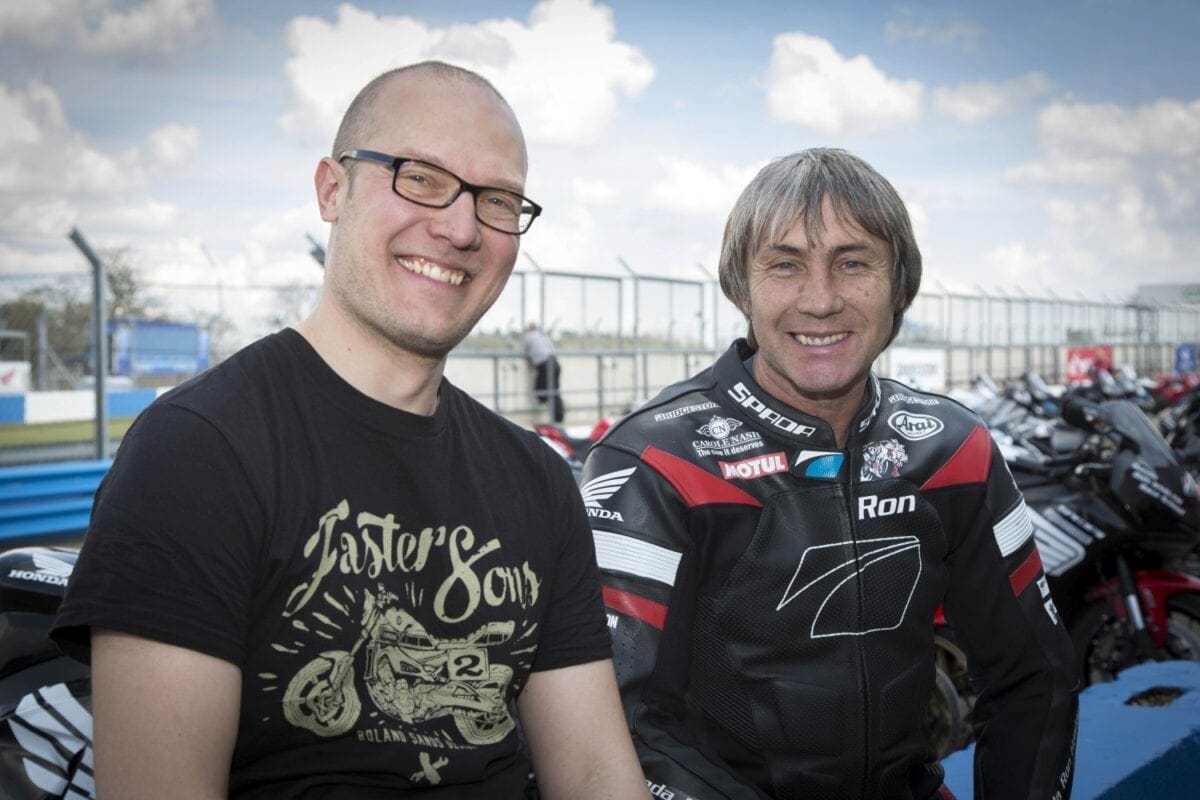 WHAT DO YOU LEARN ON TRACK?
Track riding itself is quite different from road riding, with the mirrors of the bikes removed and the speedos taped up so they don't distract you from what's in front of you. Your lines are also different to those you'd take on public roads, and of course, you can go quite fast. But all the skills that I picked up on the day, from altering my body position to picking my turning points, and slow riding to smooth cornering, were things I could take away with me and use on regular roads. I'm not going to take my hands off the bars on public roads or lift the rear tyre in the air when braking, but having the confidence and knowing that I can do those things, makes my movements, steering inputs and reactions on the bike better than they were before the training.
The relaxed atmosphere and supportive instructors made the day an absolute joy, and I'm already plotting my next visit to Ron's race school. I might never be the fastest kid on the block, but I can always improve.
Words: Mikko
Images: SIMS Images