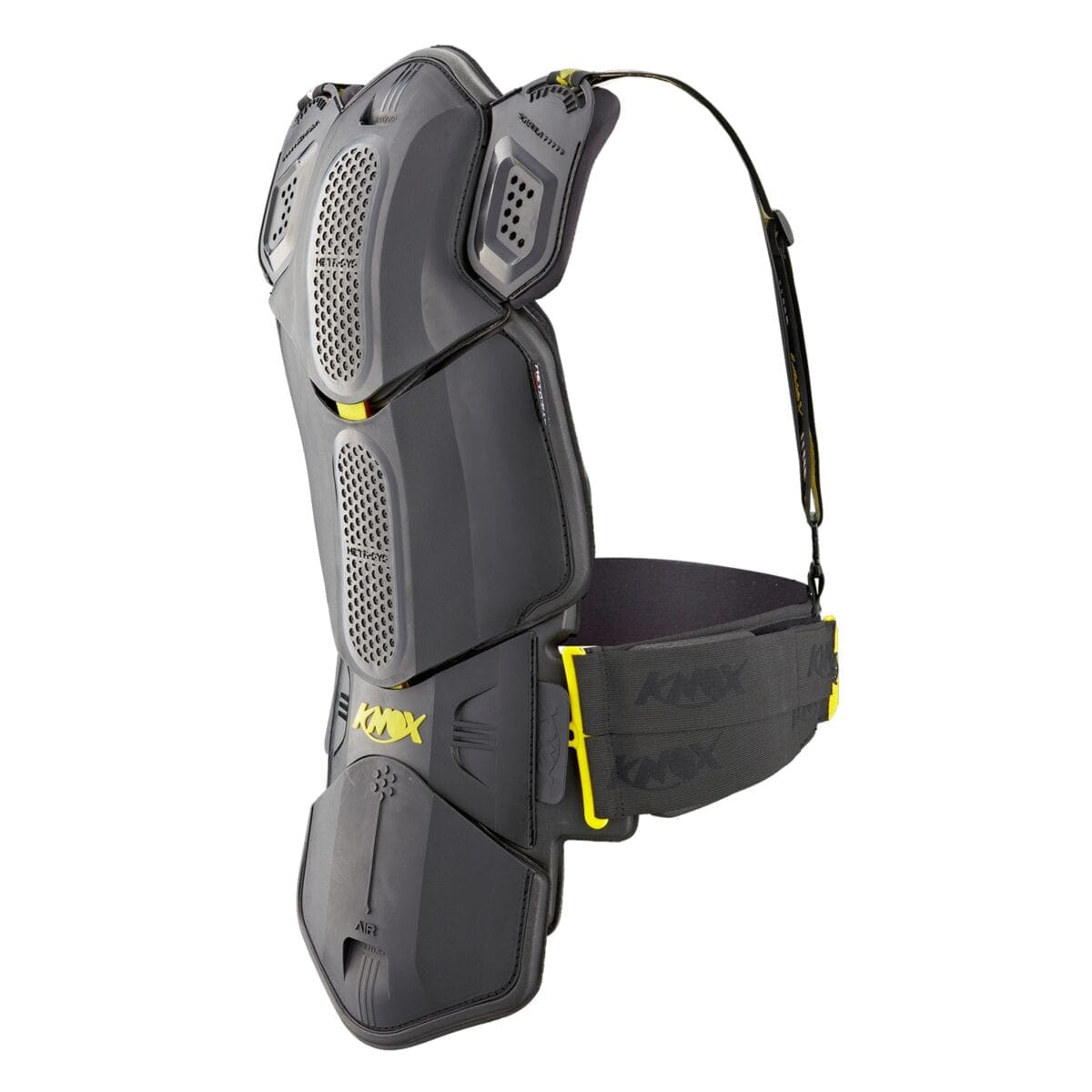 RRP: £129.99
Reviewer: Mikko
The Meta-Sys is the premium back protector from Knox. It's slightly bigger than the popular Aegis, but once you get used to the size it's very comfortable and after a while feels perfectly natural. It is Level 2 CE-certified to the new Motorcycle Back Protector Standard EN1621–2:2014, which means it's tested to the highest standard currently available.
The multi-position waist strap system is easy to use to get the best individual fit, and extra side adjustment straps provide a more secure fit against the spine. With all these adjustable straps the protector feels very firmly attached to the back. It doesn't move about like in-jacket protectors that always move with the jacket. Quick-release soft shoulder straps can be crossed over for increased comfort, but I found that they worked fine without crossing them.
The Meta-Sys uses intelligent hybrid technology, combining the best of hard and soft protection: large exterior polypropylene plates spread the impact and stop penetration, while the shock-absorbing lightweight Nitrex core on the inside can withstand multiple impacts.
The back protector is made in four separate sections that move independently, which allows unrestricted movement and flexibility. This is Knox's highest performance back protector, with just 3kN of transmitted force from a 50-joule impact (well below the 9kN threshold required for Level 2).
I've taken a real liking to the Meta-Sys. Although it's slightly bigger than the Aegis, it doesn't feel too bulky at all. It's reassuringly firm whilst still allowing full moment on the bike. The extension system in the spine of the protector lengthens as the rider bends forward and shortens when the rider straightens, so the area of cover is always optimal. The big hard plates on it look like they could withstand a decent blow with no problem, but luckily I haven't had to test them in a real-life situation. There is also an air induction system for ventilation.
Overall, this is a very nice back protector. You really can't argue with the transmitted force figures, which put it well beyond the level required from a Level 2 back protector, and once you get used to it the extra bulge really isn't a problem at all.
Info: www.planet-knox.com