Buying a used bike can be scary, but it needn't be. Here's T&G's stress-free guide to getting it right:
Read motorcycle and scooter magazines (including T&G) and you could be forgiven for thinking that the only powered two-wheelers available are new ones. There's a good reason for that, being that we all want to read about the latest stuff and lust after it.
The reality for many is that a new bike simply isn't within financial reach. PCP (Personal Contract Plans) has certainly made new bikes available for lower monthly payments, but unless you're prepared to pay a lump sum at the end of the term, you won't own the bike, and it goes back to the dealer. Many budget priced bikes, which includes most 125s, aren't available with PCP anyway.
So we have to buy second-hand. Believe some folk and you'd think buying a used bike carries the same level of risk as Irish dancing through a minefield in hobnail boots. The truth is that it's possible to buy a dud, but some common sense and caution should see you pick-up a good used machine that will reliably take you to work or away at weekends…and you won't have suffered the horrendous depreciation that hits all new bikes in the first couple of years.
Mind you, it's still possible to pay over the odds, so once you've decided which bike you want, do some research via the classifieds, dealer ads and 'Buy it Now' prices for the online markets. This will give you a good idea of asking prices for that particular model, or if you're on a budget, what you can expect to find for the money you've got available.
PRIVATE PRACTICE
Should you go private, or through a dealer? A private deal should prove cheaper, and being open to private sellers, gives more choice, but there's a few things to bear in mind; private sellers have fewer legal obligations than dealers; there's no warranty and their only obligations are that the bike must match their description and it must be theirs to sell.
Because of this easier regime, some less scrupulous dealers working from home try to pass themselves off as private sellers. Be suspicious if you see the same mobile number in several ads for different bikes, or if the seller's name doesn't appear on the V5C as the registered keeper. It's also true that private sellers can be less than honest. But let's not get this out of proportion – thousands of private deals are done every week without a problem, and most sellers are genuine people, simply trying to get the best price they can.
THE PROFESSIONALS
The same is true of most dealers. They want to get a good price and make a profit margin, but it's not in their interest to sell you a real dud. Buying from a dealer gives extra legal safeguards under the Sale and Supply of Goods Act, which stipulates the bike must be of satisfactory quality, fit for purpose and as described. All this is open to interpretation, but does at least give you a good basis for a legal claim if things go wrong. Legally, dealers cannot have a 'sold as seen' or 'no refunds' policy, whatever they say. But just to reiterate, most dealers aren't crooks, and value their reputation – the longer they've been in business at the same premises, the better.
Another advantage of buying from a dealer is that there's more choice. There could be half-a-dozen bikes in the same showroom that fit your budget, which saves the hassle of making half-a-dozen private visits. As for the type of dealer, an official franchise will have the biggest choice if you're after a particular make and (the golden ticket) might have a bike that they supplied from new and have its entire service history. But it's also more expensive that way and most franchise dealers won't sell older, cheaper bikes and scooters, usually passing them on to the smaller independents.
Dealers aren't obliged to offer a warranty on a used machine, but if they do, check whether it covers parts and labour, or just parts only; the small print might also tie you into having the bike serviced by the dealer. If you modify the bike, or take it on a track day, say goodbye to any warranty.
GOING ONLINE
Thousands of bikes are now bought and sold online, and auction sites, like eBay, have as many dealers as private sellers. Check the seller's history rating, and steer clear of the poor ratings, because there are plenty of good ones. Many bikes are offered for a fixed price rather than auction, which reduces the chances of a bargain, but you at least know what you're paying. On the other hand, some do like the thrill of bidding, and you might still bag a bargain.
Whether it's a bid or 'buy it now' price, do go and view the bike before deciding to buy or bid. The entry will show how far the bike is from your postcode, so think hard before making a 100-mile round trip to see a bike that might not measure up. Finally, there have been cases of 'ghost' bikes put up for sale online that don't exist or aren't really for sale – don't part with any cash before you're sure that the bike does actually exist and is as described.
FIRST JOB
There are points to look for when you finally get to see the bike you're interested in. If you do buy, and don't know when the bike was last serviced, change the oil and filter, or if buying from a dealer, ask them to do that as part of the deal. Then you should be ready for many miles of reliable and relatively cheap riding. But when you come to sell it, beware of the buyers – they're a canny bunch…
Words/images: Pete Henshaw
TOP 10 POINTS TO LOOK FOR:
Right, you've arrived at the dealer, or private seller's house and the bike's in front of you, so what next?
Here's a basic checklist of what to look for, and while you're going through it, don't let the seller rush you; if you're serious about buying, you have the right to have a really good look at the bike before parting with hard-earned cash.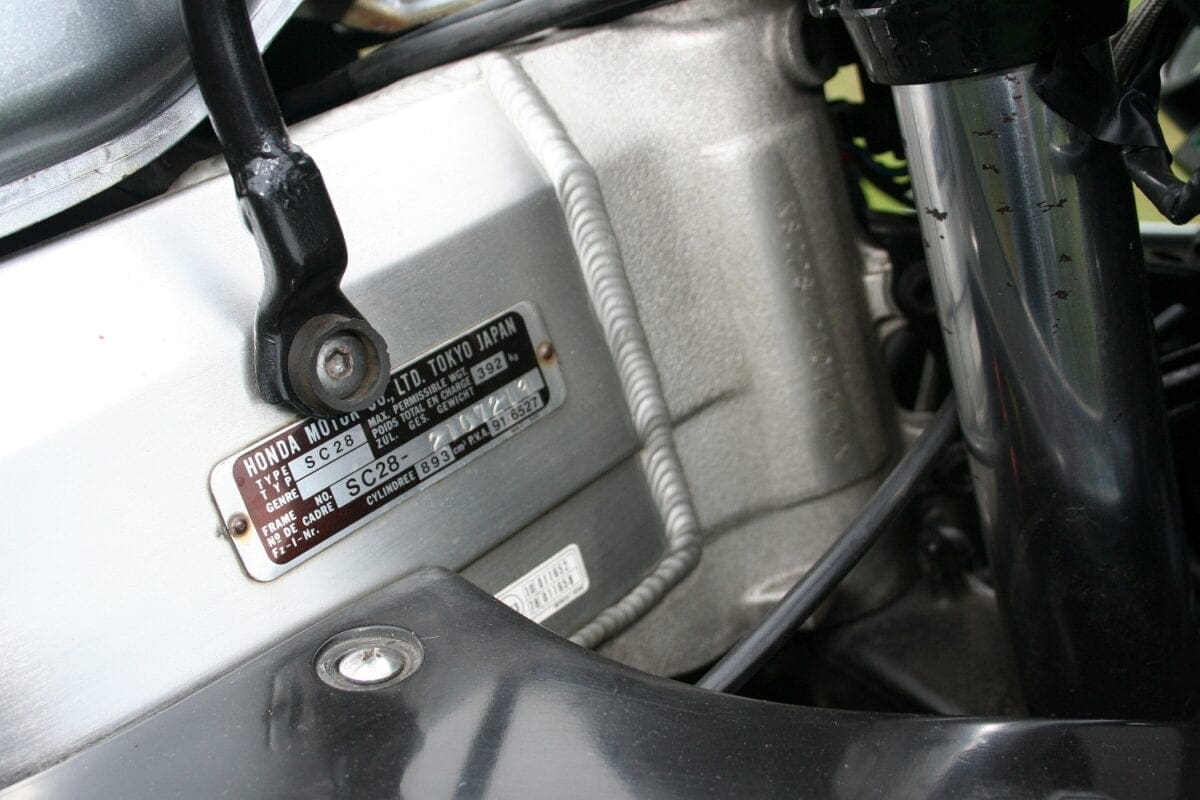 1: PAPERWORK
First-off, check the bike's V5C (the essential registration document). Don't buy a bike that doesn't have one. The person listed on the V5C is usually (but not necessarily) the legal owner. Check that the VIN number on paper is the same as the one on the bike (usually stamped on a plate near the headstock or on the frame). As for other paperwork, the more the better – old MOTs, receipts for services or repairs – it all builds up a picture of the bike's history.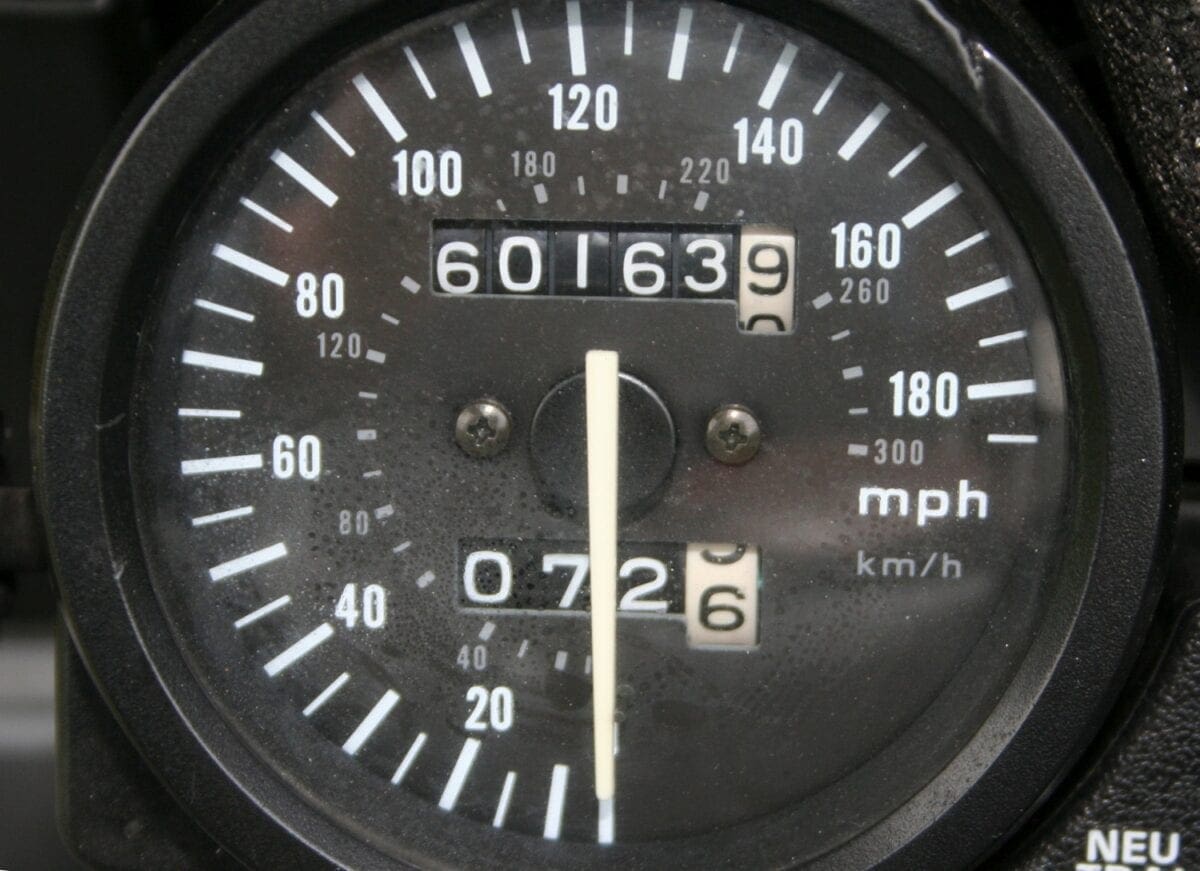 2: MILEAGE
Motorcycles cover fewer miles per year than a car, and small scooters even less, so a five-year-old with more than 30,000 miles showing has done a lot of work. But don't reject it out of hand, as a high mileage bike that's been well looked after should have plenty of life left in it, and it should be cheap.
3: HAVE A GOOD LOOK
With the bike outside and in good light, take a slow walk around it to take in its general condition. Does it look filthy, superficially spruced up, or pristine? Any signs of oil leaks from the engine/gearbox or the front forks/rear shocks? One crucial thing to look for is crash damage – to bodywork, levers, indicators, bar ends and engine cases. It may just be cosmetic, but should still be reflected in the price. New bodywork (or levers, footrests) on an otherwise scruffy old bike or scooter are a dead giveaway. If the bike's had a serious crash that has bent the frame or forks, that should show up in the test ride.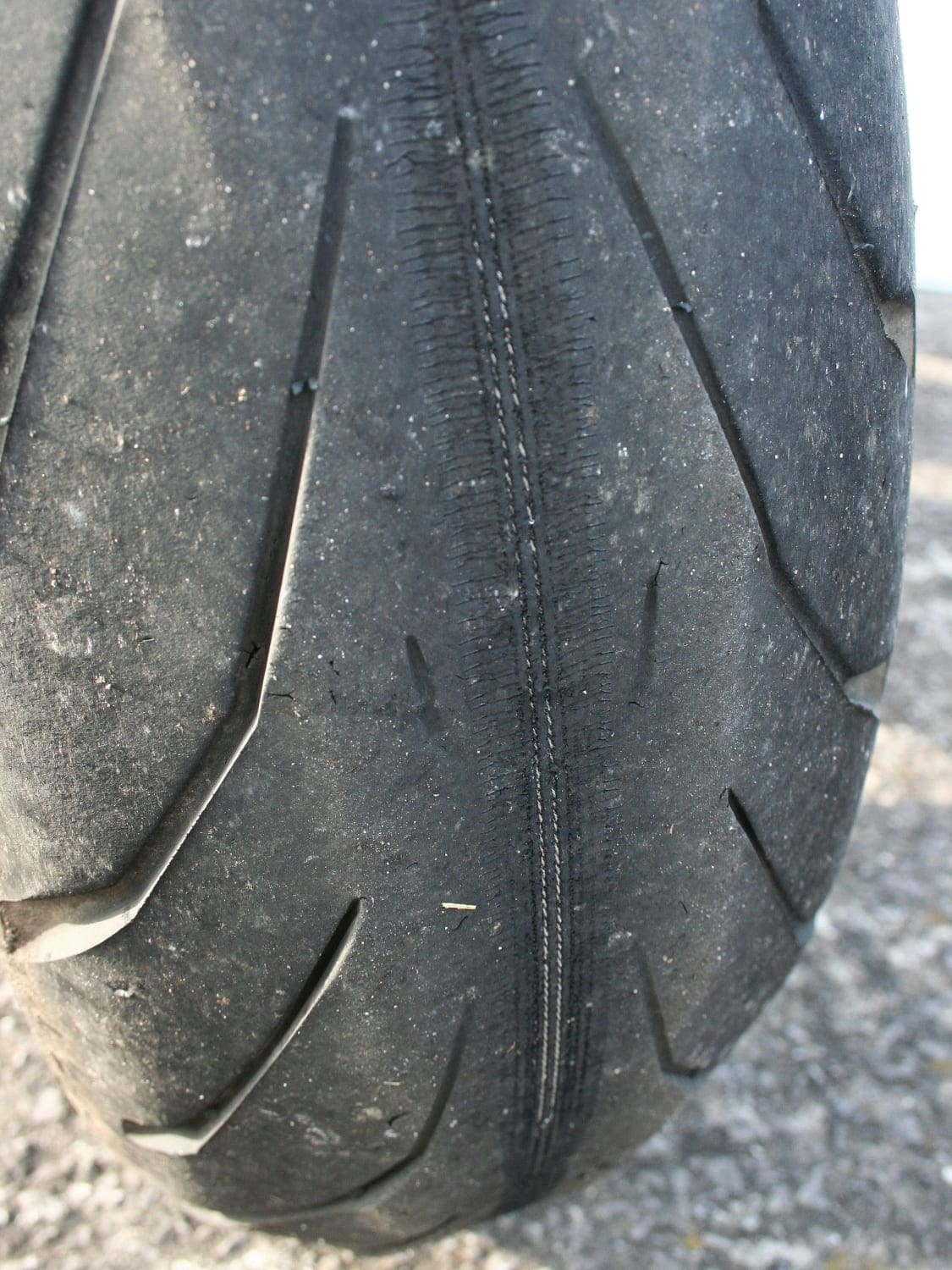 4: TYRES
With the bike on its stand, look at the tyres. The legal minimum tread is 1.0mm across at least three-quarters of the width. Check the pressures, and have the cost of a new set to hand so that you can quote to the owner if need be.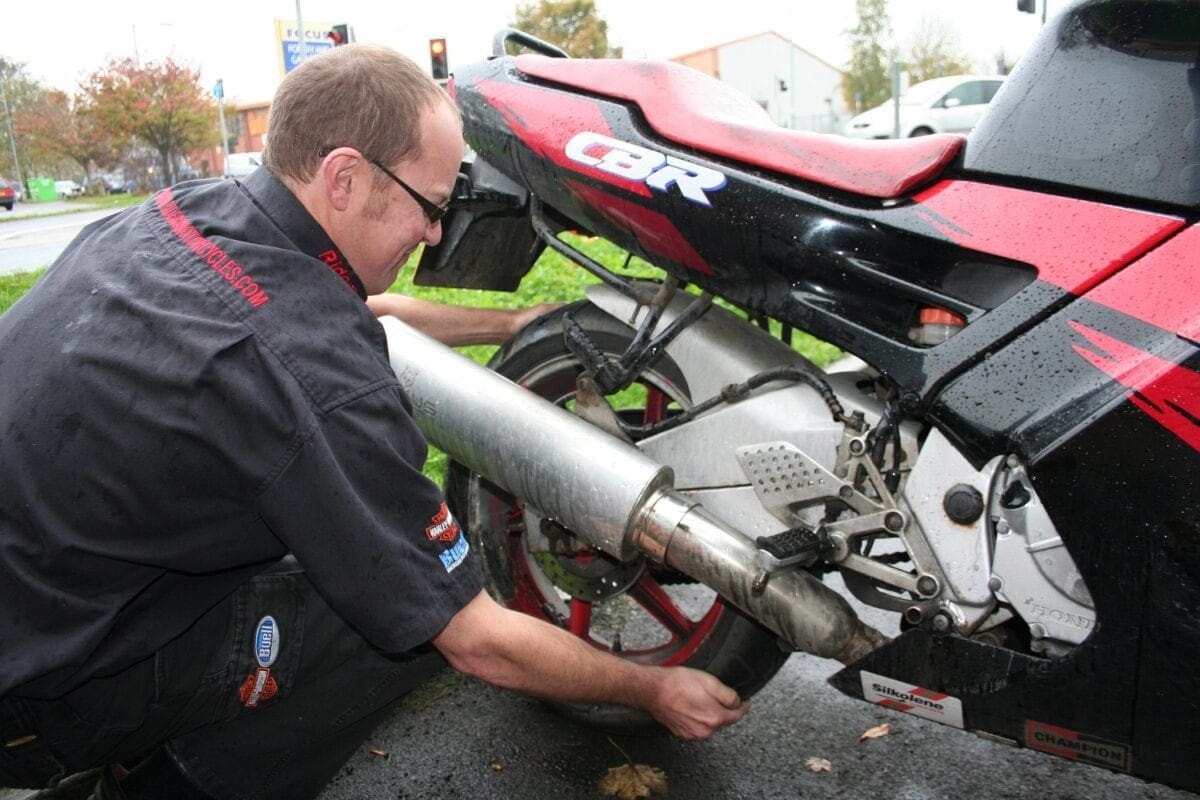 5: WHEEL BEARINGS
Often forgotten, but they do wear out, and usually only get checked at MOT time. Grasp the rear wheel at 9 o'clock and 3 o'clock, and try rocking it from side to side – there should be no play at all. While you're down there, check the swing arm bearings by getting hold of the arm and trying to rock it – again, there should be zero play. Checking the front wheel bearings is trickier, because of steering movement, but it can be done.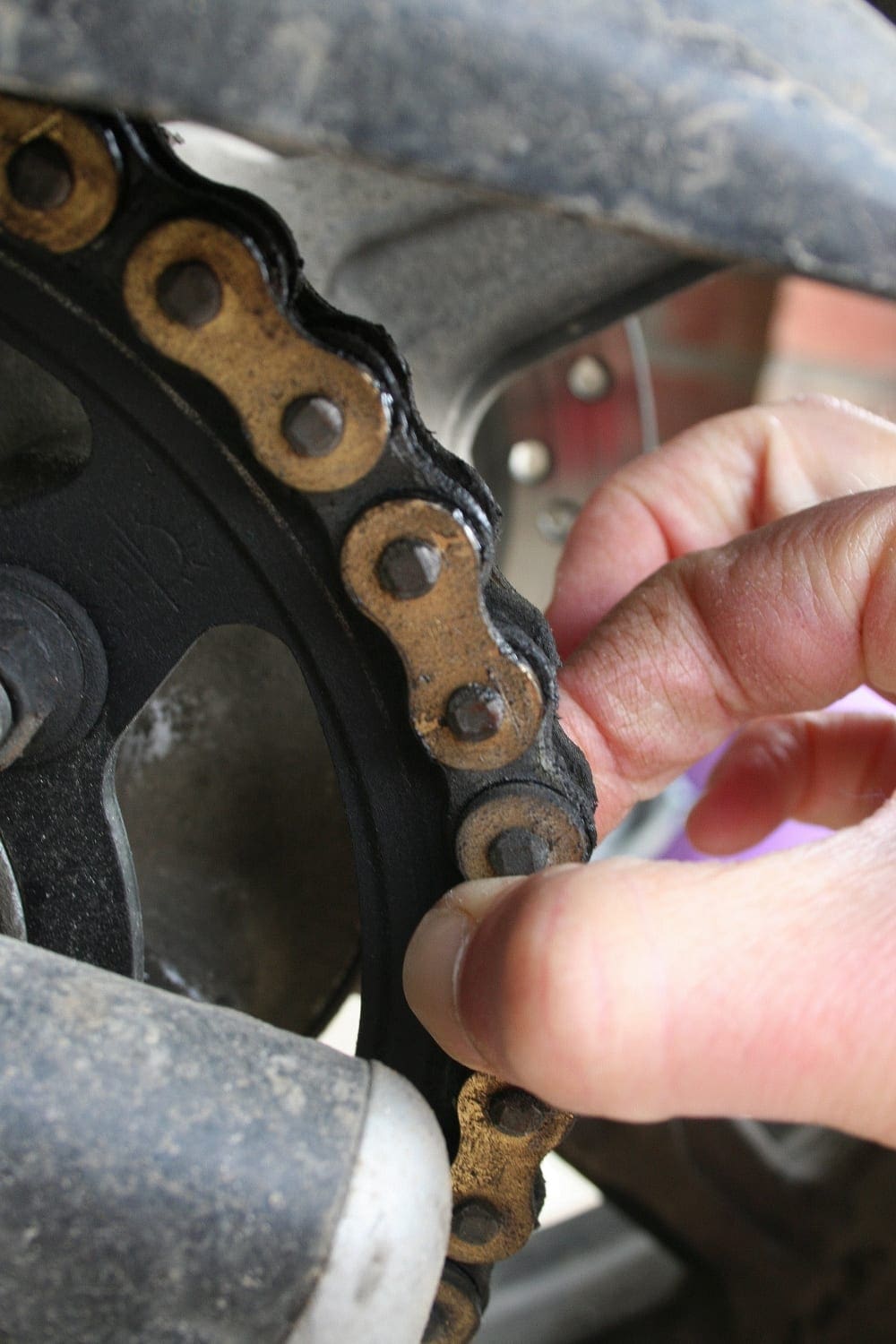 6: CHAIN & SPROCKETS
Not applicable to scooters (with a couple of exceptions), but a good indication of owner neglect. Is the chain clean-ish, well-adjusted and lubed? Try lifting it away from the rear sprocket (it shouldn't move very far) and check the sprocket teeth are nice and straight, not 'hooked.'
7: BRAKES
You'll get a good idea of brake performance on the test ride, but for now check pad wear (you'll need a torch) and check the disc for scoring, cracks and general wear – all good levers on the price if work needs doing.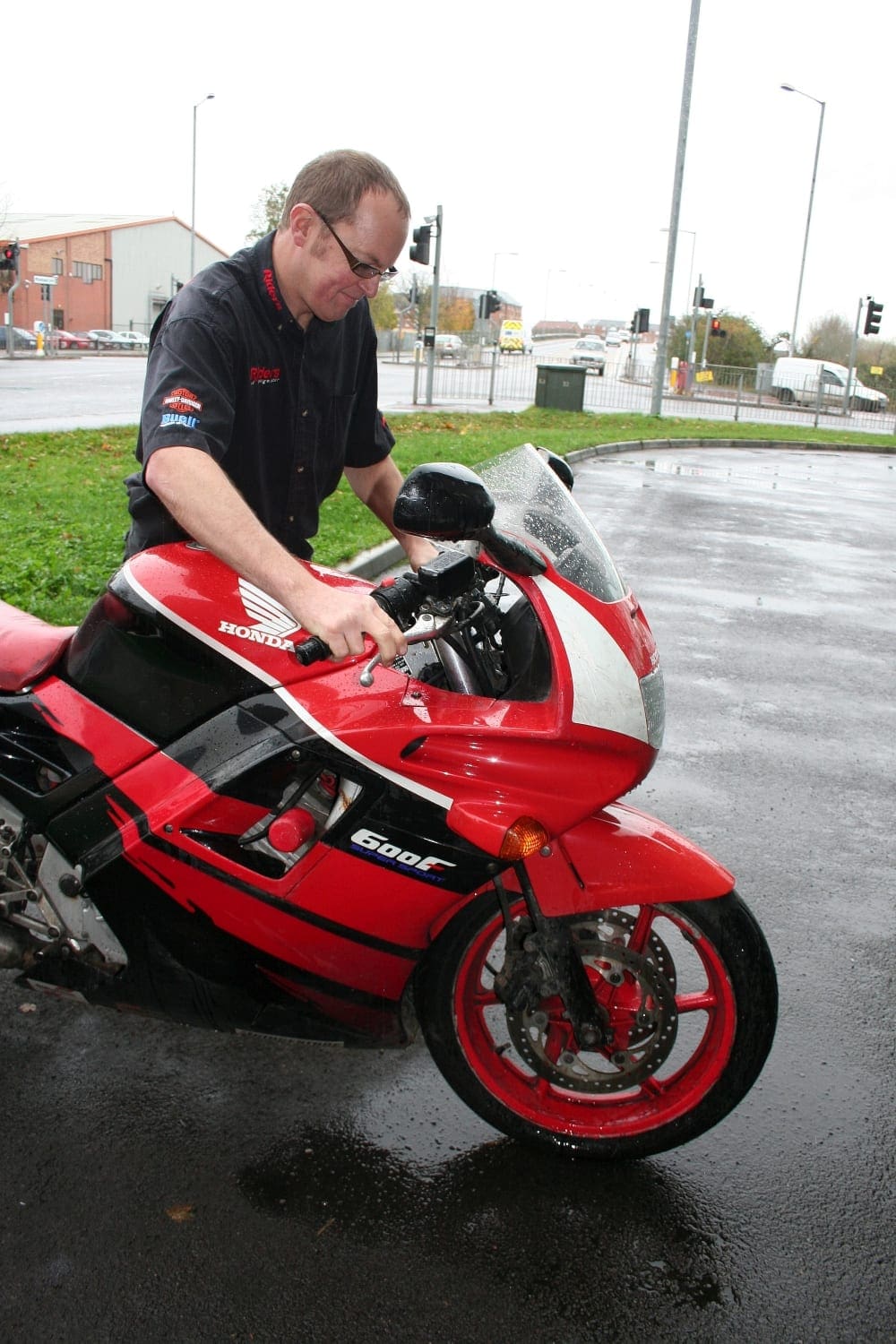 8: FRONT END
Grasp the bottom of the fork legs and try rocking them back and forth (easier if the front wheel's off the ground). Any play could be in the steering head bearings or fork bushes – the parts aren't expensive, but the labour will be. Roll the bike off the stand and with the front brake on, pump the forks up and down – they should work smoothly with no clonks.
9: START-UP
Start the engine (best done from cold when bearing knocks and rattles are more obvious). The oil pressure and charge lights should go out as soon as the engine starts. Blip the throttle and check for blue smoke, a sign of top end wear (not the death of the engine, but expensive to repair), while knocks, rumbles and rattles mean the bottom end is on the way out. Both are reasons to reject the bike unless it's very cheap.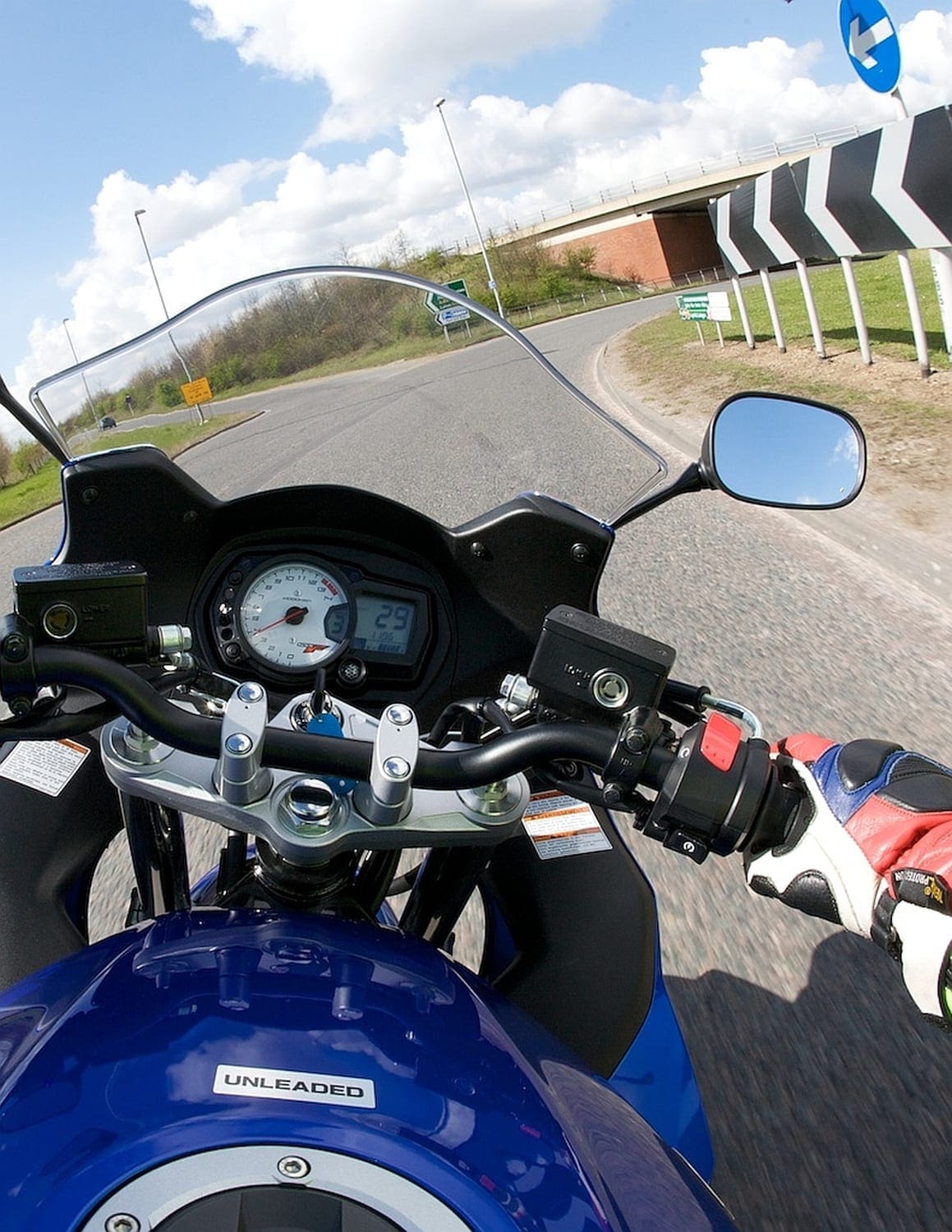 10: TEST RIDE
Give yourself a couple of minutes riding before looking for faults. On a manual bike, change up through the gears and the engine should pull cleanly without hesitation. On a scooter, you want smooth acceleration without any loud whines. If the bike pulls to one side whilst riding in a straight line, the frame could be bent due to crash damage. Try the brakes, gently at first, then when it's safe on a quiet piece of road, do a hard stop. The lever and/or pedal should have limited travel.
If in any doubt, thank the seller for their time and walk away. There are many decent quality bikes and scooters out there, so there's no need to buy a lemon.