Wherever you ride, you can't get away from roundabouts. There are about 10,000 of them around the UK (the French have three times as many) and there's even a Roundabout Appreciation Society.
But what's the best way to negotiate them? How do you make progress and avoid coming to grief? Get it right, and you can glide gracefully through, sometimes without stopping and putting so much as a foot down. Here are our 10 Top Tips to give you the best chance of doing just that:
1: IT'S YOUR DECISION
Unlike traffic light controlled junctions, where you do what the lights tell you, roundabouts put more onus on the rider/driver. It's up to you to decide when to pull out, and whether there's space to safely head straight onto the roundabout without stopping.
2: DRIVERS VARY
Because we all have a different perception of what's safe. Some drivers will be gung-ho about pointing and squirting for the smallest gap; others will be hesitant. Both need looking out for – beware the cautious type who doesn't go when you think they will.
3: ROUNDABOUTS HAVE LANES
Most roundabouts have a least two approach lanes, but all (mini roundabouts excepted) have lanes all the way round as well, even if they're not marked. So the usual stuff about lane discipline applies – choose a lane and stick to it, and signal/look before changing lanes.
4: FILTERING IS LEGAL
Check there's space to filter safely between the lines approaching the roundabout. Once at the front, waiting with a queue either side, you'll need to take-off smart-ish to avoid getting tangled with cars– OK on a 125 upwards, which has the acceleration, but not on a restricted 50, which doesn't.
5: SIZE DOESN'T MATTER
Whether it's a mini-roundabout outside the Co-op, or a massive, multi-exit behemoth, the basic rules are the same – give priority from right, use signals and don't ride straight over the top (this includes the ones with grass).
6: SCAN ON APPROACH
Approaching a roundabout, have a look at what's coming. If it's clear, you should able to go straight onto the roundabout without stopping. If there's just one car coming round, but it's clearly heading for the exit before you, then you're on, but don't rely on drivers' indicators to tell the truth.
7: LANE CHOICE
Assuming you're not filtering, choose which of the approach lanes (there are usually two) you need. If heading for an exit further round than 12 o'clock (i.e. straight ahead), use the right-hand lane. Whichever lane you use, ride in the centre – creeping along the gutter invites drivers to pull alongside you. Even on a 50, you're still safer in the centre of the lane.
8: INDICATORS
If heading for one of those right hand exits, use the right-hand indicator in the approach lane, and right-hand lane on the roundabout itself. At the exit before yours, check nothing is sweeping out of it, then swap to left-hand indicator, and check mirror before changing to left-hand lane…
9: OVER THE SHOULDER
…But before you do make that lane change, give a left-shoulder check that no-one is nipping round on the outside.
10: MAKE AN EXIT
From that left-hand lane, accelerate gently out of the roundabout…and you're away, ready for the next one.
Words/images: Pete Henshaw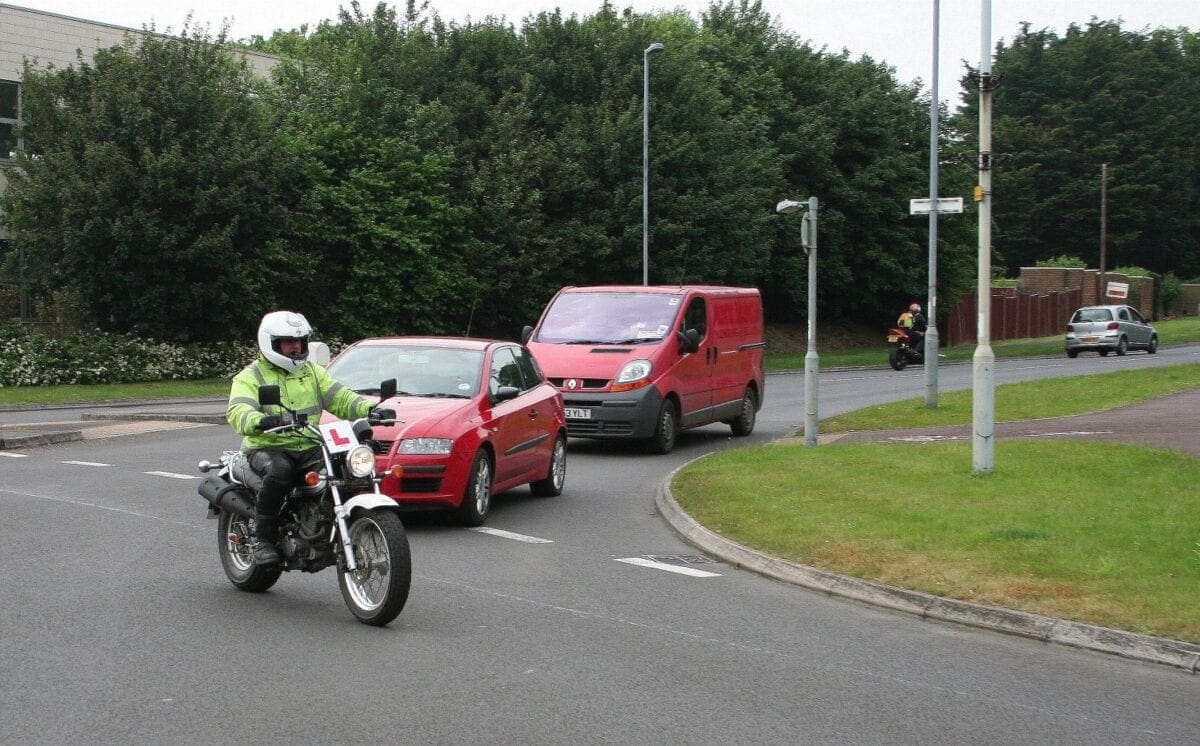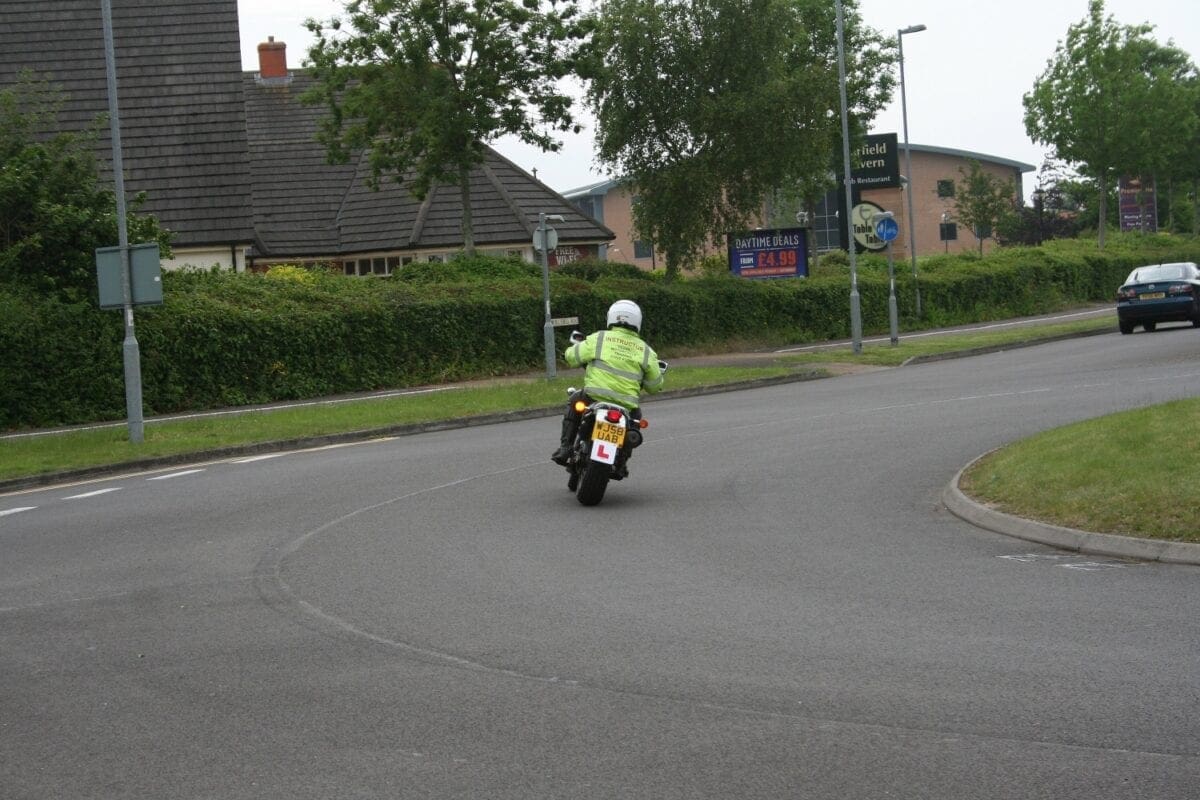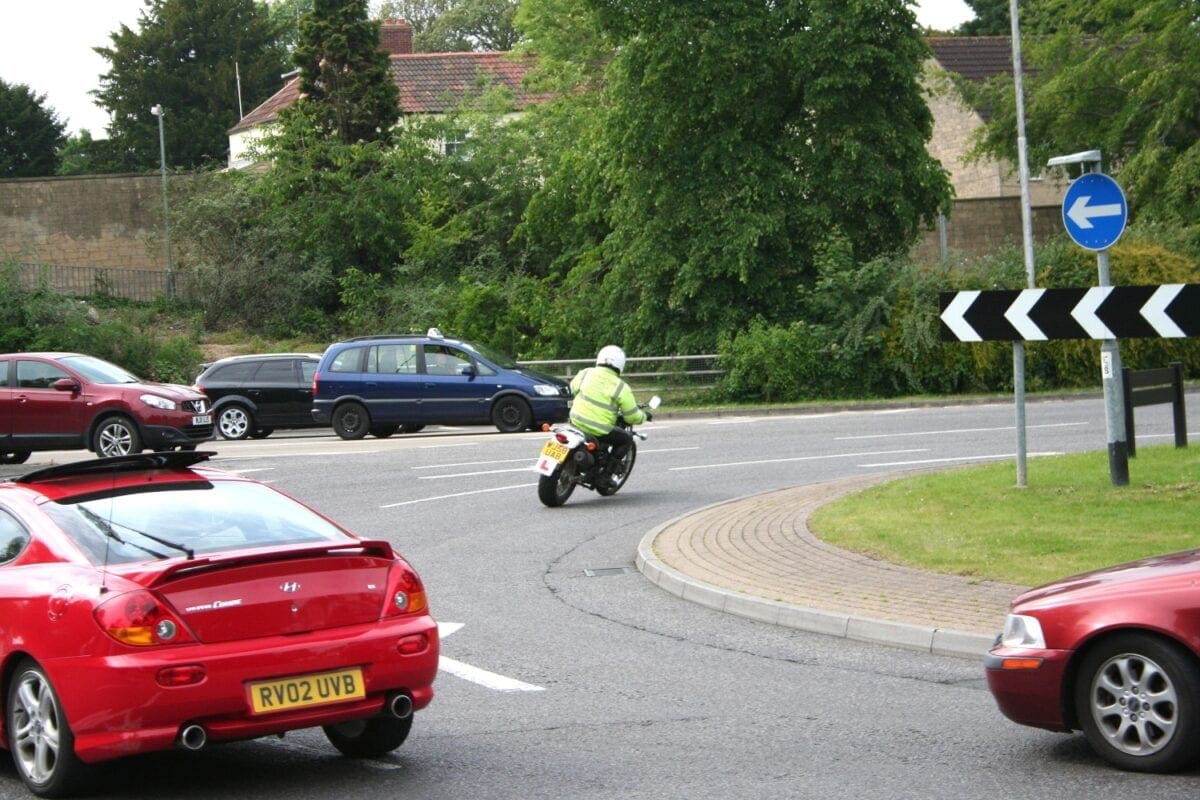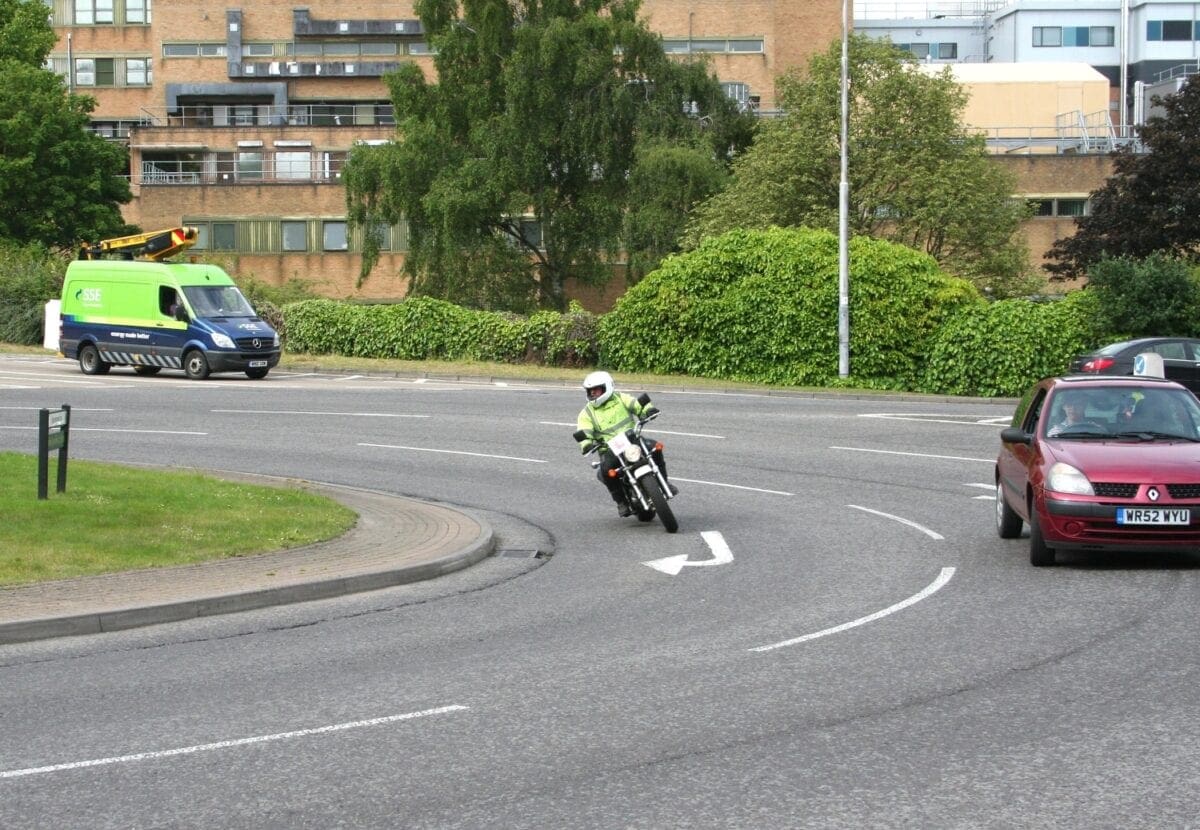 WHY ROUNDABOUTS?
Roundabouts were pushed forward by British roads engineer Frank Blackmore in the 1960s, and with good reason. He pointed out that they slowed traffic down and forced lines of traffic to meet obliquely, so if cars collided it would be a glancing blow. Not nice, but still better than the head-on or T-bone crash possible at crossroads. He claimed that roundabouts also improved traffic flow, reducing congestion and pollution (and we could still do with more of that).