Zero's silent torquer.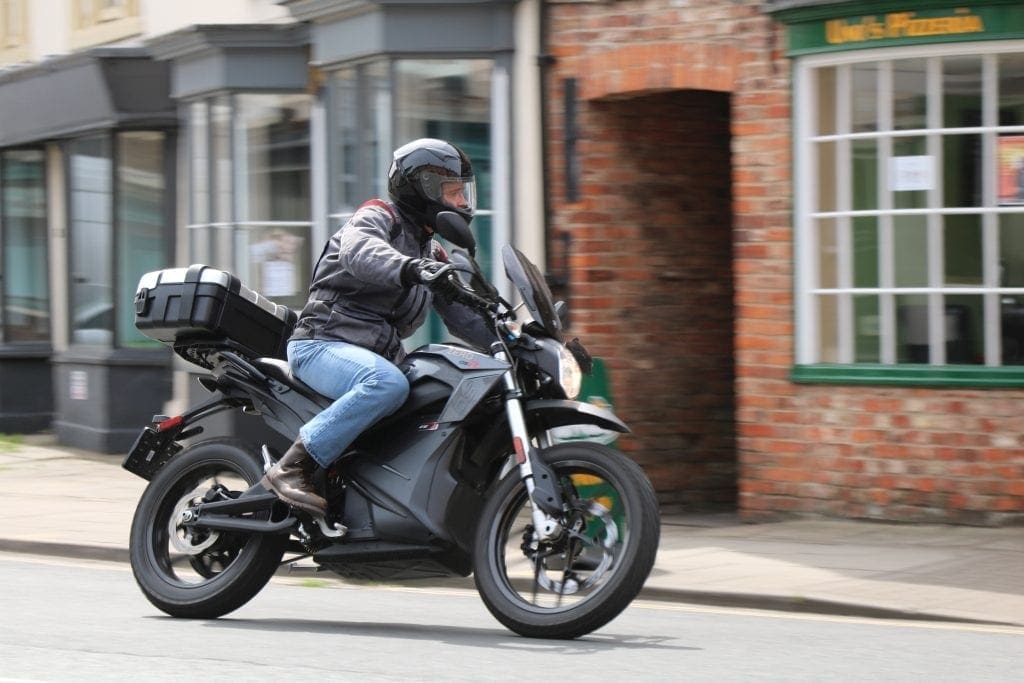 The DSR's got game. It's got 116 games pounding out of the electric motor, through the drive belt into the rear wheel and tyre. This transfers onto the road and you, the rider, into what can only be described as 'a bloody great big smile'. Yep, that's 116 foot pounds of torque, with no lag, no delay, no filter to sift out impurities (there aren't any). It's clean, quiet, twist and go gearless addictive fun!
Zero has taken the electric motorcycle bar and raised it, pairing a 775amp controller to their Z-Force® motor. This has some very trick high temperature magnets within, that will withstand prolonged high speed use. The results are fast acceleration; not only will it give you goose bumps on the road, but it's not unhappy on the loose stuff either. Do you have to be skilled like Dougie Lampkin to tame the beast within? The answer is a wonderfully simple NO.
Zero have given the rider the ability to tame the forces of nature that reside within via an app which gives you options like limiting top speed and increasing, or decreasing torque output. There's three basic modes, 'Eco', 'Sport' and 'Custom' with 'Eco' giving you the best range, due a reduced torque setting and a 70mph top speed. 'Sport' mode gives greater torque, a 110mph top speed (not on the public highways, you know it's naughty), but a reduced range. Then there's 'Custom' mode where you can go to 110% of real life on the setting and give your arms and sphincter a proper workout with acceleration so brutal you'll wonder how the front wheel stays on the road; on the other hand, if you want to really stretch the battery range you can wind everything back, turning this howling banshee into a whimpering wet weekend that couldn't scare your 90yr old granny.
It's also got regen on the brakes and motor, so as you slow, a small charge goes back into the battery, acting as a virtual engine breaking system.
Zero have worked in close collaboration with Showa to come up with a set of front forks suspension units that cope fantastically with everyday road riding as well as the more challenging world of off-road and it's fully adjustable. The rear unit is also adjustable and in conjunction with the sculpted comfy seat, you'll soon find that the battery goes flat well before your backside does.
Range
Due to advances in battery tech and the software that determines where and what the stored energy is used on, Zero claims a town mileage in excess of 180 miles. We have't been able to cohobate this, but after a spirited 44 mile commute in 'Sport' mode I had 40% battery power left from a full charge. On the open road in normal traffic if you ride conservatively, you'd get close to a safe 80 to 90 miles before having to panic about finding a plug.
Now if Zero needs to make an alteration for the UK market, it's the charger. The main charger built into the bike connects to a standard wall socket with a 13amp fused 2.5m version of what looks like a kettle lead. From flat it takes roughly eight hours to fully charge the battery, or you can invest in an optional rapid charger that works alongside the built-in unit which reduces the charge time to four hours. What's missing (and would really help) is a 22kva charging socket, so you could use one of the thousands of rapid chargers available at most UK motorway service stations.
With speed in mind Zero has teamed-up with Bosch to make sure you can stop safely. With a 320mm carrier-less front disc and ABS, whatever the road conditions, you'll be stopping quickly and safely. The DSR's riding position is similar to KTM's Adventure R or BMW's R1200; you're sat high and straight up with very little pressure put through your forearms. The frame is nice and stiff, meaning that even when torque is maxed-out on the app, the DSR doesn't squirm or twitch when accelerating out of corners; and the Pirelli MT-60 tyres gave great grip and feel. The dash is a simple high contrast backlit LCD screen showing state of charge, estimated remaining battery distance, riding mode plus the obvious speed in mph or kmph.
Would I buy one?
Am I smitten and converted to the power of the spark – you bet you mother's false teeth I am. With all the bike's options on the app, it's a tame kitten, a happy flirty partygoer as well as being powerful and precise – almost brutal in its power delivery if that's what you want. If the gods of the lottery shine on me I know what's on the top of my shopping list…
Words: Jonathan Schofield
Images: Mau
SPECIFICATION
LICENCE: A2
ENGINE: Z-Force® 75-7R passively air-cooled, high efficiency, radial flux, interior permanent magnet, brushless motor
MAX SPEED: 110mph
BATTERY: Z-Force® Li-Ion intelligent integrated
RANGE: 147 miles (city), 88 miles (55mph), 70 miles (70mph)
CHARGER: Standard 110v or 220v
SEAT HEIGHT: 840mm
WEIGHT: 190kg (kerb)
PRICE: from £15690 (excluding ULEV grant)
O2W RATING: 9 stars
CONTACT: www.zeromotorcycles.com/eu
---
Advert
---
Enjoy everything More Bikes by reading the MoreBikes monthly newspaper.
Click here
to subscribe, or
Read FREE Online
.
Sign-up to the More Bikes Newsletter
Enter your e-mail address below and get regular updates straight to your inbox… You can unsubscribe at any time.