Class One police riders are the best of the best, when it comes to riding, so we talked to one of them, Vince Conn, who's also a trainer at Rapid Training, to get some tips about how to improve our riding.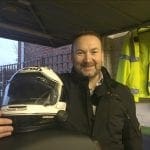 We asked Vince for his top five tips to becoming a better rider. Here's what he said:
1: Raise your vision
Many people don't look far enough in the distance. Raising your vision when a view opens up and then scanning back towards you helps you prepare for what's coming.
2: 'Halve' straights
When you come out of a corner and into a straight bit of road, identify the halfway point of the straight accelerate to it and then scan and reassess the situation for the second half.
3: Position early
Taking the right road position early gives you more time to concentrate on the road feature that you are about to navigate. It also indicates your intentions to other road users.
4: Discipline in groups
When riding in a group, stagger your positions to have the clearest possible view of the road ahead. Don't let others 'bully' you into riding beyond the level that you are comfortable with.
5: Be proactive
The key to advanced riding is being proactive, not reactive. Use the above tips to try and get ahead of the game so you can avoid potential problems before they occur.
In addition to being Class One qualified on cars and bikes, holding a RoSPA Diploma in Advanced Bike Training, and examining for the IAM, Vince is also a serving police officer currently on Royal Protection.
Rapid Training
Rapid Training offers both road and track-based courses to enhance your road riding and machine control skills.
They offer bespoke training, which means that they don't fit you into their courses, they fit the courses around you, making sure you get the right training for your needs. Whether you've been riding for a lifetime or you're just starting out, the training can be tailored to suit.
Rapid Training is a company run by motorcyclists and their trainers all hold the coveted Class One Riding certificate, but they also need to have a proven track record in training and motorcycling.
Info: rapidtraining.co.uk