Choosing the right gear when you start riding a motorcycle can go a long way to make you either fall in love with life on two wheels, or to completely put you off it.
If you are new to motorcycling, have a look at our top 6 textile jackets for new riders: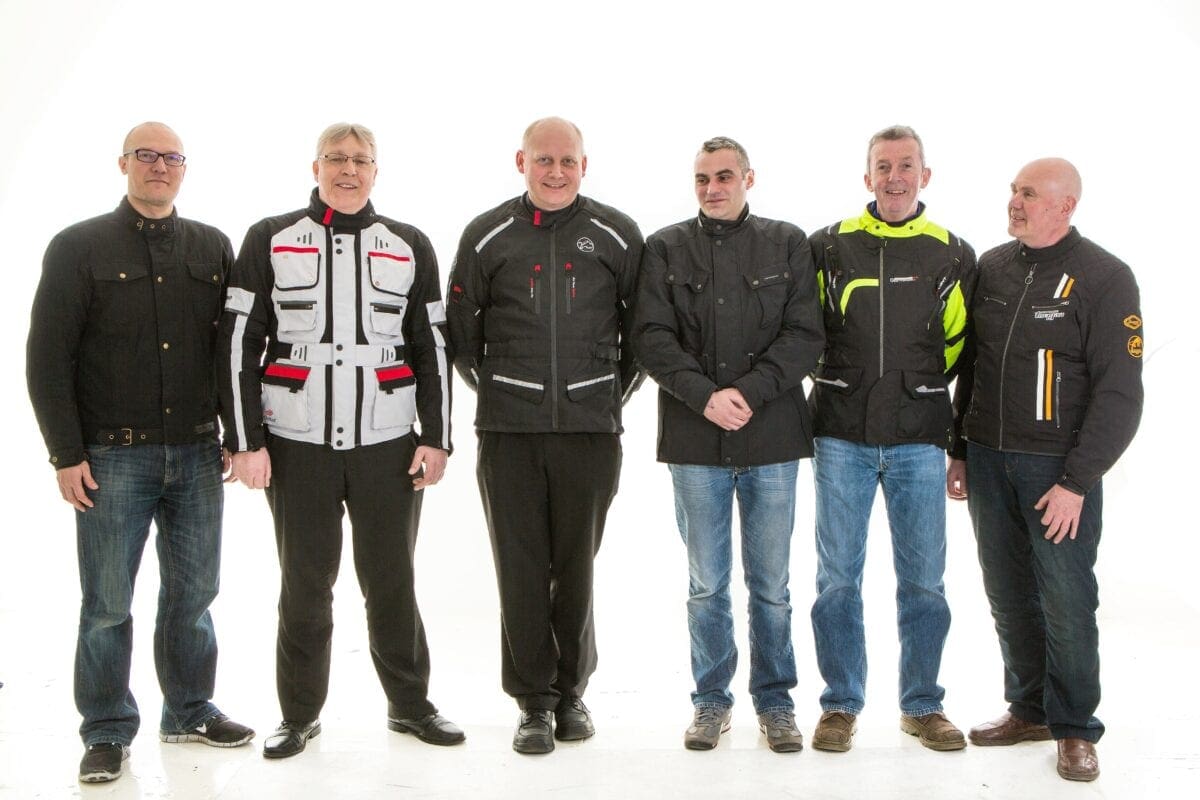 Spada Union wax jacket
Reviewer: Mikko Nieminen
RRP: £159.99
The Union jacket is made from dry waxed cotton with a fixed waterproof and breathable lining as well as a removable thermal lining. Colour options are black and brown.
The first thing that stands out about the jacket is that it looks very nice and casual, unlike your usual bulky biking jackets.
There are four outside pockets and three internal ones (two of which are in the thermal lining).
The cuffs have poppers and zips to help with fitting gloves either in or outside the sleeves. There are also adjusters at the collar and waist, but these have traditional buckles rather than poppers.
CE-approved armour in the shoulders, elbows and back help make this a practical biking jacket without compromising the retro looks.
Overall, this is a very stylish jacket that has more features than first meet the eye.
Info: spadaclothing.co.uk
Weise Outlast Baltimore jacket
Reviewer: Martin Freeman
RRP: £319.99
The Outlast Baltimore is beautifully made and looks fantastic. For warmth, it features a 140-gram Outlast thermal quilted lining.
The neoprene collar is really comfortable, and the plastic D-loop on the end of the neck strap makes it easy to pull it open and secure it so it's not flapping around.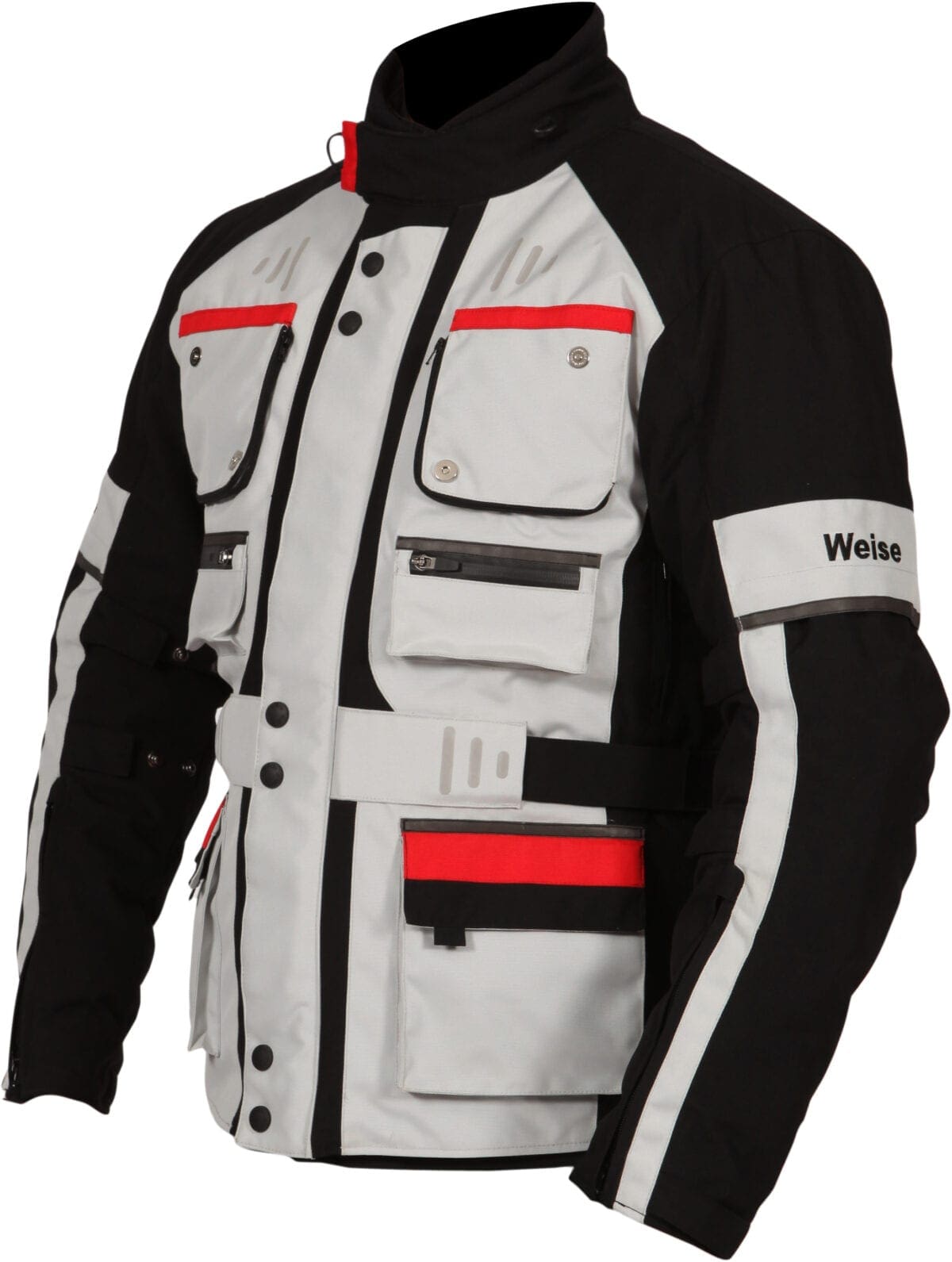 The breast pockets aren't waterproof but the main pockets keep the water out. The two little storm pockets on the front are just the right size for a phone too.
With the zips at the cuffs you can fit gloves in and then zip the cuff down over them. The roll-down neon yellow arm covers and the many reflective strips are great for night-time riding.
There's removable CE-approved armour in the shoulders, elbows and back.
Overall, this is a great waterproof, windproof jacket.
Info: weise-clothing.co.uk
Buffalo Horizon Jacket
Reviewer: Richard Graham
RRP: £90
The Buffalo Horizon jacket is a black touring/sports textile jacket with leather panels on the shoulders and touches of red to add colour. Reflective strips add to the stylish appearance.
It features elasticated panels and adjustable straps for the perfect fit, and comes with a removable waterproof and thermal lining. There's CE-approved armour on the shoulders, elbows and back, and the outer fabric is 600D, offering high abrasion resistance.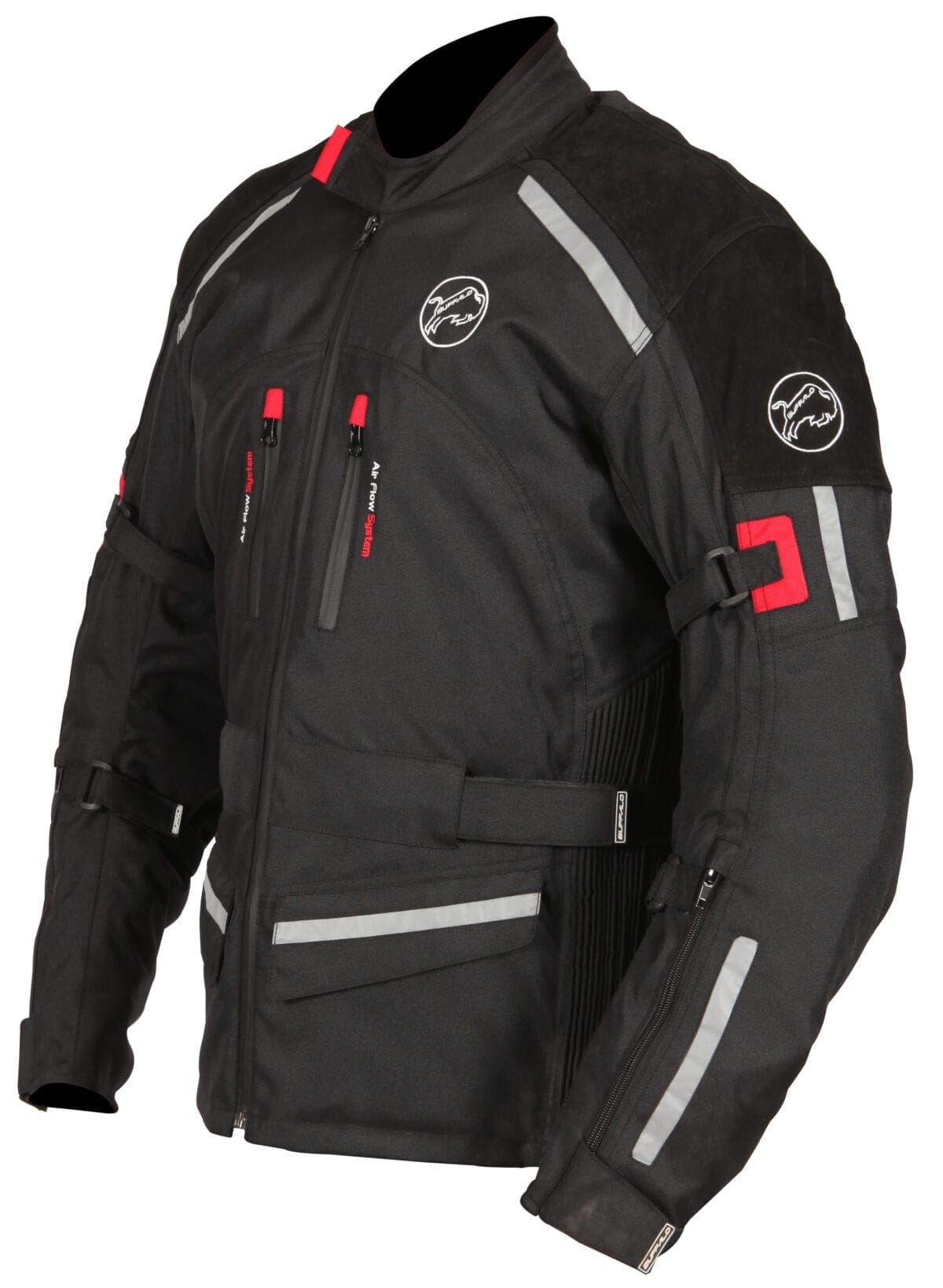 This is a comfortable jacket that allows decent movement, and offers good levels of waterproofing and warmth. There are a number of air-flow zips for summer use and plenty of pocket space both inside and out.
Overall this is a stylish jacket of the quality you would expect for the price. I like it and look forward to using it as an all-season jacket.
Info: www.thekeycollection.co.uk
Tucano Urbano Urbis 4G jacket
Reviewer: Andrew Catton
RRP: £149.99
The Urbis 4G comes in navy blue, brown or black. There are loads of adjusters throughout, including in the cuffs and waist.
The zips are big and have draw cords to make them easier to use with gloves on.
I haven't taken out the removable inner layer yet, but having the option is useful for summer.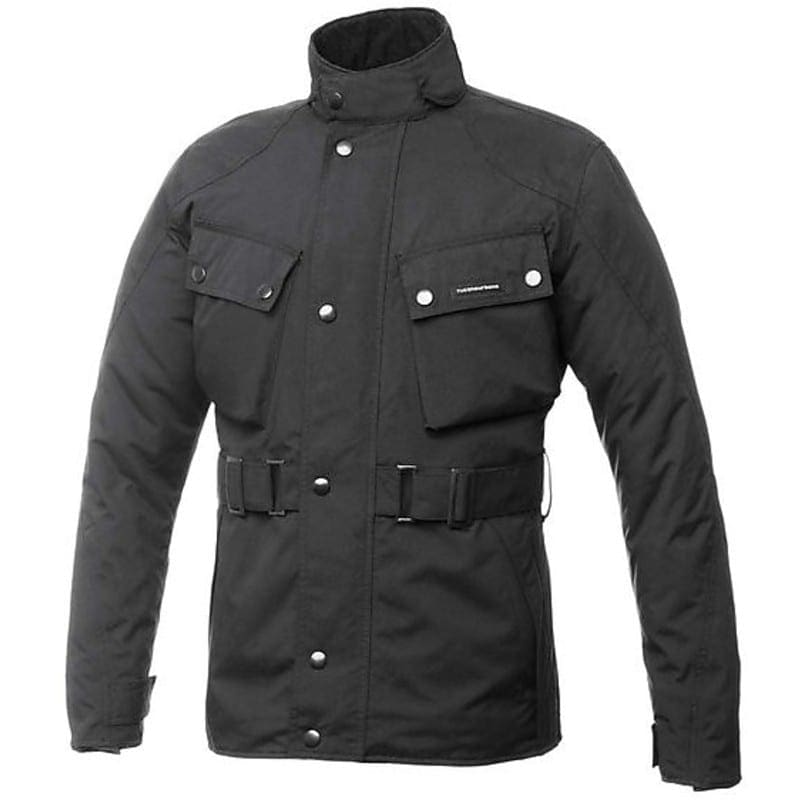 The jacket allows movement and has remained waterproof in the showers I rode through.
The reflective inserts in the cuffs and collar can be pulled out if required. Removing the reflectors might not be a good idea in the dark British winter but it does make the jacket more stylish.
The D30TM 1 armour is pleasantly unnoticeable, but should still work well in a crash.
Overall, I like this jacket, and it will get worn a lot this season.
Info: www.tucanourbano.com
Oxford Montreal 2.0
Reviewer: Nick Mowbray
RRP: £129.99
I've had excellent experiences with Oxford products in the past, mainly accessories and luggage, and I'm pleased to report that the Oxford Montreal 2.0 jacket also performed admirably.
The mid-length jacket is very comfortable. There are adjustment points on the arms, collar, waist and hips. It didn't restrict my movement and allowed me to fully stretch my arms and body. There are also air vents to allow ventilation around the jacket.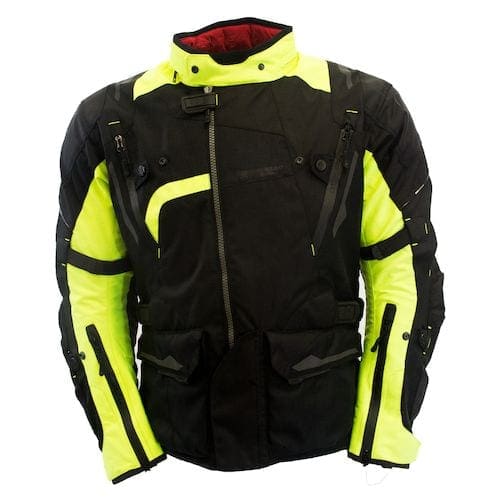 The jacket has CE-approved protectors on the shoulders and elbows (with space for a separate spine protector), reflective detailing, a removable thermal lining and a waterproof, breathable membrane. It has kept me dry and warm.
The Montreal is an excellent jacket: perfect for commuting, touring or adventure riding. At such a competitive price, I'd recommend the jacket to anyone.
Info: www.oxfordproducts.com
Furygan Hero Evo
Reviewer: Mau Spencer
RRP: £159.99
The Furygan Hero Evo is a stylish lightweight summer jacket. It features an abrasion and water-resistant coated polyester outer layer, a sewn-in Furygan Skin Protect lining for further protection, and a technical lining designed to maximise breathability and comfort.
Removable D3O CE protectors are fitted to the shoulders and elbows, offering protection without restricting the freedom of movement. There's also a pocket for an optional back protector.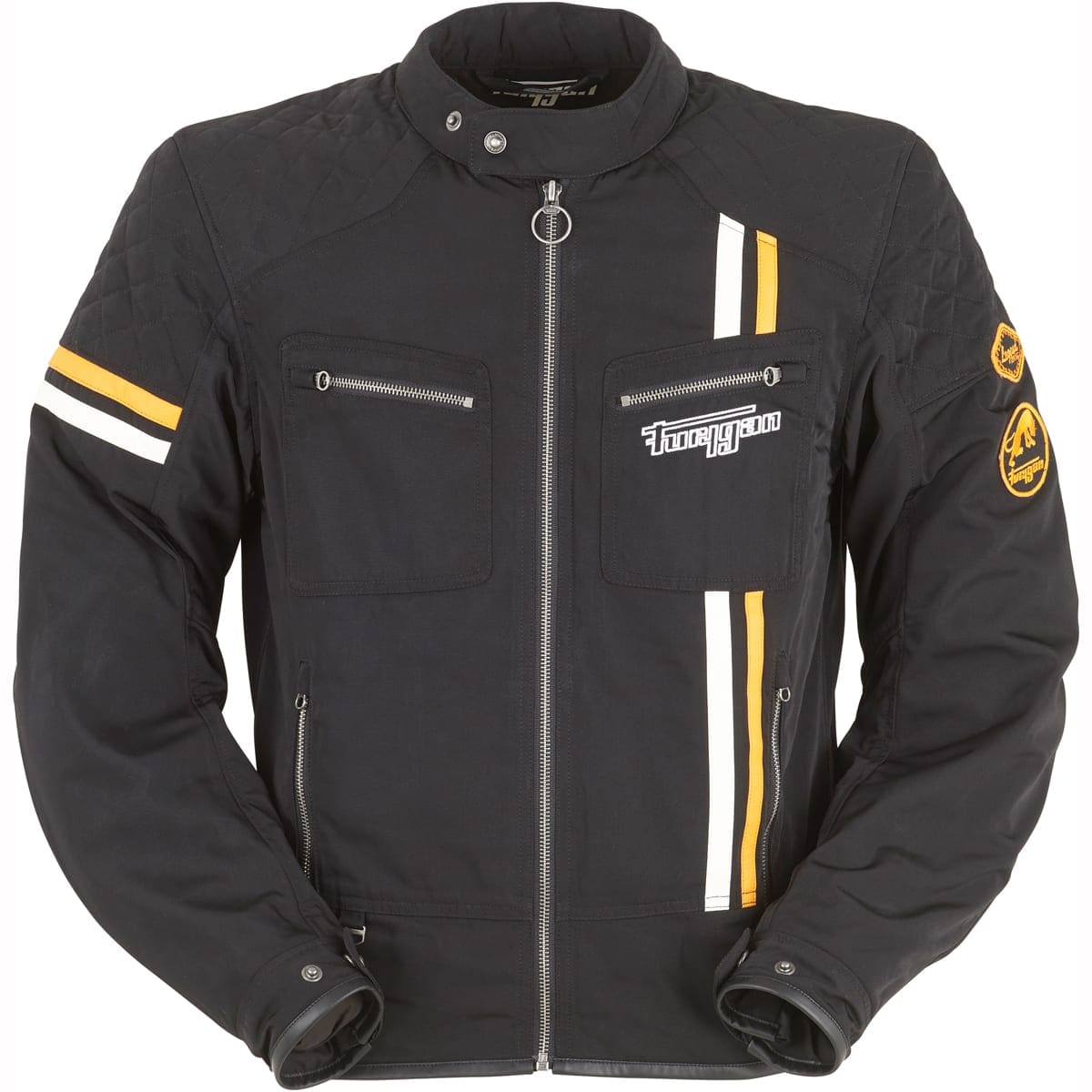 The jacket feels comfortable with no restriction of limb movement. There are easy to use 'snap claws' that connect the jacket to your trouser belt preventing it riding up. They also help reduce that 'wind ballooning' effect.
I would have liked a little more pocket space, but that aside, the jacket fulfilled all my expectations for a summer jacket; it fitted well, it didn't feel overly heavy, and it was comfortable to wear.
Info: www.furygan.com