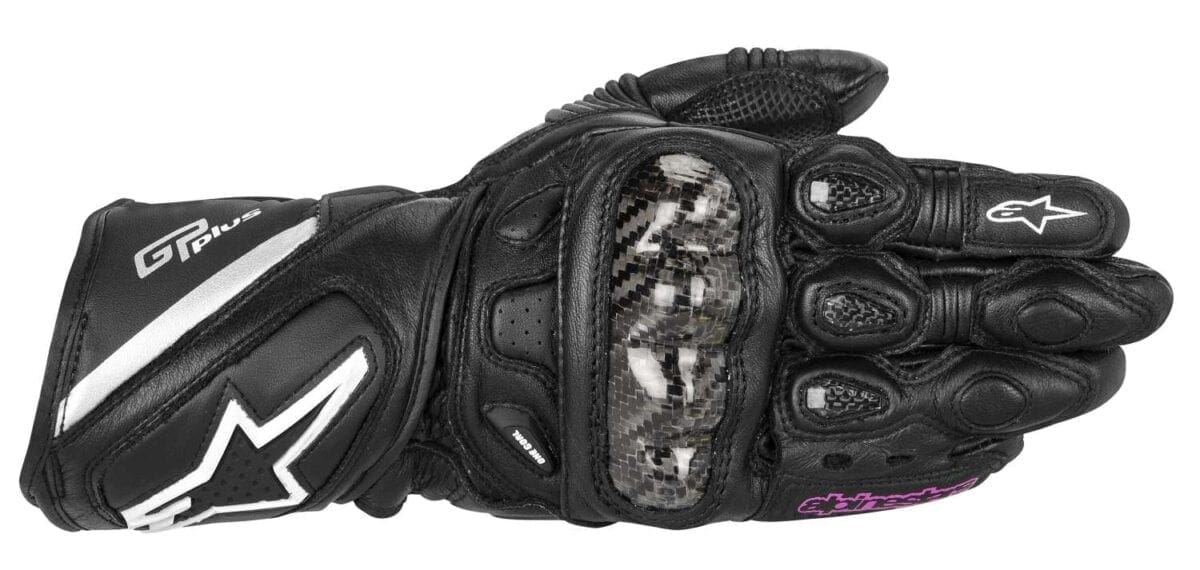 RRP: £129.99 
Reviewer: Carli Ann Smith
There's hundreds of gloves on the market – half the battle is deciding what kind you're after. If you're looking for a good quality, well-fitting, stylish, race-styled glove, then the Stella GP Plus ladies gloves from Alpinestars are worth looking into.
I really value a glove that fits well. Often if I wear gloves designed for men, the finger sections are too long and even in the smaller sizes, there's too much material bunching-up everywhere. However, these gloves have been designed especially for ladies hands, so they fit perfectly and were comfy straight away.
Made from full-grain leather, there's perforated sections on the top panel and down the sides of the fingers for ventilation – very welcome on those warmer rides. Stretch panels throughout mean you can move your hands easily and freely – sometimes race-styled gloves need 'bedding in' – not these.
I've never ridden with a 'finger-bridge' before (basically a piece of leather which goes across the third and fourth fingers to keep all fingers safely together should you fall off; I thought it might restrict movement but while riding, I didn't even notice it.
Safety-wise, they've got strategically positioned sections of Kevlar lining for tear resistance, TPU (plastic) palm and finger sliders, carbon fibre finger sliders and knuckle protectors and poly-foam reinforcements in key impact zones – so you're well protected.
They come quite high up your wrist and fasten using a contoured cuff with a large Velcro section with a smaller Velcro strap to fasten tight round the top of your wrist – they feel secure and safe when you've got them on and easily fit over sleeves of textile jackets and leather race suits.
For some, image is key and these gloves look the part. The design is subtle and there's just a touch of pink on the little finger. Available in sizes XS-XL.
Info:  www.alpinestars.com