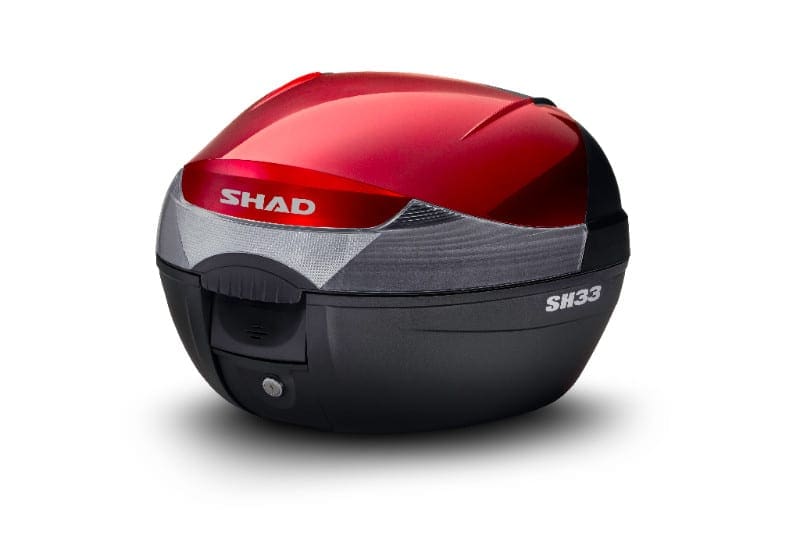 Shad, the Spanish bike luggage company, has released the all-new SH33 top case. It's a compact case, but according to Shad you can fit your helmet and gloves in there, which is just about enough for urban riding. The neural and modern design makes it usable for both on bikes and scooters. The case is also quite reasonable at £67.99 (including the fitting plate and screw set).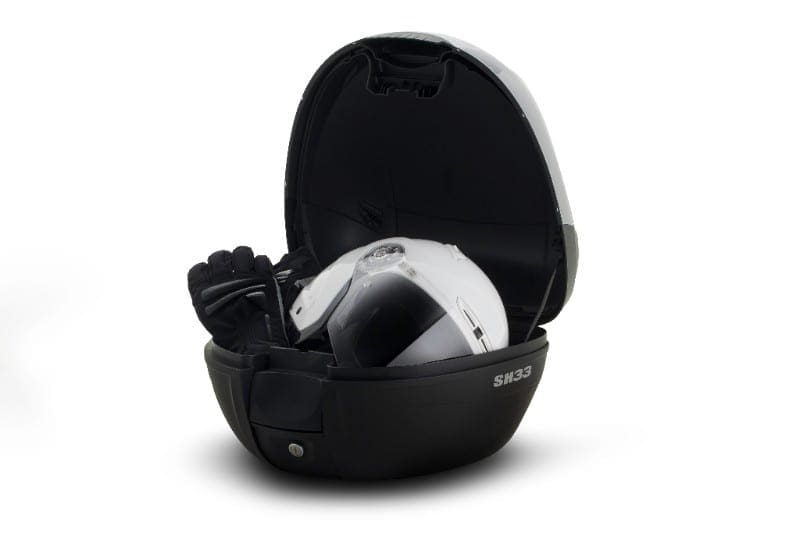 This is what the folk at Shad say about the top case:
Designed in Barcelona by Spanish motorcycle and scooter luggage experts Shad, the all-new SH33 top case is the perfect size for those riders looking for a little extra luggage space without overloading their machine.
The new SH33 is a compact and practical case (or top box if you are from that era!) with capacity for a full-face helmet and a few other bits like gloves. Using a heavy-duty modern impact resistant plastic construction, the case is lightweight yet robust, and the redesigned fitting mechanism between case and rack has been re-enforced to make it even more secure than before. 
The metal anti-theft clasp has a reduced gap between the lid and hook, yet the simple press lock system is easy to operate with one hand, making the loading and closing of the box a simple task. A single key secures both the lid to the box, and the box to the mounting plating on your scooter/ bike's luggage rack. The single mechanism also makes it simple to unlock, remove and carry the box complete upon arrival at your location – a solution that will no doubt please many riders today. So if for example you don't want to unpack at the roadside, the SH33 is the perfect size for keeping under your desk or on top of your locker after your morning commute!
As you'd expect, the SH33 boasts a waterproof sealing system and passenger comfort has also been enhanced with the box redesigned around the hinge with this in mind.

The new SH33 measures 43cm wide, 31cm high and 42 cm deep with a maximum design load of 3kg. As with all Shad top boxes/cases, the new SH33 comes with a fitting plate and screw set to mount the case on its fitting or directly onto the motorcycle or scooter.

The Shad range is only distributed in the UK by the official UK distributor, Motorcycle Parts Network who offer an exclusive 2 year UK backed guarantee on Shad products.

The new Shad SH33 top box has a recommended retail price of just £67.99.
There are also a range of optional accessories to enhance the style, comfort and safety of the Shad SH33 including a range of interchangeable, coloured top panels to match your bike or scooter from £16.99 (unpainted), a pillion backrest for just £17.99 and high-level brake light for the mounting plate at just £16.99.
For further information and details of your nearest official stockist please visit www.shad.co.uk