In the last issue of Twist and Go, we included a couple of errors in our initial report on the Super Soco – most importantly pertaining price and distribution.  Here is the correct information.
The crowd-funded Super Soco electric motorcycle, has finally made it to British shores, and is being distributed by London-based V Moto UK.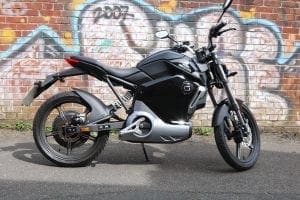 The SuperSoco costs £2349 on the road, and for the money the plucky little commuter is great value for money. Of course, its low price is reflected in its performance – it's not especially quick. But if you're looking for a cheap, economical and environmentally friendly bike to squeeze through city traffic, you could do a lot worse than checking out the SuperSoco.
The TS1200R uses a 26Ah, 60V lithium battery powering a Bosch motor which kicks out around 2.61bhp and offers 120Nm of torque – which equates to 50cc moped levels of performance. The bikes are also claimed to be able to manage around 50km on a single charge, but you can swap out the battery for a spare to instantly revive the bike (providing you opt for the extra battery pack, of course).
The Super Soco features include a keyless start, anti-theft alarm and lightweight carbon steel mainframe – plus it features a removable lithium battery that can be recharged at any domestic 13amp socket or at on-street charging points.
Specifications
Engine: Bosch 1200W
Power: 1.9Kw
Frame: Carbon steel mainframe and aluminium rear frame
Tyres: Tubeless, 100/70-17
Seat Height: 770mm
Price: £2349