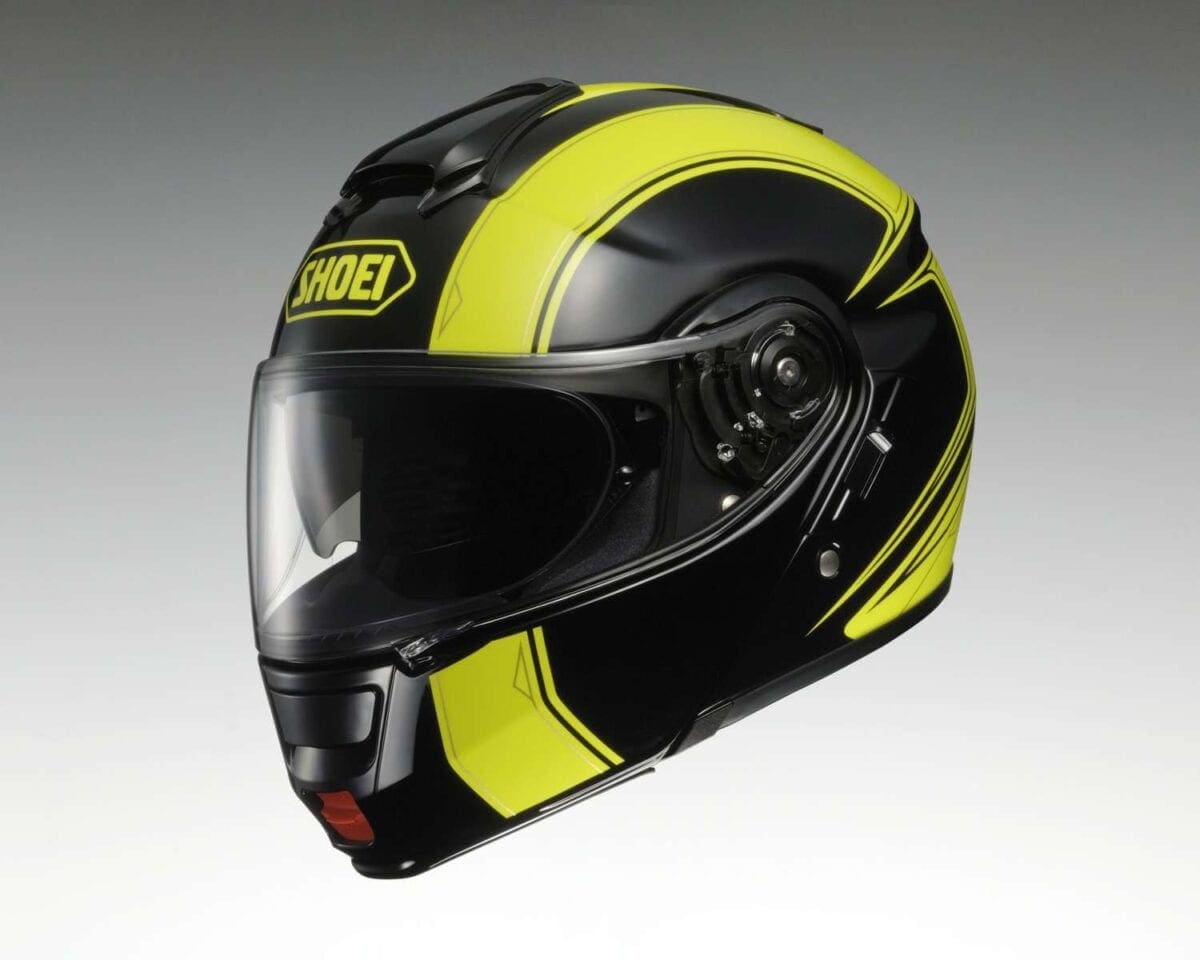 With thousands of helmets to choose from it can often be a challenge where to start and understandably it's not just a case of looking at which helmet looks the best and matches your ride anymore!
Often a helmet can be one of the most expensive things you purchase when looking to start on two wheels. It's important that you spend your money wisely on something that will be comfortable, look good and keep you safe should the worst happen. Believe it or not, it wasn't until 1973 that it was made compulsory that motorcyclists had to wear a helmet by law. Prior to this many riders used to just wear flat caps!
It may be that you have friends who ride already who can give you advice on which helmet they think you should pick, you may want the same brand as your favourite motorcycle racer or you may just want the cheapest one available. We've put together a definitive buying guide to help you make the best decision.
Helmet types
The first question you should ask yourself is what type of helmet you're looking for. This will depend on what type of bike you have, what you're using it for and personal preference as to which type you feel most comfortable in. Each type has their good and bad points, so weigh them up and see which suits you best.
Open face helmets
Also known as ¾ helmets, these are regularly used by some scooter and cruiser riders. Whilst these helmets have the cool factor and look the part on certain kind of bikes, they're not suitable for high speeds unless wearing goggles and something to stop the flies from going in your mouth. They offer good levels of vision, however in the event of an accident just bear in mind that they don't offer the same level of protection as a full face lid should you go face first.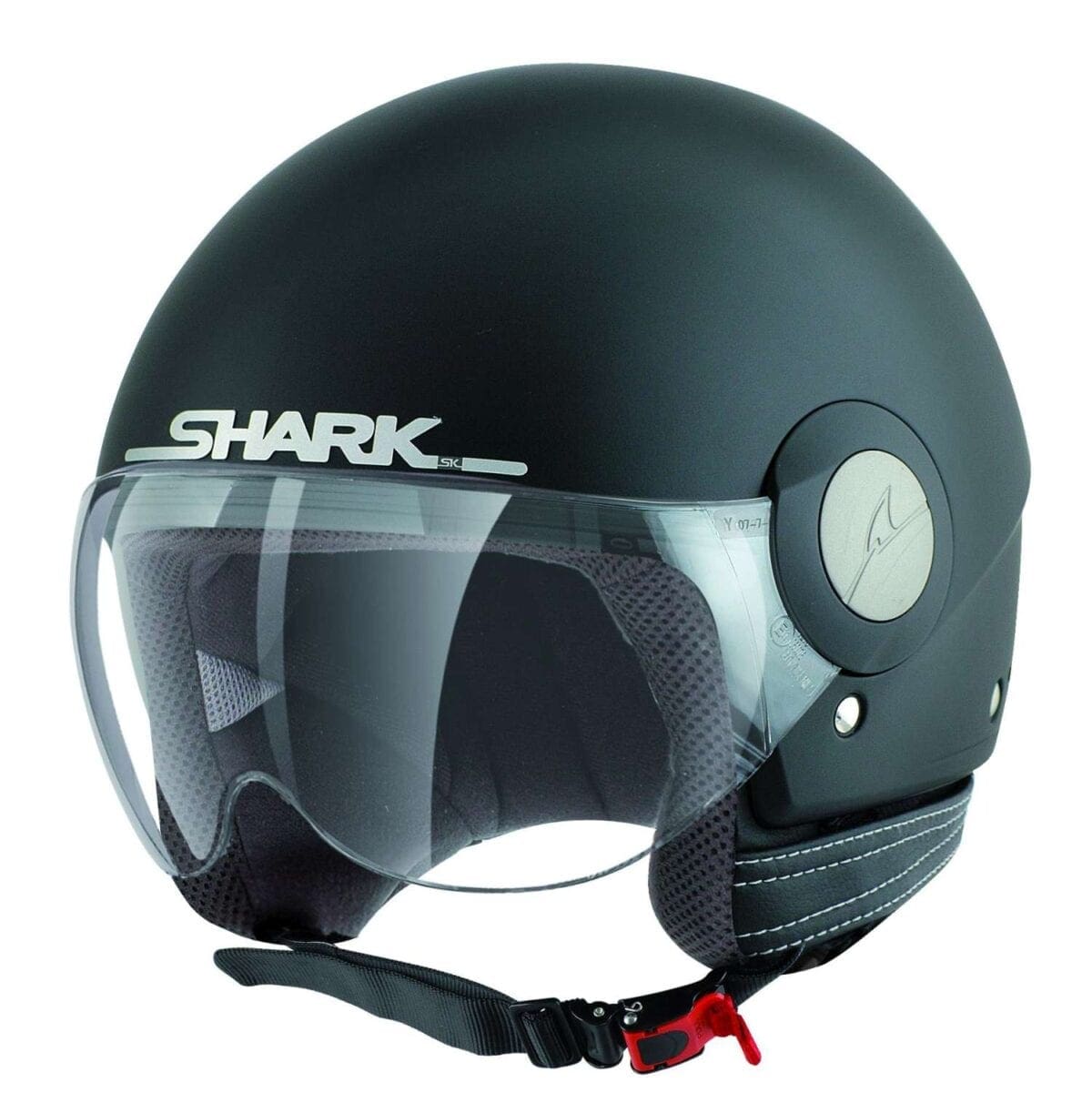 Flip front helmets
Flip front lids are often chosen by police and riding instructors as well as many road riders. They allow the front section to be flipped up enabling people to see your face and hear you properly without the need to take your helmet off. Some manufacturers make it so that the front section pulls out completely – giving you two helmets in one. Flip front's provide good protection but also give you the advantage of not having to take your helmet off all the time.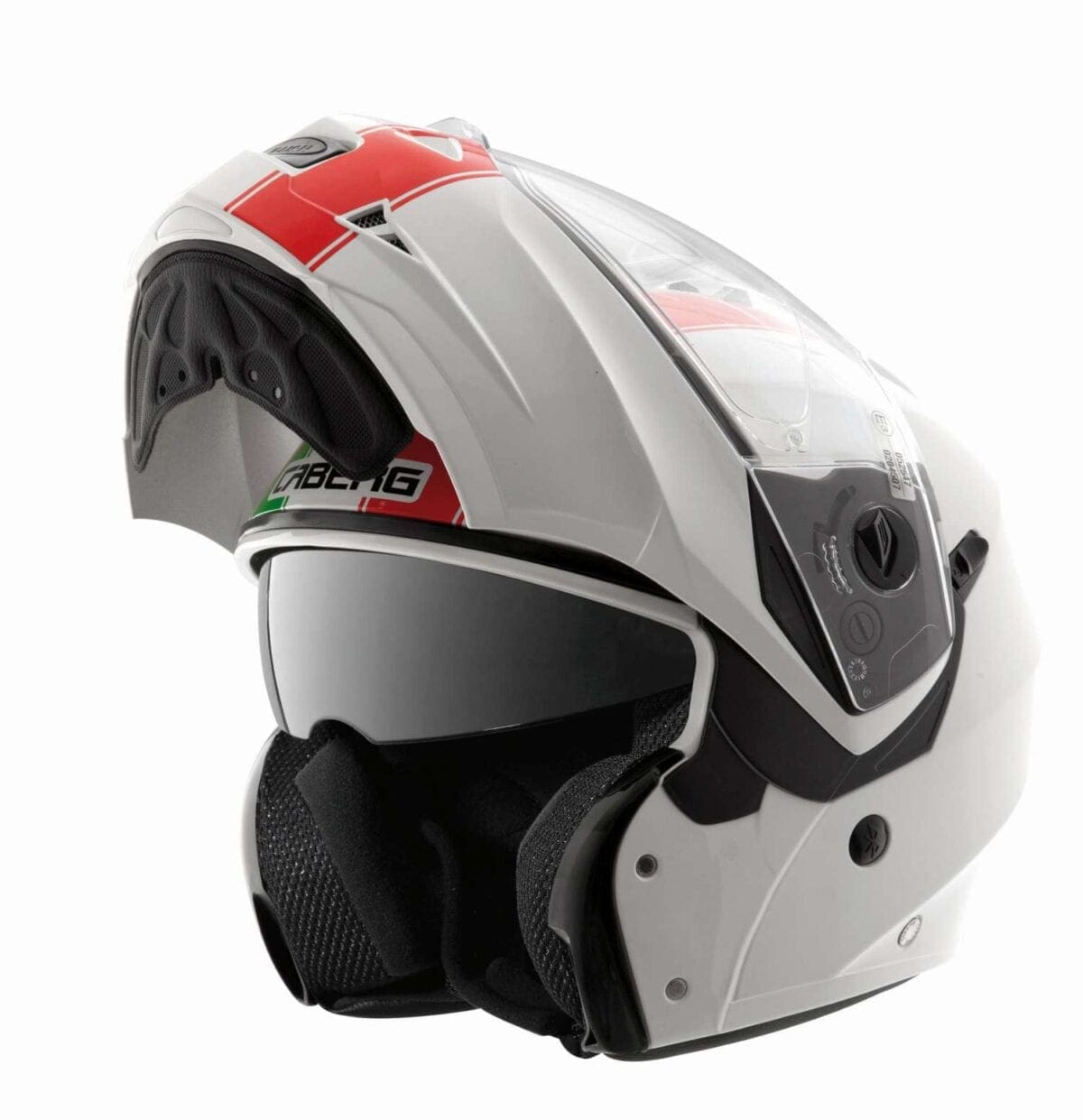 Full face helmets
The most common choice for many riders, full face lids are widely available and as the name suggests, cover all of your face. These offer high levels of protection as all of your face is looked after by padding and the helmet shell. They can be used on any bike and are used on everything from scooters to Harley-Davidson's!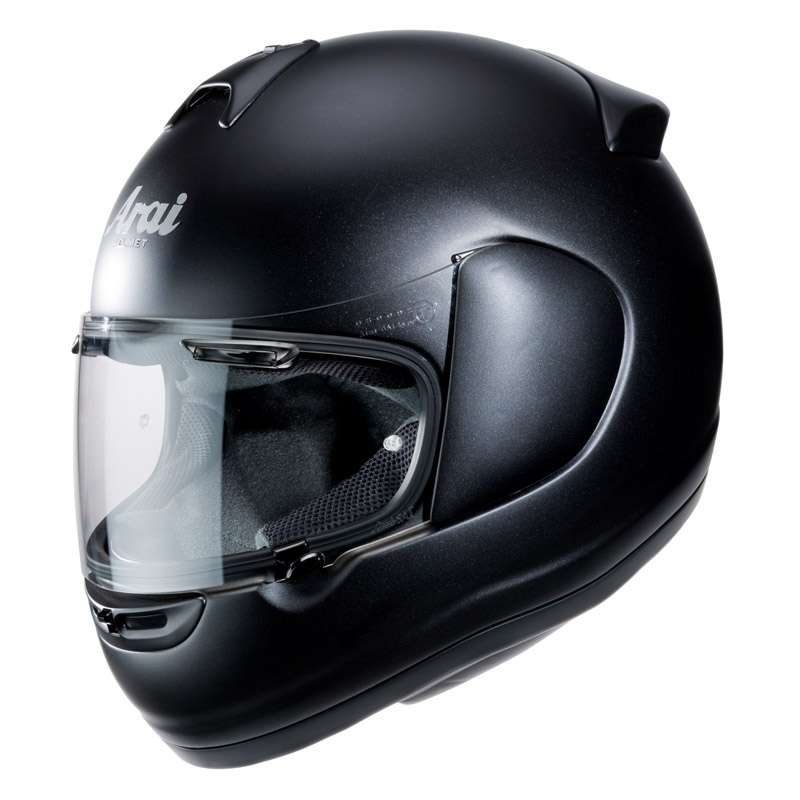 Motocross helmets
Used predominantly by off-road riders and people heading off on adventure tours, the motocross helmet is often used in conjunction with goggles as they often don't have inbuilt visors. The peak at the bottom of the helmet is functional in the sense that it protects the goggles should you fall. The peak at the top prevents glare from the sun and also acts as protection.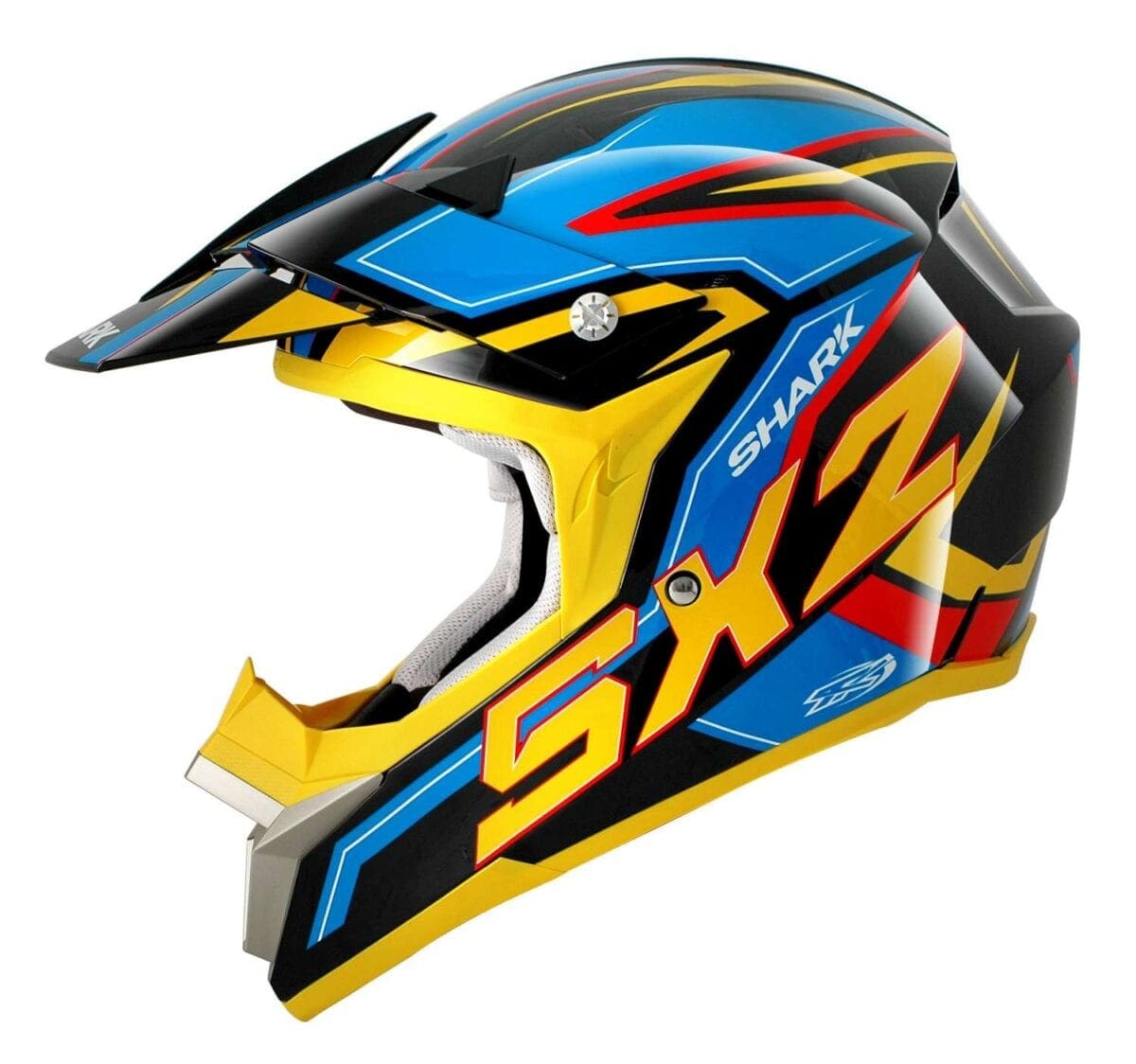 Getting the perfect fit
The way that the helmet fits your head is essential. You don't want it too tight so that it's uncomfortable and gives you a headache, but at the same time you don't want it loose so that it slips off and offers little protection. The word that is banded around a lot when it comes to the way a helmet fits is 'snug'. If you head to your local helmet stockists then the dealership staff will be able to assist you with your choice, but it's handy to know what type of tests you can do to check the fit.
Measure your head – this should be done with a soft tape or a piece of string and the measurement taken from just above the eyebrows round the crown of the head. This offers a good basis for what size you should be looking for.
Getting the helmet on should be a slight squeeze – the helmet should offer a little resistance to being put on but not be too much of a push.
Once the helmet is on…
Feel around the padding where the helmet meets your forehead – there shouldn't be a gap.
Place your hands on either side of the helmet and try and push it side to side and up and down – the helmet should feel as if it is moving the skin on your head, rather than moving independently.
Fasten the chinstrap tightly, as you would when riding, and put your hands on the back of a helmet and try and push it off – it should remain firm and stay on.
Get hold of the front of the helmet by the chin bar and rock it backwards. If it is the correct size it should stay in place and still feel secure
Walk around the shop for at least 5-10 minutes – you're going to be wearing this helmet for prolonged amounts of time when riding your bike, so take some time to work out whether it will start digging in or putting pressure on certain parts after a short amount of time.
Helmet prices
After shelling out money for a motorcycle or a scooter, it's understandable that you may not want to spend a lot on riding gear. But, you only get one head and it's a VERY important part so it's essential that you look after it. There are a range of helmets available at a number of price points so don't think you necessarily have to go out and splash the cash on the latest lid.
Safety
A helmet is the only item of protective clothing that you must wear on a motorcycle or scooter by UK law. There are a number of criteria that helmet should meet to be legal in the UK. It used to be that helmets had to meet British Standard BS 6658:1985 and carry the BSI Kitemark. This has now been superseded by UNECE Regulation 22.05. You'll be able to find this label on a non-detachable part of the helmet, it's usually found on the chinstrap.
The number next to the E is purely the country where it was tested and not a rating as many people think.
Alternatively, the helmet but meet a European Economic Area member standard offering at least the same safety and protection as BS 6658:1985 and carry a mark equivalent to the BSI Kitemark.
People often see the ACU stickers on helmet and use it as a sign of quality; however this doesn't affect the law. The ACU stickers on helmets just mean that they can be used on track.
In 2007, The Department of Transport set up SHARP, the Safety Helmet Assessment and Rating Programme, which rates helmets from 1-5 stars based on the results of 32 tests. They have a number of helmets in their database so why not search for yours?
It's safe to say that all helmets sold at official dealerships meet the UK standards, however if you're unsure about it then ask them or go and research it before purchasing.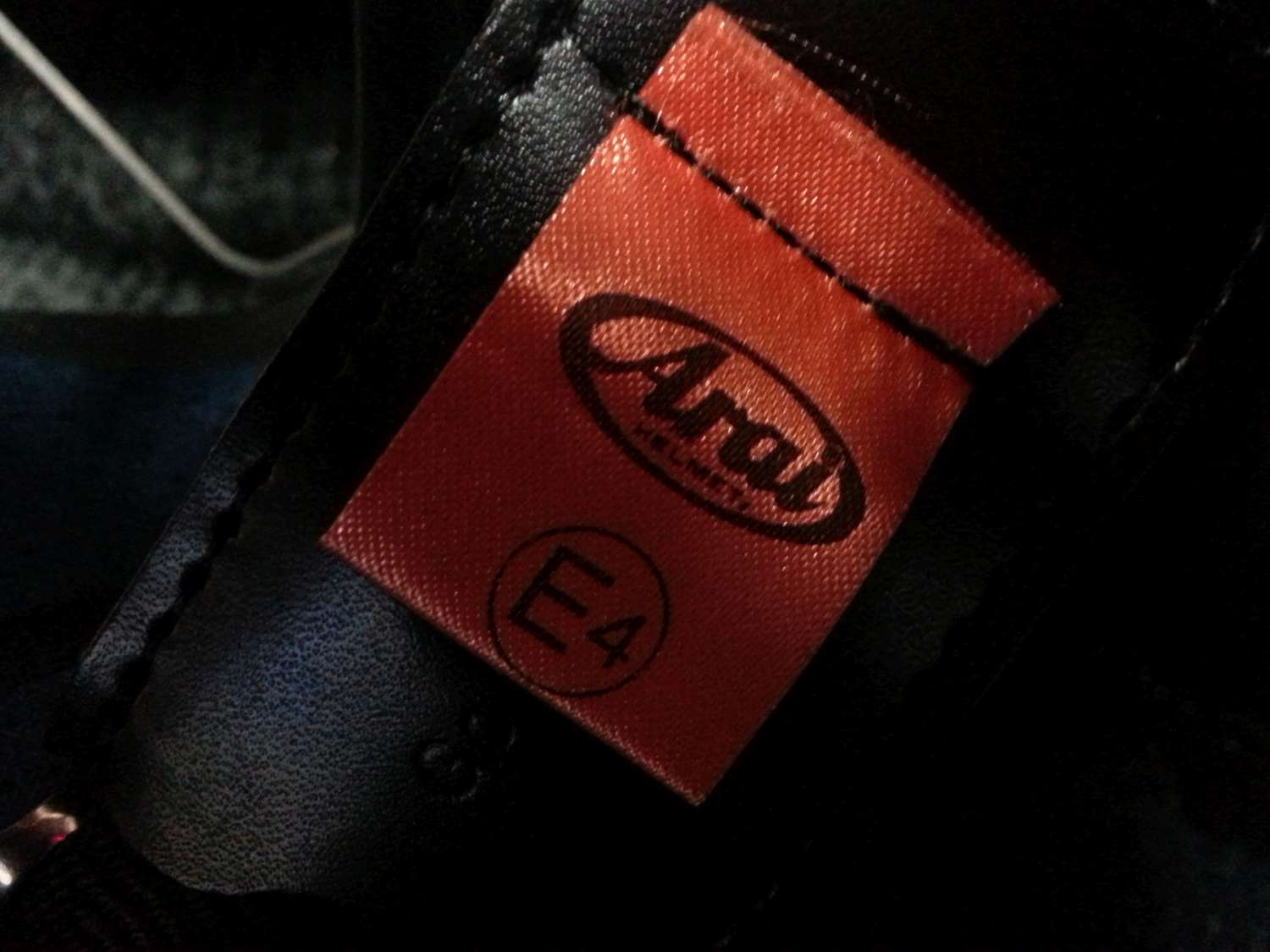 Availability
It's worth checking that spare parts are readily available for your new helmet, what if the visor fixture snaps when you're trying to change it and you're unable to get your hands on a new one or one of the vents breaks and lets in cold air on your winter commute? You don't want to be shelling out for a new helmet.
Many brands have a great aftersales service such as spare parts, advice and websites packed with great instructional videos.
Once you've got it home
Now that you've finally bought your lid it's time to use it – get out on that bike and rack up the miles!
That's not where your responsibility ends though as you'll need to take care of it. Give it a wipe down when you're back from your rides, clear out the flies from the vents with some ear buds and treat the inside of the visor with an anti-fog spray to keep it in tip top condition. If you're feeling like you really want to treat it, why not wash it?
If the padding is removable then take it out and hand wash it with baby shampoo. Baby shampoo is a mild detergent and gentle so is fine to use on the inside of your helmet. Don't want to take the padding out for the fear of not getting it back in? Or is the padding not removable? Pour in a little bit of baby shampoo and take it in the shower with you, alternatively (if you think that's weird…) wash in the bath or in the washing up bowl. Leave it to dry naturally – the best place for it is hung on a washing line on a summer's day. Don't dry with a hair dryer or on the top of a radiator. Washing the helmet rejuvenates the padding, plus imagine not washing your pillow case for over a year…
Other things to consider when buying a helmet
Thinking about buying a helmet from another country? Bear in mind that it might meet different standards than there are in the UK and it might not be legal to wear
It's strongly recommended that you don't buy a second hand crash helmet – many helmets don't show signs of being dropped and often the damage is internal with no scratches or marks on the outer shell
Do you wear glasses? Take them with you to try them on with the helmet. The arms might affect the fit of the helmet and put pressure on the sides of your head. It's worth researching helmets that take this into account as many have specially designed glasses groves.
Never put your gloves instead your helmet, it's not a handbag. All of the dirt and grime that gets onto the gloves such as petrol, oil and rubber penetrates the inside of the helmet and is a sure fire way to wreck it. The knuckle protectors, whether they're plastic or carbon, dent and fracture the inside lining of the helmet and the Velcro and pull it.
Don't put your helmet on your fuel tank as the vapours can do substantial damage to the polystyrene inside – plus it's got a long way fall!"
---
Advert
---
Enjoy everything More Bikes by reading the MoreBikes monthly newspaper.
Click here
to subscribe, or
Read FREE Online
.
Sign-up to the More Bikes Newsletter
Enter your e-mail address below and get regular updates straight to your inbox… You can unsubscribe at any time.