With so many styles and materials to choose from, you might not know where to start when faced with buying your first pair or looking for a new pair of gloves. There's plenty to consider including safety, price point and comfort…
Surely all gloves are the same? Unfortunately not. Getting the right pair of gloves is very important. Finding the best pair for you is all about thinking about the weather you ride in and making sure your hands are comfortable, warm and safe.
You're not required by law to wear gloves on a bike but it's highly advisable to get yourself a pair to keep your hands protected – and not just against the elements. We've put together a buying guide to help you find your perfect set of gloves for you.
TYPE:
To begin narrowing down your choices, think about the material you think would be best for you. The two main choices are leather or textile – each have their pros and cons, so consider which suits you, your bike and your budget.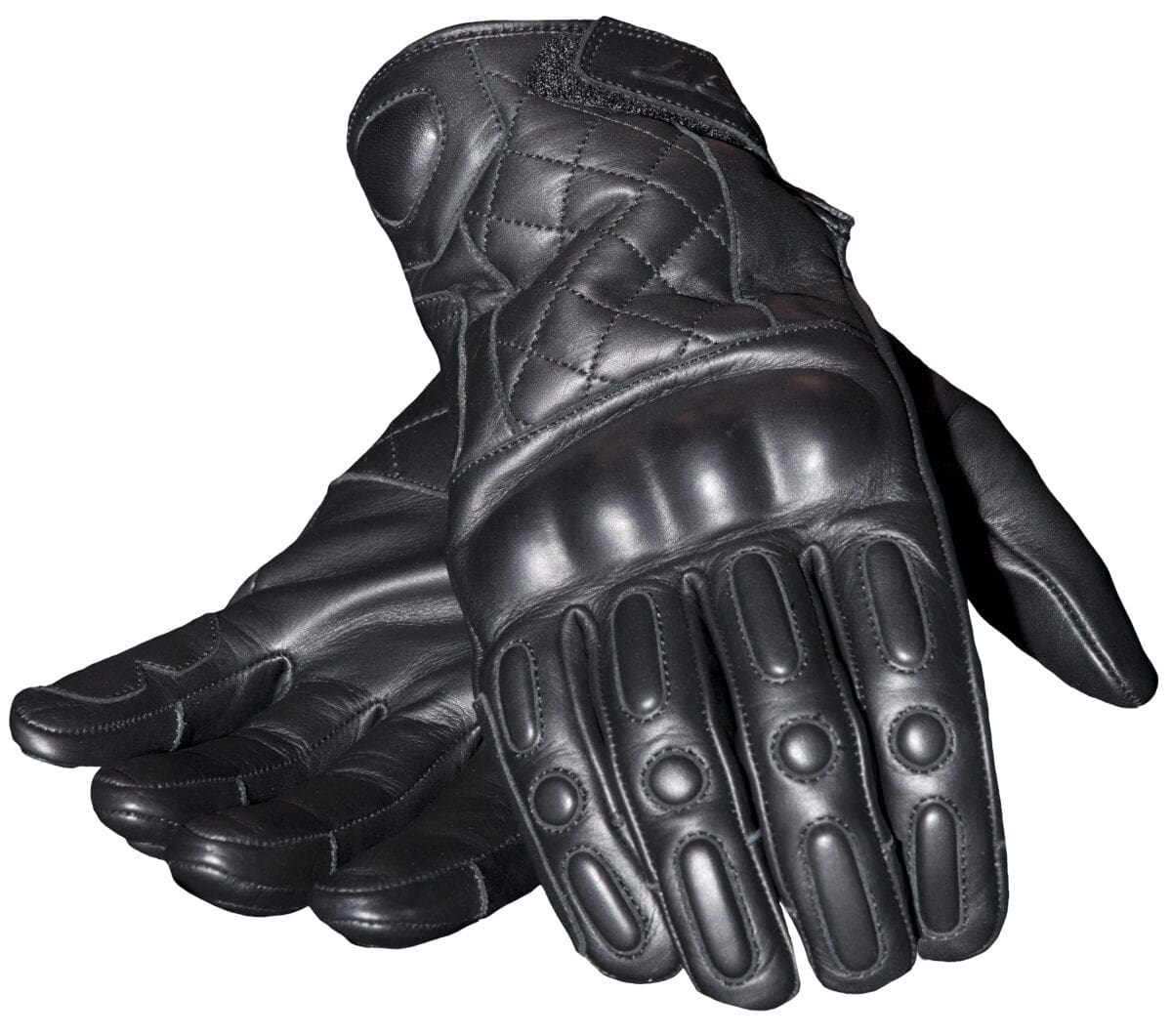 Leather
Gloves made from leather are often more resistant to abrasion than their textile counterparts meaning should you need to test it out, you can be sure you'll be protected. A lot of people find them softer and more flexible too. It's not just cowhide leather that is used either; sometimes goat, kangaroo or sometimes stingray leather sections are used in gloves on the knuckles or palms due to their high levels of abrasion resistance.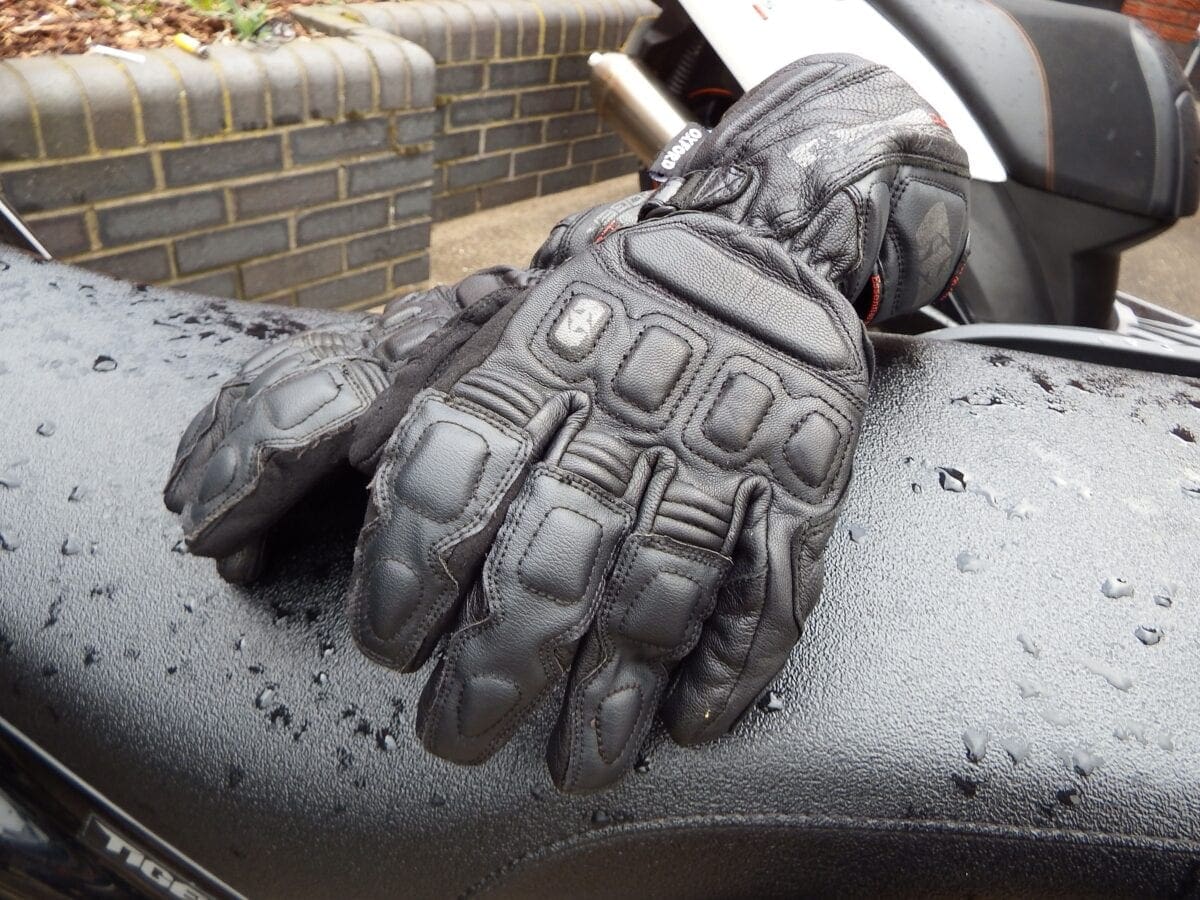 Textile
Materials have advanced a lot over the last few years and there are some fantastic alternatives to leather gloves. Often, as with jackets, textile gloves are cheaper to buy than leather. They often contain waterproof membranes too making them water resistant so that your hands stay dry. They can be cleaned too – often in a washing machine.
Best of both
It's not uncommon to see gloves made from leather and textile – these are often a popular option as you get the benefits of both materials in one pair of gloves.
Once you've decided on the material, have a think about the style of gloves you'd like – there are plenty to choose from – a lot of it is down to personal preference:
Long or short
Some people like to tuck their gloves into their jacket sleeves – short gloves are easier to do this with as there isn't a lot of material to try and squash in around the wrist, plus in summer, shorter gloves allow a cooling draft up your sleeve. Other riders prefer longer gloves so that they can tuck their jacket cuffs into the top of their gloves to stop the pesky wind getting in. Not only this but longer gloves offer protection from road rash on your wrists in case of an accident. Some gloves have a zipper at the top to make the cuff wider or thinner so that they can be worn inside and outside your jacket.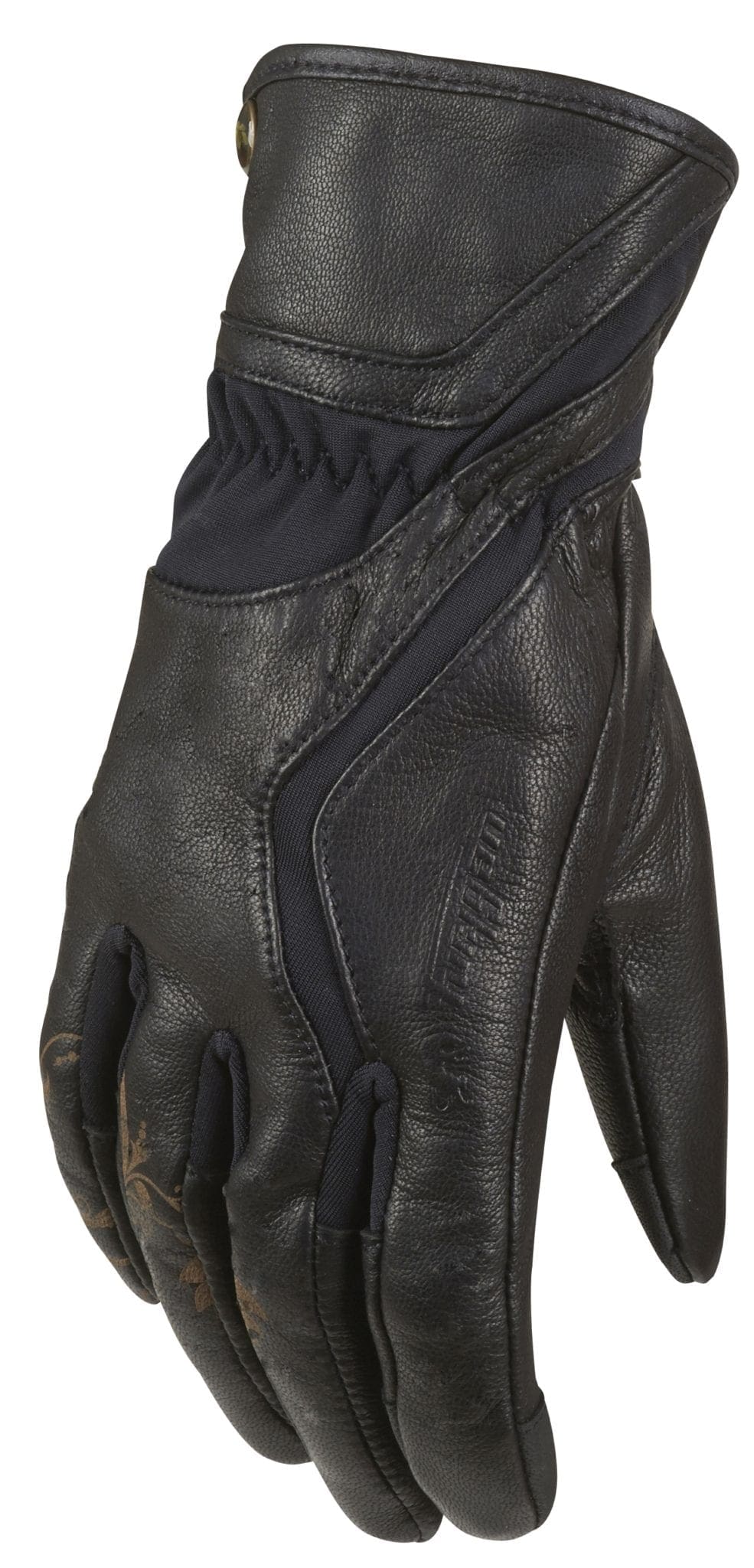 Men's or women's
Like helmets, a lot of gloves are unisex, so as long as they fit properly it's not essential to get gender specific gloves. Some manufacturers offer gloves which cater for ladies hands which are often thinner and smaller than men's.
Summer or winter
Summer gloves often have plenty of ventilation to keep your hands cool during hotter weather – sweaty hands are often just as bad as cold ones in winter. Winter gloves are well insulated, padded and have been specially designed to be worn in adverse weather so are waterproof.
TOP TIP
– When buying winter gloves make sure you are still able to use the controls comfortably – don't let your dexterity be compromised.
– Why not think about buying a pair of winter gloves and summer gloves? That way you will have the right glove no matter on the weather!
Fingerless
As the name suggests these are gloves without fingers and are often popular with cruiser riders. They don't offer any protection in the event of an accident for your digits though.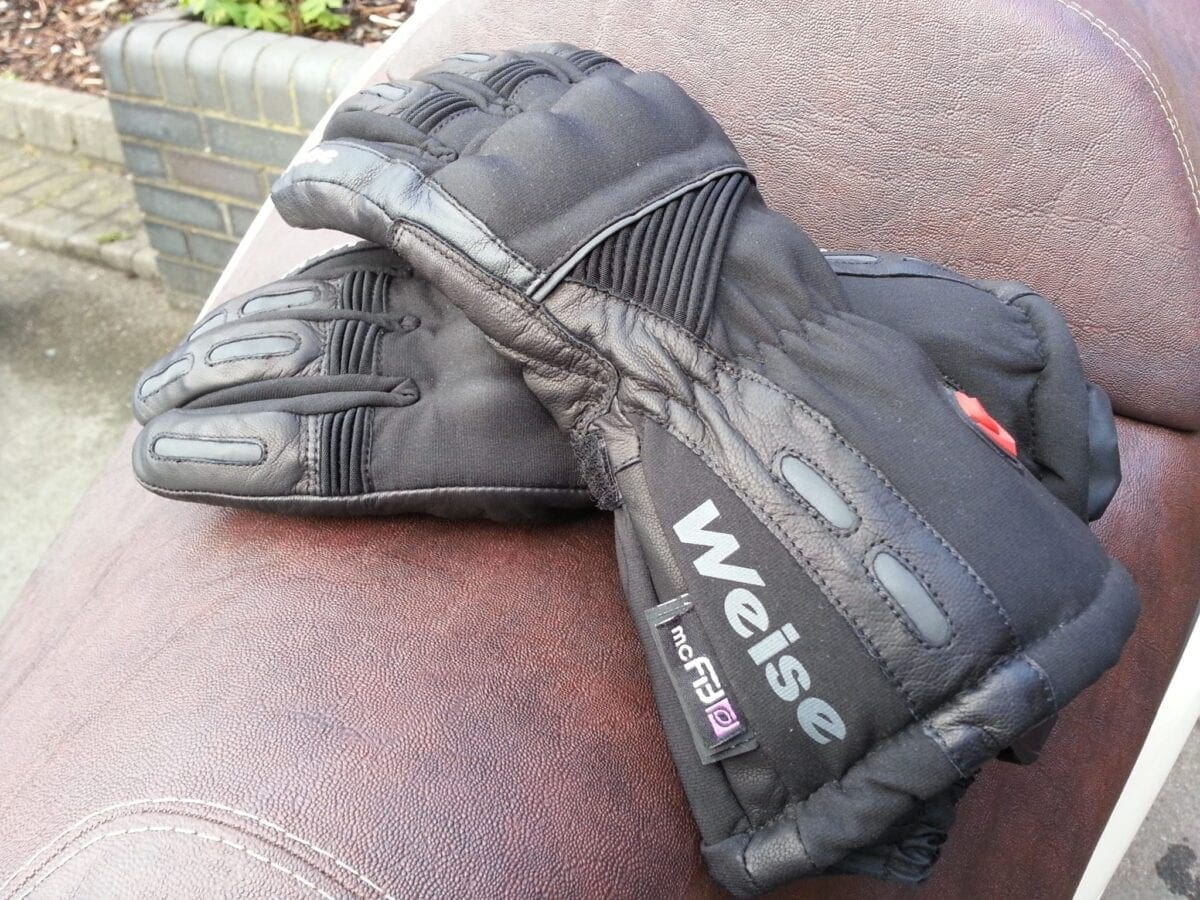 Heated
Great in winter, these gloves feature heated elements to keep your hands toasty. Sometimes they're powered by rechargeable batteries, others can be hardwired into the bike or scooter battery or they can have a 12V socket lead. Heated gloves are a great alternative to heated grips as they can be transferred from bike to bike and some people prefer them as they provide heat around the whole of the hand – including the tops, the area battered by the wind.
Inner / under gloves
These are thinner gloves, sometimes made of silk, that are worn under outer gloves to add an extra thermal layer for warmth and to keep the lining of the gloves cleaner.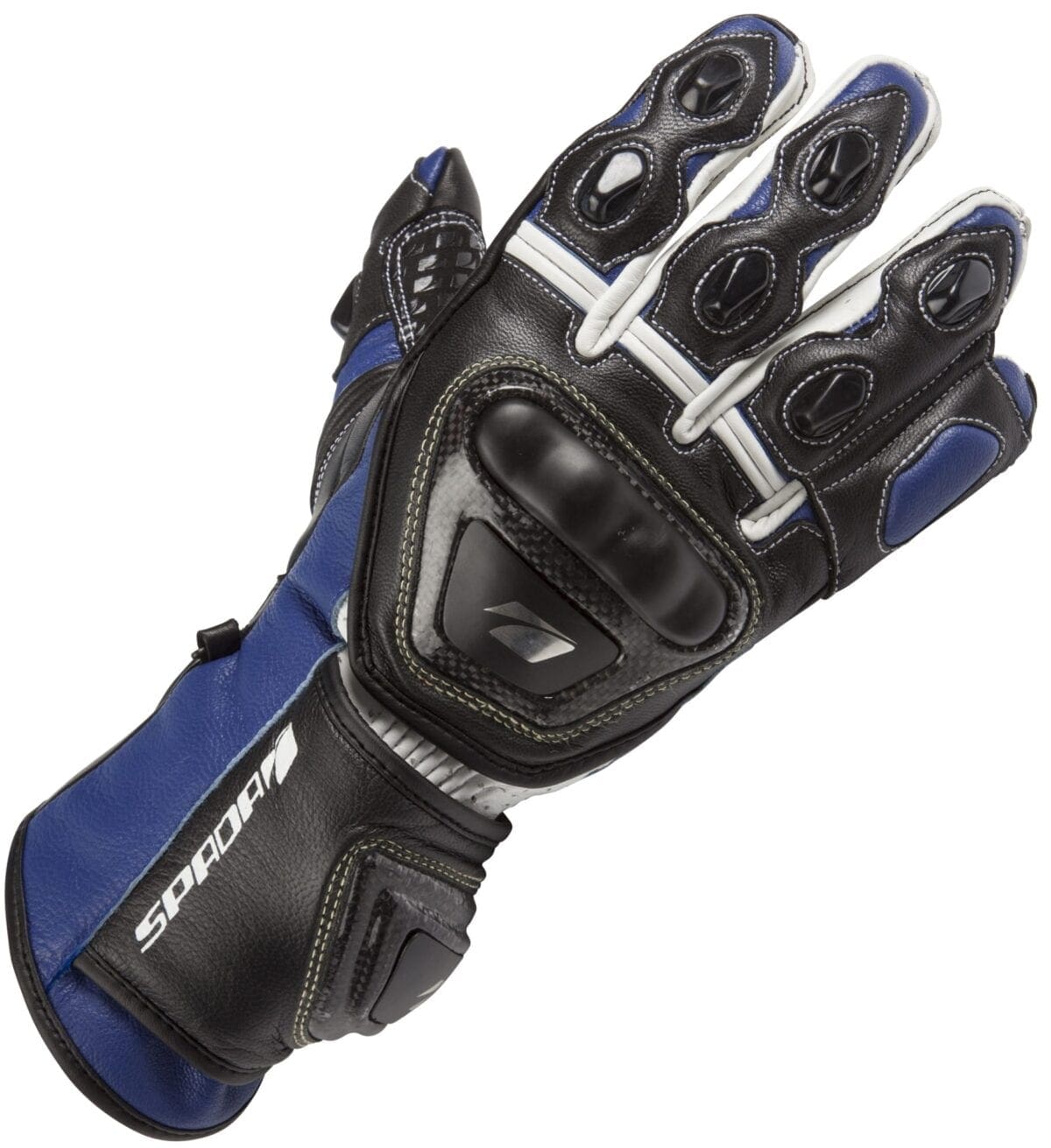 Race
These gloves are packed with safety mechanisms and armour and are often the glove of choice for sports bike riders on the road. However, this tech often costs more money – it's up to you if you think it is worth it.
Claw
These might make you look like an extra from Star Trek, but they work a treat for keeping your hands warm in winter. You still have full movement in your hands for vital controls but they group your fingers together to keep them warm.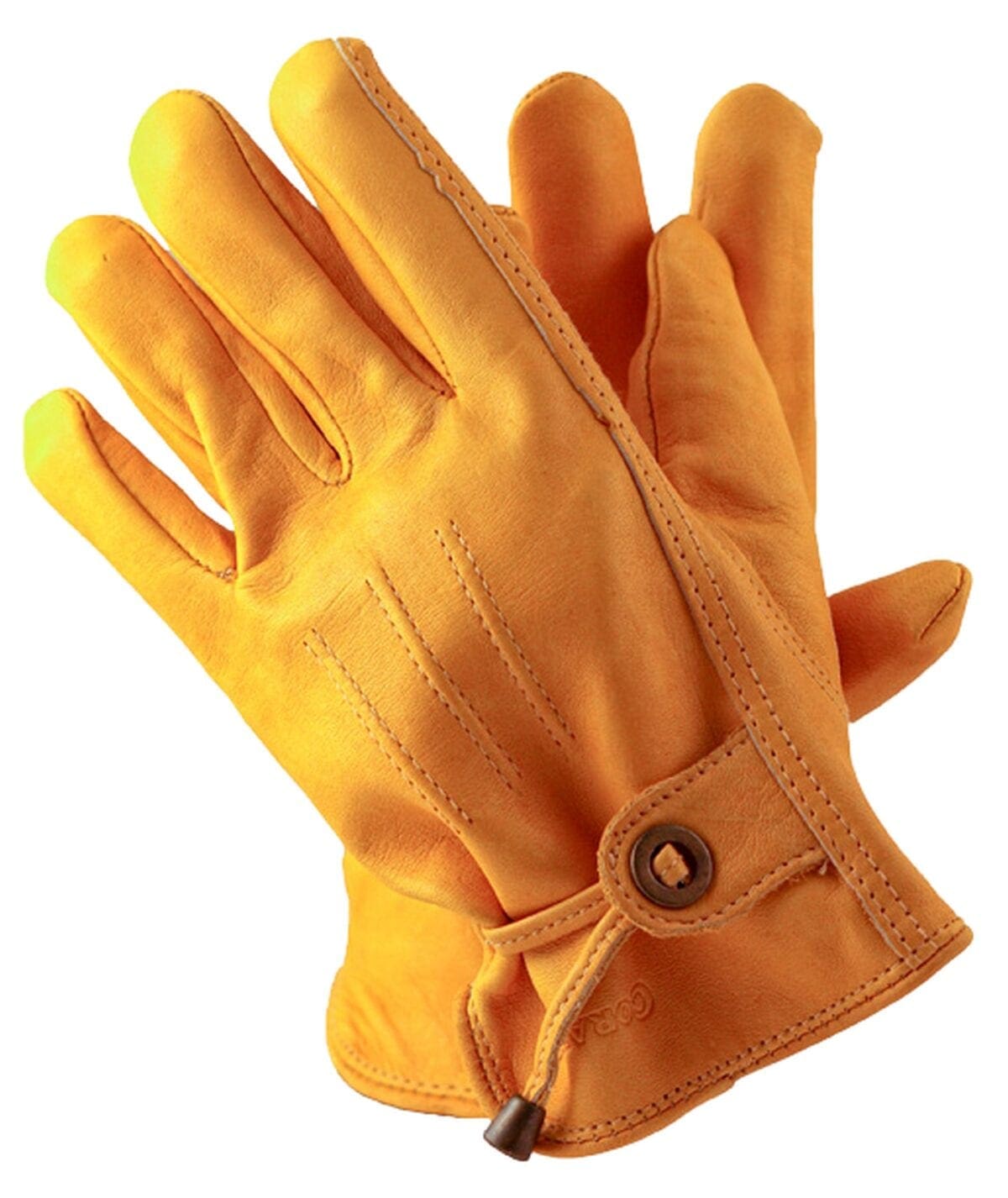 Retro
Often these gloves are worn on classic scooters or bikes and are classically styled to match. Sometimes they don't have a lot of protection included but they look the part!
CE approval – what's it all about?
Motorcycle gloves aren't required to be worn by law, nor are they required to have CE approval – however, by purchasing a product with CE approval you have the peace of mind that they will be fit for purpose and protect you should you need them to.
Gloves have their own European standard – EN 13595:2002 – this standard tests the gloves on a number of points including:
–              The general design of the glove – such as the overall length
–              Integrity of the whole glove – strength of the seams or joints
–              Test on the materials used – colour fastness, the use of hard inclusions etc.
–              Ergonomics of the glove – can the rider still ride safely
–              Durability of materials – cut resistance and abrasion resistance
–              Restraint of the glove
–              Option test of impact protection if asked for by the manufacturer
Information taken from: www.satra.co.uk – UK based CE approval centre.
If you're unsure about whether your gloves are CE approved or not, look for a label. If they are there will be a CE marking and the CE test number e.g. EN 13595:2002 – do an internet search and see what comes up. If there is no marking – contact the manufacturer or the dealership and ask.
FIT
A well-fitting pair of gloves is a must when riding. Too loose and you don't have as much control over the bike and the excess material may dig in and cause blisters – not good. Too tight isn't much better either, as it can cut off your circulation and make your fingers go numb during a trip.
TOP TIP
Try on as many different styles and brands as you can to find the one that suits you the best – bear in mind that as with most motorcycle clothing, different brands will often differ in sizing.
If you're planning on wearing inner gloves then try on your potential new gloves with them or buy a size larger to make sure they're not too tight.
Remember that leather stretches as it is worn so if they feel a little tight when you try them on, they will bed in as you wear them.
The lining in some winter gloves can come out as they are worn. While you're in the shop put your hand in and out and get a feeling how secure they are. Ask at the dealership if they've had any customers bring them back for that problem.>
If you can't make it into a dealership and you want to order online then a good way to find your size is to measure your hand using a tape measure.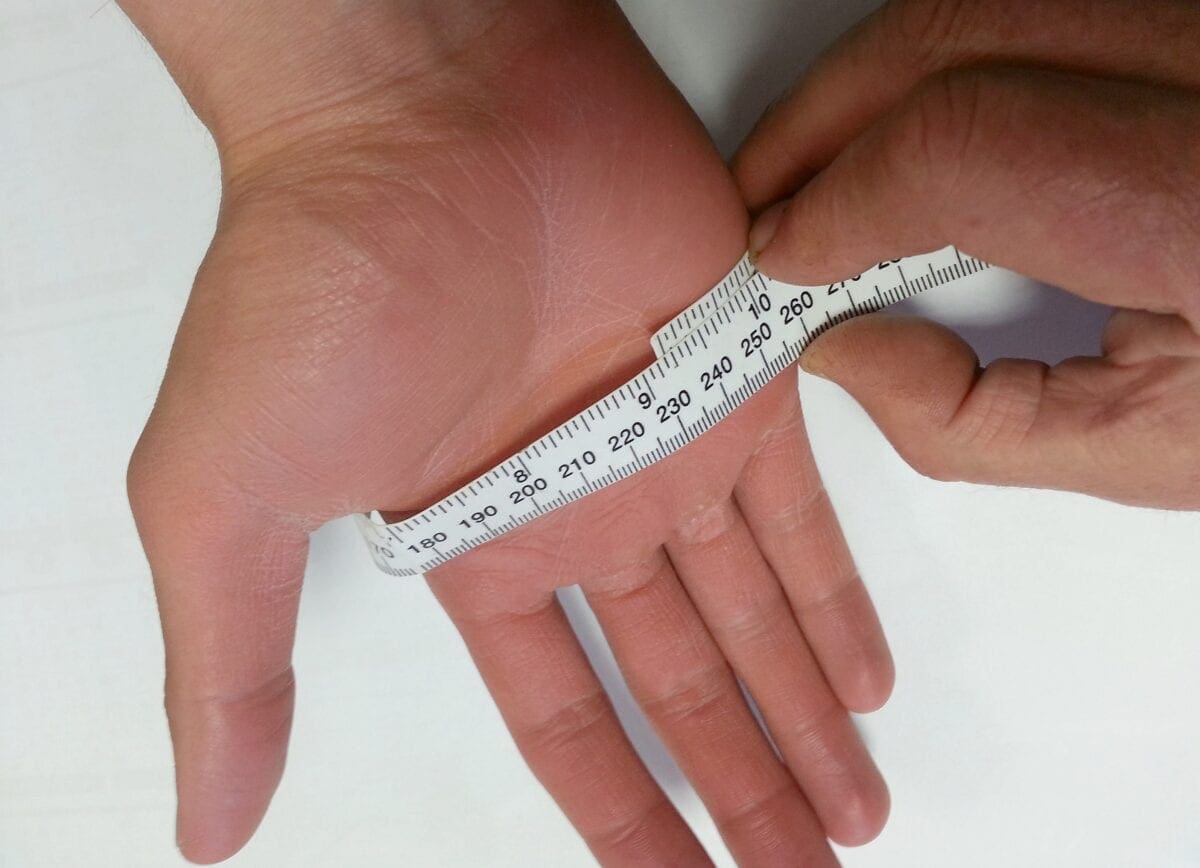 Clench your hand slightly and place the tape measure just about your thumb crease and measure all the way around in centimetres. This will give you a base measurement for your sizing.
If you're heading to a dealership then take your riding jacket with you and try on the gloves and jacket together – you'll be wearing them together so that way you will know what they fit and feel like. If you can, why not go to the dealership on your bike or scooter and see what they're like on there too? After all, that's where they need to be most comfortable.
Once you've got them home
It's time to get out and ride as many miles as you can wearing your new gloves. If it is your first pair of gloves then you might find that there are features that you like or don't like – remember these for when you buy your next pair.
Be sure to look after them. If they're textile then you might be able to wash them – check on the labels and if in doubt, check with the manufacturer. Washing your gloves will keep them clean and 're-puff' any inner liners to get them working properly again. It's amazing how dirty your gloves can get – they pick up dirt, grease and oil from the road on the outside and dirt from your hands on the inside so a quick wash is always welcome. To dry – if possible, place them outside on a blustery day.
If you're gloves are leather and you want to revitalise them, feed them with a leather cleaner/protector – this will keep them supple and in good condition.
Even if you don't want to wash them – why not put them outside to air off on a nice day to freshen them up?
TOP TIP
If you return home from a journey and your gloves are wet, even though you might be tempted, don't just put them away straight away – make sure they're dry. Put textile gloves on top of a radiator or if they're leather hang them up in a warm room.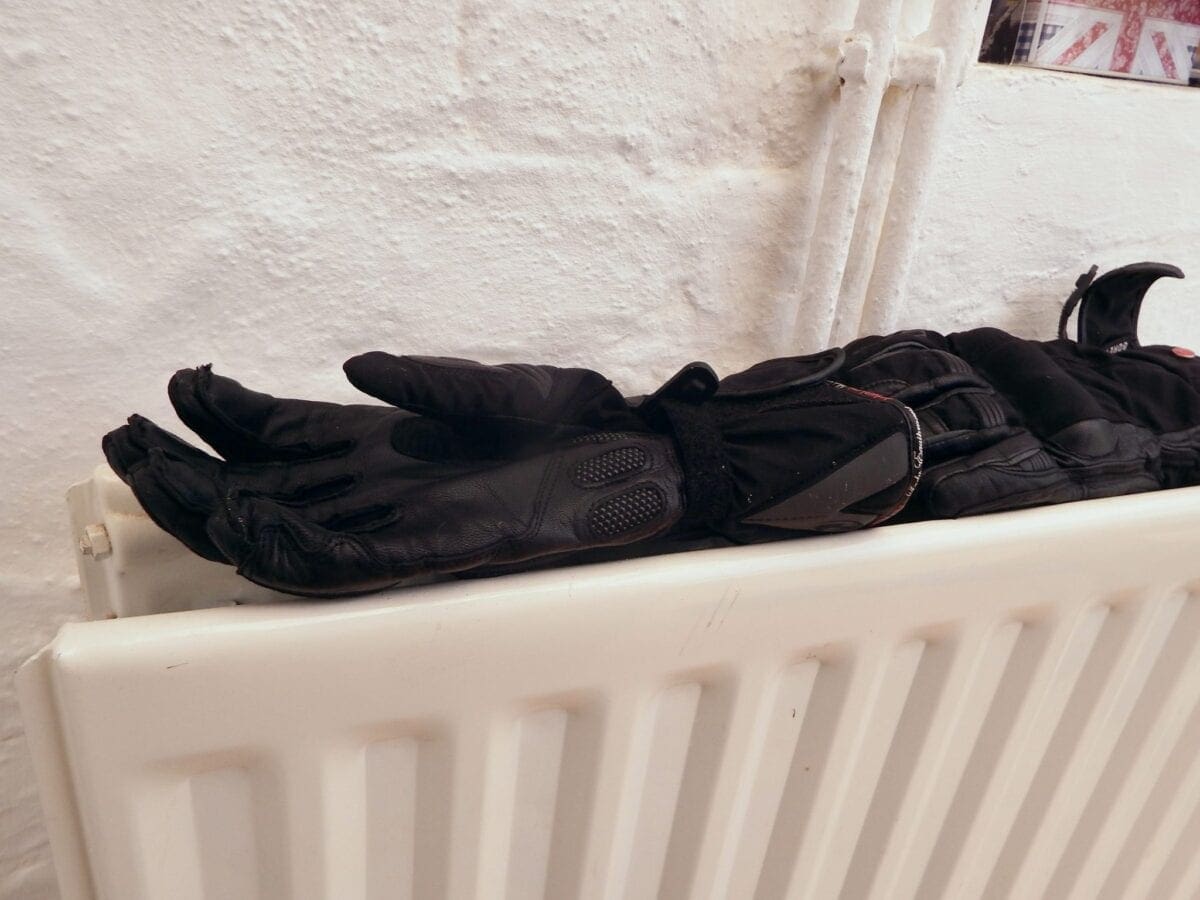 Don't put your gloves in your helmet – we've just said how dirty they are – you don't want all that dirt in your helmet lining. Plus the Velcro closures can damage the inner linings of your helmet.
How do I know when I need new gloves?
It depends. Unlike helmets there isn't a certain timescale that is recommended for you replace your gloves. It might be that they have holes in, aren't waterproof anymore, the linings are broken/loose, they look really old and tired or you just want some new ones.
---
Advert
---
Enjoy everything More Bikes by reading the MoreBikes monthly newspaper.
Click here
to subscribe, or
Read FREE Online
.
Sign-up to the More Bikes Newsletter
Enter your e-mail address below and get regular updates straight to your inbox… You can unsubscribe at any time.