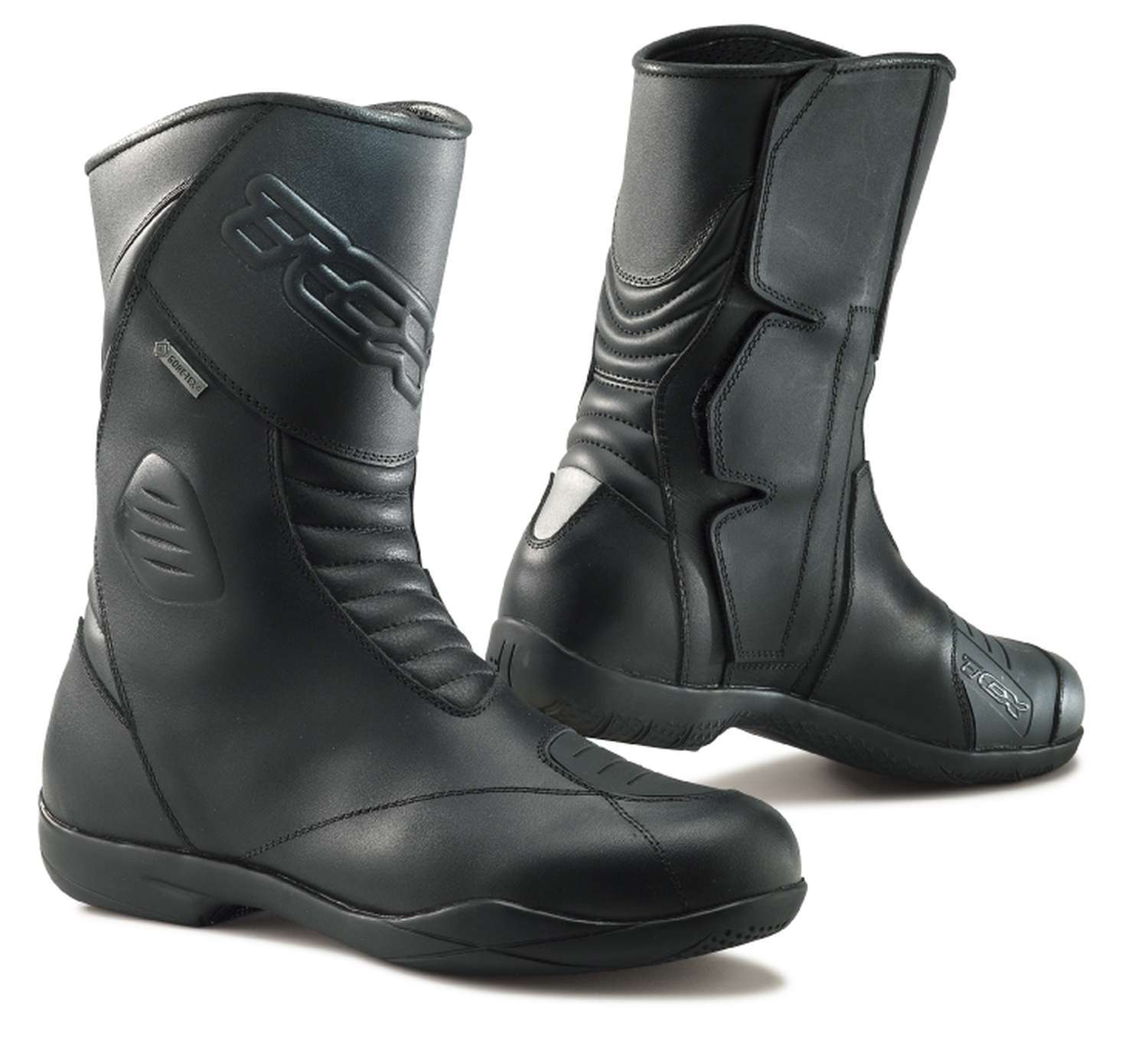 With so many styles and materials to choose from, you might not know where to start when faced with buying your first or a new pair of boots to wear on the bike. We've put together a buying guide to help you find your perfect pair and there are plenty of things to consider.
When you're out on your scooter or bike, it's important to be protected from your head right to your toes. Sometimes boots can often be forgotten about as riders will focus on their top half with jackets, helmets and gloves. However it's extremely important to make sure you have the right kit on to keep you safe.
Where do I start?
There are a whole host of options of styles and types of boots to consider – all of which have their pros and cons. A lot of it will depend on the type of scooter or bike you have, what you ride for – whether it be commuting or touring – and your budget. It's important to think about the features you'd like from your new boots – here are some things to consider:
What kind of riding do you do?
If you ride all year round then think about getting some waterproof boots – this way, you can use them in all weathers and be confident your feet will stay dry. This is often done by the use of liners so look for fabrics such as GoreTex within the boot. If waterproof boots are out of your budget, then why not buy some waterproof socks to keep your feet dry?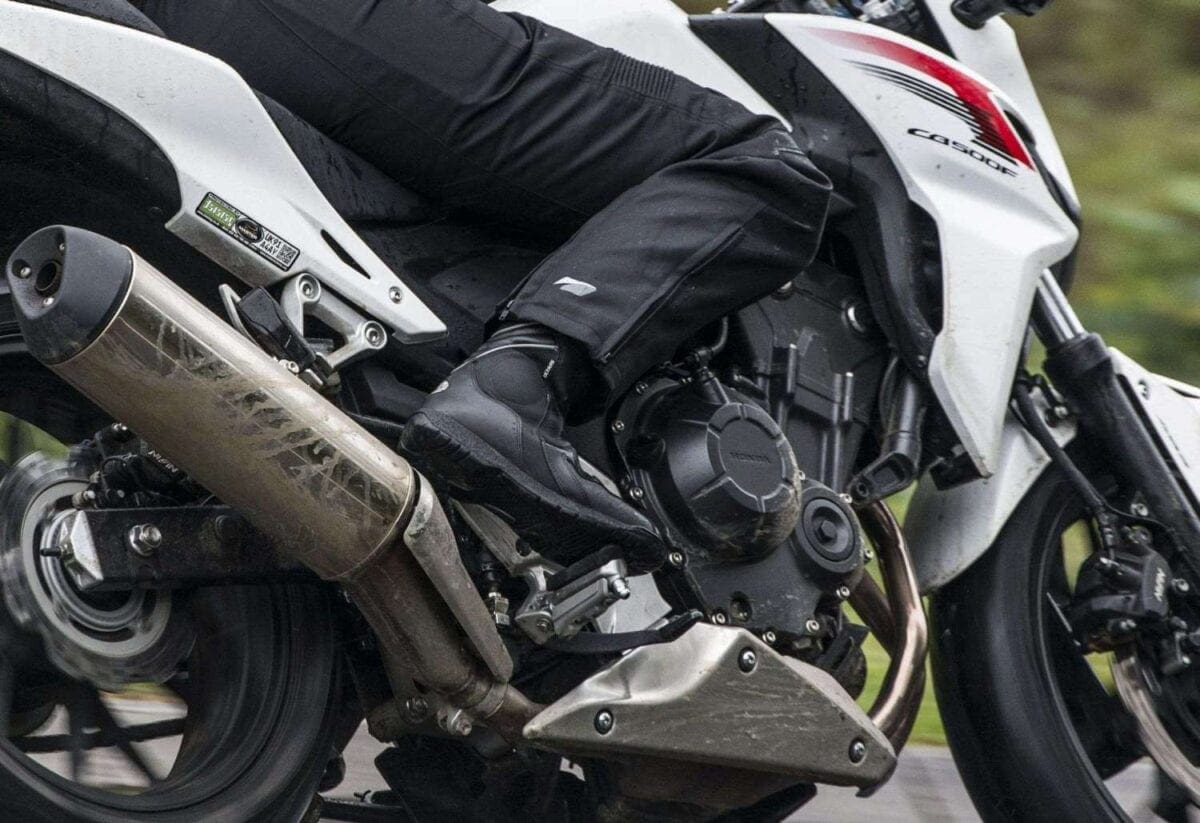 Long or short?
Many riders prefer to wear long boots to protect their feet, ankles and shins. Off-roading boots come right up the front of the shin; however some riders may find these too long and not necessary for their requirements. There are a number of options so shop around to find some to suit you and which offer the protection you want.
What style do you want?
This will often depend on what you ride. If you have a scooter then it's highly unlikely that you want to wear full race spec racing boots or long touring boots. There are a number of styles available to suit what you need and what you want. Don't forget to think about fastening mechanisms either – from zips to Velcro, ratchet systems to laces – or a combination of all of the above. Consider getting back in from your commute in the rain – do you really want to be messing around with complicated fastenings…
Do you want to wear them when you get off the bike?
If so, why not think about some casual looking boots? There are plenty of styles out there which offer protection without looking out of place in the office or walking around town.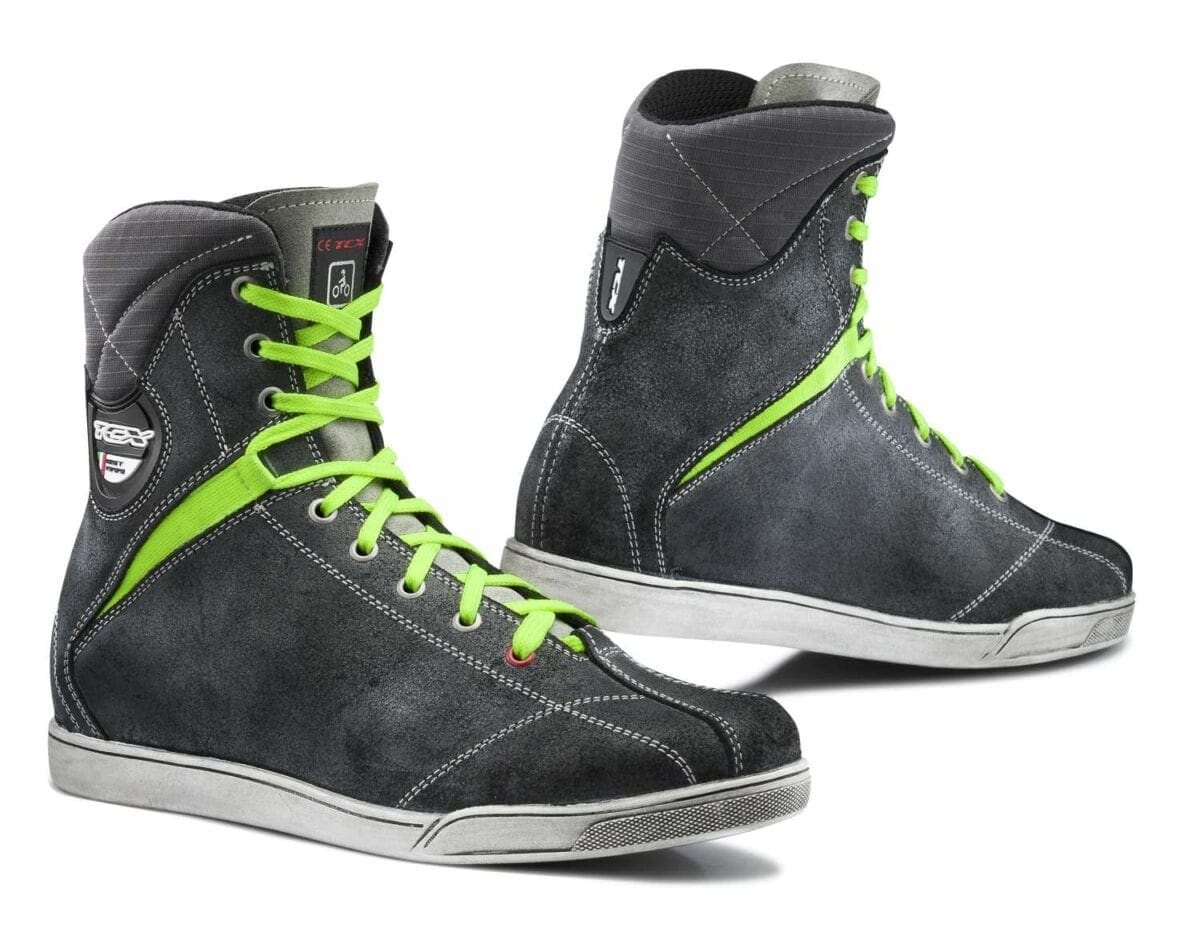 Need an extra few inches?
If you would benefit from a bit of extra length in the leg, then why not consider boots with an inbuilt platform insole? From the outside they look exactly the same as other boots, but on the side there is a platform to make you a little bit taller. If you struggle to get your feet down properly at lights or junctions because of your height, it makes a massive difference.
Motorcycle boot prices
There is a pair of boots out there to suit every budget, here's our list of just some of the choice on the market, starting from just £54.95…
Spada ICON boot
RRP: £54.95
Available from: [www.spadaclothing.co.uk](http://www.spadaclothing.co.uk/)
–              100% waterproof and breathable
–              Moulded gear change panels
–              Single zip with Velcro strap fastener
–              Anti-slip moulded sole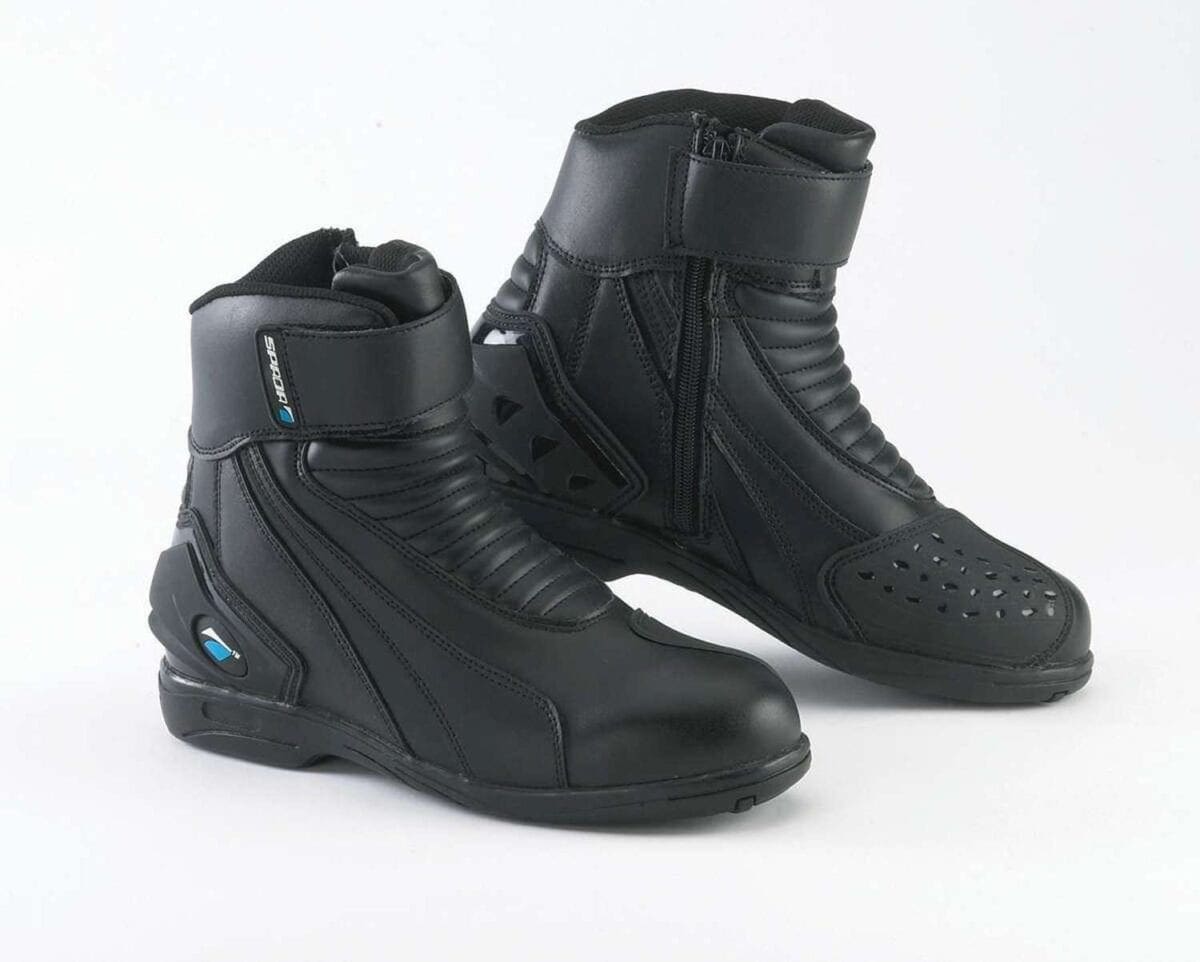 RST Raptor II Waterproof boots
RRP: £79.99
Available from: http://www.rst-moto.com/dealer-search
–              CE Approved
–              Male and female styles available
–              Waterproof and breathable membrane
–              Built in ankle and heel protection
–              Anti-slip rubber sole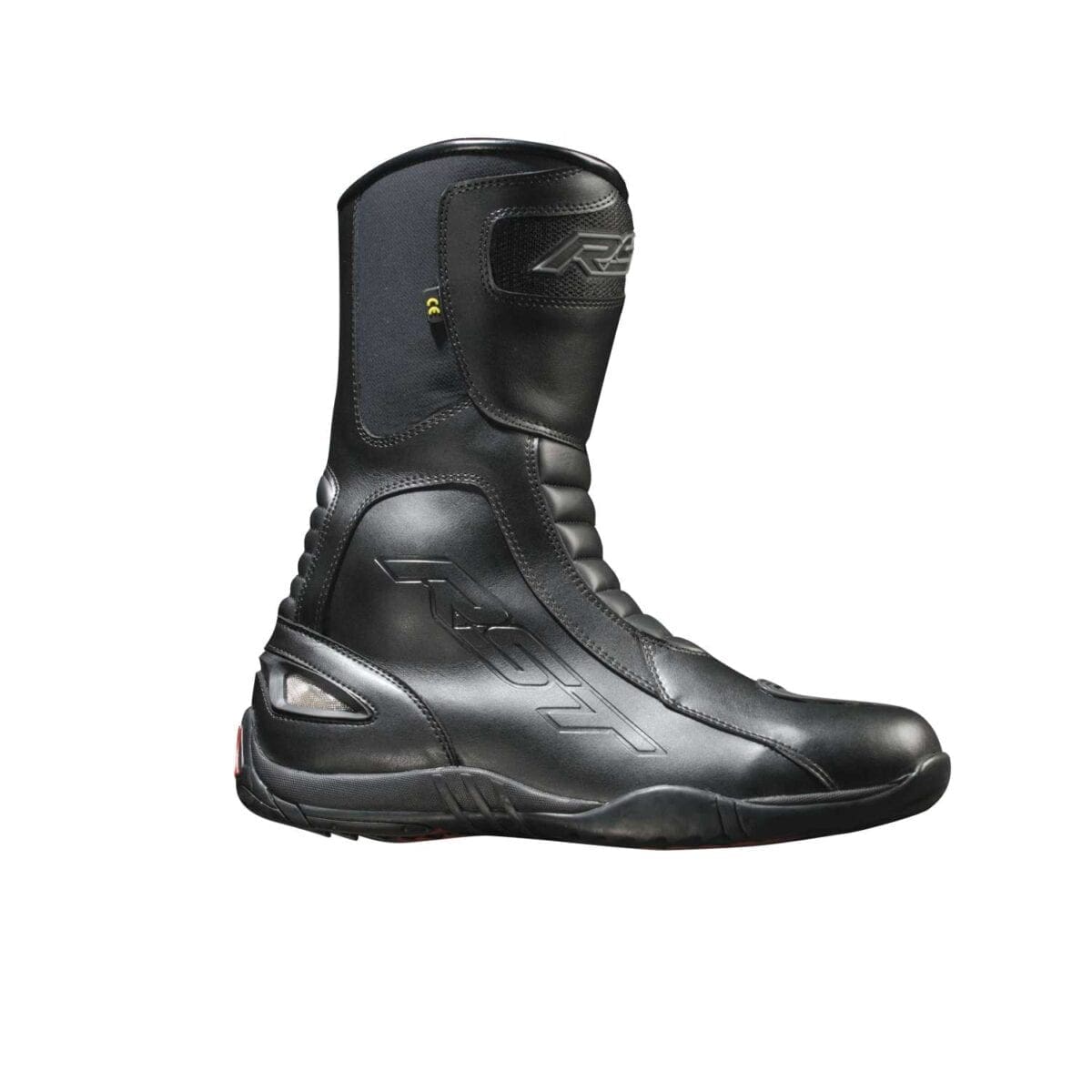 Prexport Passo boot
RRP: £79.99
Available from: http://www.thekeycollection.co.uk / 0117 971 9200
–              Leather
–              Waterproof
–              Inner shock absorbing reinforcement to shin and padding to both sides of ankle
–              Stretch panel to calf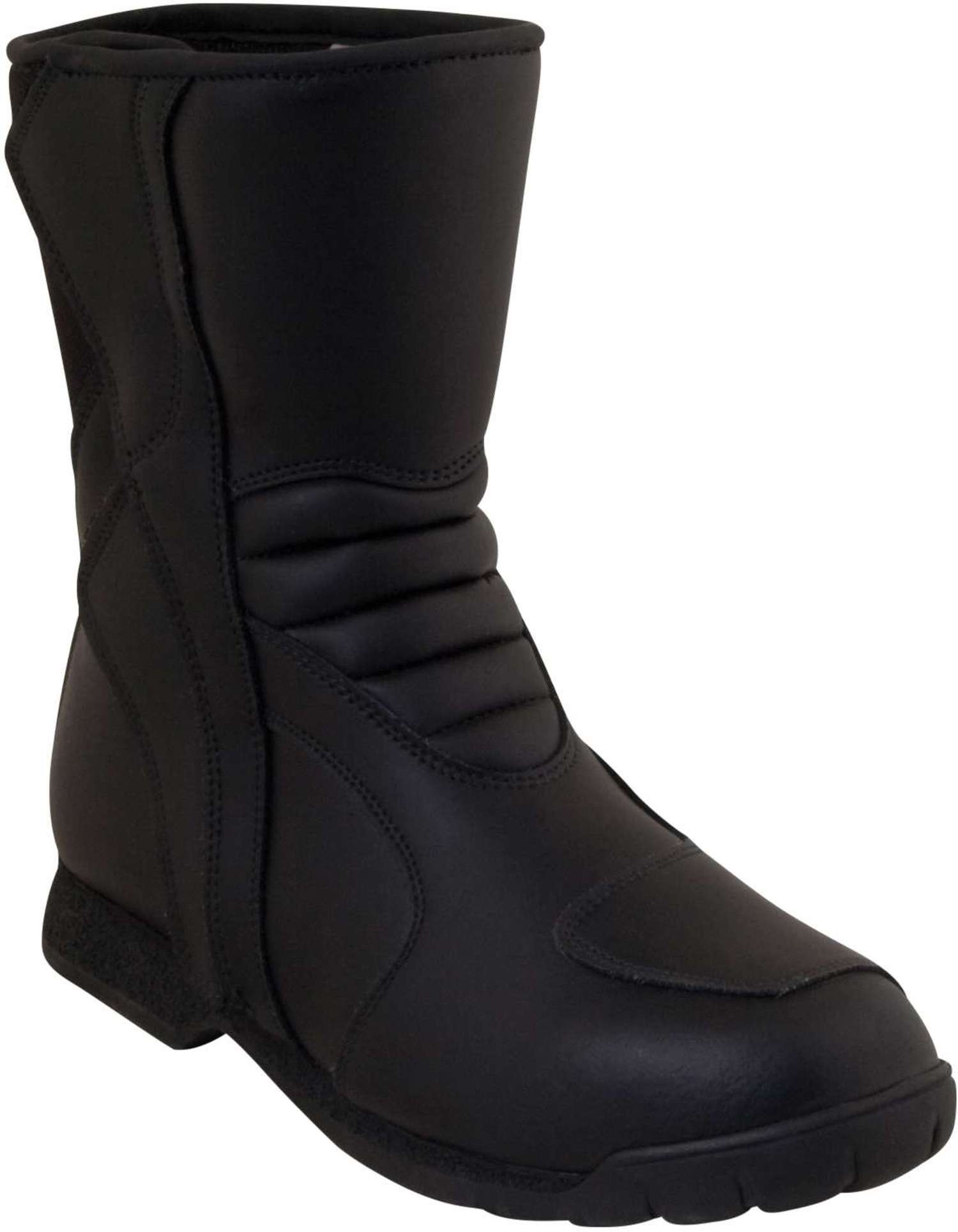 Dainese Street Rocker D-WP
RRP: £129.99
Available from: http://www.dainese.com/en_en
–              Full grain cowhide leather
–              Waterproof D-WP interior
–              Rubber sole
TCX X-Five Evo GTX boots
RRP: £189.99
Available from: http://www.nevis.uk.com
–              CE Approved
–              Full grain leather with padded front and rear joints
–              Specific grip areas on the sole
–              Reinforced toe and heel
Dr Martens Faris Boots
RRP: £249.99
Available from: http://www.tranam.co.uk / 01425 620580
–              Water resistant full grain leather combined with industrial greased leather
–              D30 ankle disc protection
–              Tested to EN standard – EN 13634 – 2010
–              Anti-slip tread
–              Outsole forefoot reinforced to provide Level 2 Transverse Rigidity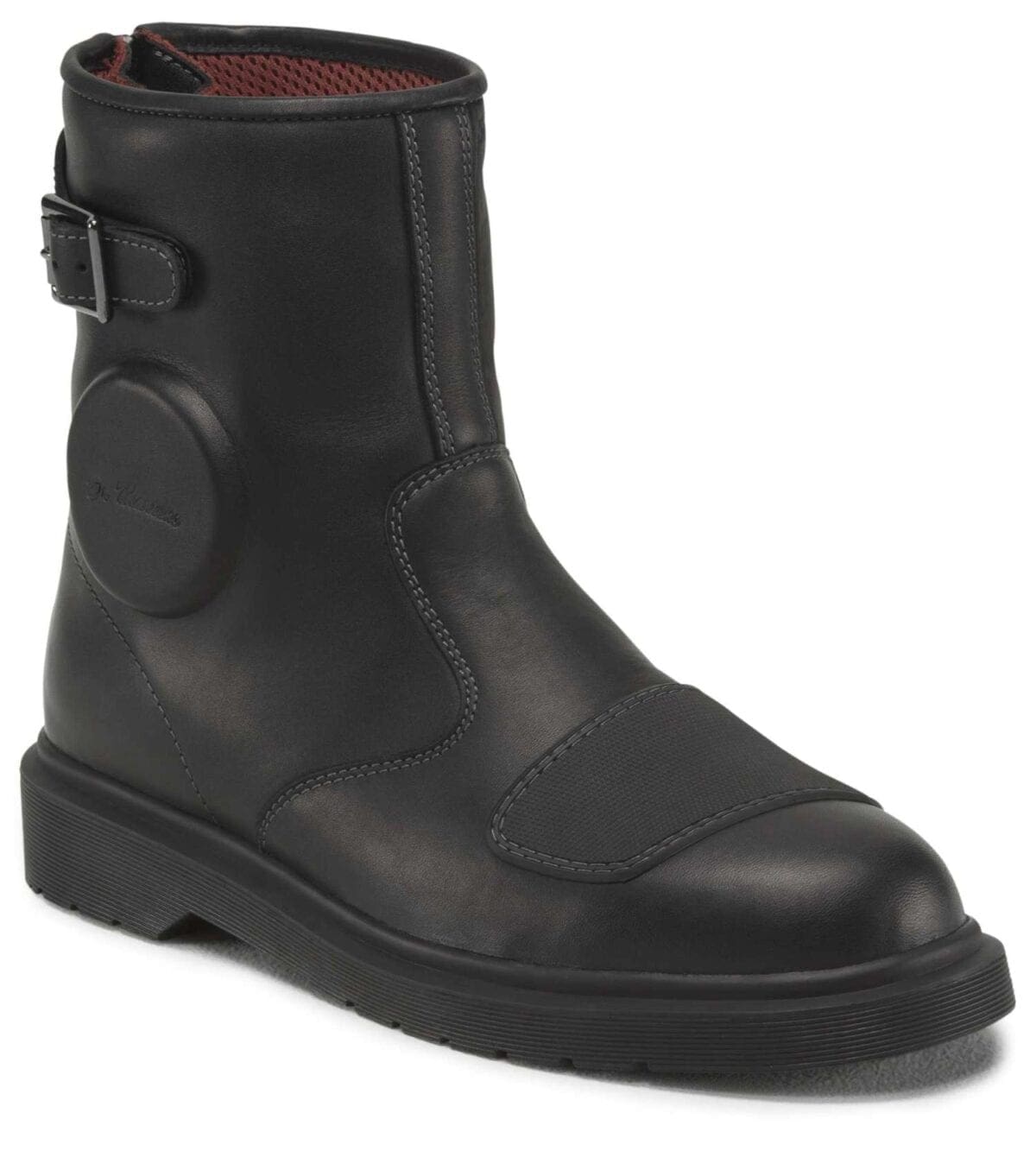 Safety
As we mentioned, even though it's not a legal requirement to wear protective footwear while on your PTW, it is highly recommended as your feet are the closest thing to the floor and could be one of the first places to hit the floor should you fall off. So, what type of protection should you be looking for and what should you expect?
Do they have a non-slip sole? Look for ridges in the sole and non-slip materials
Are they so thick that you can't feel properly? It's down to individual preference on the amount of dexterity that you feel comfortable having on the bike but it's very important to be able to operate the gears and rear brake pedal properly
Look for a sturdy sole – it's not just abrasion injuries to look out for, often the most common injury is crushing of the foot sideways. Give yourself the best protection with a sturdy reinforced sole
Are they waterproof? You may not think that this is a safety feature, however if you have cold and wet feet this can sap your concentration as you sit wondering how many miles you have left before you can get your feet dry and warm
Do they fasten up securely? How do they fasten?
Are there any additional features such as reflective piping or reflective logos to help other road users see you?
Do they protect your ankles?
Gear shift panel – if you ride a geared machine, you may want to get a pair of boots with a reinforced panel on the top of the left boot to protect and prolong the life of the footwear
TOP TIP
It might seem a good idea to wear metal toe capped work boots on the bike, however these protective top caps can sometimes have a negative effect in the event of an accident.
CE approval – what's it all about?
Motorcycle boots aren't required by law to have CE approval – however any boot which 'claims' to be protective should show the CE logo. But what does it all mean?
EN 13634: 2010 is the group of tests which footwear must pass in order to be granted the right to use the CE approval logo. According to the SATRA website, an independent research and testing organisation, the tests for protective motorcycle footwear include the following:
General design of the footwear – these include the properties such as the height of the upper and the type of the seam constructions.
Integrity of the whole boot – measurement of the bond strength between the upper and outsole plus a test to assess the transverse rigidity of the boot (in other words the sole strength).
Tests on the upper, lining and insole components of the boot include pH value and chrome VI content of any leather materials, plus for linings tear strength and abrasion resistance and for insole boards abrasion resistance and water. absorption/desorption. All materials are assessed for colour fastness to water
The outsole components of the footwear must be tested for resistance to abrasion and hydrolysis (if made from polyurethane) plus an assessment of strength of any interlayer bonds. There are also requirements for the design of the cleats (ridges on the sole to aid grip) and overall thickness of the outsole.
Specialised protective tests on the upper include an assessment of impact cut resistance and abrasion resistance using the tests defined in EN 13595.
Finally, there are five optional properties that can be tested if the manufacturer wishes to make specific claims. These include impact energy protection to the shin and ankle, resistance to water penetration, resistance to fuel oil of the outsole, slip resistance of the outsole and finally water vapour permeability of the upper. Many products have clear labels explaining they are CE approved and should feature the code of the test – if you're unsure, ask!
Fit
As with all riding gear, the fit is extremely important. The boots should fit you securely but not be too tight that they are uncomfortable or to loose that they slip around.
You usually have an idea of what size you will be thanks to your regular shoes or boots. Bear in mind which socks you will be wearing though and be sure to take them with you when you try them on. Some riders like to wear two pairs of socks in the winter – however, we'd recommend wearing just one pair of thicker socks as often double-layering socks can cause the material of the socks to shift around and cause blisters.
It's not just about how the boots fit your feet, but also the way that they fit with the rest of your gear. If you're going to choose a pair of long boots, then you'll need to check how you get them on and off while wearing your trousers – are you going to tuck your trousers in or wear your trousers on the outside? Bear in mind that wearing boots over your trousers will mean that water can get down the tops…
Head to your local dealership and try on different pairs to work out the best fit for you – this will also give you a chance to try on different styles too. Some brands size options may differ so check out their sizing charts to be sure. Depending what the boots are made out of, the material may give the more they are worn.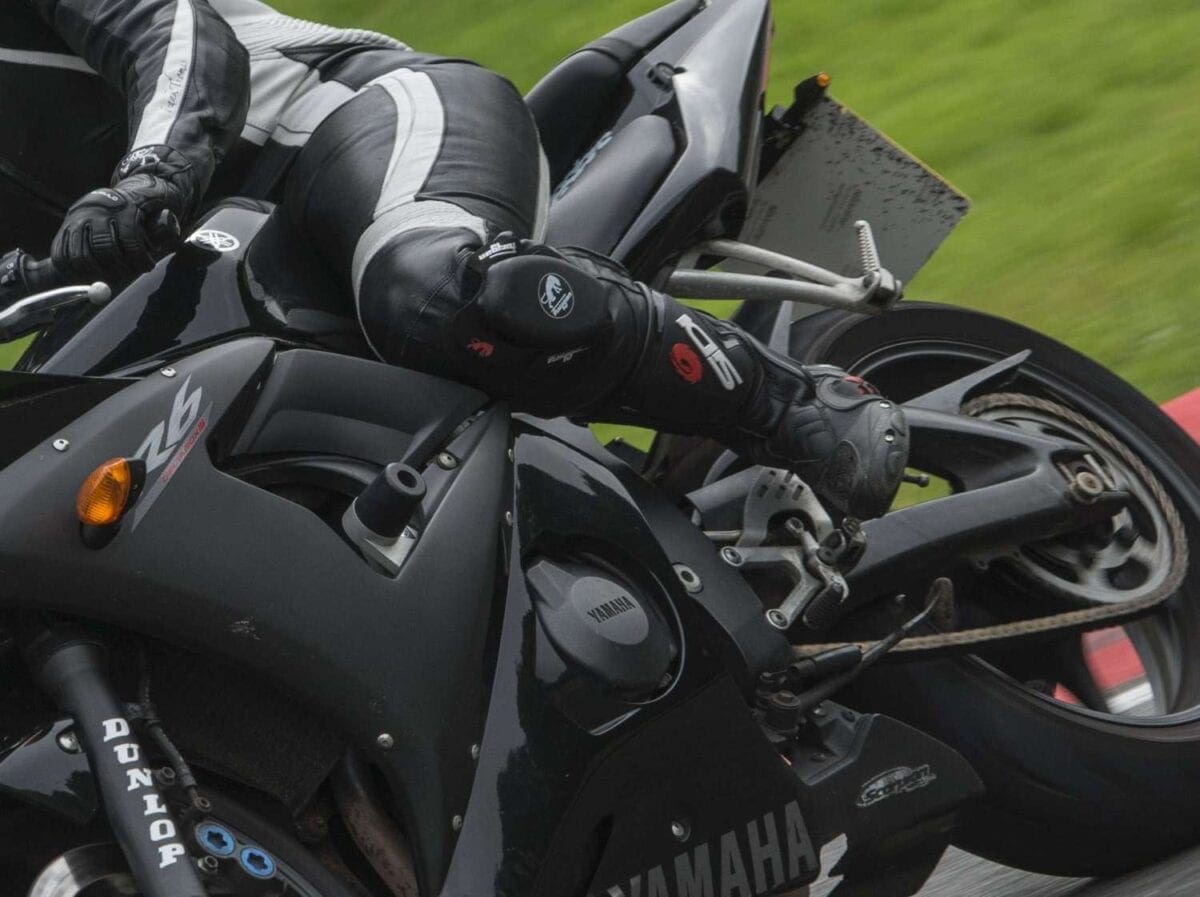 Once you've got them home
Now you've bought your new boots, get out and use them! Enjoy racking up the miles in all weathers knowing that you're protected.
As with all riding gear, it's important to look after it for it to stay at its best.
Keep them fresh and clean, air them and be sure to dry them out when you can. If you can remove the linings then do so periodically – spray them with a freshening spray to keep them smelling nice.
---
Advert
---
Enjoy everything More Bikes by reading the MoreBikes monthly newspaper.
Click here
to subscribe, or
Read FREE Online
.
Sign-up to the More Bikes Newsletter
Enter your e-mail address below and get regular updates straight to your inbox… You can unsubscribe at any time.