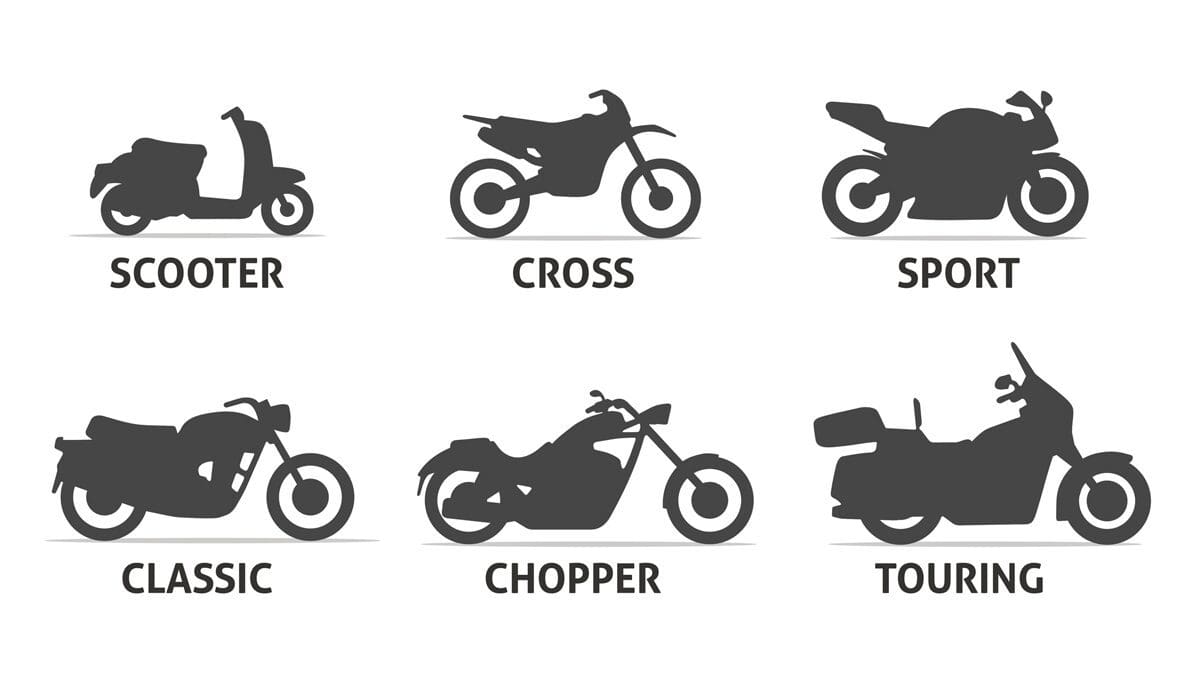 Back in the early days, a motorbike was an engine, two wheels, handlebars, and a seat. Nice and simple. And then someone inverted marketing…
So now we have motorcycles for all purposes and images. Big ones, small ones, fat ones, thin ones, sporty ones, rugged ones, practical ones, and more than a few highly impractical ones too. What follows is a simple guide to the different types.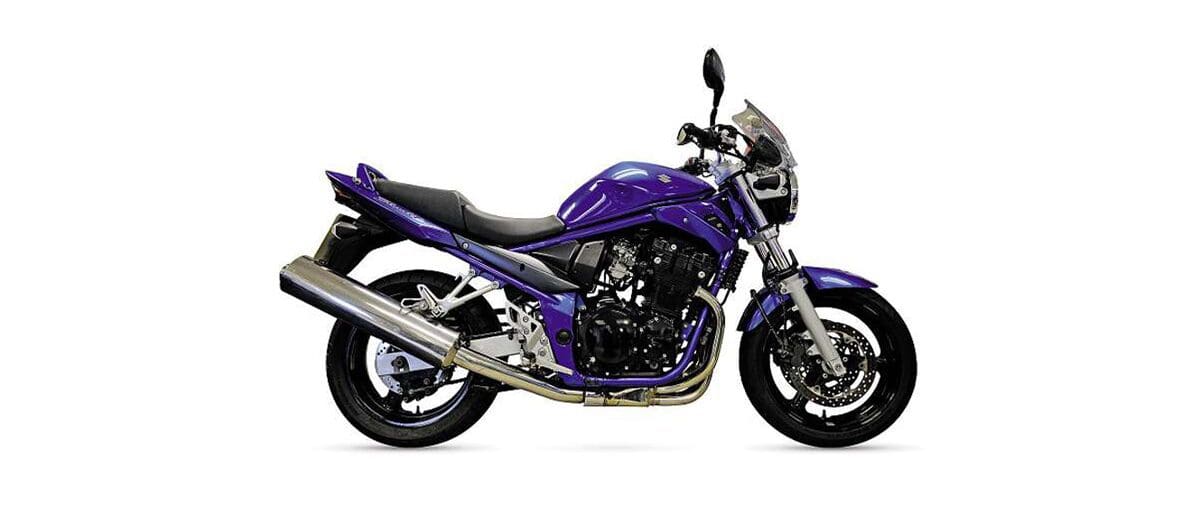 Street Bikes
Motorcycling at its most simple. A flexible engine in a simple chassis with an upright, comfortable riding position and no screen or additional bodywork.
Street bikes come in all sizes and are reasonably priced because they often share bits with other bikes … which helps keep the costs down.
Best Buys
Suzuki's Bandit range (600/650cc and 1200/1250cc) has been around for 16 years and bikes are cheap new and used.
Honda's CBF range (600cc and 1000cc) are easy to ride and built to last, but a little pricier.
Kawasaki's ER-5 and ER-6 are both excellent too, while Ducati's Monster range is superb for riders with a little more experience because the engine's power delivery and sportier chassis design takes a bit more getting used to.
Yamaha's XJR1300 is a superb machine too, although maybe a bit too quick for new riders.
Good for:
Most things, apart from sustained high-speed riding (because the wind pressure makes your neck and shoulders ache) and foul weather (because there's absolutely no protection from the elements).
The upright riding position gives excellent visibility over the traffic in town, allowing you to spot the gaps, and the wide handlebars give plenty of leverage for easy steering.
Plus, the upright riding position makes it more comfortable for your passenger too who won't be perched two feet above your head like on a sports bike.
Most street bikes also have a flexible engine giving a broad spread of power over a wide range of revs.
Not so good for:
Long motorway journeys at high speed or long distances in cold, wet weather.
Basic chassis and suspension design means you can't go chasing sports bikes down a bumpy, twisty B-road.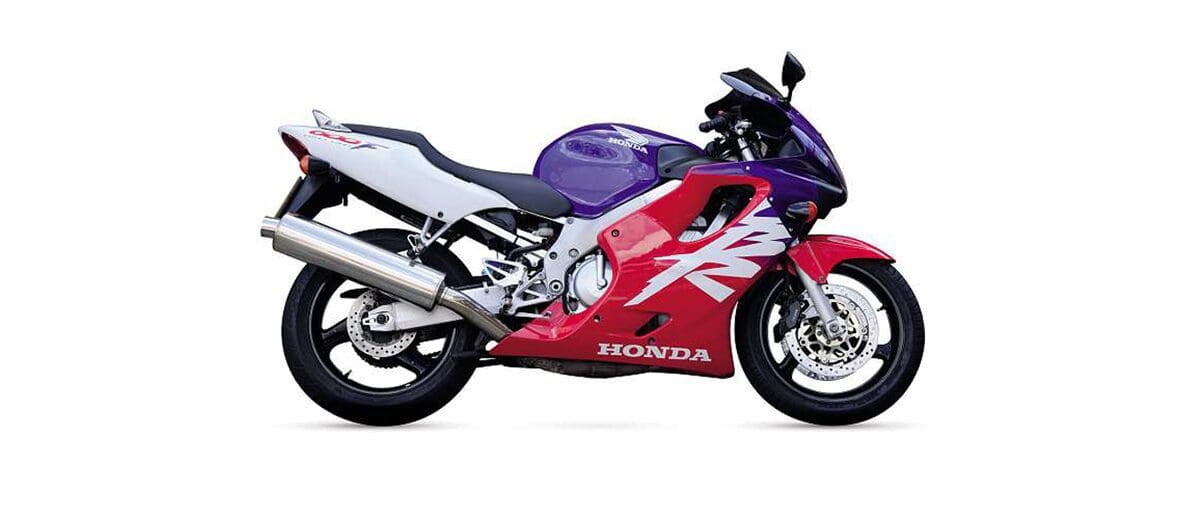 Sports Bikes
Sports bikes get the latest high tech first, have the most powerful engines, best brakes and suspension. Many are close to being proper race bikes on the road.
Thrilling to ride on the right roads, but can be too focused and uncomfortable when the speeds drop.
Best buys
For new riders wanting a new bike, it's probably something like Honda's CBR250R or maybe the CBR600F if you're feeling confident.
Kawasaki's Ninja 250R is a good choice as is its ER-6F. 400cc sports bikes were popular a few years back. A good one is still a joy to ride but many are tired now and need a complete overhaul.
Suzuki's GSX-Rs, Yamaha's YZF-Rs and Kawasaki's ZX range are superb for the experienced rider but can be a little sharp steering and peaky for new riders.
We'd suggest building confidence for your first summer on something a little less extreme.
Good for:
Stunning acceleration, the most thrills per pound on the planet and defying gravity around corners.
Sports bikes get the latest high tech and some of them are just about practical enough for day to day use too, while still blowing the cobwebs away on a Sunday morning thrash around the lanes.
Not so good for:
The real wrold. Cramped riding positions give perfect control for concerning but aching backs, wrists and necks everywhere else.
A modern 1000cc sports bike does 130mph… in second gear. Small fuel tanks mean frequent fill-ups and insurance is expensive because plenty get stolen.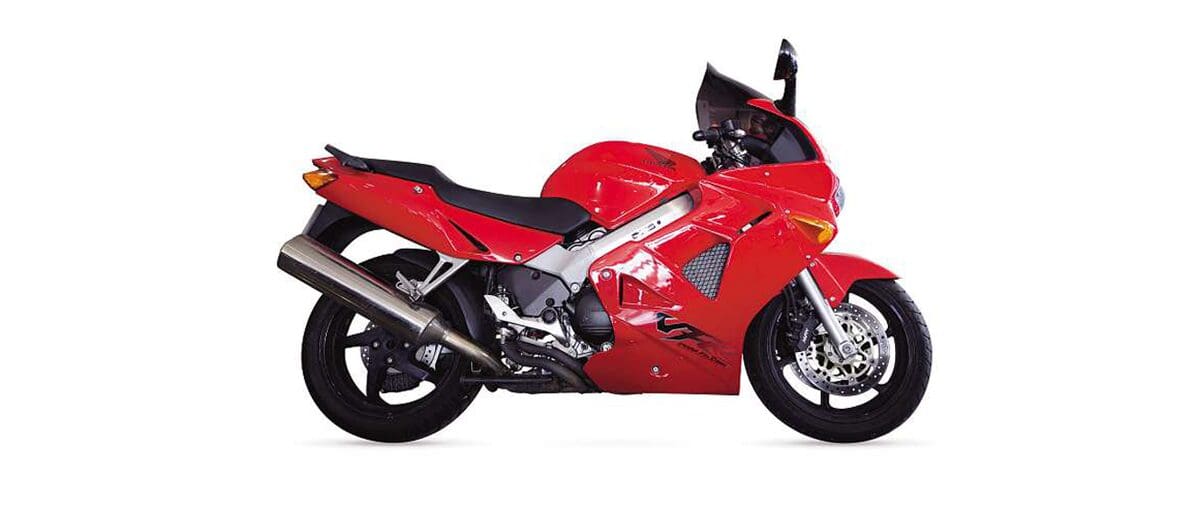 Sports Tourers
Less focused than a sports bike, not quite as heavy or bulbous as a full­blown tourer. Sports tourers are a compromise, often built around a former sports bike overtaken by technology.
Flexible engines, reasonable comfort, but sprightly in the corners too, with decent suspension and brakes.
Best buys
Honda's VFR750 and 800 have always been well regarded.
Triumph's Sprint ST is another excellent bike, although both are maybe a little ambitious for a first big bike.
Yamaha's Fazer 600 (especially the 1998-2002 model) and XJ6 Diversion are both superb, as is Suzuki's GSX650F or the faired versions of the Bandit range.
BMW's F800S is another brilliant bike and also one of the most economical machines around.
For more experienced sports tourers, Honda's VFR1200, Suzuki's 1300cc Hayabusa, BMW's K1300S or Kawasaki's ZZ-R1400 are the ultimate.
Good for:
Everyday and longer distance sporty riding, maybe with a pillion too.
Many sports tourers started life as sports bikes, but as chassis design gets more radical and engines get revvier, these once-supreme bikes move down a rung on the ladder. Which means that many are more sports than tour.
Not so good for:
Being quite as comfy as a tourer or as nimble as a sports bike. Sports tourers will always be a compromise.
You'll only notice the lack of sportiness on a racetrack. On the road, they're as quick as anything of similar capacity.
Check out the pillion accommodation – some are much better than others.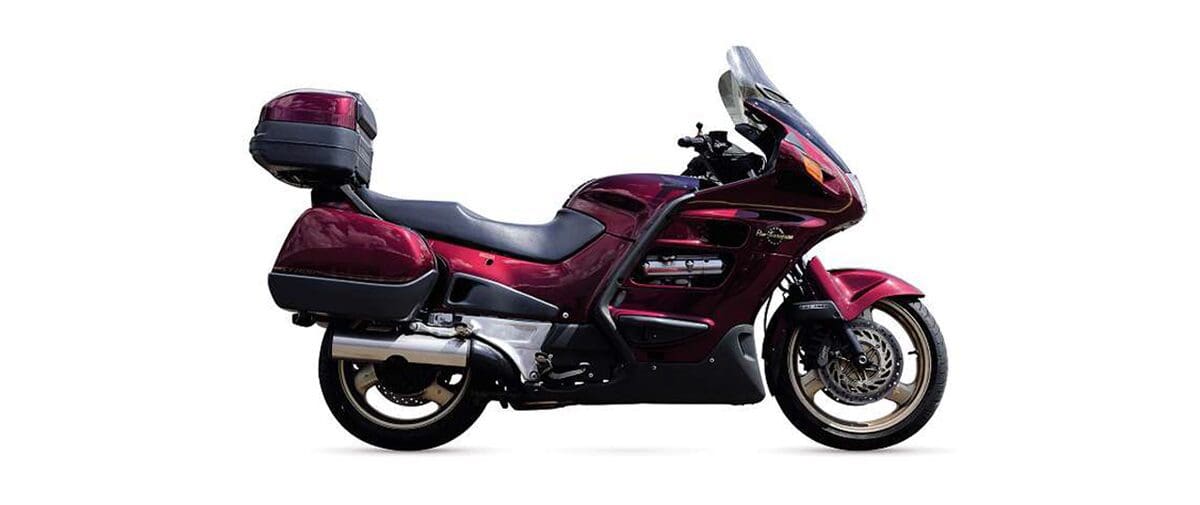 Tourers
Built to cross continents with speed, flair and comfort.
Most are big and heavy with fully enclosed bodywork and built­in luggage.
Most also use a maintenance-free shaft drive to the back wheel instead of a chain and most will carry two people in comfort for a couple of hundred miles on a tank of fuel.
Best buys
For new riders, we'd recommend Honda's NT700V Deauville or BMW's F800ST which are easy enough to manage while you're building confidence.
Most proper tourers are big bikes and need confidence to manhandle, but many non-sports bikes make half-decent tourers too.
Honda's ST1100/1300 Pan Europeans are superb bikes.
Yamaha's FJR1300 is worth a look too, as are most BMWs.
Honda's enormous Gold Wing is the ultimate tourer for experienced riders.
Good for:
Covering long distance in comfort for both rider and passenger, sitting all day at motorway speeds while returning good mpg, being stable at high speeds when laden with luggage and a passenger.
Tourers make good commuters too, because they are also usually easy to control at low speeds.
Not so good for:
High speed sports bike thrills (although most of the latest ones are more capable than you'd think), fast cornering on tight, twisty B-roads.
Can be cumbersome to move around with the engine off because they are heavy and top-heavy. LI-turns on gravel need practice and confidence.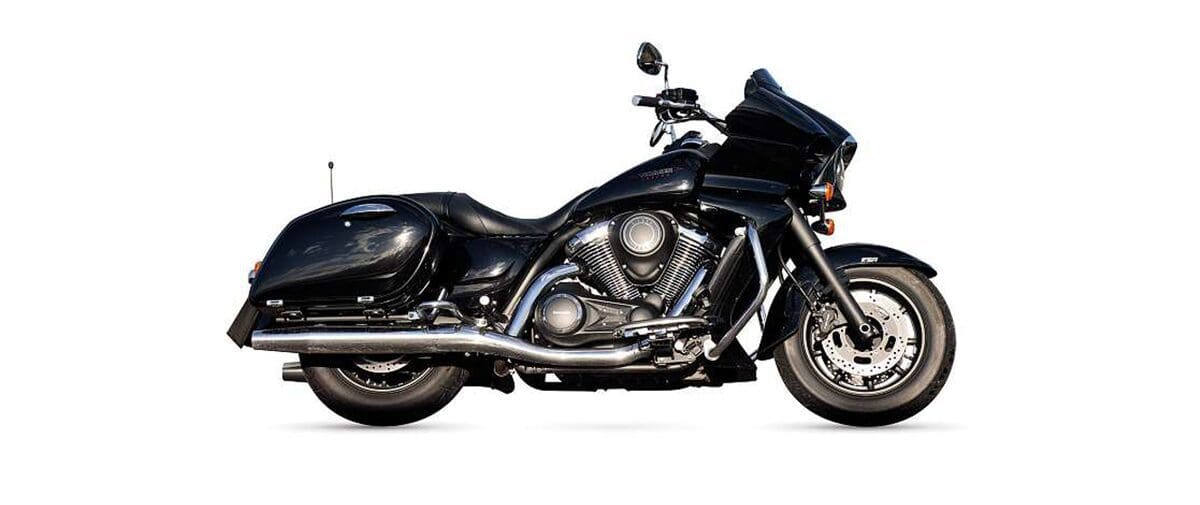 Cruisers
Laid-back, chrome plated easy riders which still deliver that ting le of freedom and an emotional ride.
Not fast, but quick enough to see off most cars.
The big daddies are Harley-Davidson – original and still the best for many.
A big, torquey, lazy V-twin engine in a low slung chassis with classic styling, simple suspension and brakes.
Harleys come with the lifestyle thrown in. Its dealers are superb and you'll feel part of a close community. Many Japanese cruisers are Harley clones.
Best buys
Harley's Sportsters (883 and 1200cc) are cheap, simple and easy to handle.
There are dozens of new and used Japanese equivalents-they're all good, and all pretty much identical too, so buy the one you find for the right price, or in the right colour, or at a dealer you trust.
Good for:
Traditional motorcycling looks and low-revving lazy engine throbbery. Easy riding, whiling away the hours heading for nowhere in particular. Chugging along at the front of the queue instead of snarling in anger at the back.
Kicking back and enjoying the freedom and independence as you glide through traffic. Impressing non-motorcyclists who all know wat a Harley is.
Not so good for:
Being anywhere for a particular time. As soon as you start to hurry the magic disappears and the cruiser shortcomings (a relative lack of power, clumsy handling and lazy brakes) very quickly get frustrating.
No weather protection leaves you vulnerable to the elements and the screens the makers fit to some models don't work properly at 21st-century speeds.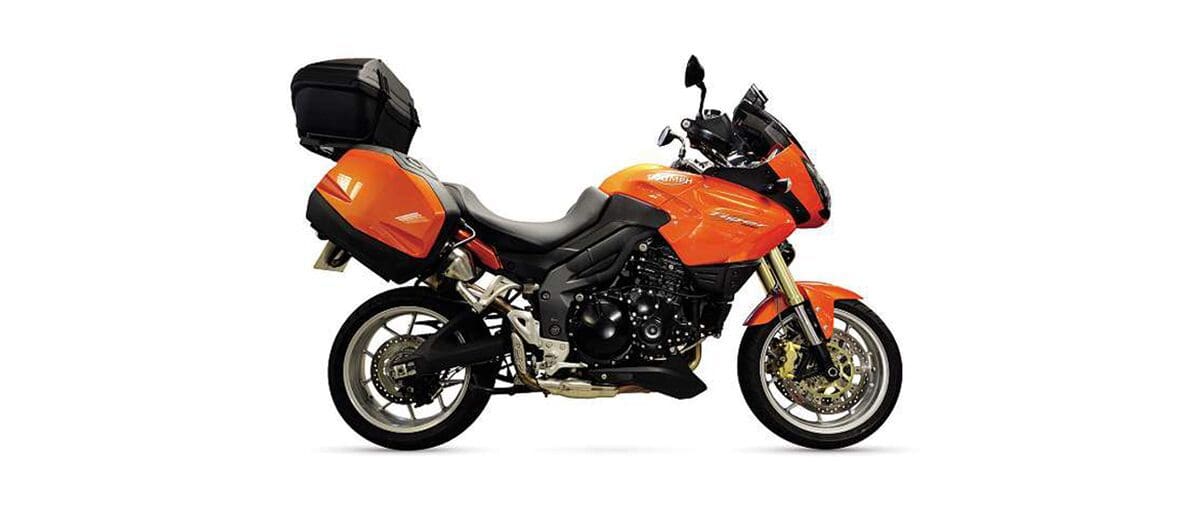 Adventure Bikes
Looseley based on off-road machines for that 'rugged-adventurer' look, although most are just good all-round road bikes in disguise.
Pull up at the chip shop and no one knows if you just rode in from Africa or Aylesbury.
Tall seats give a good view, soft suspension soaks up the bumps and flexible engines give instant power at any revs.
Best buys
BMW's GS range is the most popular. From 650 to 1200cc, they are all good and after 30 years, there's one for every budget.
Triumph's Tigers are also popular. Yamaha's XTZ660 looks the part and goes well off-road too.
Honda's 700cc Transalp is a long running and accomplished machine.
Suzuki's V-Stroms are comfy and cheap, while KTM's machines are the most authentic off-roaders.
Good for:
Town riding where the tall seat adds extra visibility, plus pokey engines and soft suspension come into their own.
Also good for long distances at medium speeds on all kinds of road surfaces.
Usually very comfortable, although the more radical ones, closest to a real off-road er have very narrow seats that'll get you shuffling within the first hour.
Not so good for:
Short, nervous riders because they are tall and top heavy. In reality though, confidence and experience is more important than height, so don't be put off.
Fast riding on twisty roads because the long travel, soft suspension struggles to keep control or give sufficient feedback to the rider and off-road type tyres have fat tread blocks that squirm under cornering pressure.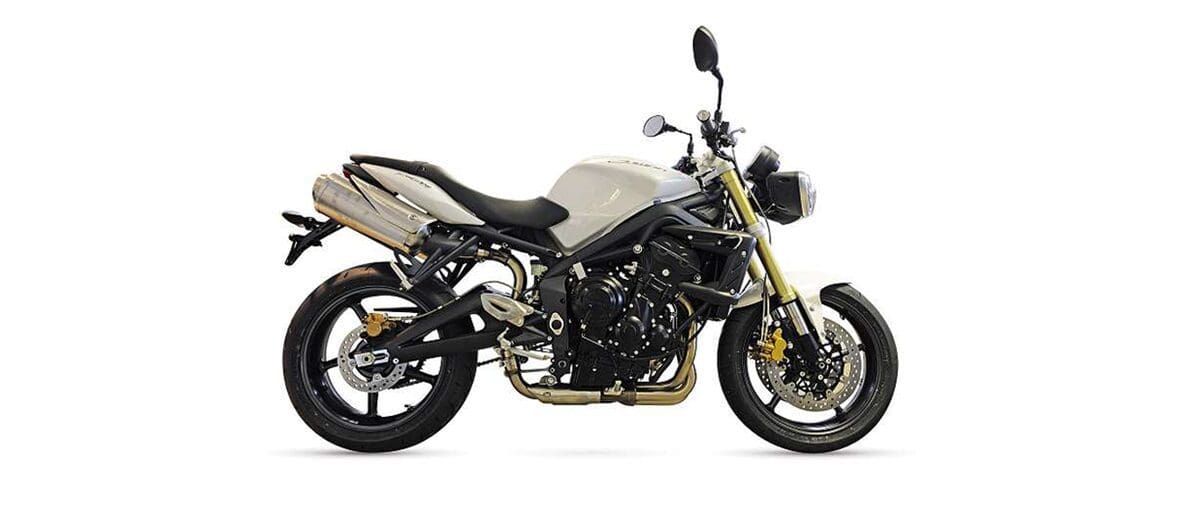 Street fighters
Street fighters are sports bikes with no fairings, wider handlebars and usually an engine retuned for less peak power and more midrange. Aggressively styled, they are faster than a basic street bike and have higher­spec suspension, chassis and brakes.
Best buys
Triumph's 675cc Street triple is the current number one, but at 100bhp, some might argue it's a little powerful for a first big bike.
Honda's 600cc Hornet is a popular choice as is Kawasaki's 2750 and Yamaha's Fazer 600, although none of the last three are based directly on sports bikes.
The bigger boys are though. Most of the best are Italian, notably Aprilia's Tuono and Ducati's Streetfighter, but the king of the street fighters has always been Triumph's Speed Triple.
Now in its 17th year of development. Fast, cool, easy to ride and good value too.
Good for:
Fast, aggressive riding without the backaches and crazy speeds of a sports bike.
They are good in town too because of the extra comfort and visibility from the high bars. Sports bike cool without the hassles and threat to your licence.
Not so good for:
Long distances at motorway speeds, keeping you dry when it rains, relaxing rides waving at the daisies.
Streetfighters are best at quick blasts either through town while commuting or blowing the cobwebs away on a Sunday.
Scooters
Nothing gets around town faster and cheaper than a scooter. Small
(usually) engines, automatic transmissions, simple chassis and enough bodywork to keep some of the weather off with some underseat storage for added practicality.
Scooters make sense for cheap commuting because not only do you save time and money, but you also arrive at work feeling wide-eyed and more alive than ever.
Best buys
Anything Japanese-they have the best engines, best fuel economy and best build quality too.
These days most of the best commuters are four-stroke engined. The Italians are almost as good and usually more stylish, but not always quite reliable.
Most of the Chinese scooters look great and are very cheap, but don't expect them to last as long.
Good for:
Fuel economy, running costs, nipping in and out of traffic, ease of use.
Commuting on a scooter means you arrive at work smiling, not growling. Plus, there's no congestion charge and free (mostly) parking.
Scooters are cheap to buy, easy to ride and offer some weather protection too.
Not so good for:
Long distances (unless you buy the bigger engined ones), fast cornering, lasting into old age (many of the Chinese ones are built quite cheaply under the shiny bodywork).
Also not so good for being there when you get back (scooter theft is rife in London and other big cities).