Keeway's TX125 Supermoto is a proper smile maker. What's more, it doesn't cost much more than a couple of bags a sand to get on the road (that's £2000 to us none-slang-throwing types).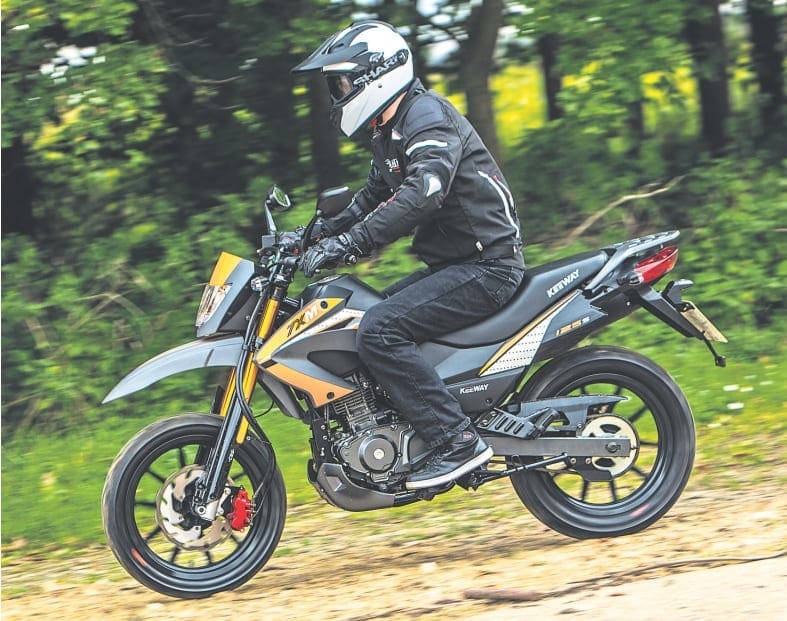 From the obvious styling choices Keeway have made (a bit like a certain Austrian bike manufacturer who loves the colour orange), they've started your journey to the dealer by making this machine look really eye catching. Supermoto styling, with USD front forks and all of those angles are in the right places. A high exit exhaust and super upright seating position put you in a happy mood before the key even gets into the ignition barrel. A super snazzy-shaped dash and well-sized rear view mirrors give you all the rider info you need without having to squint or throw in your most educated guess. Well-proportioned footpegs make you realise in no time at all that the underneath of your feet aren't going to be complaining if you push to do more than 15 to 20 miles. I have ridden a few bikes in the past, and for some reason the designers have forgotten that peoples feet can grow to more than a size 6 and we aren't birds who like to balance on thin twig-like metal rods with little or no paddling. Comfort on the Keeway is not an issue. You just are.
Riding this lock opener
I use the term lock opener for good reason; the TMX 125 is not just a thrown together hack. It's not quite your high end as well I may add, but what you get is more – much more than I was anticipating. It looks great and on the first rideout I was happily plodding along at 50mph in no time on the back roads away from Mortonville. Aware of all that was going on around me when, from out of know where (or so it seemed) I was looking into the side of a tractor and trailer pulling out of a field on a semi-blind bend. Bugger was my first thought (actually the words that rattled through my head were a touch stronger than that, but my editor would be cutting them out if I put them in) time to test my reactions and the breaks. I'd not even done 15 miles on fresh tyres and no bedded-in discs and pads. Experiences of past emergency stops flashed in front of my eyes and I tried to remember all the stuff I was supposed to do. 'Grab don't stab' at the brakes and 'straighten up'. The Keeway did me proud and pulled-up in next to no distance, I'm sure that I was possibly over-reacting to a degree, but in those split seconds I doubted my ability and I really was not expecting the bike to cope (suspension and brakes especially). Well I'm still rubber side down and no impact. The tractor driver gave me a stern look and we both carried on with our journeys. The next few miles were a tad tentative; just keep plenty of distance from the vehicle in front and steady into the corners.
Miles drifted by and the Keeway and I began to come to an understanding (that being that I bloody love the bike, and I would be out, more often than in). The upright riding position mentioned earlier is properly smile-making. You feel as if you are astride a true Supermoto stallion. Its exhaust note has not been baffled to nothing, even though it's a Euro4 compliant bike. The suspension is soft enough to absorb all the road imperfections, but probably in my opinion just a drop too soft on the front for spirited B-road thrashing. She does front end dip under heavy braking riding on the standard tyres; I'm not a rider with enough knowledge to say that if you were trail-braking heavily into a corner, whether the sidewalls would hold their shape enough to not give up traction. That being said, it's not really the kind of bike that you're going to do this on.
Night vision
I'm a bugger for riding at night and like to be able to see; if the corners are cut I've found out to my dismay that its sometimes been because of the lights – and let's face it, in the UK if you're buying a commuter it needs to have good all-year round visibility which includes night riding. Yep, it's got lights, yep the main beam is great, but now the acid test of dipping the beam on a back road with cars heading towards you. Am I going to be able to see the verge? Am I going to have enough power to be able to see the road? This is a point that I make on all my tests, so what about this bike? Yes is the answer. The lights are more than okay; the main beam throws light far enough ahead to make you confident to ride at normal daytime speeds, and the dips spread lets you comfortably see not only the verge, but the road in front, and also the centre lines when you have oncoming traffic. Might sound daft, but the last thing you want to do is disappear into a ditch because you have no idea of your road position in the dark.
The commuter question
Here's a curious question that I've been mulling around in my head for a while now. Would you go out and buy this as a commuter bike? Well, let's look at the evidence; the price is just over two grand (correct at time of going to press – but check with your local dealers for what offers they have). The comfort is there; the riding position isn't going to punish your back or wrist; the style is on point, so is there any reason not to buy? Well no, but it is a very individual thing, choosing a bike or a scooter; it's got to work for you and you alone.
Now if I was going to throw any kind of spanner in the works for the Keeway it would be throwing your leg over. She's quite tall for a 125. You may well be able to have her lowered at the dealers and with that possibility you'd be hard-pushed at the price to find a machine that gives you the feeling that the Keeway does. I loved the power that the SOHC 125cc air-cooled engine produced, and that's probably more to the fact that I get a little bit scared when riding the 'big boys toys'. It's a rugged and ready all year round ride that even in the worst of the weather will just suck it up and say, "Is that it!" I gave her a little test on the local green lanes (I must add that I checked was allowed to ride on them beforehand) and this is where the softer front came into its own. The tyres were completely incorrect, but my smile would have told a different story.
Last words
Built to a budget but done the right way; no corners were cut and nothing essential has been sacrificed.
Words: Jonathan
Images: Gary
O2W RATING: 8 stars
SPECIFICATION
LICENCE: A1
ENGINE: 125cc 4-stroke, single cylinder, electronic fuel injection
SEAT HEIGHT: 860mm
WEIGHT: 130kg
FUEL TANK CAPACITY: 11.2 litres
PRICE: £2099 (plus OTR)
CONTACT: www.keeway.co.uk