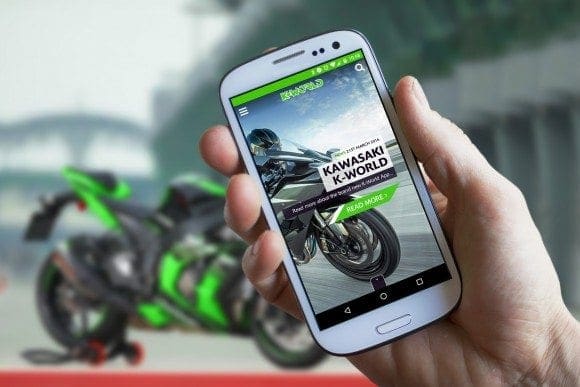 Kawasaki Motors UK has launched a brand-new app that will bring the world of Kawasaki to life on iOS and Android mobile devices. According to Kawasaki, 'K-World' will give 'green machine' owners and Kawasaki fans access to news, updates and exclusive content – and it will be available to download for FREE.
The K-World News section allows readers to find out the very latest from Kawasaki as it happens, from new model announcements to product launches and company updates. For more in-depth stories, head to the K-World Features area, where you'll find regular, exclusive content created specifically for the app and not available anywhere else. All the latest Kawasaki videos are also available to watch at the touch of a button.
Racing fans should keep an eye on the Team Green section, which includes updates on new rider signings, race reports and behind-the-scenes features about the riders, teams and machines for the 2016 season. You can keep track of all the race meetings, along with UK motorcycle shows and other goings-on in the Events section – and those highlighted in green show that Kawasaki UK will be in attendance. Finally, the KRC area provides everything you need to know about the Kawasaki Riders Club as well as weekly blog updates.
Kawasaki Motors UK Marketing and Brand Development Manager, Mark Spiller, said: "We are incredibly excited to be launching the K-World app. It will compliment our bi-annual Kawasaki Riders Club magazine, GO, perfectly and bring all the latest from KMUK directly to the hands of Kawasaki fans in real time. We're very proud of the finished product and feel that it provides real value to our customers – and in fact anyone who's interested in motorcycling."
The K-World App is available to download now:
App Store for iOS devices – http://bit.ly/iTunesK-WorldDownload
Google Play for Android – http://bit.ly/GooglePlayStoreDownload