Bottled brilliance and beautiful balance.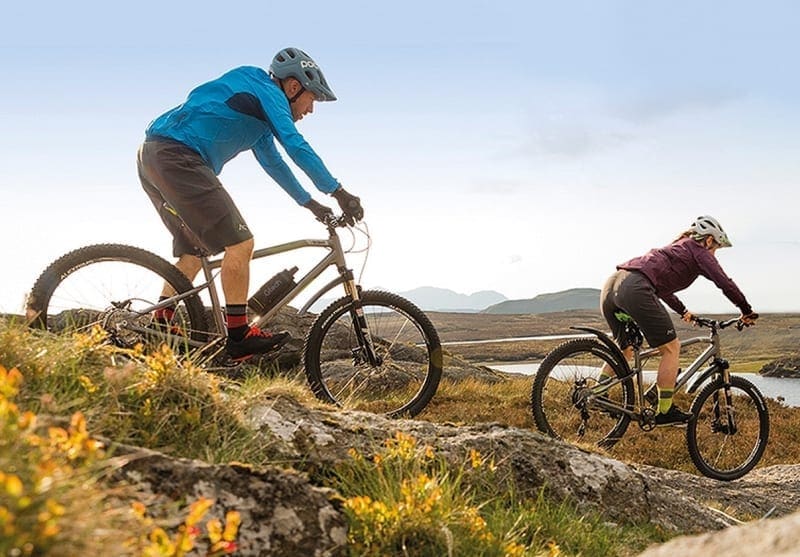 This box of joy arrived for review recently. The assembly was a total doddle using basic of tools and I was soon ready to put the kettle on, pop the battery on charge and gaze at my handiwork, whilst awaiting the battery's digital display to reach 'MAX'.
Fully charged and mounted the battery (which looks like a water bottle) is fitted with a simple slot and click. Unlike most pedelecs on the market this one has no handlebar digital display, battery level monitor, speedo, or multiple levels of assistance. It's got just two which you choose by pressing a green button on the battery bottle to choose either 'ECO' or 'MAX' – "Where's all the digital bits?" What a refreshing alternative; no bumph or bluster. It's just a well built, high spec hard-tail mountain bike with a bonus prize in the rear wheel! Yep, the standard 250w motor you've come to expect in an e-bike.
Quality over price
But why would I pay £1200 for an e-bike with all the bells and whistles removed? Well, the reason is this: quality in buckets! Quality that makes you realise you're looking at the VW of the e-bike market. VW Golf's are sparse and utilitarian, but it's the way they drive, the way they hold their money, the customer service – it all adds up to a brilliant owning experience. That's what I'm getting when I jump on the eScent; it's not all fluffy unicorns and candy rainbows; it's hard, cold quality. Now that might sound a bit harsh, but do you really want a bike, which after a spirited ride a few times down the local canal towpath and along that forest trail, then cuts out 20 minutes on the way to work – no you don't. The eScent has a brilliantly balanced frame with well-chosen quality products added to it, and Gtech's electrical knows how to assist you as you go.
First rides are always a bit of an exciting time with the anticipation (we all do it; we judge first and quantify later). I'll admit to looking at the eScent and thinking 'Don't like the way the rear of the frame is welded to the seat post tube; not sure I like the look of the suspension seat unit; how am I going to know if the battery is working?' But the Gtech boffins have a good set of brains and a keen eye for detail.
There's a single gear ring on the front where the pedals attach, rather than the three that seems to have been the standard for so many years. On the rear you have a 10-speed Shimano cassette that with the addition of the motor/pedal assistance is more than you're going to need. This is a mountain bike built to do 15.5mph whether you're using 'pedal assist' or not. If you're out for exercise then use 'ECO' mode and the motor will push you off at the start, but pretty much only gives you that. 'MAX' on the other hand, is a shove in the nicest way up to 15.5 mph over all terrain, albeit smooth tarmac or rough cart track; even an adventure to the local woods, was handled with style and grace. The bike is shod with 2.35 x 27.5 Kenda off-road tyres; Kenda is another quality brand – will you stop spoiling me Gtech! Add into the mix a set of front Rock Shock forks with 120mm of travel (which can also be locked to make road riding a little bouncy).
The frame balance and geometry make the eScent fast and nimble, yet stable, on its' 27.5inch wheels. The brakes are Shimano hydraulic discs running 180mm rotors front and rear, so stopping isn't an issue, ever. Now to that funky seat post; it's a play on the idea of a suspension post, but with a twist that takes you by surprise. It isn't playing at being a great and comfortable option to the expensive pneumatic dropper suspension posts; it's a great yet simple suspension seat that makes your ride a whole lot more enjoyable. Yes for the first three or four miles it did feel as though I had a rear puncture, but I didn't; it's just the seat, giving you a softer riding experience than you were expecting.
Summing up
The main thing to remember when you look at this bike is the overall quality. The whole package is well put-together. From the delivery, to the fact it's almost completely assembled (even the tyres were at the correct pressure when unboxed). This is an e-bike for the rider who wants adventure. It's for those who want to explore but without satnav, satellite phone, and without the world's electronic gizmo's trying to help. It has a motor to assist when going is a bit challenging, but other than that, it's your best friend who never brags about what they can do; they just do it.
Would I recommend this bike? Yes. Why? It's built to last and it's not overly complicated.
Words: Jonathan Schofield
Images: Gtech press office
O2W RATING: 8 stars
SPECIFICATION
FRAME SIZE/CONTRUCTION: Aluminium 17.5" (22" with suspension seat post)
WHEEL SIZE: 27.5"
WEIGHT: 19kg
BRAKES: 180mm hydraulic discs
Battery: Lithium-ion 36v (3-hr charge time)
WARRANTY: 2 years on frame and battery
PRICE: £1299.99
CONTACT: www.gtech.co.uk/gtech-escent-mountain-ebike.html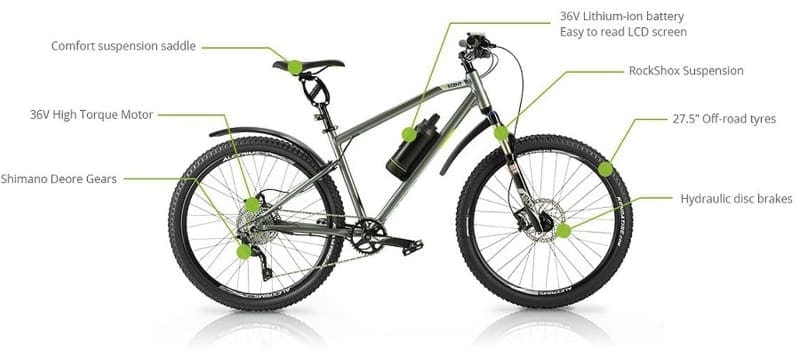 ---
Advert
---
Enjoy everything More Bikes by reading the MoreBikes monthly newspaper.
Click here
to subscribe, or
Read FREE Online
.
Sign-up to the More Bikes Newsletter
Enter your e-mail address below and get regular updates straight to your inbox… You can unsubscribe at any time.