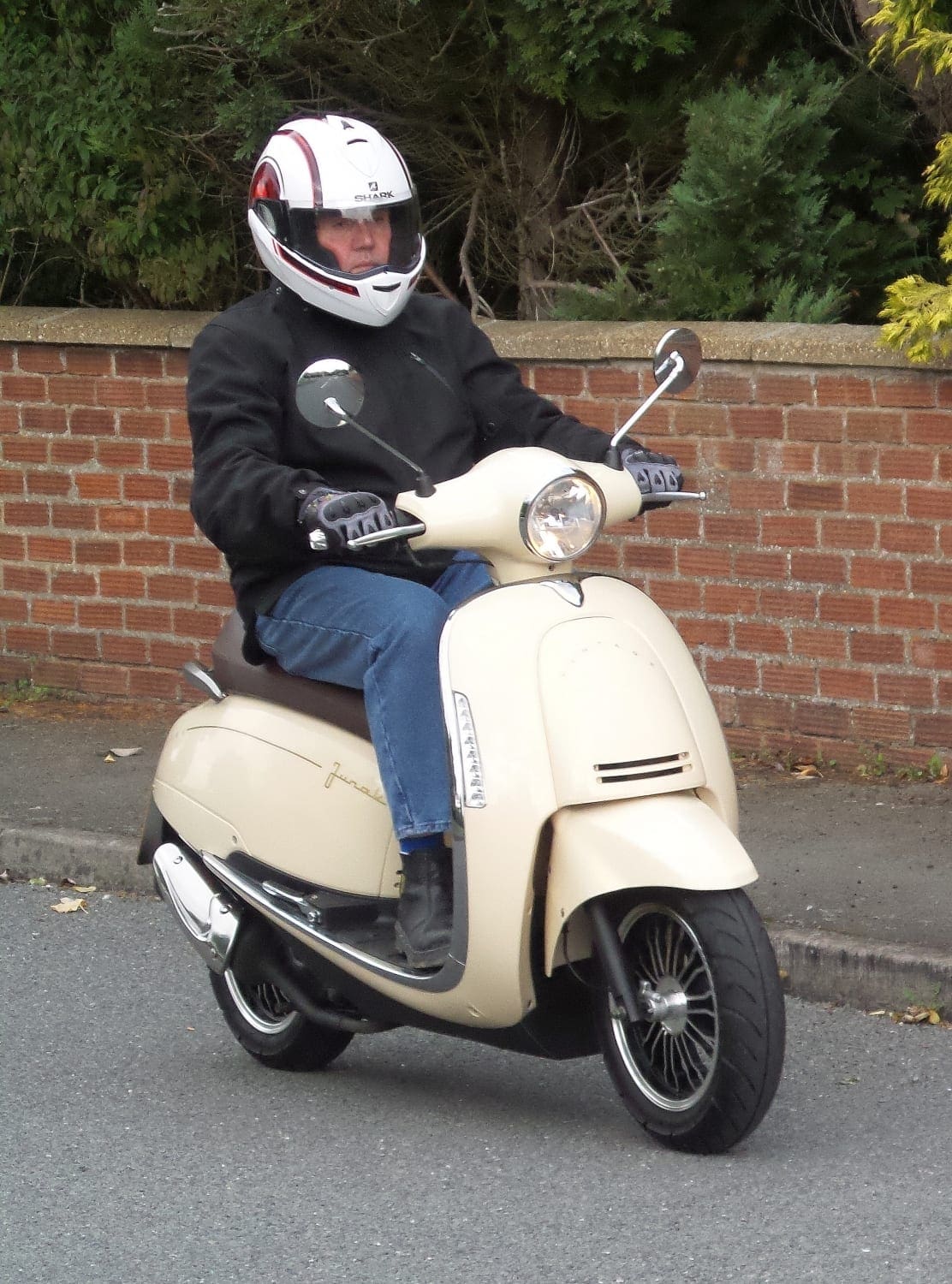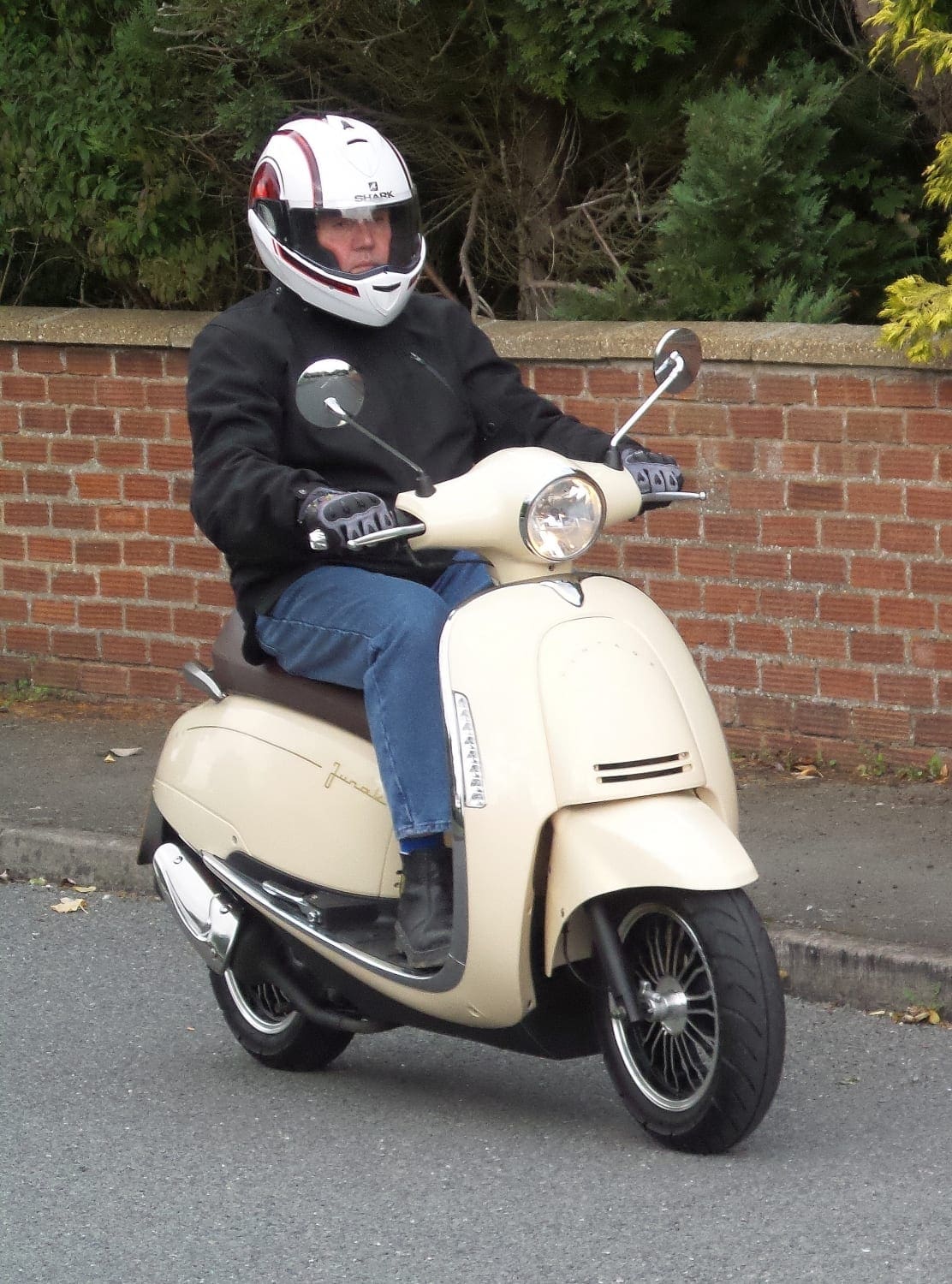 Scooters arrive from various EU countries like France, Spain, Belgium – and of course, Italy; but would you expect to see a Polish scooter on UK roads – well you will now, because the Junak brand has arrived!
Meet the Junak Vintage scooter; the one pictured here comes in 50cc form. It's imported into the UK by Hoozar Ltd, based in south-west London. The company initially started selling the scooter in December 2014 and it is primarily available via their online shop (www.hoozar.co.uk) – although they do work in conjunction with a bike shop in Acton, where Junak scooters can be viewed and a test ride arranged; the scooters come with a one year warranty covering both parts and labour. Hoozar are currently looking at setting-up a UK dealer network, so if there are any bike shops reading this, then contact them direct via their website.
A larger 125cc version was launched in Poland last summer, but due to a high demand, there's currently a waiting list for them to come to the UK. However, you can pre-order one now – they are expected to arrive in the UK in January 2016.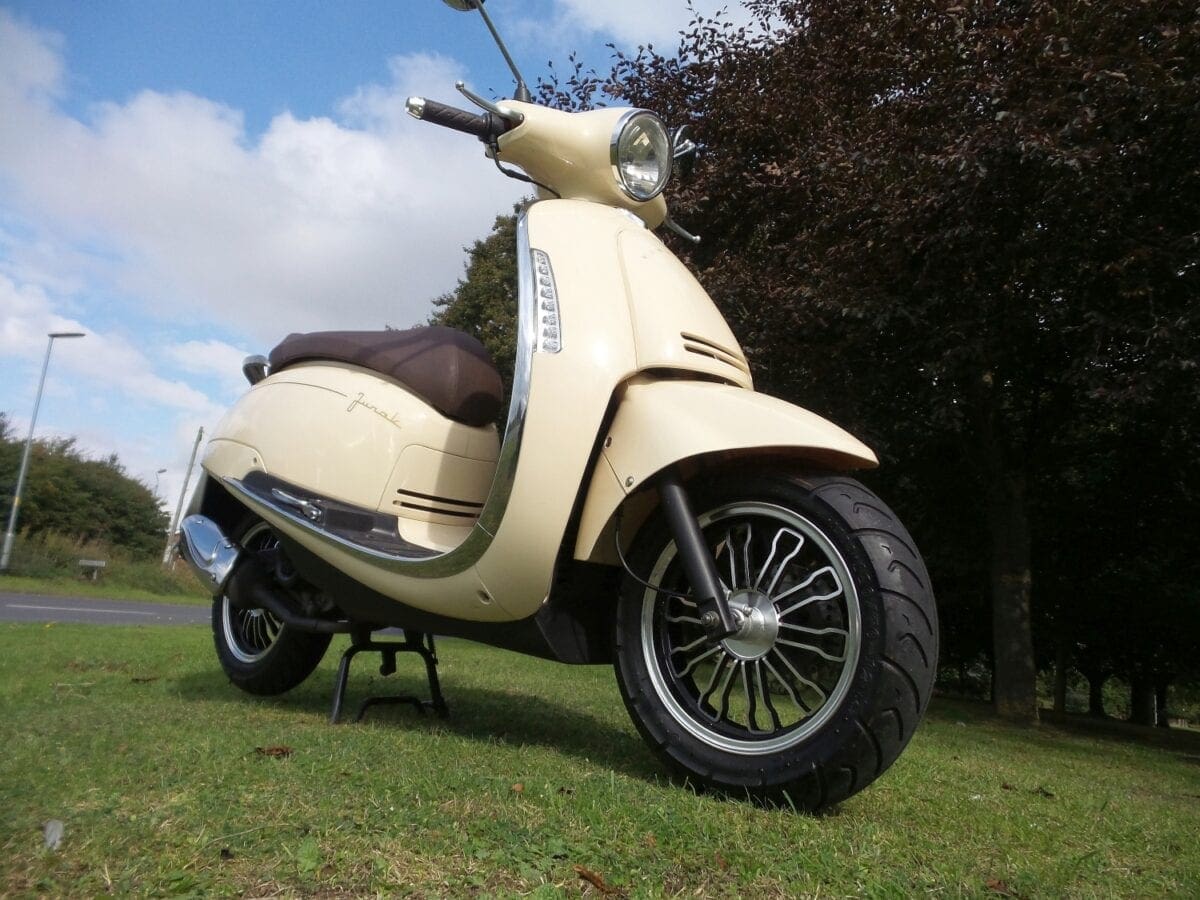 LEKCJA HISTORII
Ok, you may not have heard of the brand, but apparently they were a very popular brand in their native country during the 1950s and 1960s, being the only Polish brand to produce a four-stroke motorcycle around that period of time; a total of 91,400 Junak bikes were produced in three models. The M07 range consisted of three variants – tourist, rally, and crosser versions. The M10 possessed some of the characteristics of the M07 model and were effectively a transitional ('przejsciowka') version. The B20 was essentially a three-wheeled motorcycle with a sidecar fitted. At that time, the build quality was considered by the Polish to be of a superior quality when compared to many well-known motorcycles. One anecdote from that period of time says that Junak motorcycle was so strong that farmers used it to plough fields with them, instead of tractors.
At the time of production, Junak motorcycles were a very expensive purchase for a common Polish worker and eventually a crash in sales led to production being halted in 1965.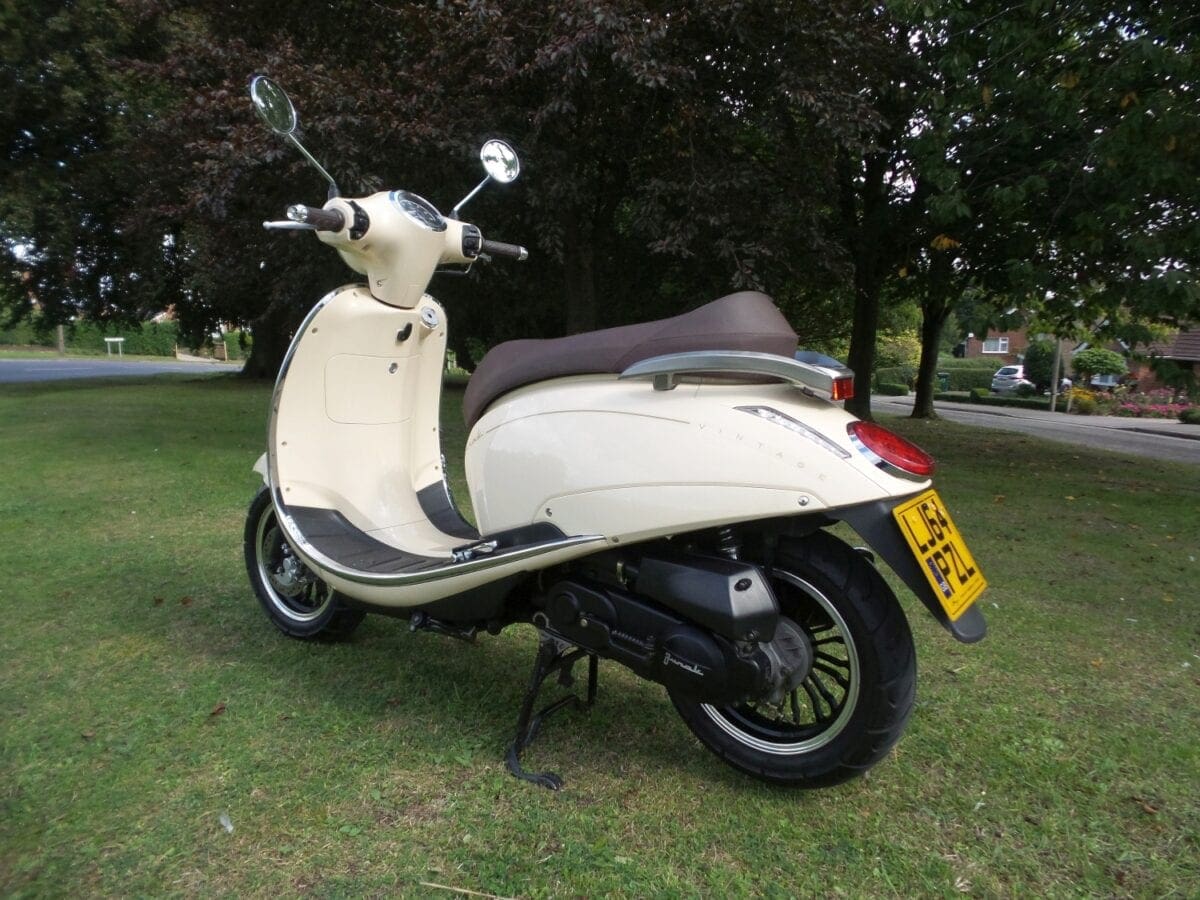 WSPÓŁCZESNY JUNAK
As has been the way with many bike companies, the Junak scooters of today are effectively of Chinese origin underneath the skin with the Junak emanating from Guandong Tayo Motorcycles. It is pre-assembled in China, and then shipped to Poland to be assembled.
STYLIZACJA
There's no denying that the Junak is a good-looker with the design having a smattering of Italian styling which gives it a very 'Vespa-esque' look. To be honest, I think it's very pleasing to the eye – especially with that rear end 'upswept' look. I couldn't quite work out whether it was this 'upsweeping' that gives the headlight stock the slight appearance of pointing downwards. I never had the opportunity to test the scooter at night, but it would be interesting to see how this affects the road illumination.
There are a couple of items that also contribute towards the looks of the scooter. Firstly, it has a really smart-looking pair of wheels (although I wouldn't like to be the one cleaning them). These are shod with FST tyres from Firestone. Then there's the smart-looking LED lights which adorn the scooter at both the front and the rear (although in use, they're quite bright and tend to overpower the brightness of the indicators when they are being used).
The instrumentation layout is quite quirky with an abnormally large analogue rev counter which overpowers the other available digital information. It's something that you'll either like or hate – personally I loved it.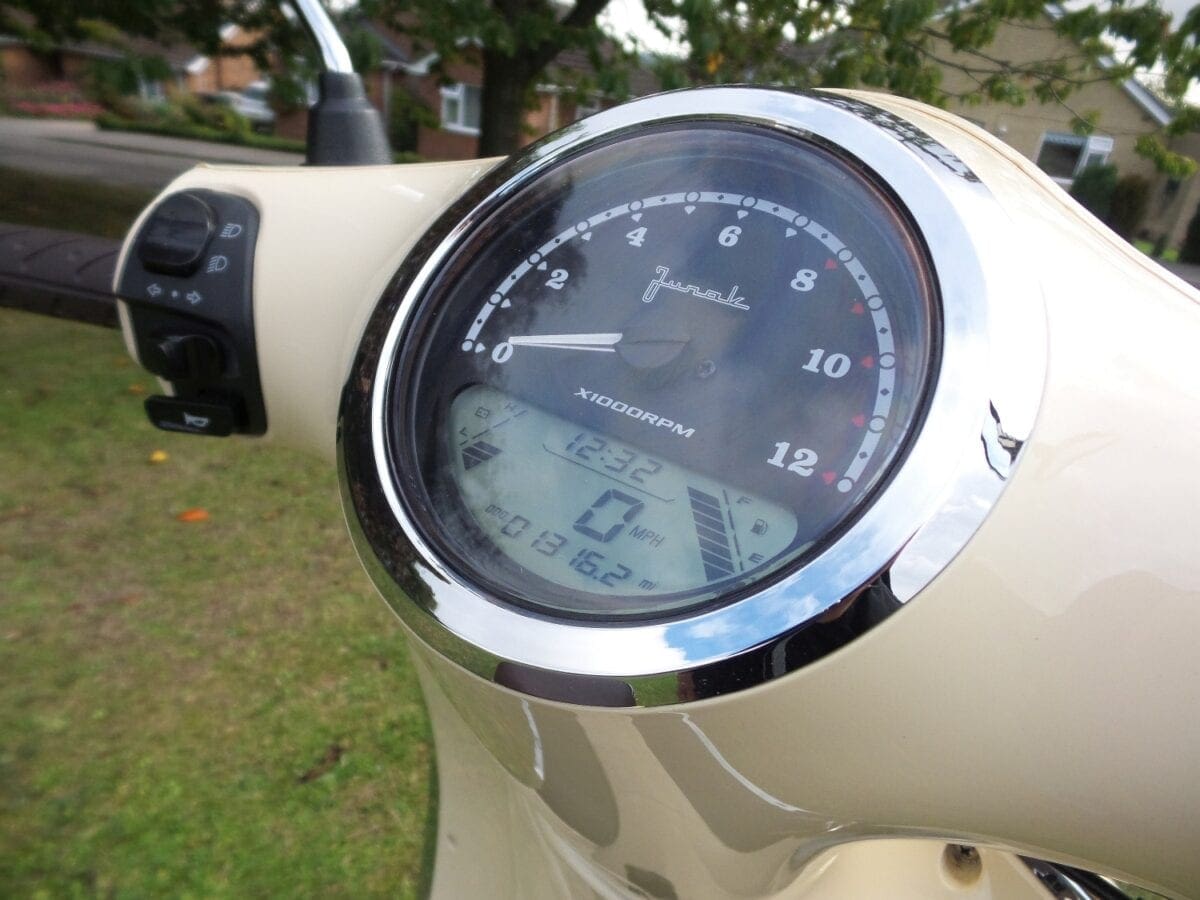 PRAKTYCZNE ZASTOSOWANIE
The Junak comes with the obligatory legshield bag hook and a decent amount of storage space under the seat. I used my Shark Evoline flip-front helmet to check out whether this space would take a full face lid – it did; but only just.
The driver gets an almost perfect layout of switches with everything falling to hand with ease; he (or she) also has a reasonably flat floorpan, making it easy to swing your legs on or off the scooter, when needed. For the passenger, there's a nifty set of flip-out lockable footpegs and a rear grip rail which looks quite substantial and feels quite secure.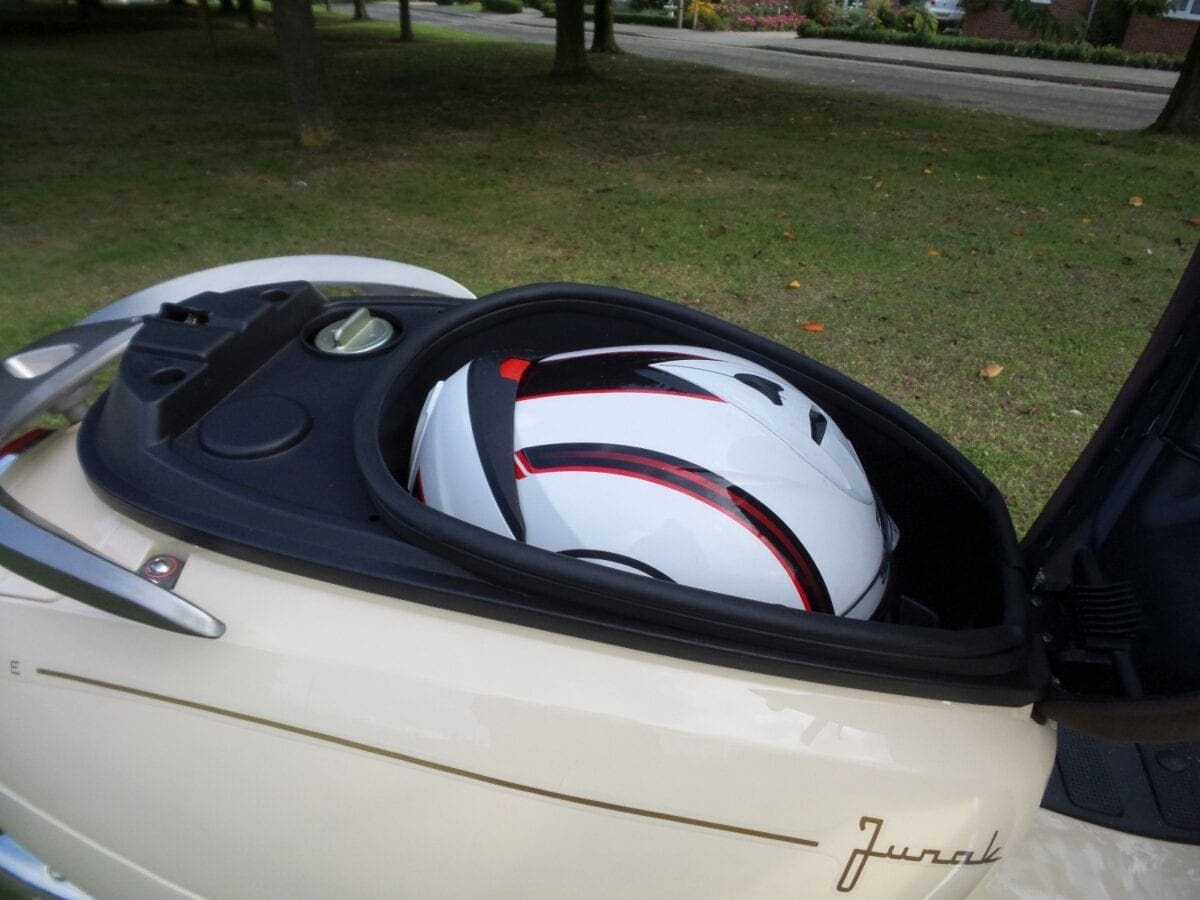 NA DRODZE
The price point for this bike is at the top end of what you'd expect to be paying for a 50cc moped that is essentially Chinese under the skin, so you'd expect a lot from a scooter like this. The Junak does meet that expectation; it feels stable and doesn't bounce about all over the road; the suspension deals with the job in hand, effortlessly absorbing our uneven road surfaces; and the Firestone tyres provide plenty of grip.
KWESTIA PRZYPADKU
There are times when something unexpected happens and unfortunately this was the one of those occasions which resulted in my test ride being a lot shorter than anticipated. Even with new machinery, things like this do happen – it's not the first time I've experienced it and I'm sure it won't be the last. All was going well and I was just a few miles down the road, when suddenly, without warning, the engine groaned and died. A few basic checks were carried out (we've had things likes spark plugs falling out before on tests), but to no avail; the engine simply refused to restart. So that was it – the test ride was over sooner than expected.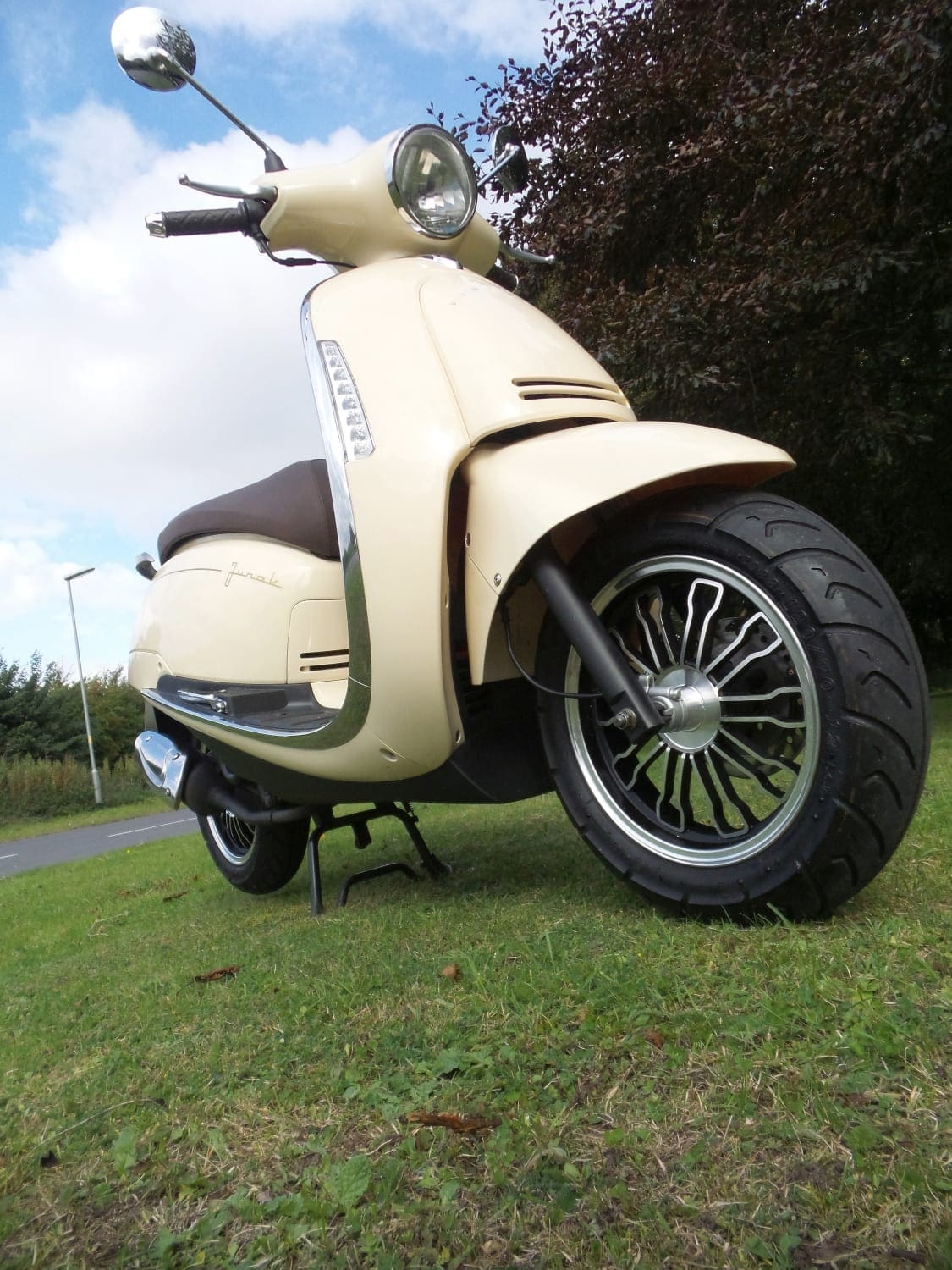 POZYTYWNY AKCENT
Don't let this unexpected ending, put you off taking a look at the Junak, because to me it comes across as a decent product that is finished to a good standard with the sort of handling qualities you'd expect to get from a decent 50cc moped scooter.
PROS
CONS
Indicator brightness
Reliability (only because of breakdown)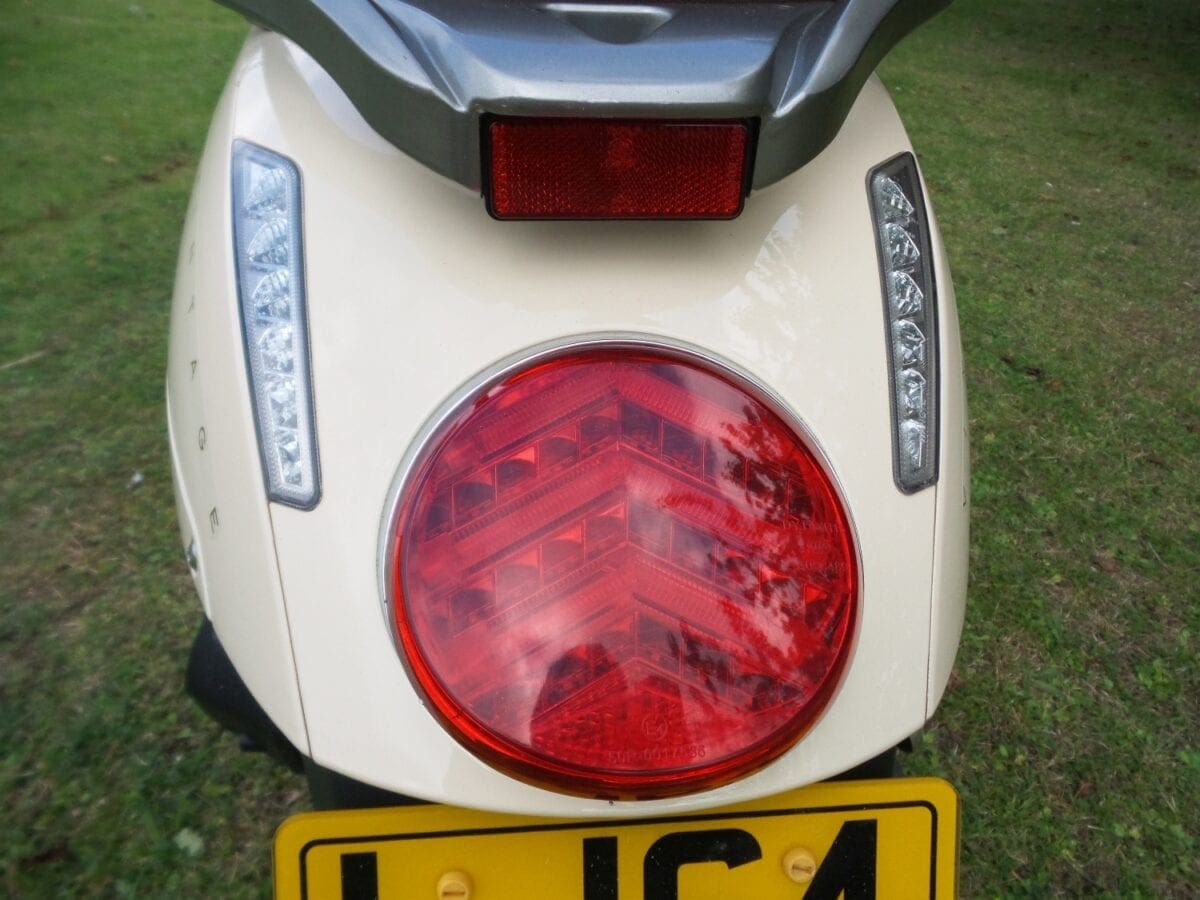 TECH SPEC
ENGINE: 49cc 4-stroke
POWER: 3.1bhp
START METHOD: Electric and kick
BRAKES: Front: hydraulic disc, Back: Mechanical drum
TYRES: 120/70-12 (FST)
TANK CAPACITY: 4.6 litres
WEIGHT: 101kg
COLOURS: Cream/brown, black/brown (more colours coming soon)
CONTACT: www.hoozar.co.uk
PRICE: £1970 (incl 1 years parts/labour warranty)
Images: Viv King
Words: Mau (on the A153, pushing-on towards T&G Towers)