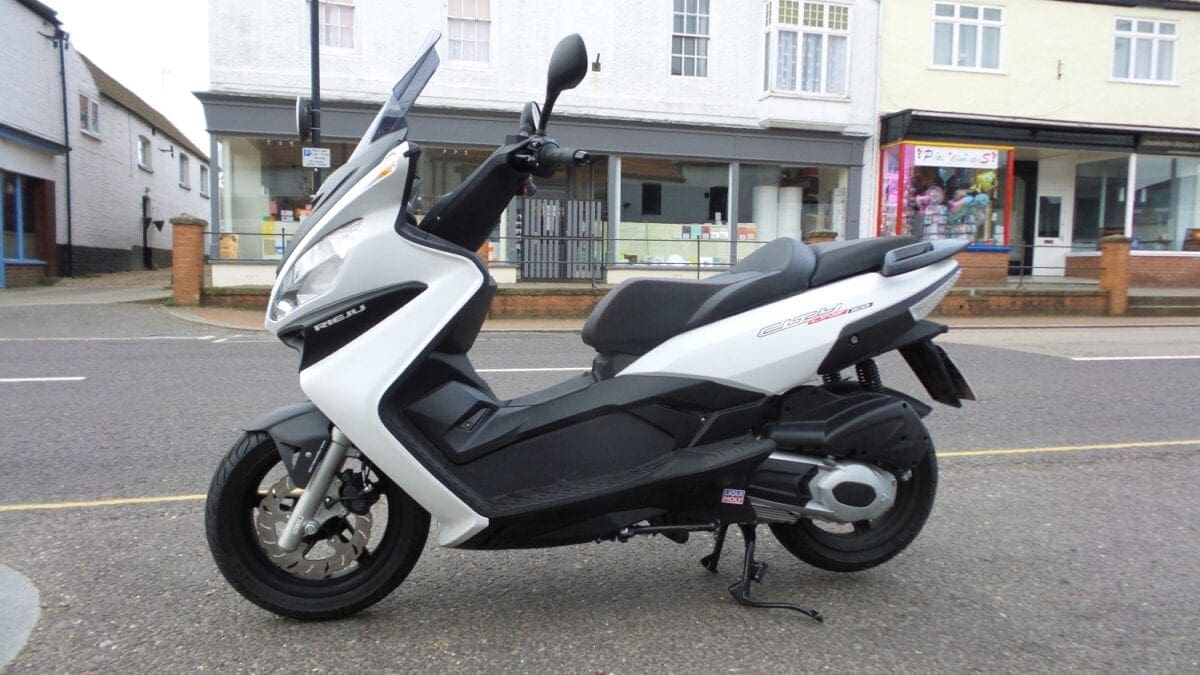 The Spanish venture into the 300cc scooter market
The world of 300cc scooters is crowded, so how will Rieju's new City Line 300 fare? According to their publicity blurb, it targets the intercity and urban commuter traveller. To do that, there's two options, a 125cc learner-legal model, and the 300cc version tested here – a good start for Rieju in offering two different rider level versions.
Engine/transmission
Power comes via a fuel injected, water-cooled, 4-valve, liquid-cooled 300cc European-made engine with roots tracing back to the old Malaguti Madison/Piaggio 250 models with engine technology brought up to date; Rieju claim it now develops 16kw (21.46bhp in old money).
On the road
The City Line looks compact for a maxi scooter; don't be deceived because on the open road it's obvious the 300cc version has enough grunt to do the job intended. Weighing 170kg (dry) the bike has a good power-to-weight ratio, making it nimble and agile. In an urban environment, it handles well and responds to driver's instructions with no complaints, making it easy to ride in traffic flow. On the open road, the engine provides the grunt expected from a mid-range scooter with enough power for quick overtakes, or cruising at national speed limits, with a little in reserve. The suspension soaked-up bumps on factory standard settings (adjustable if you want a softer/harder ride) and the wavey front/rear disk brakes provided ample stopping power. The seat and built-in lumbar support is comfortable and perhaps the only slight let-down was the mid-height screen with the wind buffeting my head.
Equipment & practicality
The dashboard consists of three analogue dials plus a digital readout screen programmable with many permutations. Underseat storage is a little deceiving; only the seat's front half opens revealing what Rieju claim is space for two jet helmets, but however hard I tried, I couldn't get my Shark Evoline full face helmet in, so I'd recommend a topbox as being essential.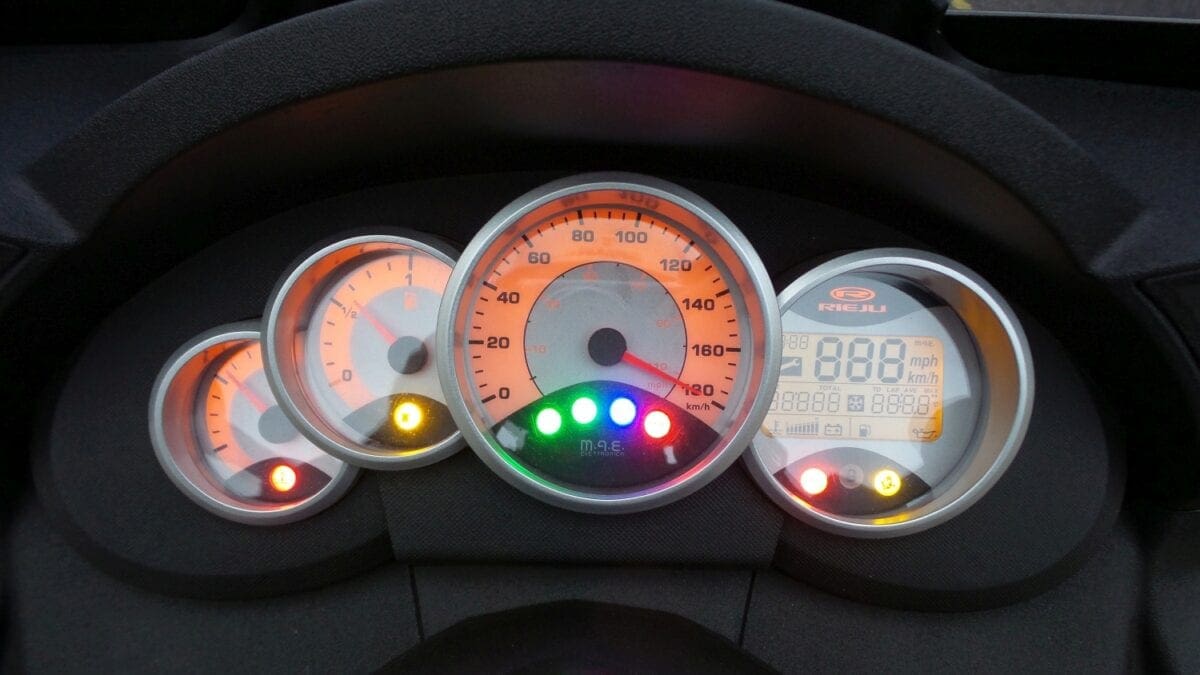 Styling
Apart from the 125/300 badges, it's hard to tell the two versions apart. The styling sits in the maxi scooter mould with a 'softer' white/black colour option; there's also a black version available, which Rieju reckon provides sharper racy lines. Whichever colour chosen, the scooter is visually eye-pleasing.
Scooter customisation
The City Line scores big time with its' customising abilities straight from the factory with a claimed 15 working days delivery. So if you fancy a sports exhaust or suspension setup, or a bit of bling, it can be done via Rieju's online configurator – a big selling point which makes an appealing purchase.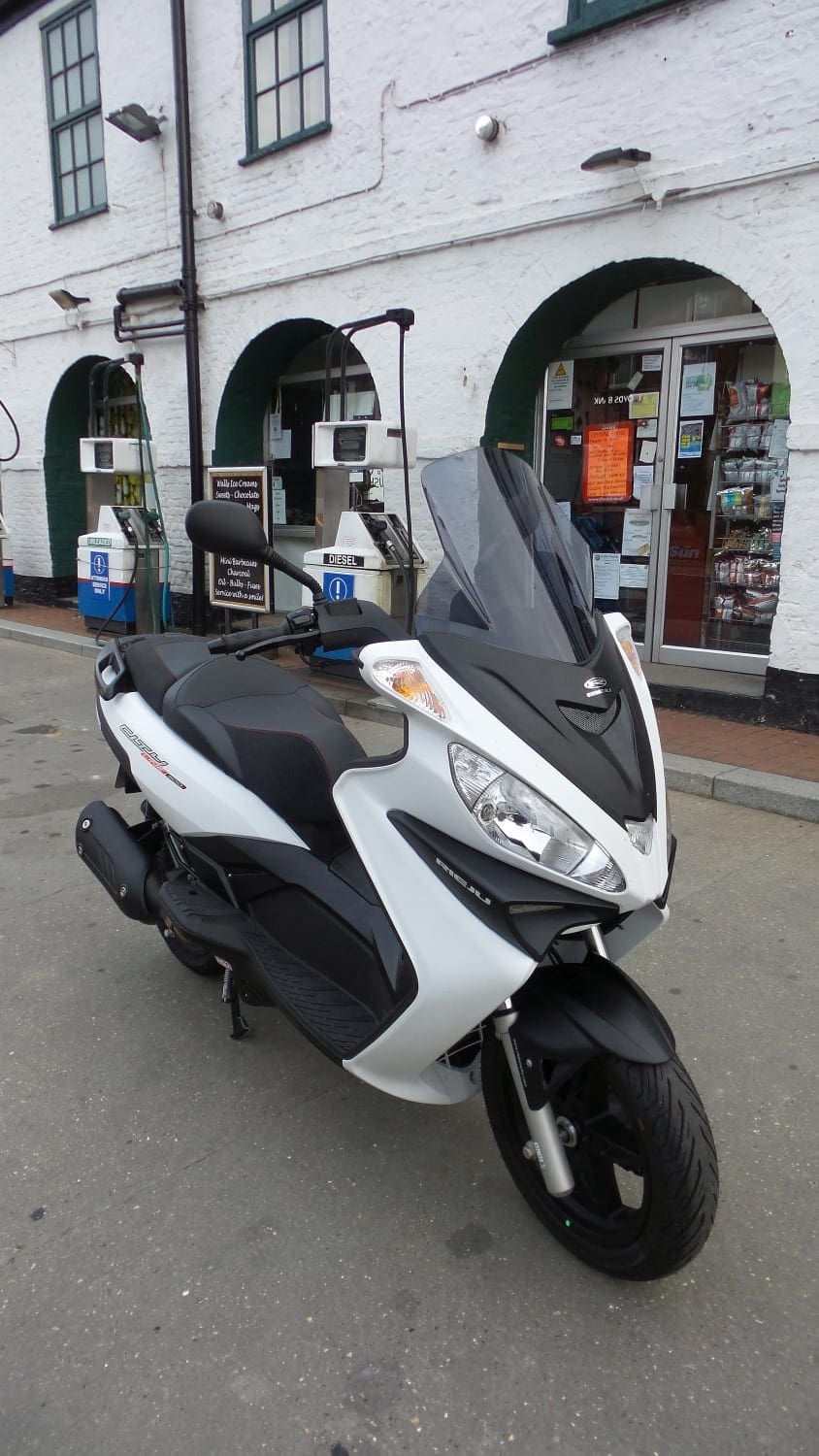 We say
A good attempt from Rieju to enter the 300cc market
Pros
Light and agile
Customisable abilities
Cons
Small screen
Limited underseat storage
Spec:
ENGINE
Liquid-cooled 300cc 4T 4-valve (EU-made)
POWER
CHASSIS
SUSPENSION
Front: Ø36mm hydraulic forks
Rear: twin shocks with adjustable preload
TYRES
Front: 120/70-14
Rear: 140/60-14
BRAKES
Front: Ø260mm wavey disc
Rear: Ø240mm wavey disc
LENGTH
WIDTH
SEAT HEIGHT
DRY WEIGHT
TANK CAPACITY
CONTACT
PRICE
£4299 (300cc)
£3899 (125cc)
Words/images: Mau