Peugeot Satelis 400
Peugeot's big Satelis has been re-engined – Pete Henshaw rode one to three cities to find out more…
Big scooters are supposed to tackle inter-city trips as easily as slip through inner city traffic, so the logical way to test one is to do just that. In the case of the new Satelis 400, the plan was to ride Bristol-Birmingham-London sticking to A roads as much as possible, but throwing-in a bit of motorway – plus lots of traffic.
Peugeot's biggest two-wheeler is in danger of becoming the forgotten big scooter, and with so many 3-400cc machines on offer, it's easy to understand why. It's been around for a few years but in latest form adopts the 400cc engine out of the three-wheel tilting Metropolis, offering 36bhp and replacing the 500cc bought-in from Piaggio. In some ways, the Satelis is a simple, straightforward scoot – its three-wheeler brother is clearly trying to tempt car drivers, with its keyless ignition and tyre pressure sensors. But the Satelis virtually free of gizmos has a standard auto transmission and no ABS.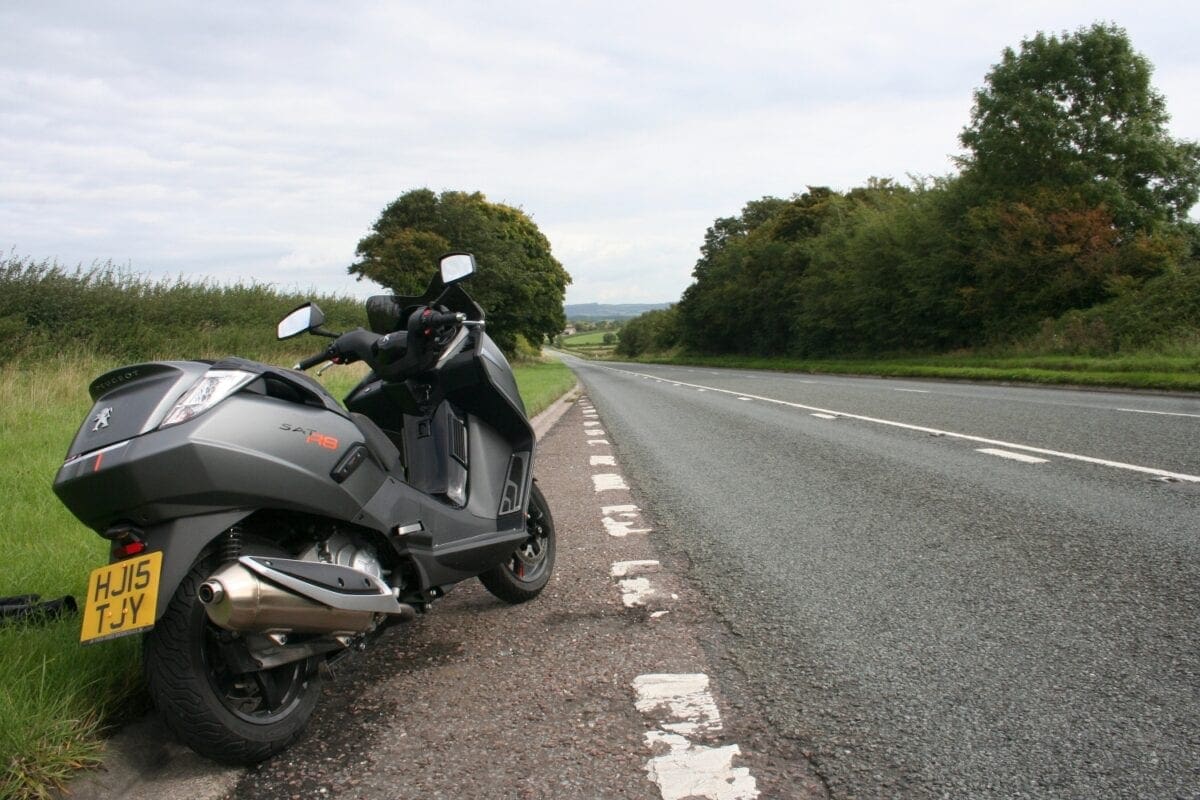 OUT ON THE ROAD
Simple is supposed to be efficient and that's what I was hoping for as we threaded our way out of the heart of hip and bohemian Bristol, past some authentic graffiti and what looked like a genuine Banksy.
We were on the A38 (which actually doesn't start in Bristol at all, but in Bodmin), meandering its way across the Southwest and Midlands to Mansfield. A TV doc on the road (yes, there was one) called it an 'English Country Lane,' and that's about right. It's a slow climb out of Bristol and the city changes as you ride further out – fewer baristas, more chicken and chips. Then we're into suburbia and the further out we get, the leafier the trees and the bigger the houses. Meanwhile, the speed limit creeps up from 20mph to 30 and finally 40 as we cruise through Filton, home of Concorde and where Rolls-Royce still build jet engines.
But it's not until clear of Thornbury, a few miles out, that we finally jettison the 40 limit and see those lovely derestriction signs. Creeping out of the city, I'd had a hint of the Satelis' power riding away from the lights, but it only really shows when you get the opportunity to open it up. This might be a big scooter weighing 213kg but the punchy 400cc single gives strong performance; it's all good fun and overtaking is never a problem.
A VOYAGE OF DISCOVERY
The A38 (at least this bit of it) is a good road to discover this, as most of the traffic is on the nearby M5, but the A road is still wide and well surfaced, even three-lane in places. Judging by the number of 'Think Bike' signs it's also a favourite biker playground, but there are plenty of 40 and 50 limits to slow things down. Still, it's a scenic ride, nice to cruise through, with glimpses of the Severn Estuary below us and the edge of the Cotswolds over to the right.
Straight and flat to Gloucester, round the town on a sort-of bypass that crosses low-lying marshy ground on a series of low bridges – it's easy to forget that Gloucester was once a significant port, linked to the Severn by canal. The docks are still there, but all cobblestones and coffee, so I'm told, as opposed to the toting of barges and lifting of bales.
The road gets twistier north of town, but in the nicest possible way; lovely sweepers that were probably put in about 70 years ago to ease traffic flow on what was a trunk route. The Malverns loom into view, then we're in Tewkesbury, which is where half-timbered buildings go to die, or so it seems. In fact, real and fake Tudor architecture is a constant all the way up to Brum; at Worcester, a half-timbered 1930s pub faces the road, proving there's nothing new about nostalgia.
Droitwich Spa lives up to its name; a leafy spa town with lots of green space and an Edwardian bandstand in the park. But it's deceptive, because we're within sniffing distance of Brum now, and the traffic's building up, the A38 no longer a forgotten playground, more the same sort of congested space as most British roads. Under the M42 and it heads straight for the Bull Ring, some dual carriageway, a real boulevard with mature trees on the wide central reservation.
Reality sets in as we hit Birmingham's inner ring road and a long, long wait at the red lights. Follow A38 signs through the city and stop for a cuppa by what used to be the massive Fort Dunlop tyre factory – they do still make tyres here, but not so many. In fact, if you're into old British bikes, any ride across Birmingham is like a litany of industrial failures: signs to Small Heath (BSA), Redditch (Royal Enfield) and Selly Oak (Ariel) – sad.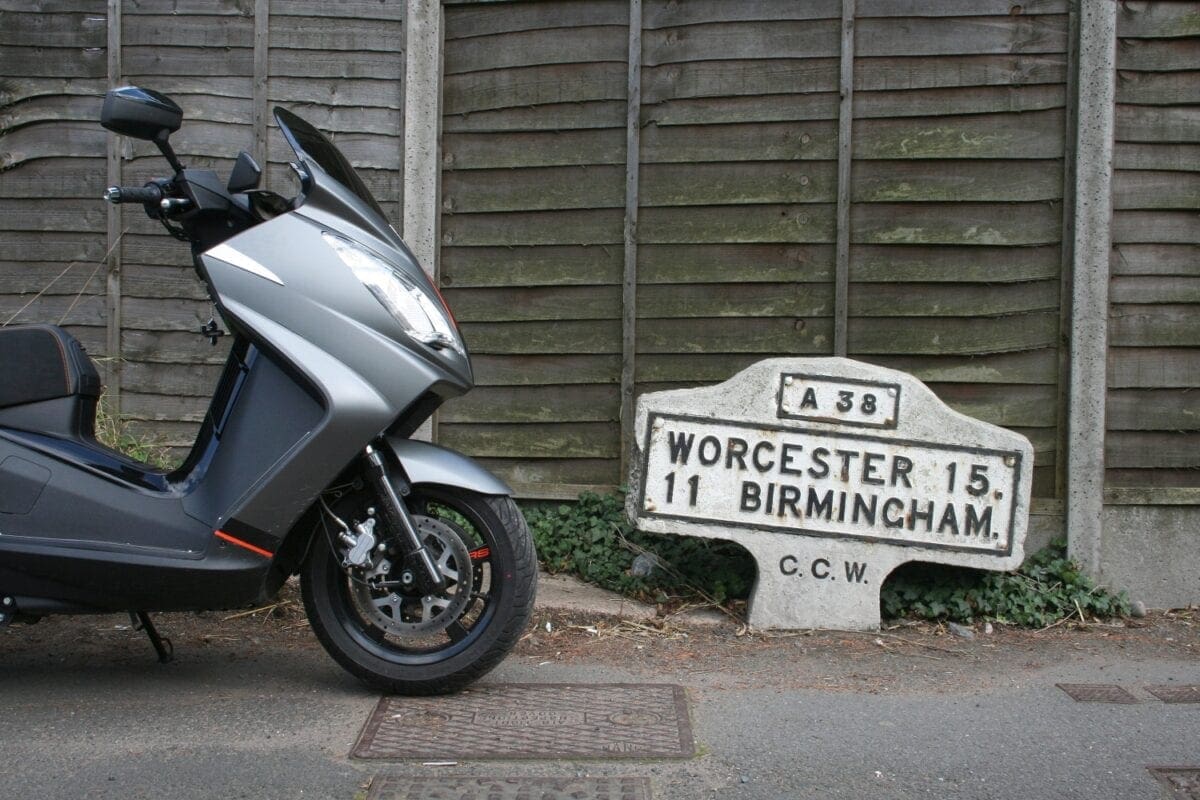 WHAT THE ROMANS DID
I miss the old A38 out of town, but it's a relief to get back up to a 70-75mph cruise again. We pop out on the A5, second of our A road trilogy. But beware. Just follow the 'A5' signs and you end up on a boring, dull dual-carriageway. Instead, at the A38/A5 roundabout, take the minor road signed 'Weeford' which is the old A5 – straighter than the new road, but slower with a lot more to see.
If you get the chance, ride from London to Holyhead. Thanks to the Romans (this used to be Watling Street) and 19th century roads engineer Thomas Telford; it's not great for curves until you get into Wales, but travelling the A5 is like riding through history. Through Tamworth, over a canal and past where they used to make Del Boy Reliants, while the Battle of Bosworth happened just up the road. Past Hinckley and we're onto a long and lonely stretch, the road running high through the wide open spaces of Northamptonshire. It's odd, given we're still close to the teeming Midlands, but that's how the A5 feels up here. Civilisation returns at Watford Gap (now there's a phrase I never thought I'd write….) as our road, the M1, a railway and canal all come together to squeeze through what is literally a geological gap in the hills. Weedon Bec is the nearest town – it might not look like much, but if Napoleon Bonaparte had invaded back Britain in 1810, the King would have been holed up here.
Next morning (you didn't think I'd done all this in a day?) I'm on the outskirts of Milton Keynes, ignoring another 'A5' sign and sticking to the old road through Stoney Stratford. It's a bit sticky, with a bit of one-way and road humps, but the rest is very clear. Do this, and there's barely a corner between Towcester and the other side of Dunstable. And you'd hardly know that Milton Keynes sprawls away to the east of the old road.
Dunstable is always busy, and don't use the bus lane, because it's one of the ones we're not allowed in. Finally out the other side, and past M1, the A5 becomes the A5183, though it's still much the same. Confused by St Albans one-way back streets, I head out on the wrong road, but backtrack and take the right one over the M25 to Elstree, where I don't spot the famous studios.
We're entering London commuter land now, with yet more half-timbering (what was it about the suburbs and fake Tudor?) but Edgware feels like the start of London proper. Mid-morning, the traffic's not too bad on the Edgware Road, but still aiming to get back to Bristol, I'm running short of time. The North Circular turns out to be jammed almost solid. Being a big scooter, the Satelis doesn't have the ultimate filtering ability of a tiny 125, but it's still pretty good; it's easy to balance the rear brake and a touch of throttle to keep things smooth. This older part of the North Circular is narrow, despite three lanes, and with trucks on the road, it's not always possible to squeeze through. Then the heavens open and I'm sitting there getting wet. Bugger the no stopping red route bit – I nip up onto the empty pavement to pull on overtrousers as the rain bounces off the tarmac.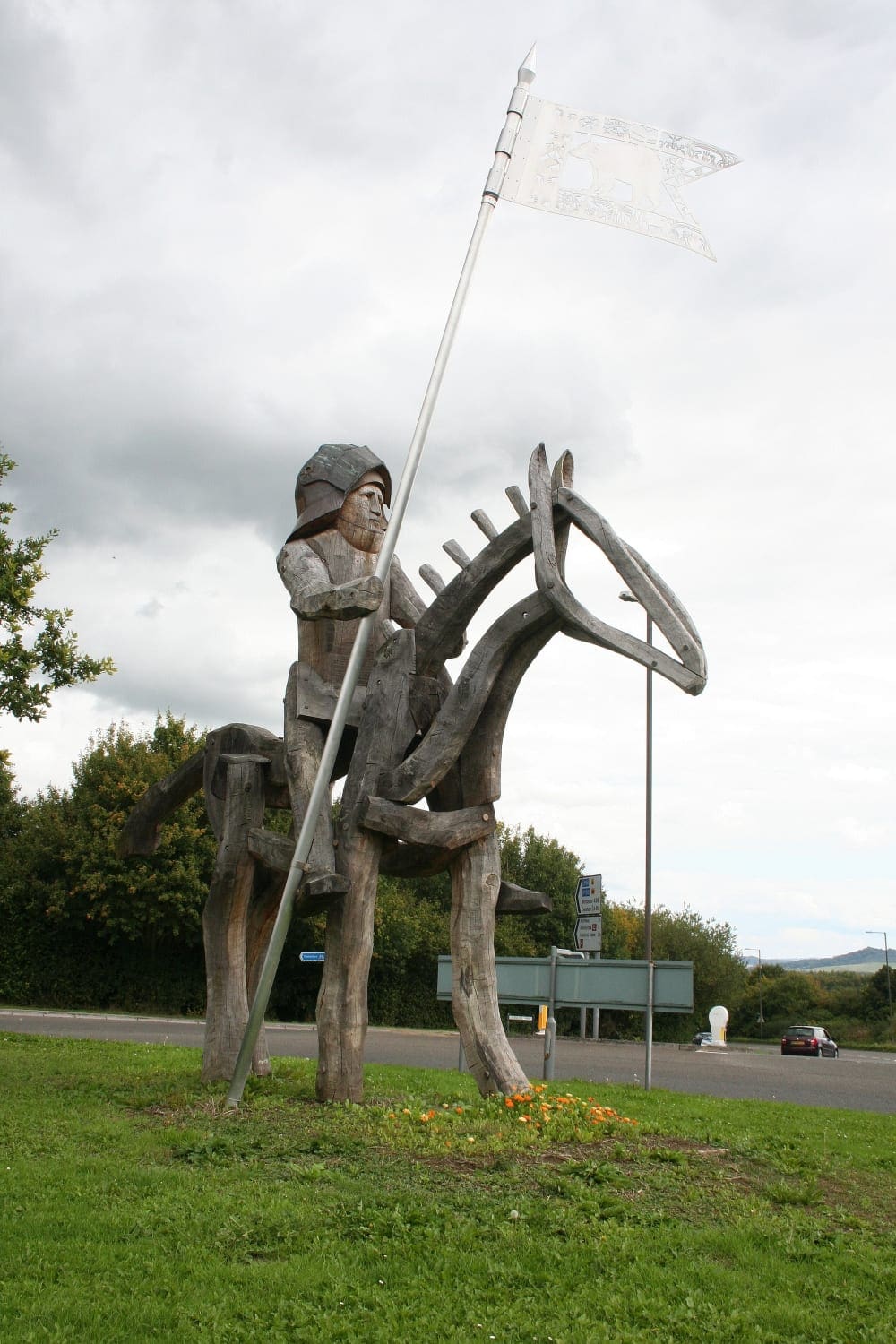 GO WEST
Eventually we get spat out at Chiswick roundabout and there's the opportunity to play catch-up. It's clear that I won't have time to follow the A4 (third and last of our three A roads) all the way to Bristol, so I hop onto the motorway to get clear of west London's sprawl. This is where the Satelis' extra power shines. And so does the sun! Sitting in the outside lane at an indicated 80mph, my wet kit starts rapidly drying out and all's well with the world. The Satelis feels well within its limits at this speed, and I love that feet forward riding position, which allows you to stretch-out in comfort. The only problem with the Satelis RS test bike is the Ermax sports screen, which looks mean but is too low, the wind buffeting your chest and helmet at motorway speeds. I'm told the standard higher screen is a simple retro fit.
We come off the motorway at Reading, hopping onto the A4 and hoping for a repeat of the A38/A5 experience. But it doesn't work like that, as the road's slow and busy all the way to Newbury which itself is a bit sticky. But I should have had faith, because out the other side of town the A4 reverts to a classic A road, with swoopy corners through wide valleys, while much of the traffic has melted away. Through historic Hungerford and Marlborough; then more glorious A road into Wiltshire's bonanza of ancient sites (or New Age mysticism) – Avebury, Silbury Hill, the Ridgeway. It coincides with the road climbing onto higher ground with brilliant views over the chalk downland.
A long, long tailback through Calne reminds that I'm still in the 21st century, and haven't really got time to get back to Bristol at all, whether by the A4 or any other road. Time to peel off and head for home.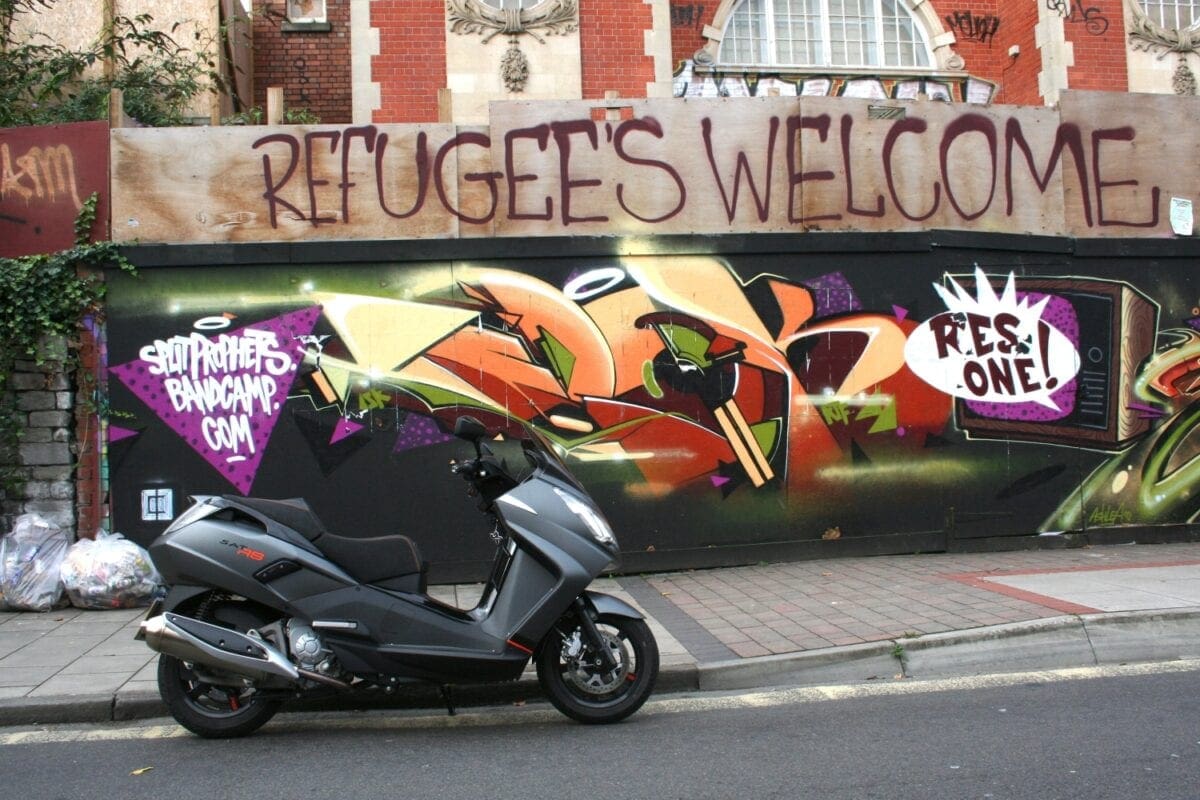 THE PEUGEOT SATELIS 400
You'd expect the Satelis to be a thoroughly competent big scooter, and that's exactly what it is. Peugeot's own 400cc single is quiet and punchy, with a smooth pick up, and the transmission keeps it in the 4-6000rpm range most of the time. It's really very entertaining, as fast as you could ever want for commuting, and handles very well too, backed up by superb brakes. They may not be linked or have ABS, but the Nissin calipers are the same ones used on Triumph's Street Triple.
Like most feet-forward scoots, it's really comfy over distance, and the seat is fine with good back support – I had no problems over 10-hour days. As I found out on the North Circular, it loses out to small scooters when the filtering gaps get really narrower, but certainly no more than any other big scoot and it is easy to control at low speed. The fairing keeps the legs dry in light rain, there's bags of room under the seat, which can just swallow two full-face helmets, and the tank gives nearly 200 miles range at 70mpg.
At £4599, is this the straightforward sports scooter for those who can't afford a Tmax?
Words/images: Pete Henshaw
---
Advert
---
Enjoy everything More Bikes by reading the MoreBikes monthly newspaper.
Click here
to subscribe, or
Read FREE Online
.
Sign-up to the More Bikes Newsletter
Enter your e-mail address below and get regular updates straight to your inbox… You can unsubscribe at any time.