A leaflet is doing the rounds in London calling for motorcyclists to join a group to 'Sort out' bike thieves and scumbags carrying out crimes on scooters.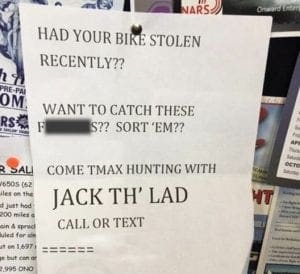 Alongside the flyer being handed out to riders, one of the call-to-arms posters was posted on the noticeboard at the Ace Cafe in north west London.
The Ace Cafe said that although the notice has appeared on the board briefly it was certainly not 'something we support'. The notice was quickly removed from the board once staff spotted it in the iconic biker's meeting place.
The notice reads: "Had your bike stolen recently?? Want to catch these f*****s?? Sort 'em? Come Tmax hunting with Jack Th' Lad."
According to reports on social media, similar calls have also gone out to bikers in Bristol, Edinburgh, Birmingham and Liverpool.
Superintendent Mark Payne of Operation Venice, a police team set-up to target moped-assisted crime, told Huffpost UK that the Met: "Does not support activities by individuals or groups who target suspected criminals.
"Individuals or groups who target potentially violent criminals could be putting themselves at risk," Payne advised anyone who witnesses motorcycle thefts to contact police.
He added: "This type of action could jeopardise or interfere with ongoing investigations, and our advice to anyone who has information about a suspect or witnesses a crime is to contact police as soon as possible so it can be investigated and, where possible, bring people to justice."
Payne also said revealing the identity of a potential suspect could also: "Give them the opportunity to destroy evidence," before police become involved.