The Zero S is the entry level model in the Zero range, designed with urban commuters in mind.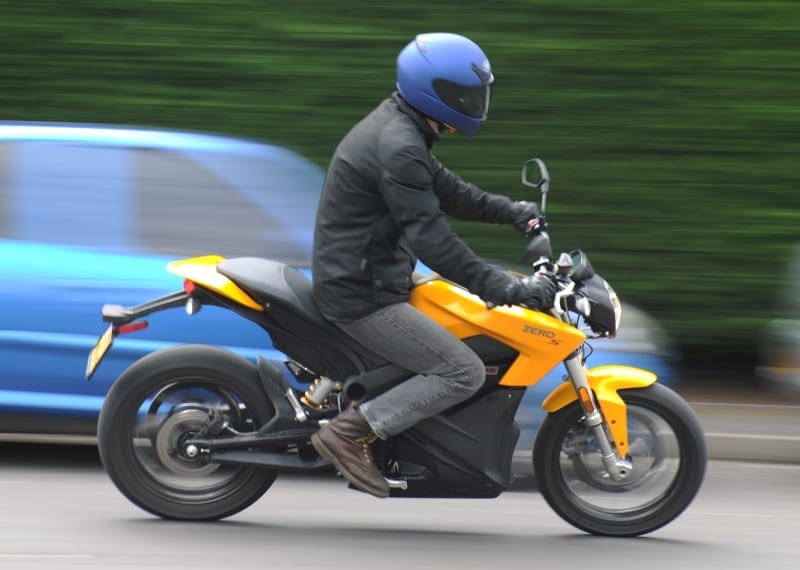 The Streetfighter-styled S offers all the benefits of Zero's electric technology, but in a lower priced, lightweight package. The 2017 model features a new, upgraded compact power pack that shaves 43kg off the weight, making the bike more nimble, flickable and fun to ride – plus, the space freed-up by the smaller battery provides a convenient, locking storage compartment. It also features a wider, stronger drive belt offering 19% more torque and an 11% increase in power.
First impressions
The Zero S is a naked sport bike stripped right back to the essentials. The overall look is clean and stylish, if not a little sparse – but rest assured that everything on the bike contributes to performance in some way.
The faux fuel tank allows the machine to maintain a more traditional motorcycle form, and aside from the obvious omissions (exhausts in particular), the Zero S cleverly blends the necessary electric technology into a stylish motorcycle-shaped package guaranteed to turn heads It comes in a bright yellow paint scheme, which is sure to get you noticed.
On the road
Straddling it for the first time – you'll notice that the riding position is quite sporty, with your feet tucked backwards, encouraging you to lean forward over the tank. But it doesn't go the whole hog, with its relatively upright Supermoto-style bars making it easy to get on with and throw into corners with confidence. The seat height is 807mm, and at 6'1" I could get my feet flat on the floor – it weighs 142kg (depending on battery options) so I found it easy to manoeuvre too.
It's powered by a Z-Force 75-7 electric motor delivering 68 lb-ft of torque as soon as you twist the throttle and 54bhp at 4,300rpm. The power-to-weight ratio suggests it was designed with cornering performance as a priority, as power and acceleration play second fiddle – but it's still capable of reaching 95mph and can sustain 80/85mph depending on the power supply. It runs a clutch-less direct-drive system for smooth, instant acceleration, twist-and-go style. It also feeds back torque to power regenerative braking, meaning that some kinetic energy is transferred back into electrical energy, offering the electrical equivalent of engine braking (which is adjustable, through the app).
For stopping, there's J-Juan calipers with 320mm and 240mm wave-cut brake discs at the front and rear respectively. Plus there's a top-notch Bosch Gen 9 ABS module which'll help keep you and the bike in check – and they work well, pulling the bike up quickly and safely even under strenuous braking.
It has 41mm front USD forks and a centre-mounted, 40mm, coil-over rear monoshock, both fully adjustable. I found the suspension really plush, soaking-up bumps on pothole-laden B-roads with ease. With 6.25 inches up front and 6.35 inches at the rear, the travel comes at the expense of slightly shorter riders, who may find clambering aboard a bit of a struggle.
Should I buy one?
The base-model Zero S with the 9.8kWh power pack is priced at a shade over 10 grand, and jumps up to around 13 grand for the 13.0kWh version – by no means a cheap motorcycle. You will be able to take advantage of the £1500 ULEV government grant and the price does include a two-year warranty on the bike, plus a five-year/100,000-mile warranty on the power pack – but best of all, it's only going to cost around a penny-per-mile to ride, and there's no fuel to worry about, no oil to check or change and no routine powertrain maintenance to undertake.
So, if you're looking to make your daily commute faster, more affordable and maybe even more fun, then check out the new Zero S electric motorcycle. I loved it.
Words: Ross
Images: Matt Hull
SPECIFICATION
LICENCE: A1
ENGINE: Z-Force® 75-5 passively air-cooled, high efficiency, radial flux, interior permanent magnet, brushless motor
MAX SPEED: 91mph
BATTERY: Z-Force® Li-Ion intelligent integrated
RANGE: 54 miles (claimed average)
CHARGER: Standard 110 V or 220 V
SEAT HEIGHT: 807mm
WEIGHT: 142kg
PRICE: £10,690 (excluding ULEV grant)
O2W RATING: 8 stars
CONTACT: www.zeromotorcycles.com/eu