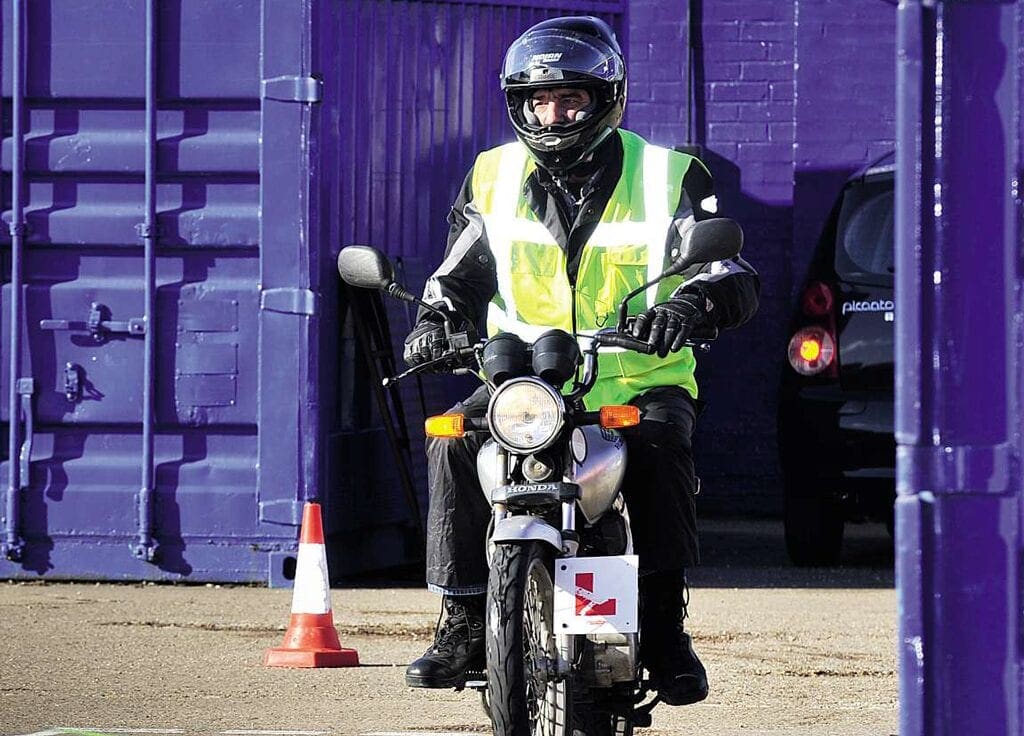 CBT stands for compulsory basic training. It's the first step to getting a motorcycle license and, as the name implies, it is the basic stuff that any rider needs to know.
Split into five sections, you'll spend some time in the classroom; some time tearning basic skills away from the road and, finally, some time riding on the road too.
The idea is that having completed CBT you are competent enough to ride solo on the road on a 125cc motorycle without endangering yourself or other road users.
CBT typically lasts one day, but there is no time limit. You should progress as quickly as you feel comfortable and not be afraid to ask your instructor to take things more slowly if needed. There's a lot to learn, but don't think of CBT as a chore.
Try and see if the same way as those gift experiences your partner buys you for Christmas. Expect this is a lot better than a 10-minute drive in a rally car or light in a ballon – this is a full day that will teach you to ride a motorcycle. The first day of your motorcycling life.
The dull bit. But necessary and it doesn't take long.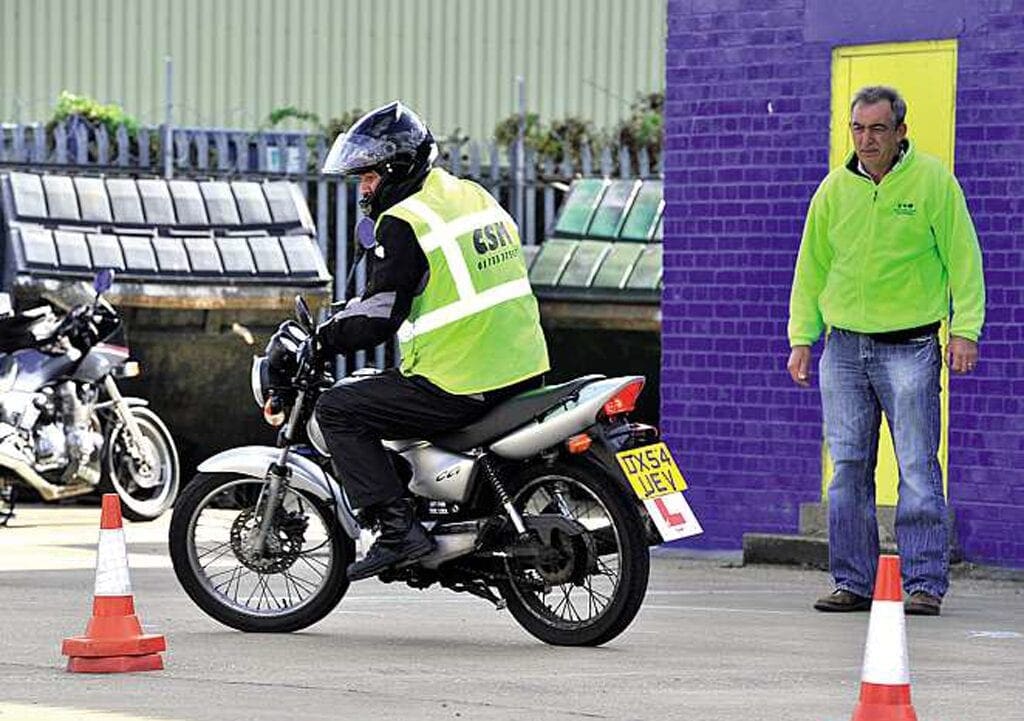 The first element of CBT involves:
An introduction to the course
A check that you have the correct licence to attend the course
An eye test (you must be able to read a number plate from 20.5 metres away (with glasses if you usually wear them).
There will also be a discussion about motorcycle clothing. What's available, what are the different types of kit (leathers, textiles etc.), what is the legal requirement and what makes sense. Most CBT trainers will have some kit they can lend you for the day.
Introducing the motorcycle
This is a walk around the bike identifying all the controls and what each one does. This is where you get a chance to work a throttle, pull the clutch and brake levers and get a feel for how a motorcycle works.
It sounds simple, but just something like how you pull in and release the clutch or brake lever makes an enormous difference to the smoothness of your ride and the confidence you feel on a bike. The more practice you get, the smoother your riding will be.
This element of CBT also includes:
Learning to push the bike around safely
Getting it on and off the stands
Getting on and off the bike
Starting and stopping the engine
Learning the basic machine safety checks that you should perform on a regular basis. These involve checking the bike's chain and sprockets, the brakes, the oil level in the engine, the lights, condition of the tyres and the steering. This stuff is more important on a bike than a car because the consequences of a failure are much more serious.
Now the fun begins. This element is all about machine control and you'll be taught how to set off, slow down, do an emergency stop and ride all manner of interesting manoeuvres. By the end of this module, you'll be starting to see just how much fun a bike can be.
All of this part is conducted away from public roads in a safe, controlled environment. The schedule also says that you must reach speeds of at least 30mph and use at least three gears.
First off you'll learn how to use the throttle, gears, brakes and steering. You must also show control of the machine's balance by performing some low-speed exercises such as u­turns and a figure-of-eight.
Once familiar with the feel of the bike, a few practice junctions are ridden, testing observation (including a lifesaver), signalling and positioning.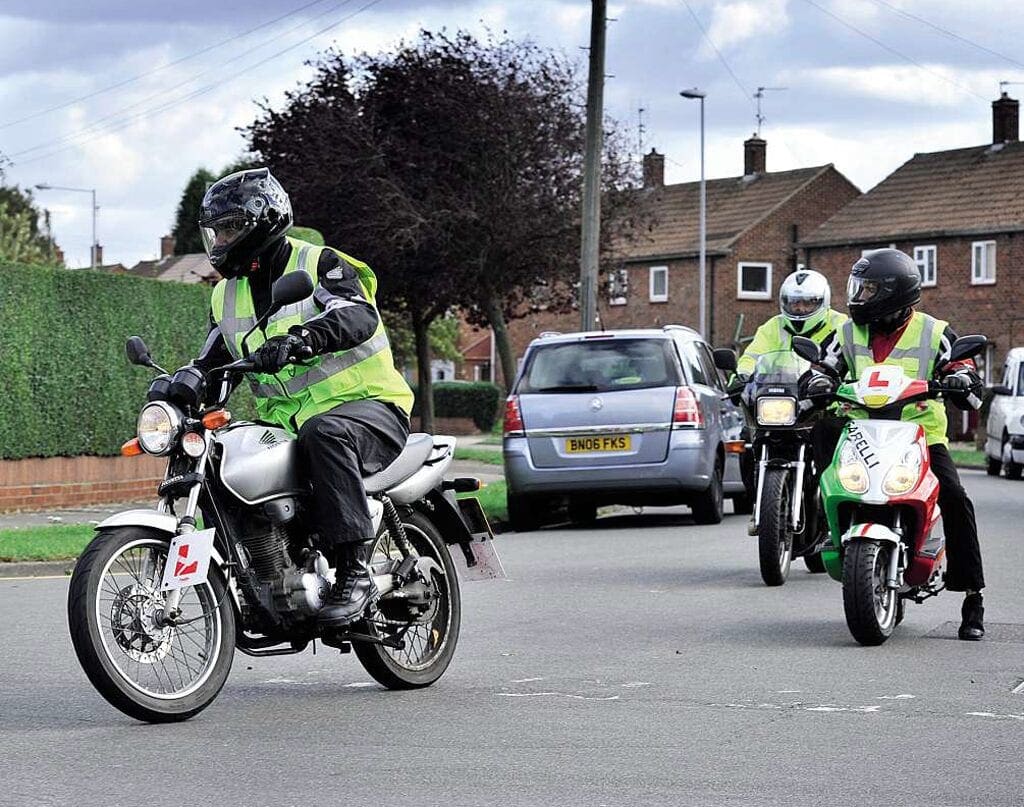 The following manoeuvres must be demonstrated to an acceptable standard:
Rear observation
Left and right turns
U-turns in both directions
Figure of eight in both directions
Controlled braking to a stop using both brakes
Emergency stop
Now you know the nuts and bolts, it's time to get out on the road. But not before a quick classroom session to make everyone aware of the potential hazards and how to deal with them.
If you drive a car, some of this stuff will already be familiar, but some of your classmates won't and it's good to have a refresher, especially because so many things affect bikes in different ways.
A cat running out in front of a car is only really bad for the cat – for a motorcyclist, it can be cat- (ho-ho) – ­astrophic.
This session will cover:
Road positioning
Weather conditions
Road surfaces
Appropriate use of speed
Following distances
Visibility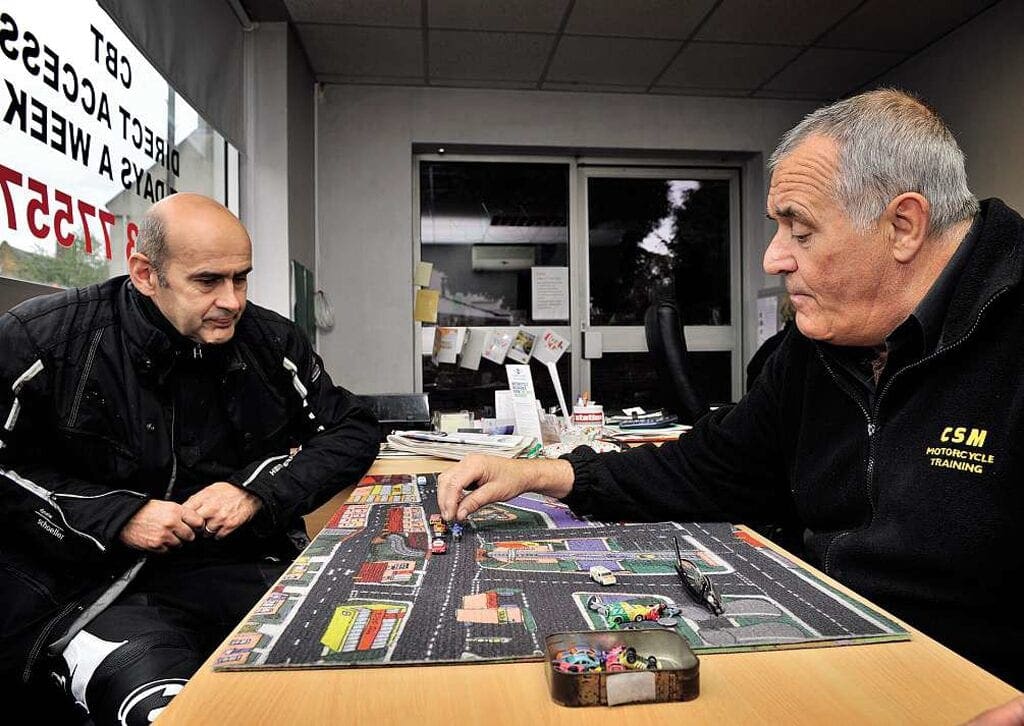 There will also be some discussion about passing your test and the various licence categories. Try and remember that this is an open discussion. If there's something you are not sure about such as cornering or riding through traffic, then say so.
The on-road lesson lasts at least two hours with your instructor in contact by radio in your helmet. The ride will cover all types of typical roads and is designed to encounter all the important common hazards.
So expect to come across a hill start or two, some U-turns, different speed limits (including 70mph urban dual carriageways – where you should remember that going too slowly can make you as much of a hazard as going too fast), roundabouts, T-junctions, traffic lights and ordinary junctions.
The two hours will include time for a break and a debrief. It will probably cover somewhere around 30-50 miles and you will be expected to both lead your instructor and set the pace, but also to follow for some of the time to see how it should be done.
Once you have completed all five elements satisfactorily, you will be awarded a CBT certificate which allows you to ride a machine of up to 125cc with L-plates for two years.
There are two qualifications to this. Firstly, you cannot take passengers until you pass your full test; and secondly, you can't use motorways.