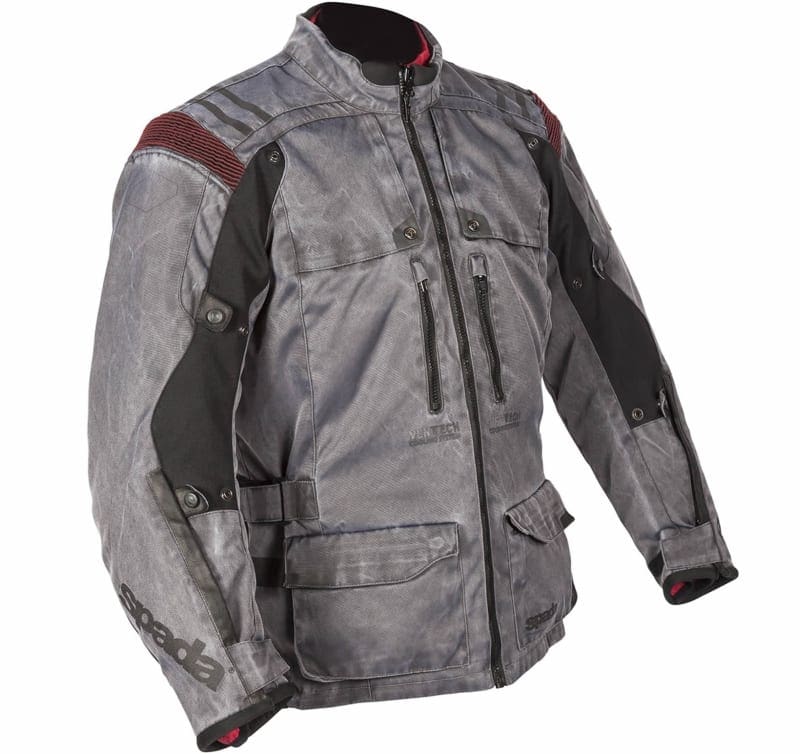 RRP: £199.99 | Sizes: S to 4XL | Colours: Grey, Red
Reviewer: Jonathan Schofield
O2W Rating: 9 stars
I instantly adored the worn retro look and style of this jacket. It's won't be to everyone's taste and I'm not here to try and change your mind; I'm here to give my honest opinion on the quality and value.
Let's start with fit. It's a tailored jacket with the option to tighten the waist and arms with adjustable Velcro straps. It sports a thermal removable lining (150GR) which I haven't had to use yet, thanks to the relatively mild weather we've had (though, I have put it in at night to see what a difference it makes and I'm confident it'd look after me in the coldest conditions).
It also has cooling vents on the back held open by magnets which are fantastic at keeping your core nice an cool – the magnets could do with being a tad stronger as they give up about 70mph (motorway and dual carriageway officer, honest).
I've worn this jacket pretty much every day over the last three months and I can honestly say it's mega. Seriously, it's far better than the price would have you believe. It offers quality in buckets and more pockets that a commando would need. The waterproof inner liner hasn't let me down (and I've ridden in some ruddy awful downpours). The outer shell gets a bit heavy when wet, but the liner holds out all the moisture (this includes all the pockets as well). The jacket is very comfortable, and flexible, even with the featured armour.
If there was to be one down point (and I'm really struggling to find one), it's that the thermal lining pokes out of the arms a little and if you were caught in a downpour without gauntlet gloves, it would get wet and possibly wick up your arms slightly. Other than that minor fault, it's spot-on. Ultimately, this is my favourite fabric jacket of the year by far.
Info: www.spadaclothing.co.uk