Forget about circling your local roundabout for hours, desperately stretching your knee towards the Tarmac. There's a better way to get your knee down for the first time; Mikko shows us how…
Here's a confession: In my many years of riding motorcycles I have never once got my knee down. Nor have I understood how it's even possible without extreme contortionist skills or the complete abandon of your self-preservation instincts. And so far I have been perfectly happy with that. But recently, something has been telling me that I should give it a go, see if I could do it. Maybe it's a brewing mid-life crisis, maybe it's just curiosity. Whatever it was, after years of happily riding with my knees distinctly scrape-free, it was time to scratch that itch.
If I had decided to get my knee down when I was hooning around on my first bike at the age of fifteen, I probably would have simply ridden around the nearest roundabout in anger until I either got my knee down or ended up in A&E, which ever happened first. But now I know better than that, so I signed up for a knee down course.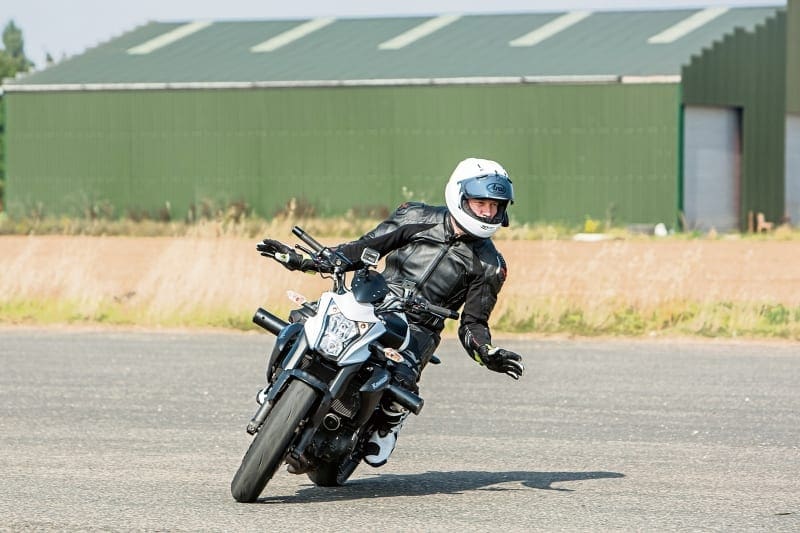 ON COURSE FOR KNEE DOWN
The one-day course was organised by the i2i Motorcycle Academy. I had already been to their 'Machine Control' course, so I knew I was in good hands, but I wasn't convinced they'd get me dragging my knee in just one day.
For me, the real draws of the course were that the riding is done on the trainer's bike, the exercises are set away from public roads and you're well away from the beady eyes of onlookers. Not having to worry about crashing my own bike and worrying about other vehicles, kerbs and lamp posts made me more relaxed, and the secluded environment reduced the anxiety of having people watching and judging me as I wobbled along on the bike.
The courses are run all across the country, but I did mine in York. We had the use of an old airstrip, which provided plenty of room and lovely smooth Tarmac. So if I didn't get my knee down I couldn't blame the setting.
When we gathered at the training ground on a foggy morning, there were five of us knee down virgins, each looking quite uncertain of what the day might bring. Luckily Tom Killeen, our trainer was a man with a plan, and quick to put you at ease: "Getting your knee down is easy. It's all the other stuff that we'll do before the knee down that will be more difficult. Once you get through that, getting your knee down is no problem."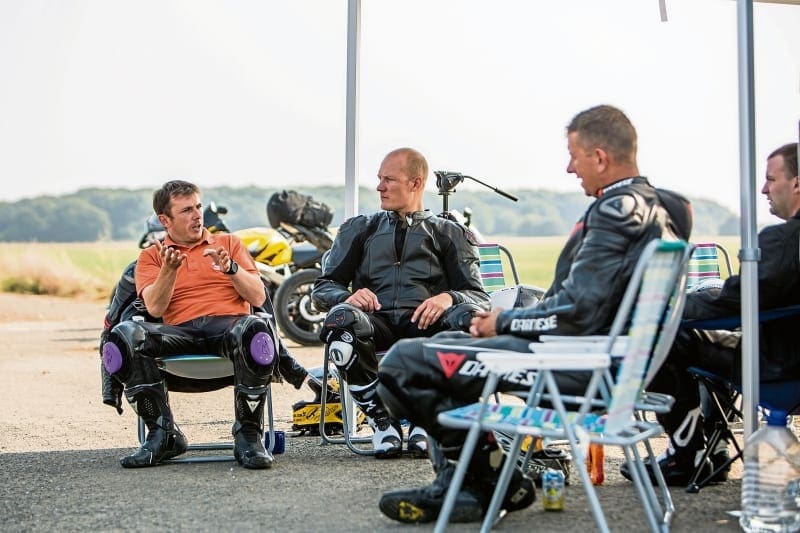 START WITH THE DIFFICULT BIT
So, what exactly did he mean with all that 'other stuff'? Well, we started nice and easy, just doing some circles and figures-of-eight to get used to the bike. Then we moved onto experimenting how different steering inputs made the bike handle and how stable we could make it through the corners. Each exercise was preceded with a bit of theory about why the bike handles how it does, how the laws of physics dictate this, and how our brain is wired to see things in a certain way, even if that isn't always the most helpful thing in controlling a motorcycle.
As the day progressed and the mist lifted, I felt like my understanding of the bike controls was getting clearer too. The exercises developed gradually, and we moved on from just circling at leisure to using counter steering, and further to doing turns and circles with just one hand on the bars. With each exercise our circles started to look more consistent, our lean angles more stable, and it seemed like we might be able to pull this off.
That's when Tom introduced the toughest bit of the day: maintaining consistent lean angles with using only your body positioning on the bike, no hands on the bars. Anchoring our legs to the bike and keeping our core stable, we leant into the bend with our upper body. Once we found the balance point it was surprisingly easy to take the hands off the bars and let the bike travel in a circle. This felt like nothing short of a miracle.
GETTING YOUR KNEE DOWN IS EASY
By midday the fog was long gone and the sun was beating down on us. As I was taking a breather and sipping a cup of coffee under a canopy that Tom had set up to keep us from baking in our leathers, I couldn't quite believe how long we had already come today – and we hadn't even started the knee down bit yet. At the start of the day we had all been visibly nervous and unsteady, but looking at the guys now, circling around with no hands on the bars, it was like a different group had taken over.
But before I had too much time to congratulate myself, it was time for the day's main event, the knee down practice. Tom started with talking us through the correct body positioning we needed to adopt to get our knees down safely and in a controlled manner. So, moving our body sideways to the inside corner, making sure that the spine lines up with the bike, balls of our feet on the pegs, the outside knee anchored to the tank, inside knee turned out and bosh, that was it. No twisting around or desperately stretching to reach the ground, just a slight adjustment in our riding position, while still in full control of the machine. It sounded pretty simple.
It's one thing to hear the theory and a whole different one to put it into practice. Jumping on the bike, I was re-running Tom's instructions through my mind: feet in the right place, right amount of lean, not gripping the bars, and oh yes, must remember to stick the knee out. My first couple of circles felt ok, but my knee wasn't anywhere near the ground and I knew I could push for a bigger lean angle.
Tipping the bike further, I felt that I was getting closer with each attempt. Then, after half a dozen approaches it happened, I heard the scraping sound of plastic meeting the asphalt, and I felt the knee slider make contact. The sensation was surprisingly gentle, the sound unexpectedly loud.
After the initial touch down, scraping my knee started to feel almost natural, and I was able to be more analytical about my style, what worked, and what didn't. Being able to repeat the motions over and over again really helped to build consistency and confidence.
RESTING IN THE AFTERGLOW
I felt great having got my knee down. I had been telling myself that it wasn't all about the knee down bit, that the course was a great way to learn about safe and controlled cornering too (which it is), but in all honesty, I would have been disappointed to not get my knee down after all the prep.
I feel that I achieved something that had been missing from my riding skills, and in the process I had learnt a whole lot about how to steer a bike efficiently and effectively, and most importantly, how not to destabilise the machine mid-corner.
I wasn't the only one who came out of the experience with a big smile on my face. Everyone in the group got their knee down by the end of the day. We had a 100% success rate, which apparently is quite normal. A couple of learners even took to the Tarmac on their own bikes to see if they could get their knee down on their own bike too. They did!
IS THIS COURSE FOR YOU?
I felt like I learnt a huge amount about not just getting my knee down, but also about core bike control over the training day. We covered topics that I hadn't even considered in my many years of riding bikes. It was a bit of a revelation!
If you want to improve your cornering, machine control and confidence, then this course will be perfect for you. And you might just get your knee down in the process!
COURSE DETAILS
The knee down courses are run at various locations in the UK, with the prices starting from £199 per day. It's a full day of theory and exercises, with plenty of time for riding. Group size is limited to six learners to allow enough personal coaching for everyone. The aim is to grow the learners' confidence and ability in cornering safely, controlling the bike, and ultimately getting the knee down. The bikes are provided by i2i, you just need to bring your own riding gear (preferably leathers with knee sliders). For further information: www.i2imca.com
THE BIKE
The bike that i2i Motorcycle Academy use for the exercises is a Kawasaki ER-6n with big crash protectors to make sure that you can drop it several times without the bike suffering. The bike is ideal for this kind of riding as it's fairly light and nimble with enough power to pull you through the corners without a complaint.
Not having to use your own bike for the knee down course means that you can be a little bit more relaxed about the whole thing. But if you want there is an opportunity at the end to test your newly acquired skills on your own bike.
THE KIT
i2i Motorcycle Academy provide the bike, training ground and even some teas and coffees for the day. You need to bring your own riding kit (helmet, gloves, boots, and ideally, leathers with knee sliders).
Since you're doing the training on the academy's bike you can just turn up in your own car, get your kit on and start learning.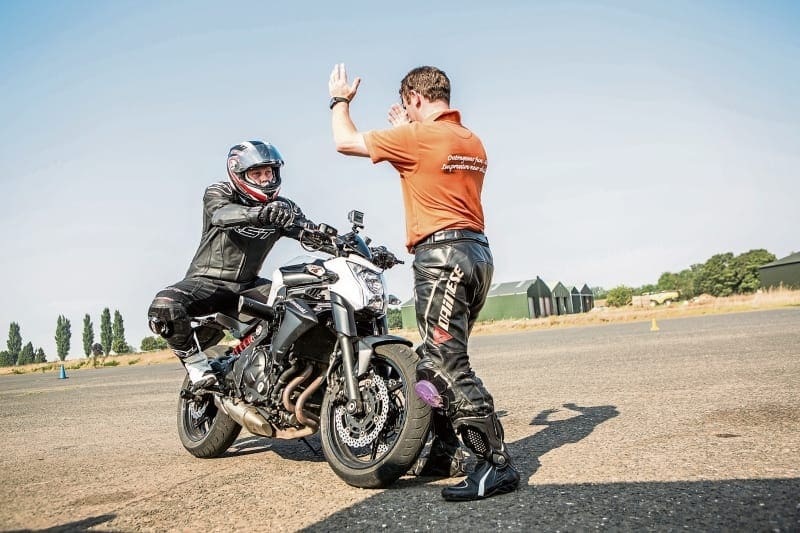 i2i MOTORCYCLE ACADEMY
These guys don't just do knee down training, they cover a whole range of biking tuition for anyone who's interested in improving their riding skills.
The academy specialises in changing rider behaviour and putting the fun in to riding bikes. This is done through four core machine control courses, designed to change the behaviour and reactions of the rider.
The aim is for the rider to feel more confident, safer and amazed at what they can do on a bike.
For further information: www.i2imca.com