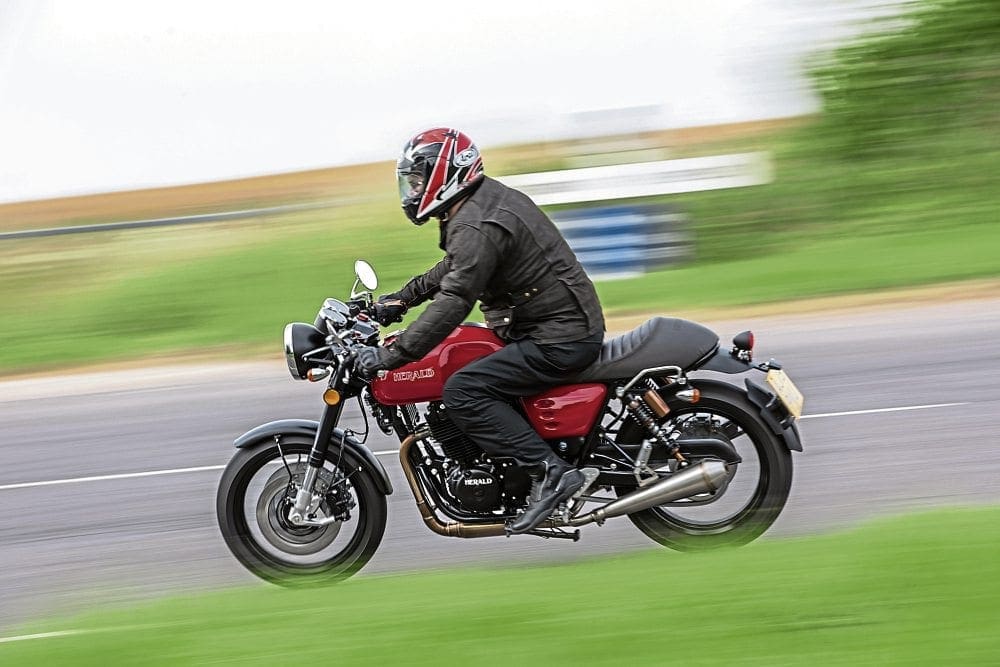 Herald be thy name! Life is a journey, NOT a destination – So enjoy the ride.
That's the statement header on the Herald Motor Company website. This British-based company entered the motorcycling world over 10 years ago working with partners importing classically-styled motorbikes from China.
Herald Motorcycles are based in Cambridgeshire and their products are built in China, although they're launching a new British-designed Brat this year, together with the British-built Brute 500, hopefully to be shown at the NEC show in November, and these will be manufactured at their Huntingdon HQ.
As importers and distributors their staff go over each bike from top to bottom and then a team of dedicated mechanics test ride them. Our own dedicated team here at O2W also get to test ride them too and I had that opportunity to try out their latest Café 400.
Everyday expectations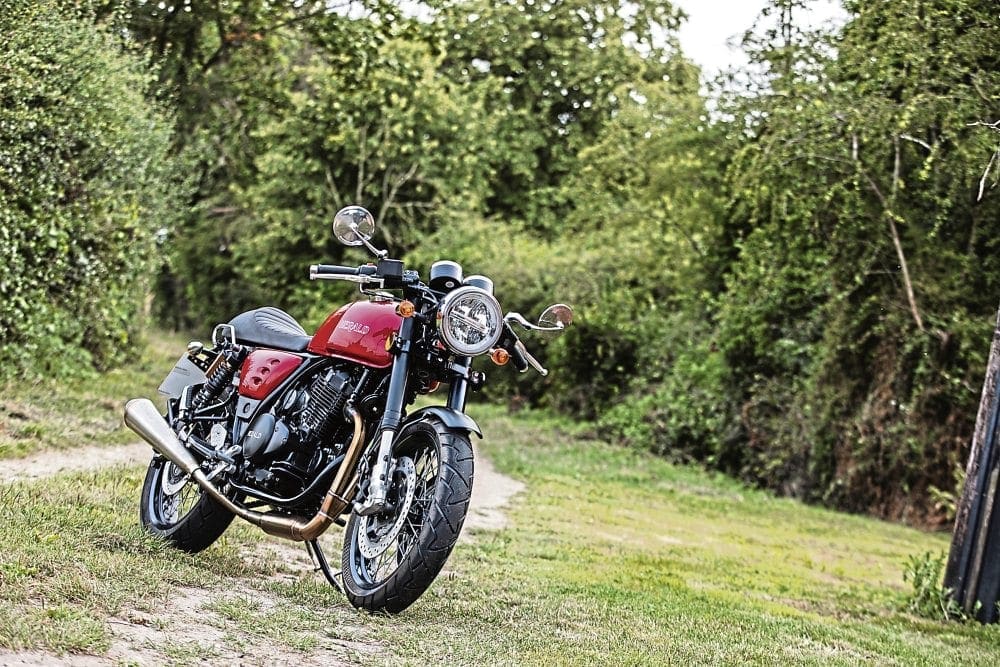 With typical retro styling, traditional in looks and build, the Café 400 is a follow-up to Herald's Classic 400 that O2W tested previously, only with the vintage looks of a nostalgic 60s café racer.
It has the classic clip-ons and a very stylish 12 litre tank with brushed stainless steel tank strap with an off-set filler cap making it easy to fill-up when on its side stand (no main stand for this racer). This Café Racer-styled Herald model is sold in the UK in three colour options – Black, Cream and Gloss Red. We managed to bag the red coloured version and it really does look the business.
The SOHC four-stroke Taiwanese Honda derived engine delivers 27bhp, which doesn't sound a lot for a 397cc machine, but let's wait and see what it's actually like to ride. Nice that the engine casing, etc, are all black on this model; it suits the red tank, side panels and black framework. It has drilled twin front discs along with a single on the back and 17" wire spoked wheels on the front and back. Tyres are 110/70/17 on the sharp end with a 130/70/17 on the rear.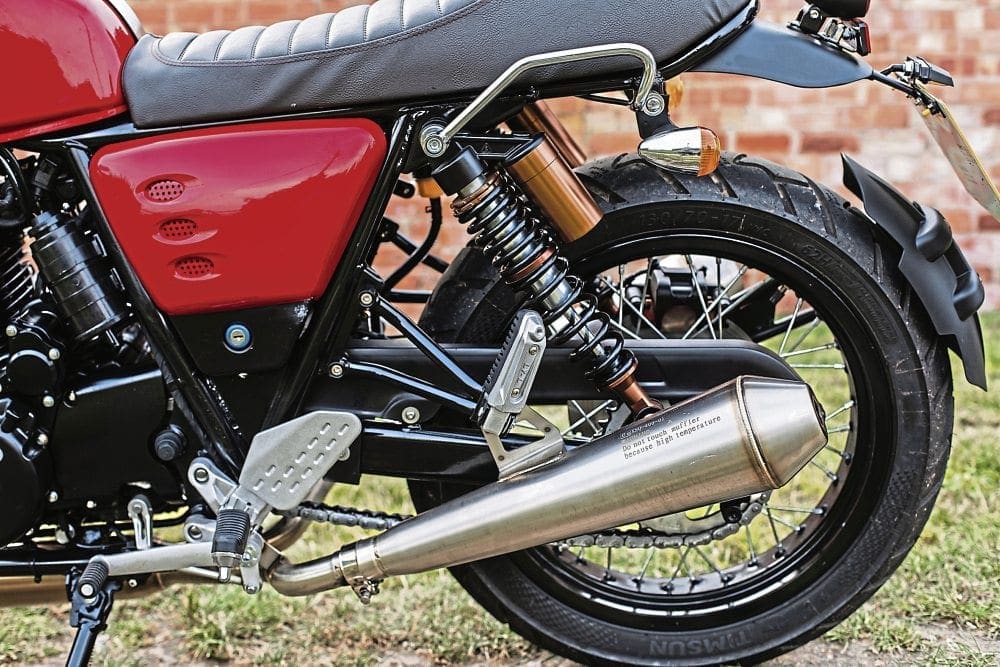 The adjustable front and rear suspension units will enable the rider to tweak the bike to their own riding style. It has a sleek-looking saddle with a seat height of 790mm, so it should be nice and low for the smaller statured rider. Dry weight is 165kg, so it's a relatively lightweight bike. Dimensions are 2080mm in length and 785mm wide.
Features include dual clocks, bullet indicators and twin pipe exhaust – I can't wait to use the five-speed gearbox and hear the roar from these great-looking pipes. There's a neat-looking rear extension to the mudguard – very similar to the ones on some 821/1200 Ducati Monster's I've seen.
To look at, this Café 400 does have an aura of fun and feel good factor about it and Herald say that this model is sure to put a smile on any riders face. So let's see if its 'smiley time'…
The sky's the limit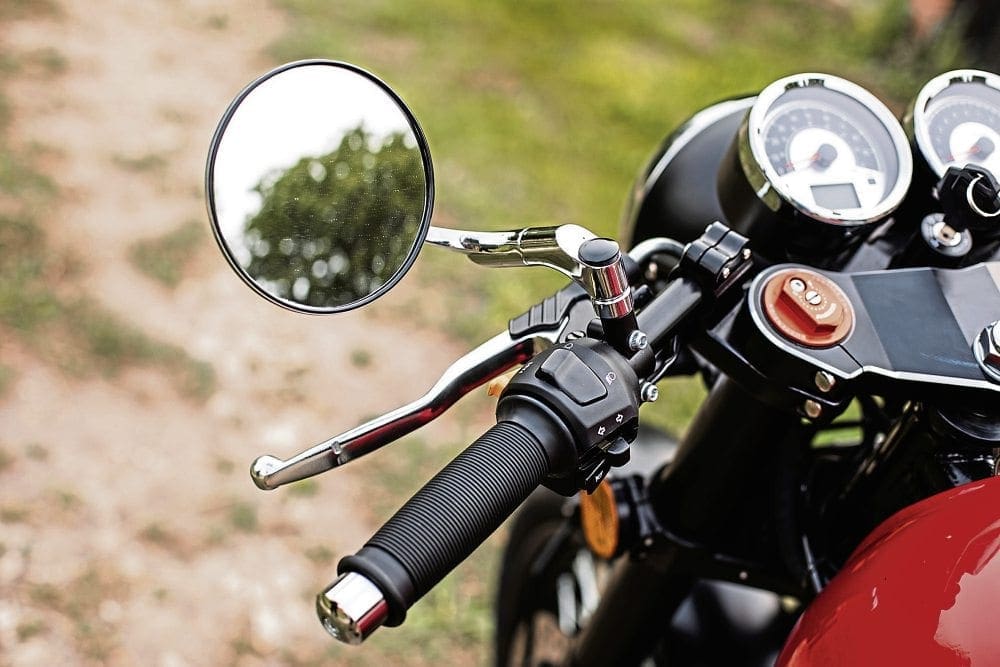 Well actually, a tankful of unleaded will be my starting point to see what this baby is like to ride and also how far I can go on a tank of gas. I'm lucky enough to have some cracking little B roads to bomb down on my route to work. I know these rural roads well and prefer the back roads and rather avoid the mains where I can.
Granted you do have to be very vigilant and keep an eye out for the counties wildlife in the form of flapping pheasants, horses and riders, night badgers who just stand their ground in the middle of the road and just wont shift and on two previous occasions during the day, where I had to slow down quite quickly, for Roe deer crossing the road.
The brakes are actually pretty good with the front being quite quick to bite. A nice big set of 295mm (approx) discs at the front along with a huge-looking calliper are fitted to this model The rear brake does take a little longer to achieve its goal with the 235mm (approx) disc. I found the rear brake pedal was too close to my toes and I could feel it even through my boot, so a quick reposition of my tootsies on the footpeg cleared the distance.
It doesn't have rear sets fitted as you may have thought, possibly because it has rear passenger foot-pegs fitted so you can take a pillion, although my wife refused point blank to take up my offer – she said the seat looked uncomfortable, but actually it isn't at all, although it's not really spacious enough for two in my opinion.
The Café 400 sounds awesome, such a growl from those twin pipes and the more you give it a fistful of throttle the better and louder the roar. And it just wants to go. It's happy pottering along at 50mph, but creeps up to 60 before you know it and then growls louder as if to say 'come on, give it some'.
On my second ride on it, I came to work via the main roads including a stretch of dual carriageway – well it's mental! Before I knew it the speedo was registering around 70-plus and I was thinking 'slow down man'. It just loves speed. After all it is a café racer. Top speed is around 90mph (125km/h) and it gets there pretty quickly too with no lag in the throttle as you move through the smooth gearbox.
Sometimes it's a little difficult to find neutral when you come to a standstill, but it has lots of torque when you need it. It will stay at 30mph in built-up areas, but best to drop it right down to third, otherwise it has a habit of creeping-up in speed on the unaware rider again, showing its little 'Jokers' head again saying, 'we don't like slow, we like fast'.
When you do drop it down in gear the exhaust crackles and pops like a firecracker – I think that's its new name?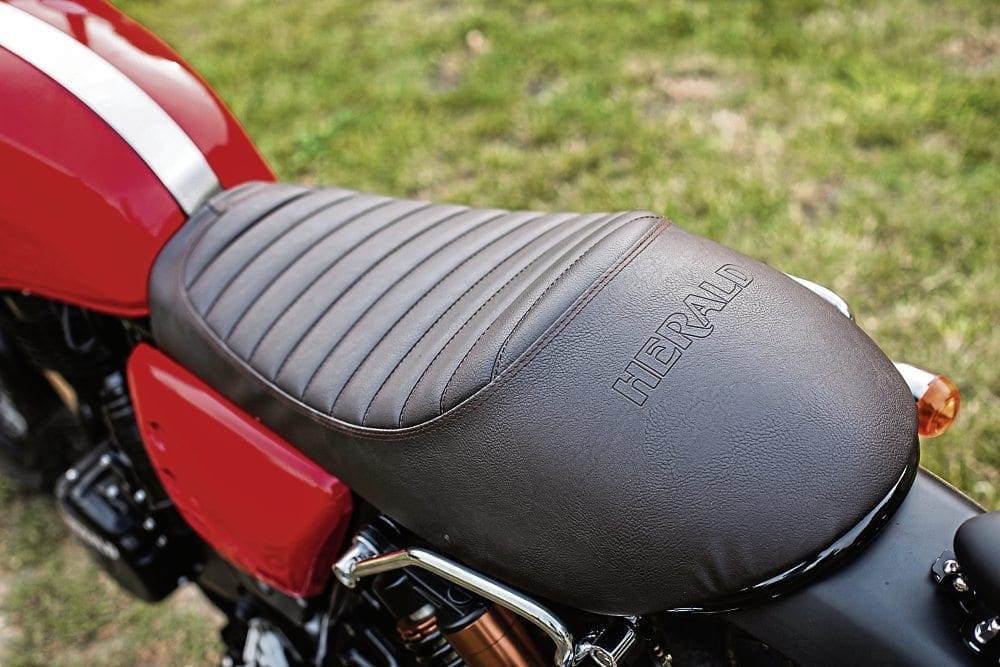 No looking back
Our test bike came with rear view mirrors fitted, but to keep in with the retro-look styling of a classic 60s café racer you can remove them (as in the image of this model on the Herald website). In short, there's no legal requirement to have mirrors on a motorcycle, so you're not breaking the law if you have one mirror, two, or none at all.
However, as a motorcyclist you need to be fully aware of traffic around you at all times, so it's highly advisable to have two mirrors (anything behind you is invisible without them). You'll have to use tons of 'life-savers' (over the shoulder looks) if mirrors aren't fitted before making any turnings off the road, or any overtake manoeuvres too!
To be honest once you get up to around 50mph on this bike you cannot really see much, as the mirrors do vibrate somewhat so again 'life-savers' are the norm.
The suspension is quite firm, but as expected on this type of racing thoroughbred styled pocket-rocket, both front and rear are adjustable and I may look at softening-up the front, as its firm to say the least when going over road studs or manhole covers (this may also help with the mirror vibrations)? The tyres have been great so far, even in heavy torrential downpours when the roads are still warm, but very greasy.
Oh yes indeedy; I was smiling like a Cheshire cat when I got home after riding it – and even more so on days two, three and four – it's a great fun bike. It's certainly not a long distance commuter, but for a short commute, or a weekend country rideout, then yes, very much so. It's a cool and fashionable bike to ride; I even started to wear my Arai Kenny Roberts replica helmet again when riding this Café 400 – all colour co-ordinated too.
The instrument panel is straightforward with just the rev counter and speedo, plus your usual warning lights (although a little on the small size) all in a brushed stainless steel look. It does have a fuel gauge included (always handy in my opinion).
I like the red alloy front shock adjusters and the carbon-looking headstock- very modern. It just oozes class and that feel good factor with a timeless and clean design thrown in for good measure.
Tanked-up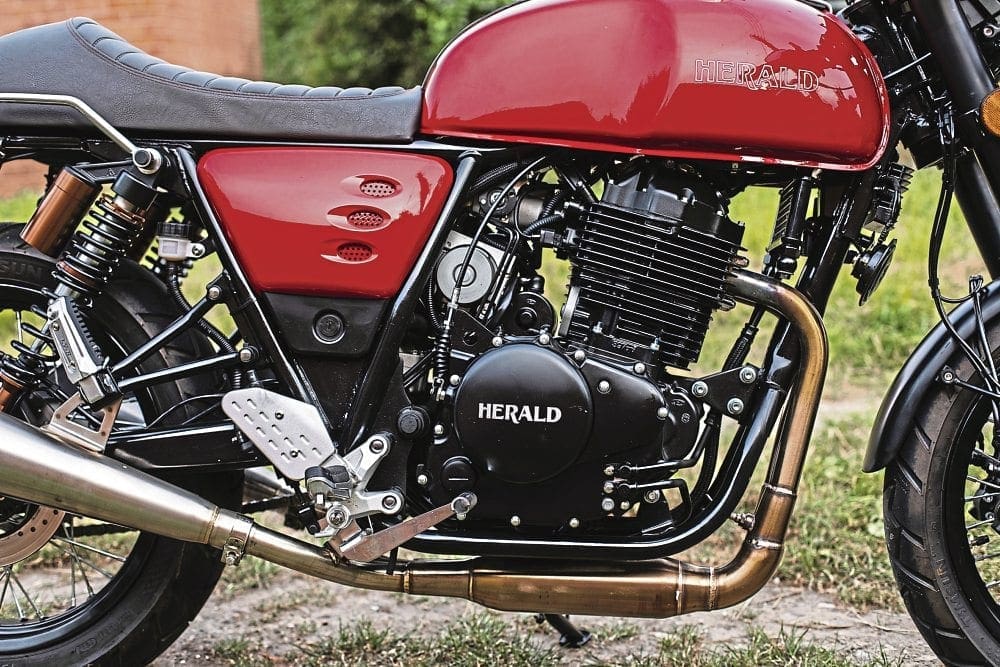 The 12 litre (2.6 gal) tank should get you over 150 miles (I returned an average of 65mpg on my first trip out). The fuel warning light came on with 1 bar showing on the gauge just as I pulled-in to refuel; it took 10.16 litres (2.2 gal) and had just travelled 144 miles, so it's economical to run. My second run out averaged 79mpg with 2 bars showing and taking nine litres to cover 157 miles.
My third refuel stop brought in an average of 75mpg. I did have a slight problem with the fuel filler cap, as it's not the easiest to lock back into place; being new, the cap seal hasn't softened-up yet, but there is knack to it, so practice before you get stuck at a fuel station.
Would I buy one?
I've not really ridden this style of bike for any length of time before, but it grows on you once you get used to the riding position, and for the right type of journey mentioned previously, then yes I would.
Thank-you Herald, thank-you little 'firecracker' – you've made one smiling biker very happy indeed.
---
Advert
---
Enjoy everything More Bikes by reading the MoreBikes monthly newspaper.
Click here
to subscribe, or
Read FREE Online
.
Sign-up to the More Bikes Newsletter
Enter your e-mail address below and get regular updates straight to your inbox… You can unsubscribe at any time.