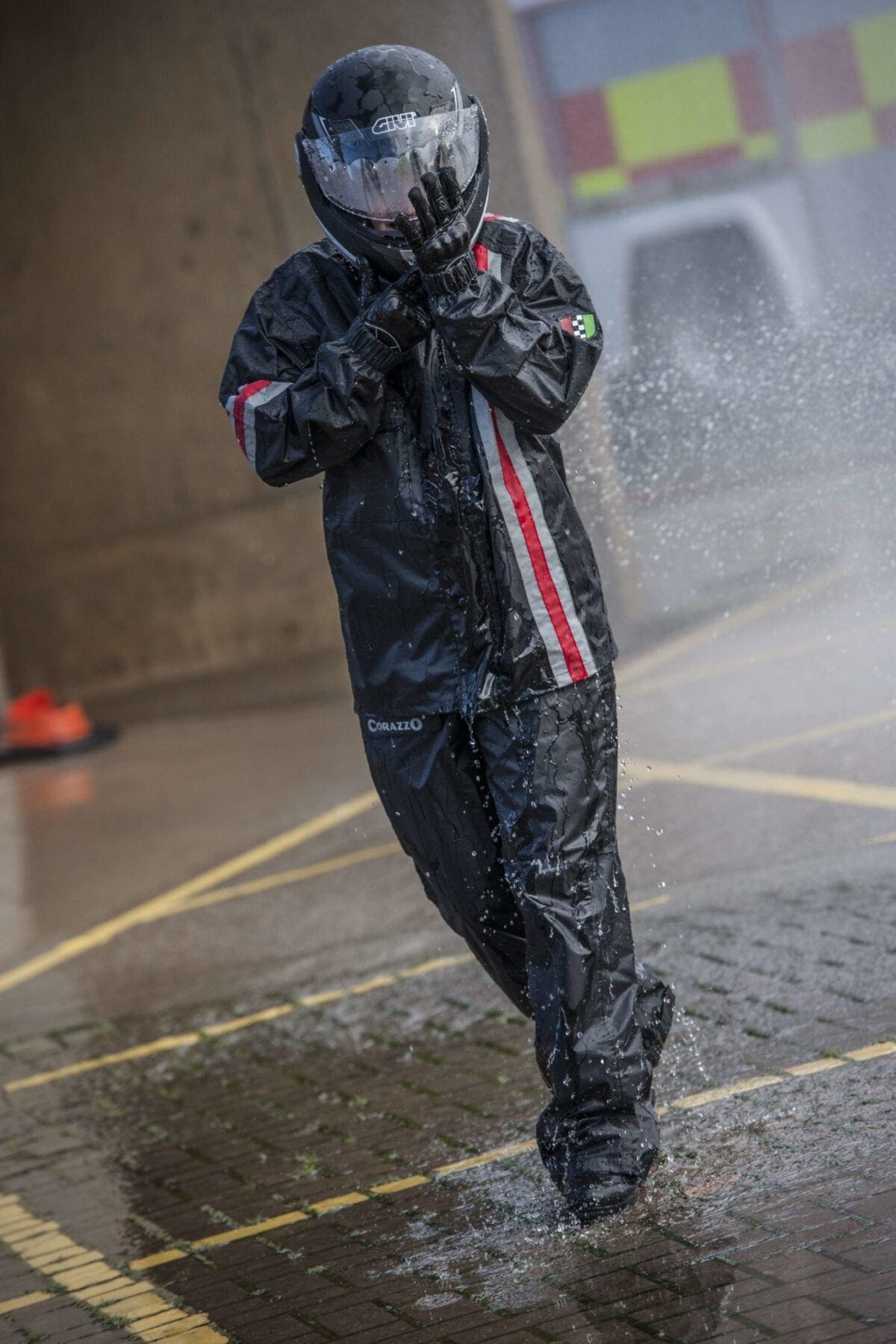 Just because the weather starts to take a turn and the rain starts to fall, that doesn't mean you have to stop riding. By kitting yourself in the right gear and making sure you're warm and dry, riding your two-wheeled machine will still be a pleasure. We've put together a buying guide to help you find your perfect waterproof oversuit…
A lot of riding gear out there is waterproof – thanks to membranes, liners and coatings – it may be that your trousers and jacket are already going to protect you from the elements. However, waterproof oversuits are great for sticking under your seat or keeping in your rucksack in case you get caught out, or putting on over your gear in particularly heavy downpours.
Riding a bike when you're soaked through isn't an enjoyable experience – and something that the team at T&G has experienced on a number of occasions. It can make you lose concentration and your focus on the road ahead, which in turn can take your mind off important things and lead to mistakes.
Types
There are two main choices, which are one-piece or two-piece suits – this refers to the number of parts that the suit has. Both of them have their pros and cons, so consider which best suits you, your bike and your budget.
One-piece
As the name suggests, a one-piece rainsuit consists of an oversuit with a zip down the front. Often the zip is longer than on conventional suits because it allows you to have more space to get in and out, plus it makes it easier to get it on over the top of your riding gear. One-piece suits are favoured by a lot of people as there is no gap at the waist for rain to work its way into. On the flip side, they cannot be worn as separate pieces and can sometimes be bulky to fold up.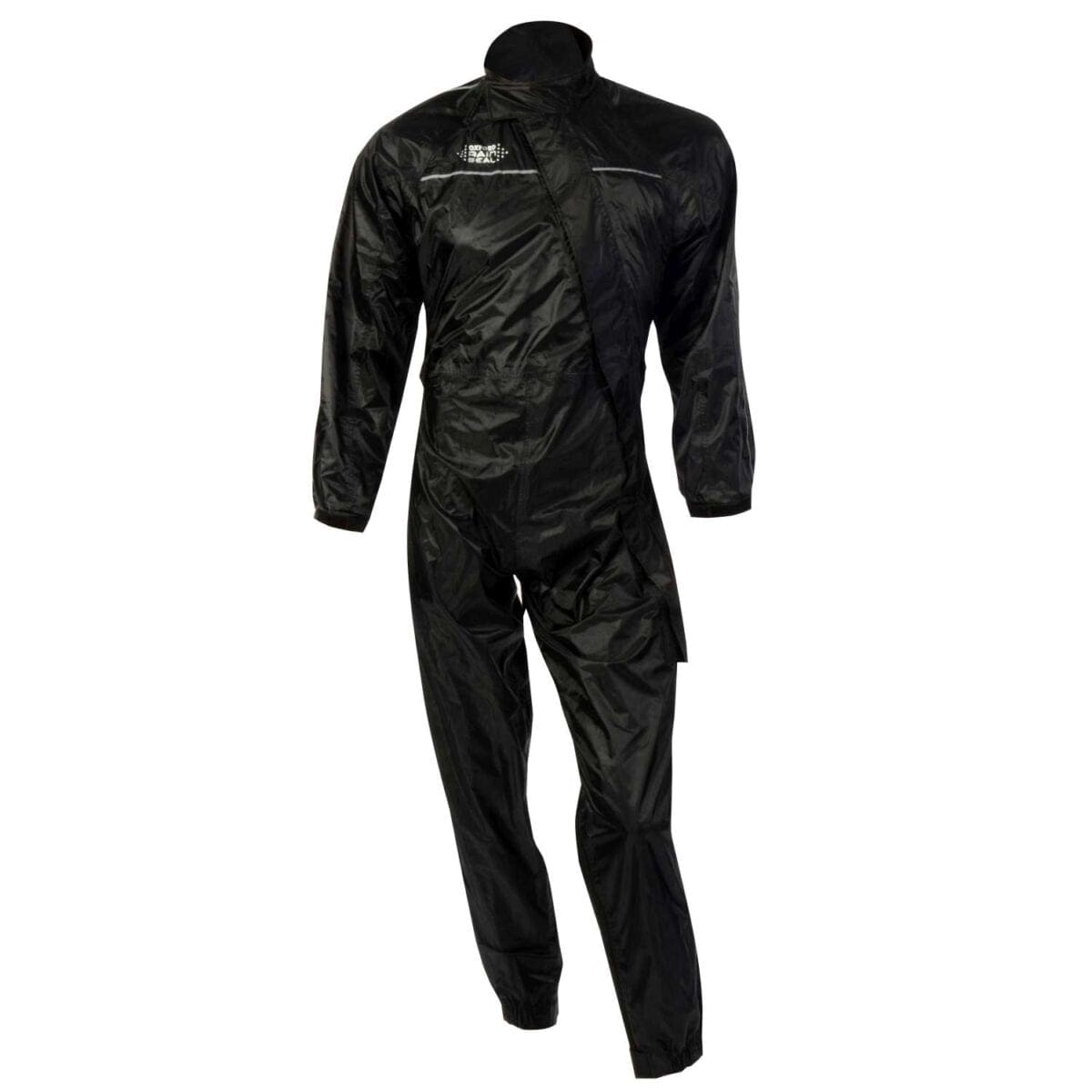 Two-piece
With a two-piece suit, you have the option to wear the jacket and the trousers separately. For example, if it rains but you're happy with your outer jacket to keep you dry, then you can just wear the trousers and vice versa. Like the one-piece suit, the items are worn over the top of your riding gear with the main aim of keeping you dry. Sometimes you can buy the items separately, too, so should you need to replace your jacket because you wear it more than your trousers – you can!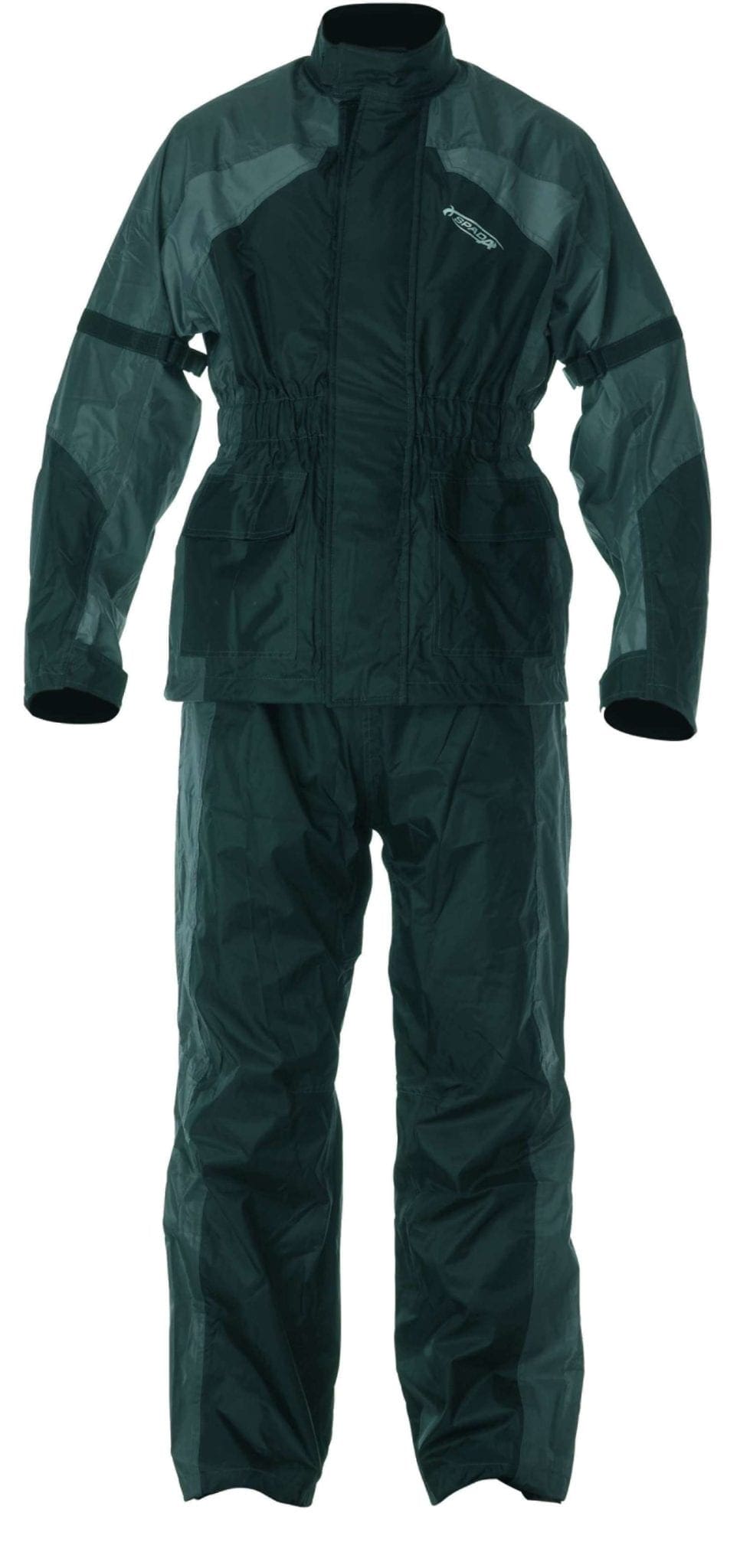 Colour
You might not be a big fan of high-visibility clothing but the weather conditions in which you will be wearing the suit will be dark and miserable – therefore, consider getting a brightly coloured oversuit or one with reflective piping so that you can be seen easily by other road users. An all-black suit may look the 'coolest' in the dealership but a rainsuit isn't a particularly glamourous item so you may as well bite the bullet and get the one which protect you the most. Plus, it is highly likely that no-one will be judging how cool you look, but instead will be running around trying to get out of the rain.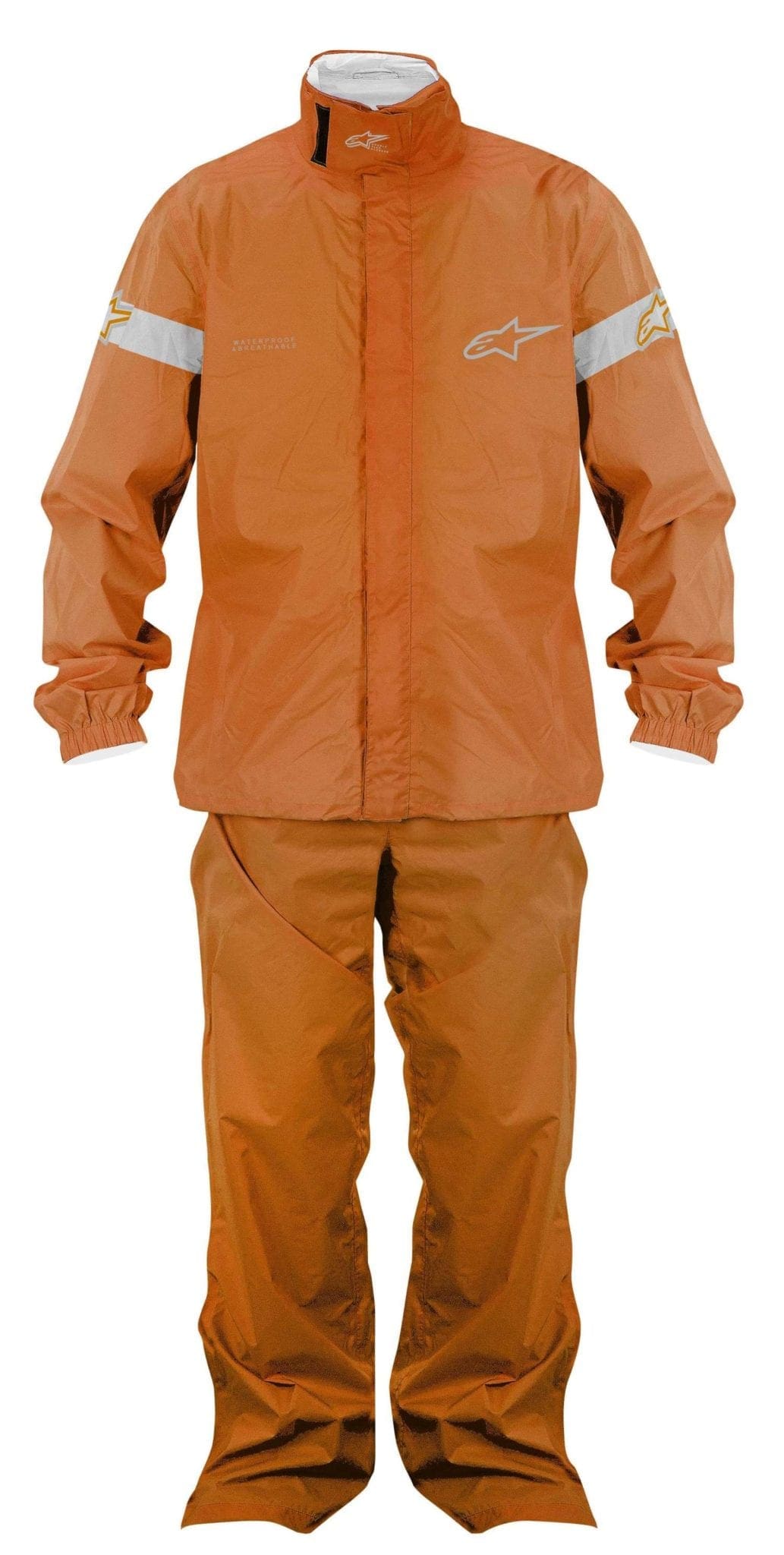 Things to look for
A thin piece of material may not strike you as an item of protective clothing that will keep you safe, however, as we mentioned, it could make the difference between you concentrating fully on the road ahead or being distracted by the rain soaking through the crotch of your trousers.
Let's have a closer look at the type of features that make them effective…
Are there zips at the bottom to allow the suit to be put on with your boots on? There's nothing worse than being stood at the side of the road and needing to take your boots off to get your suit on.
Does the material feel substantial? Will it rip when you're struggling to put it on at the side of the road?
Are the wrists and ankles elasticated to prevent water from getting in?
Is it adjustable? Can you pull it in at the waist or on the arms for a closer fit?
Do the zips have waterproof seals or weather seals over the top to prevent water from getting in? Is it easy to operate with gloves or are they small and fiddly?
Does it have a draw string or elasticated neck to keep it tight?
Is the size suitable and easy to get on over the top of your existing riding gear?
Is it made from a breathable material? If not, it may be that you're still 'wet' inside because of sweat being unable to escape.
Are there any additional features such as reflective piping to help other road users see you?
Does it feature a liner?
Are there pockets? Do you want pockets?
Are the seams sealed? Any break in the material will allow water in so often the seams are sealed rather than sewn to prevent this.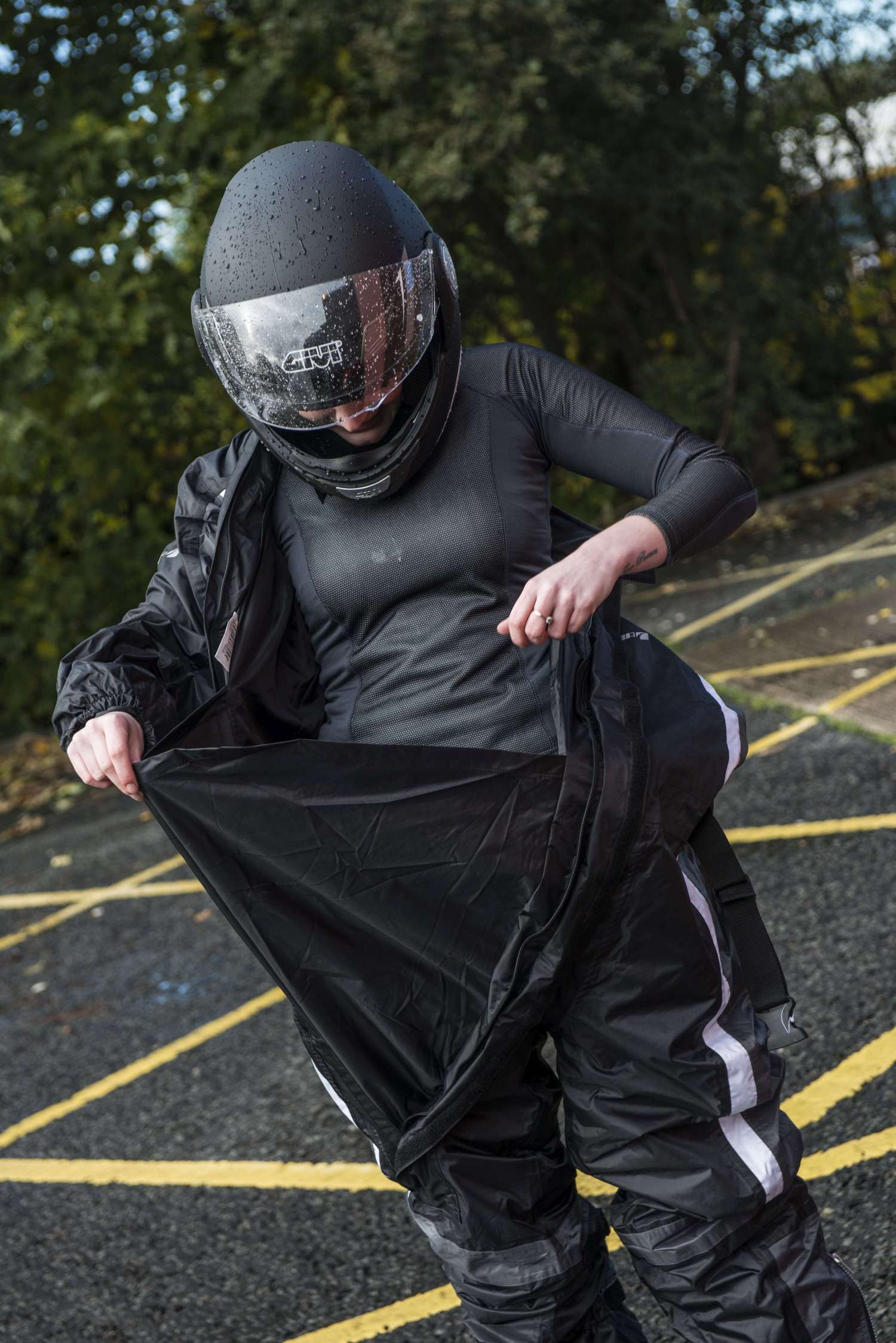 Price
There are waterproofs out there to suit every budget; here's our list of just some of the choice out there on the market…
Spada 407 one-piece oversuit
RRP: £59.95
Available from: http://www.spadaclothing.co.uk
Waterproof and windproof nylon
Reflective badges
Diagonal front zip opening and waist adjuster
Zipped and elasticated cuffs and ankles
Two-piece version also available
Corazzo Portland rainsuit
RRP: £52.86
Available from: http://www.ve-uk.com
Removable hood
Netted storage back
Taped seams
External pockets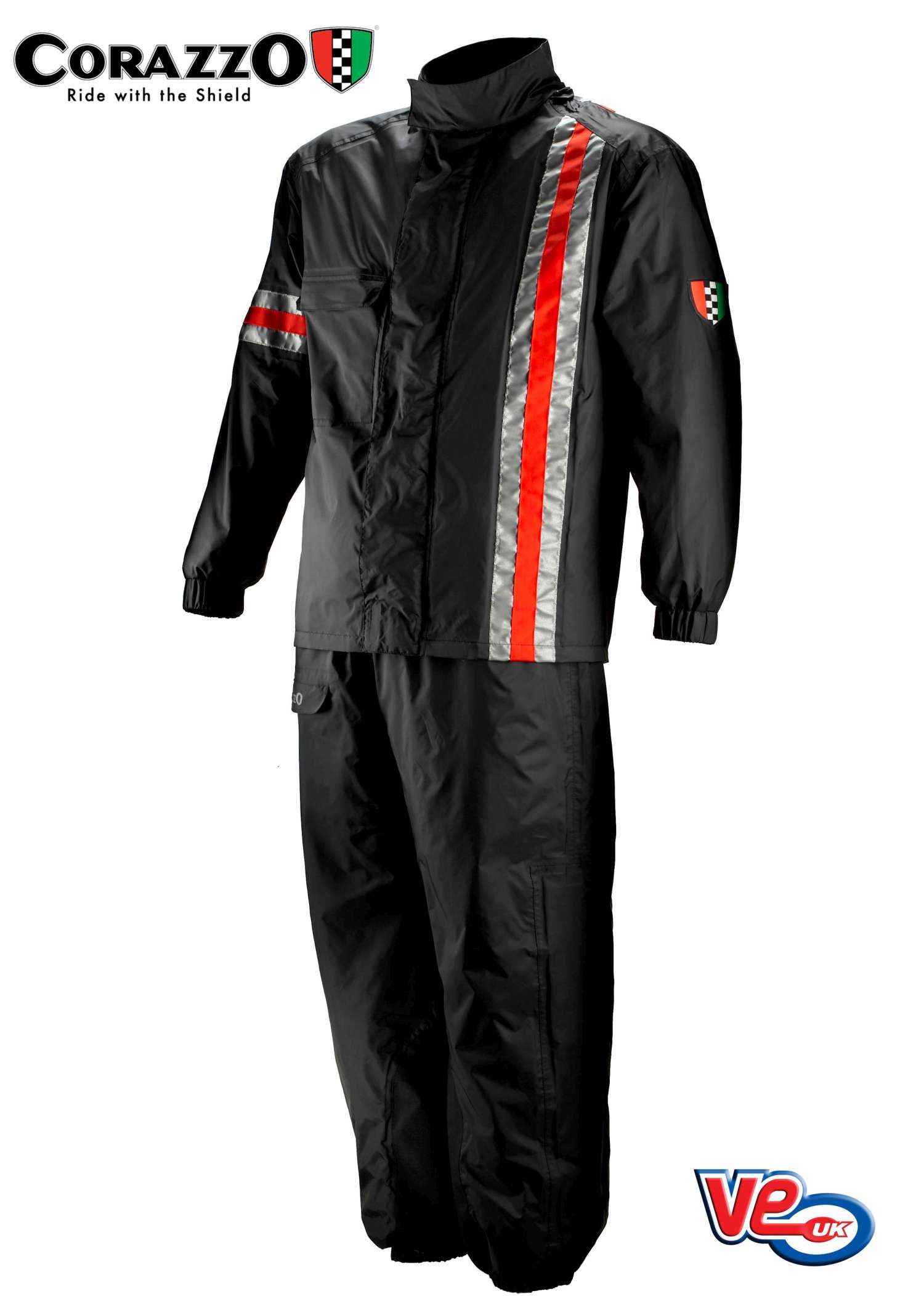 Tucano Urbano Diluvio Set 534N rainsuit
RRP: £63.99
Available from: http://www.tucanourbano.com/gb
Foldaway hood
Taped seams
Made from polyamide and PU coating
Two-piece oversuit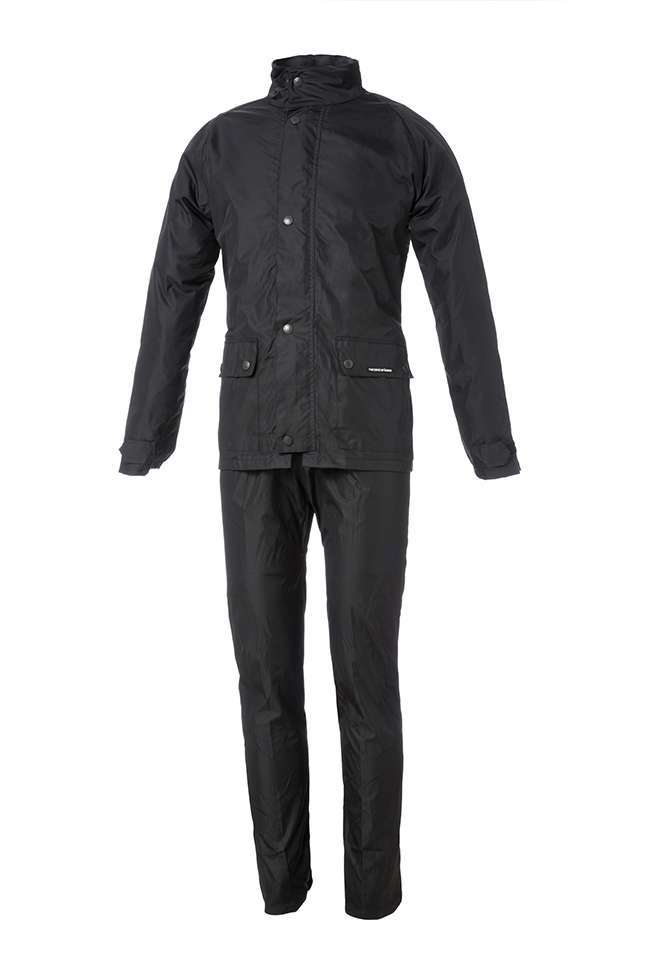 Richa Typhoon rainsuit
RRP: £39.99
Available from: http://www.nevis.uk.com
One-piece suit
3M Scotchlite reflective details
Wide leg zip gusset
Available in black, as well as black and fluoro-yellow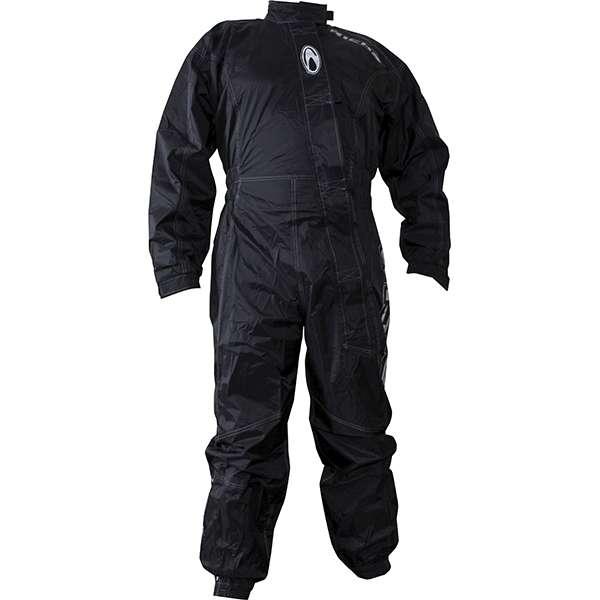 Weise neon yellow rain jacket
RRP: £44.99
Available from: http://www.thekeycollection.co.uk
Waterproof nylon with taped and welded seams
Mesh lining
Adjustable waist belt
Pull cord at base of jacket
Two external pockets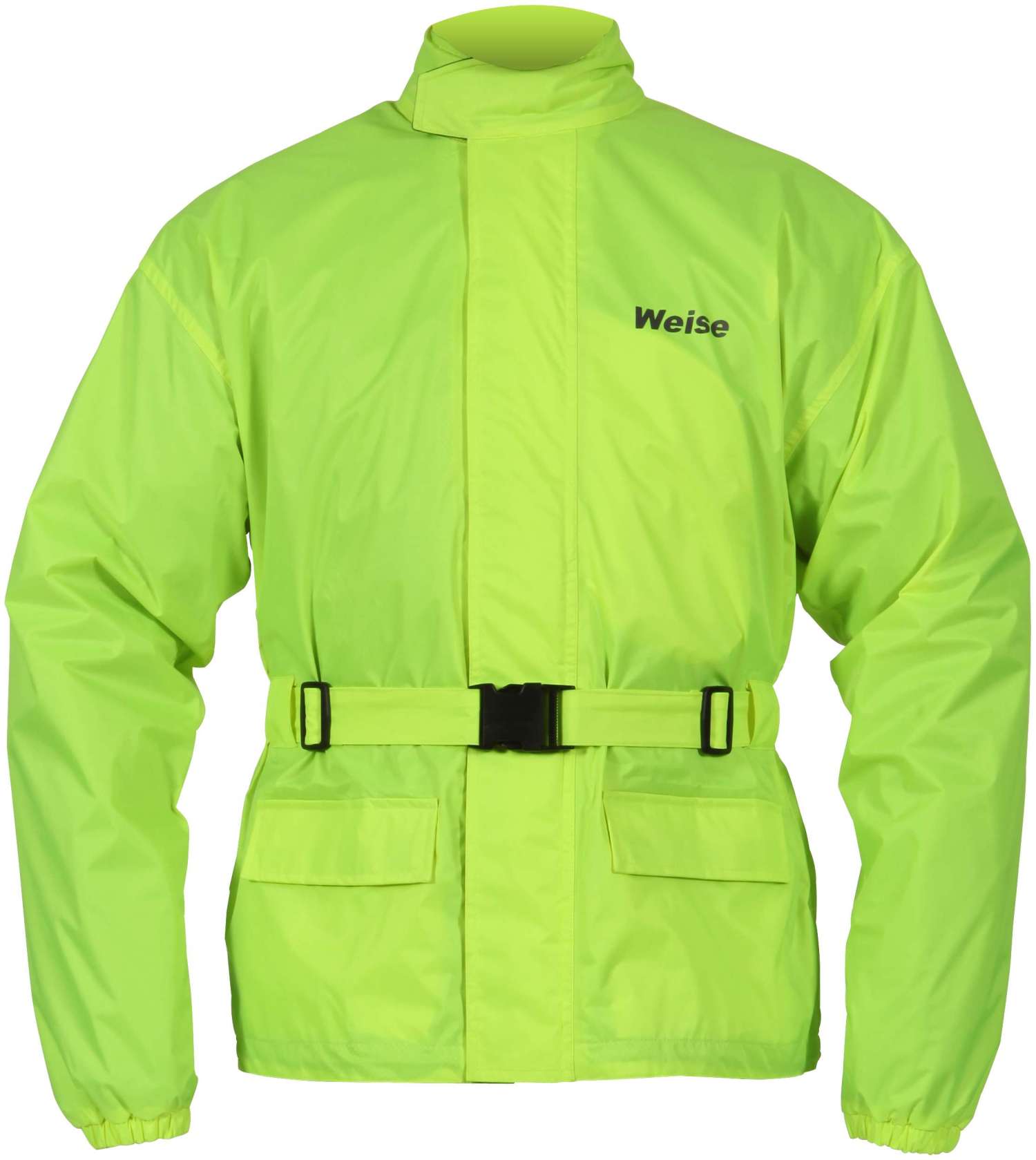 Fit
As with all your riding gear, the fit is extremely important. The suit needs to be big enough so that you can get it on and be comfortable with the rest of your riding gear on, but not too big so that it flaps in the wind and has too much material.
To get an idea of the size you require, take a look at the size of your riding gear and add on one or two sizes. If you're a medium, check out an extra-large over suit. However, be aware that sometimes manufacturers will have already anticipated what you want and adjusted their sizing accordingly.
As with most things, your best bet is to try one on in your local dealership or take a look at specific size guides online. Fit can also refer to how small the suit folds up – if it's something you'd like to carry round with you in case of an unexpected shower then consider whether it folds up small enough for you to comfortably carry around in a rucksack, tank bag or under your seat.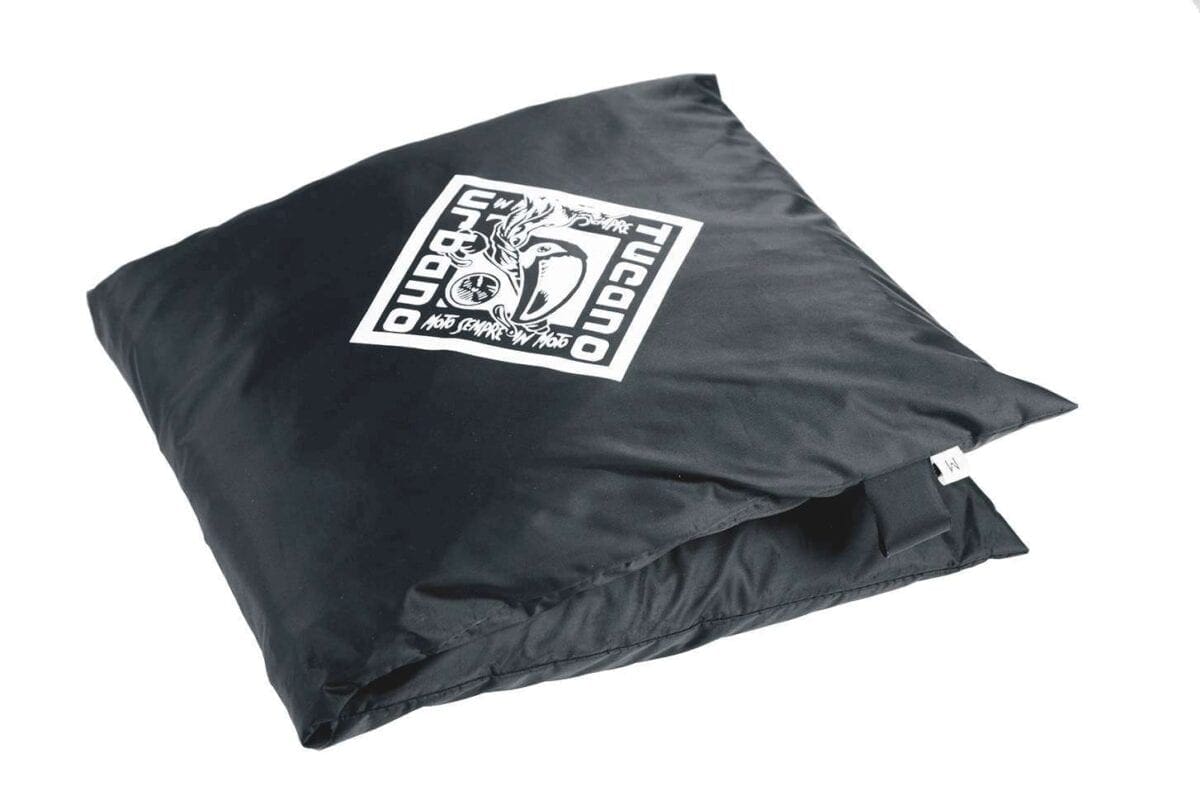 Top tips
Take the rest of your gear with you and try it on at the same time as it's important it all works together.
Sit on your bike in them then you will be able to see if the suit is comfortable in the riding position of your bike.
Bear in mind that some clothing brands have different sizing so you might not necessarily be the same size in all of them.
Always make sure that your suit is dry before putting it away – if not, after a while it will start to smell bad and may even develop mould…trust us, we know from experience…
Take a plastic bag with you on your travels and use it to help you put on your suit, place your foot inside and it will glide through the leg of the suit easily. Simply pull it off when your foot is through and repeat on the other leg.
Once you've got it home
As with all your riding gear, it's important that you look after it and dry it out properly when you get back, especially if you wear it in bad weather. In the summer, it's simple – stick it outside on the line when the rain has stopped to air it out and dry it ready to be packed away and worn again. However, in the winter it's not always convenient to put it outside as it could end up wetter than before. In winter, dry off the outside of the suit with a tea towel or regular towel and hang it up in a dry room to air off on a hanger – maybe put a towel on the floor to absorb any water which drips off so that you don't ruin your carpet or floor.
Often the trousers may become grimy because of the dirt from the roads spraying up or mud from your boots being transferred to your ankles when you walk – you can either allow the rain to wash them off or alternatively wipe clean with a cloth when you get home.
---
Advert
---
Enjoy everything More Bikes by reading the MoreBikes monthly newspaper.
Click here
to subscribe, or
Read FREE Online
.
Sign-up to the More Bikes Newsletter
Enter your e-mail address below and get regular updates straight to your inbox… You can unsubscribe at any time.