With so many styles and materials to choose from, you might not know where to start when faced with buying your first or a new jacket. There's plenty to consider including safety, price point and comfort…
As tempting as it could be, choosing the right motorcycle jacket isn't just a case of seeing which one looks the coolest. Finding the right riding gear for you is all about thinking about what you use your bike for and making sure you have the right kit to keep you safe.
Unbelievably you are not required by law to wear a motorcycle jacket, but it's highly advisable to get yourself a jacket which keeps you protected – and not just against the elements. We've put together a buying guide to help you find your perfect jacket.
Types of motorcycle jackets
To begin narrowing down your choices, think about the material you think would be best for you. The two main choices are leather or textile – each have their pros and cons, so consider which suits you, your bike and your budget.
Leather jackets
Jackets made from leather are more abrasion resistant than their textile counterparts which means should you need to test it out, you'll be protected. However, leather it is often more expensive than textile – some brands have reported that the cost price of leather has increase by around 40% in the last 10 years – understandably the costs have to be recouped somewhere and it often comes out of your pocket.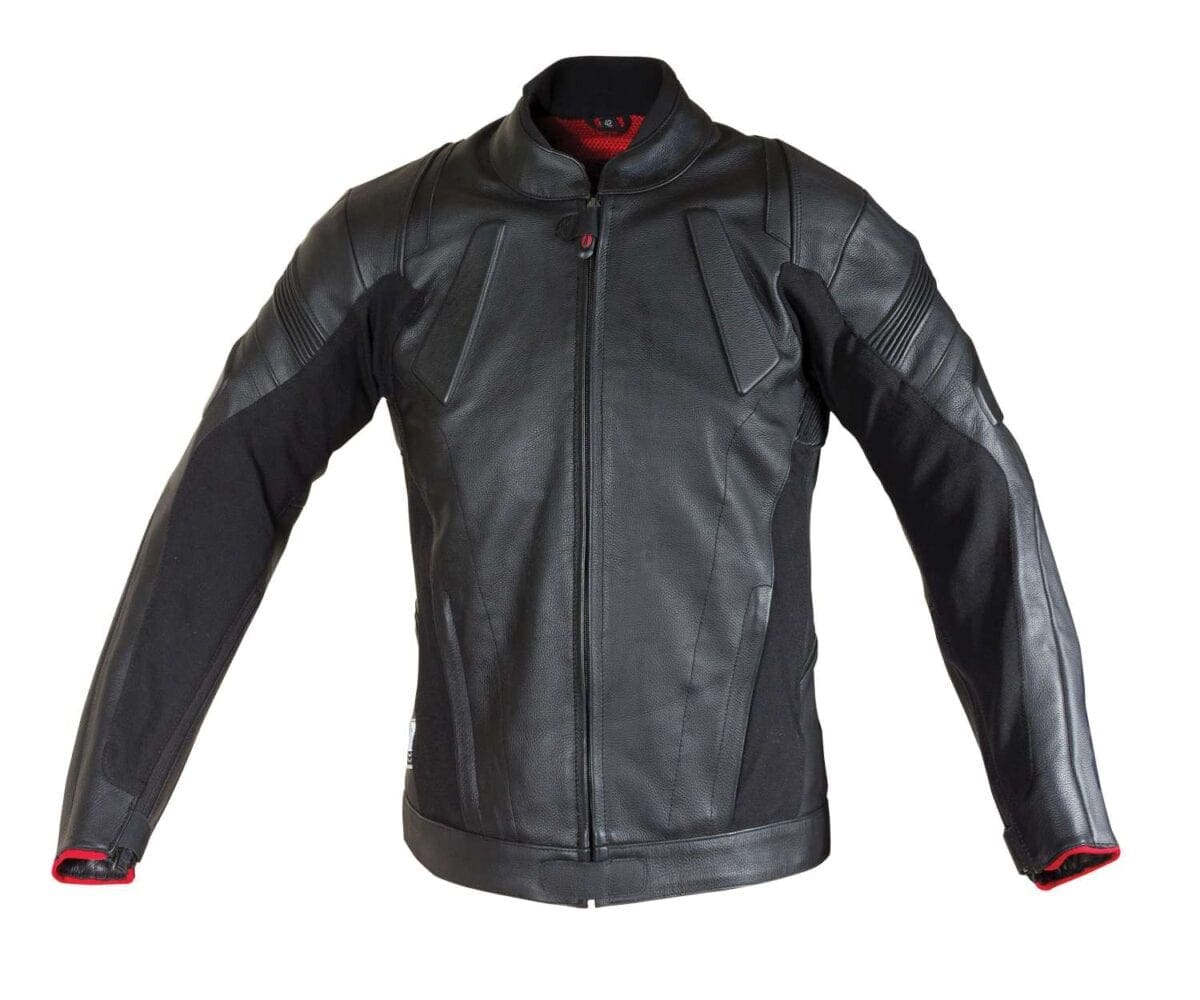 Textile jackets
You may find that you have more money left in your money box if you choose to purchase a textile jacket – which is always good! Another benefit of textile jackets is that they can be cleaned easily, often in a washing machine – see our care section later in the guide.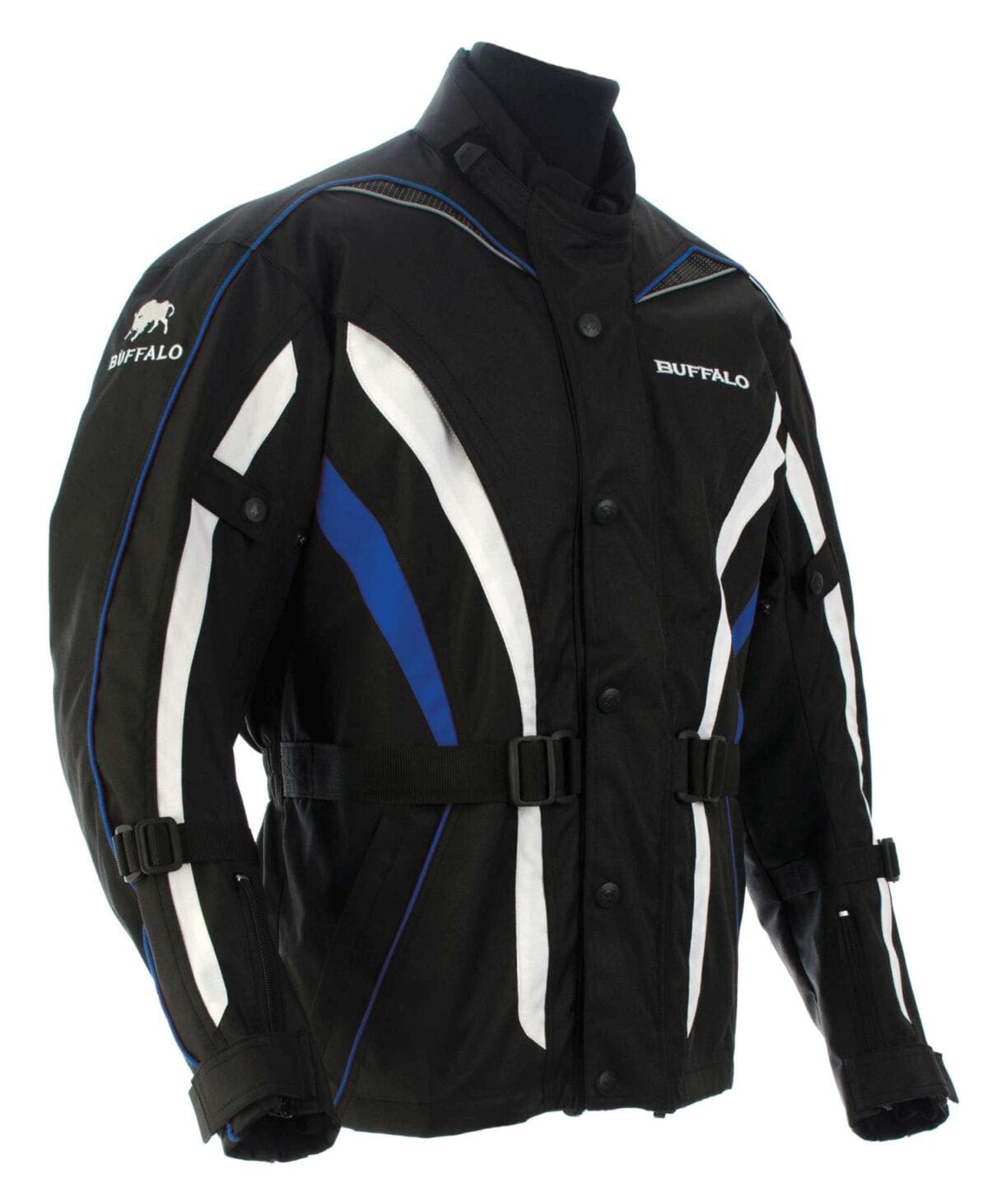 Styles
Once you've decided on the material of the jacket, have a think about the style of jacket you'd like and you may find it's linked to your ride…
There are a number of styles of jacket and within those there are long and short jackets – the options are endless. Here are just a few of the main styles:
Sports jackets often have pre-curved arms and stretch textile panels to offer extra flexibility for riders who need to lean forward to the handlebars. They come in a number of designs, some are adorned with racer style patterns and others are more subtly branded.
Retro/classic jackets are characterised by their 'old-school' design such as vintage colours and emblems. They can be leather or textile and are often worn off the bike as much as on.
Touring jackets tend to feature lots of pockets to keep your belongings; they're often equipped for all conditions and will no doubt contain lots of impressive sounding 'membranes' and a lot are textile.
Fit
As with all riding gear, the fit is extremely important. The jacket should be loose enough so that you can wear extra layers underneath – which is handy in winter – but tight enough so that the armour lines up properly and doesn't shift around in the event of an accident.
Top Tips
Bear in mind the style of the jacket, they all have their own kind of fit and some are more relaxed than others.
Firstly measure the widest part of your chest. Some say that a jacket should be a few inches bigger than your actual chest size to account for extra clothing worn underneath.
Then measure your arm from the top of your shoulder to the base of your thumb. It might be that when you try your jacket on, the sleeves might seem too long but you'll need that extra material for when you reach forward. These measurements should give you a base of which size is best for you.
Sit down and put your arms in front of you to emulate how you would be positioned on the bike – ideally take your bike with you or ask to sit on one in the dealership to make sure no gaps appear that could let in draughts.
Try, try and try! While you might be a large, you may find that you might be a different size in another brand or style of jacket. Try on as many different types as you can to find out what sizes you feel most comfortable in.
Motorcycle jacket prices
There is a jacket out there to suit every budget, here's our list of just some of the choice out there on the market, starting from just £69.99…
RST Urban Jacket
RRP: £69.99
Available from: http://www.rst-moto.com/
–              Waterproof and breathable membrane
–              CE approved armour at shoulders and elbows
–              Adjustable waist and arms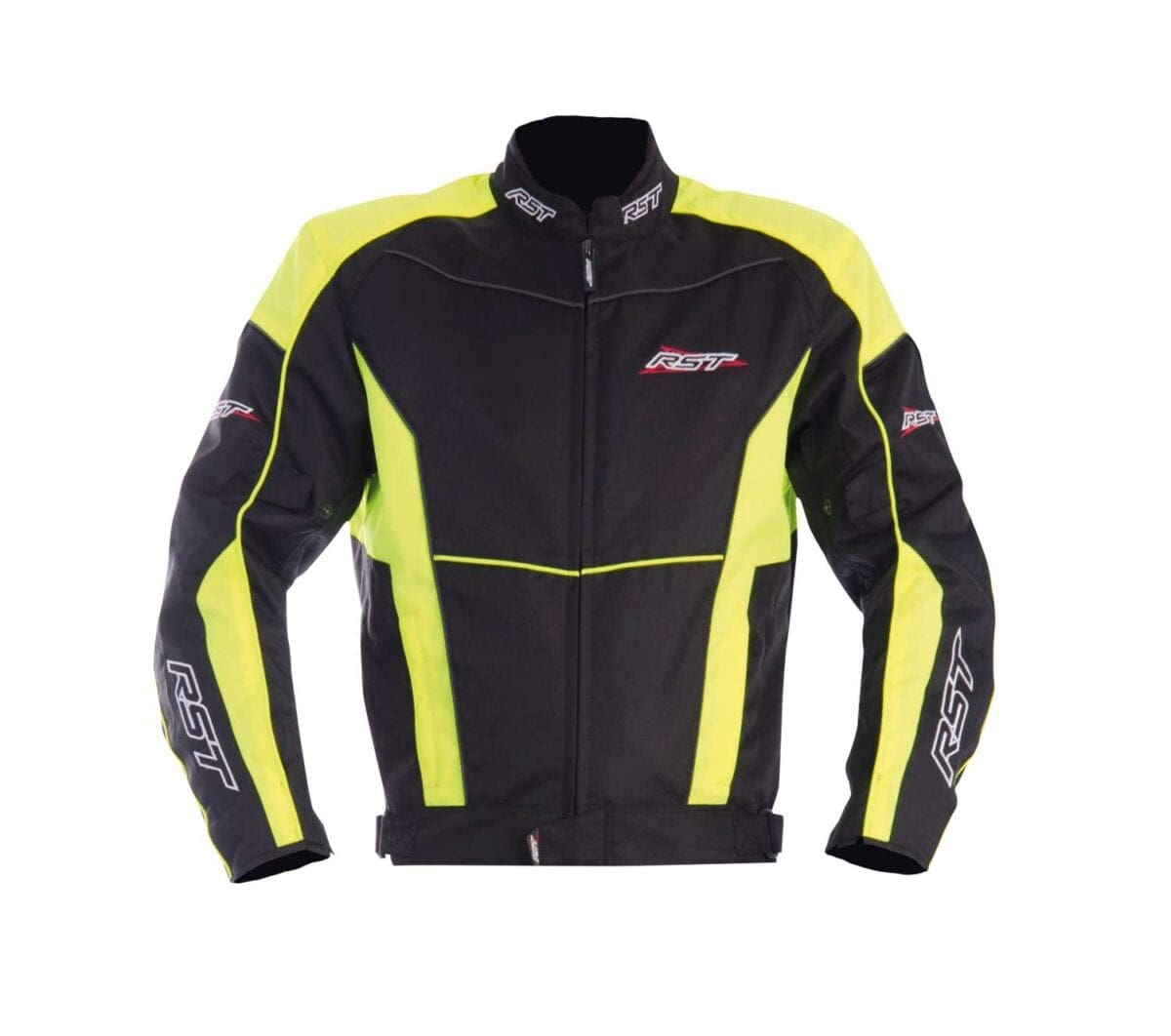 Oxford Dakota 1.0 ladies textile jacket
RRP: £89.99
Available from: http://www.oxprod.com/
–              CE Approved at shoulders and elbows
–              Removable thermal and waterproof liner
–              Reflective piping
–              Multiple stitching on seams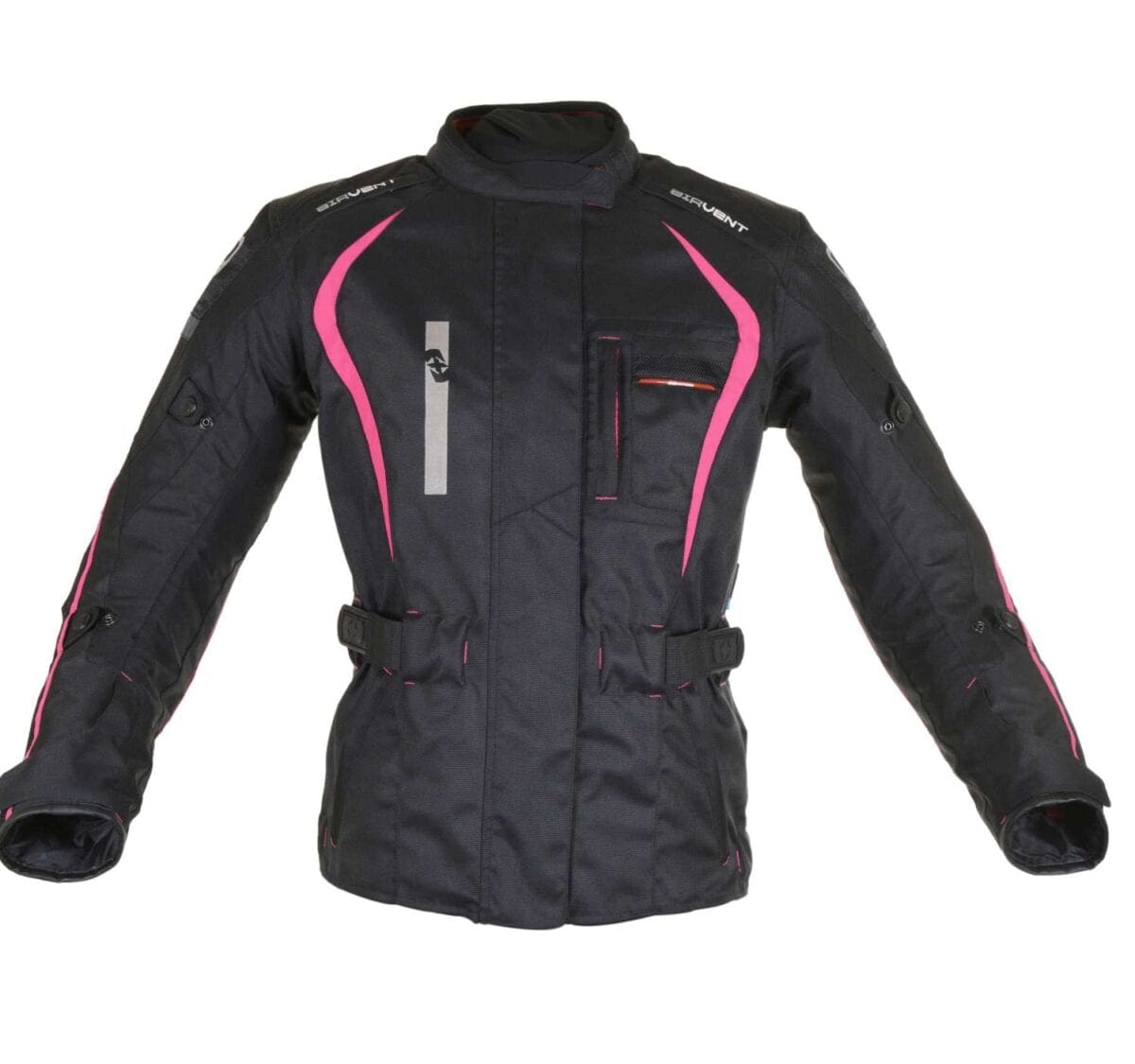 Richa Caroline leather jacket
RRP: £249.99
Available from: http://www.nevis.uk.com/
–              CE approved armour at shoulders and elbows
–              Buffalo leather
–              Removable thermal liner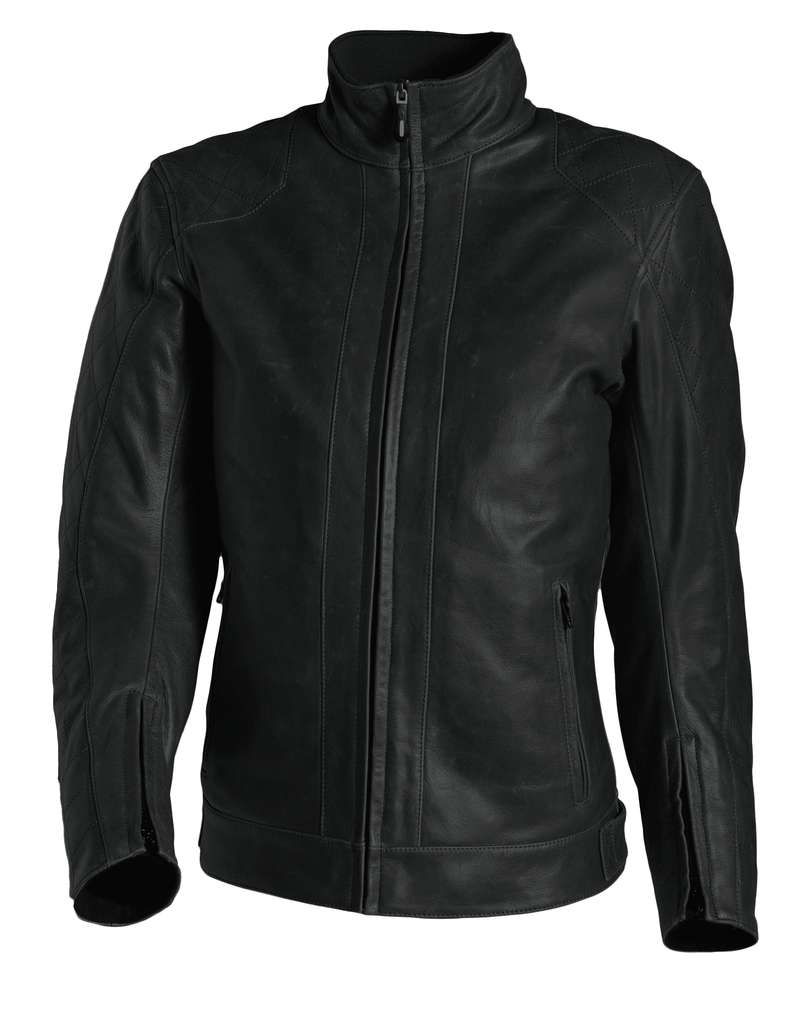 Spada Corsa GP Leather Jacket
RRP: £219.95
Available from: http://www.spadaclothing.co.uk/
–              CE Approved armour at shoulders and elbows
–              Zipped cuffs
–              Critical seams double and triple stitched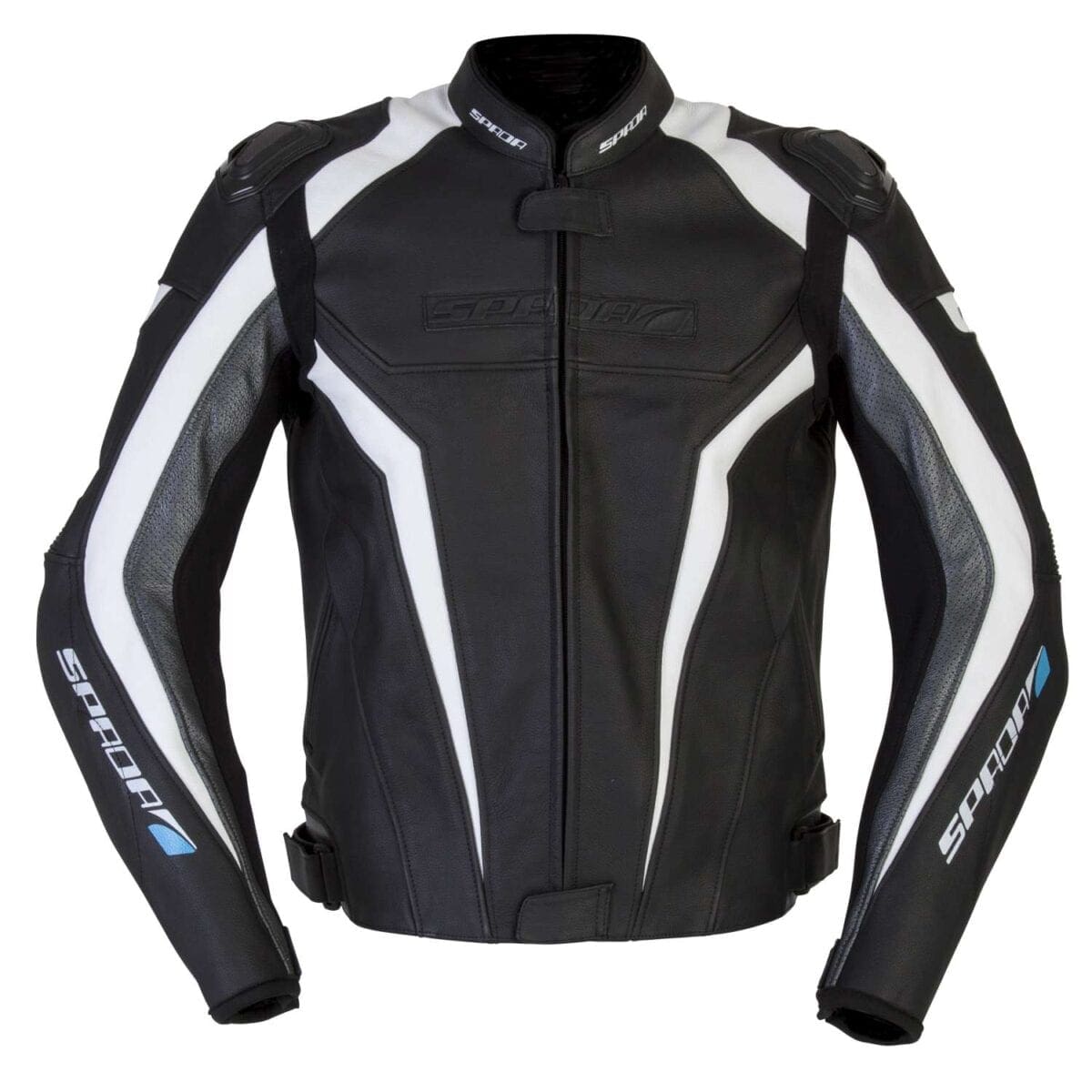 IXON Wellington leather jacket
RRP: £399.99
Available from: [www.oxprod.com](http://www.oxprod.com/)
–              CE approved armour at shoulders, back and elbows
–              Waterproof and breathable membrane
–              Removable thermal liner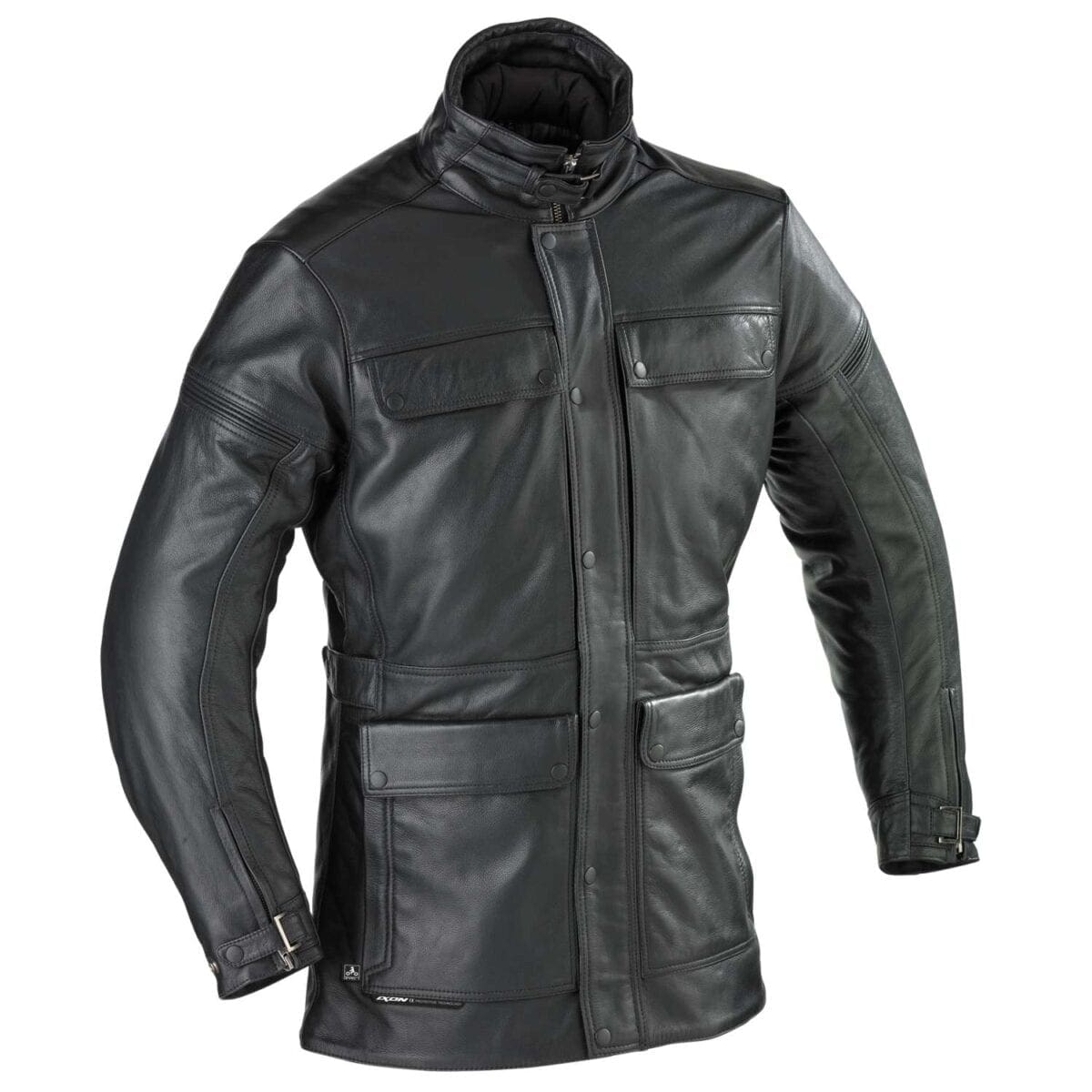 Safety
As we mentioned, even though it's not a legal requirement to wear a protective jacket while on your PTW, it is highly recommended. However, what type of protection should you be looking for and what should you expect?
Ensure it has CE Approved armour at the elbows and shoulders – is it reusable? In the event of an accident some armour can become damaged and can't be used again.
Does it offer any back protection as standard? If not, does it have a pocket which allows you to add after-market armour?
What's it made from? Is it abrasion resistant?
Some jackets feature double, or triple stitching on critical seams just as at the shoulders and elbows to prevent ripping and bursting of the jacket in the event of an accident.
Reflective strips or panels – ensure you're seen by other road users.
Is it waterproof? Does it have a thermal liner? You need to be warm and dry on the bike to ensure you keep your concentration.
CE approval – what's it all about?
If it claims to be 'protective' then motorcycle clothing comes under the category of PPE – Personal Protective Equipment. To achieve this status, items should adhere to and achieve CE approval. The CE marking is required to show that they meet EU safety levels. The testing is carried out in laboratories and is independent from manufacturers.
EN 13595 Parts 1-4 applies to motorcycle jackets and there are two levels. Level 1 is basic and ensures that the clothes provide some degree of protection and is intended for low speed use. Level 2 is tougher and demands a higher degree of protection – to achieve both levels, a product must meet all four of the safety standards.
Part 1 covers the general requirements of the materials and design, Parts 2-4 refer to tests that measure abrasion, burst and tear resistance – including the seams and zipper.
Many products have clear labels explaining they are CE approved as motorcycle clothing – if you're unsure, ask!
Why not add your own armour?
Sometimes manufacturers may have plastic or foam inserts instead of body armour. If this is the case, or you simply want to improve the level of protection in your jacket, why not consider wearing a separate back protector or inserting upgraded armour into your existing jacket? Check out our buying guide on aftermarket armour for more information about what is available.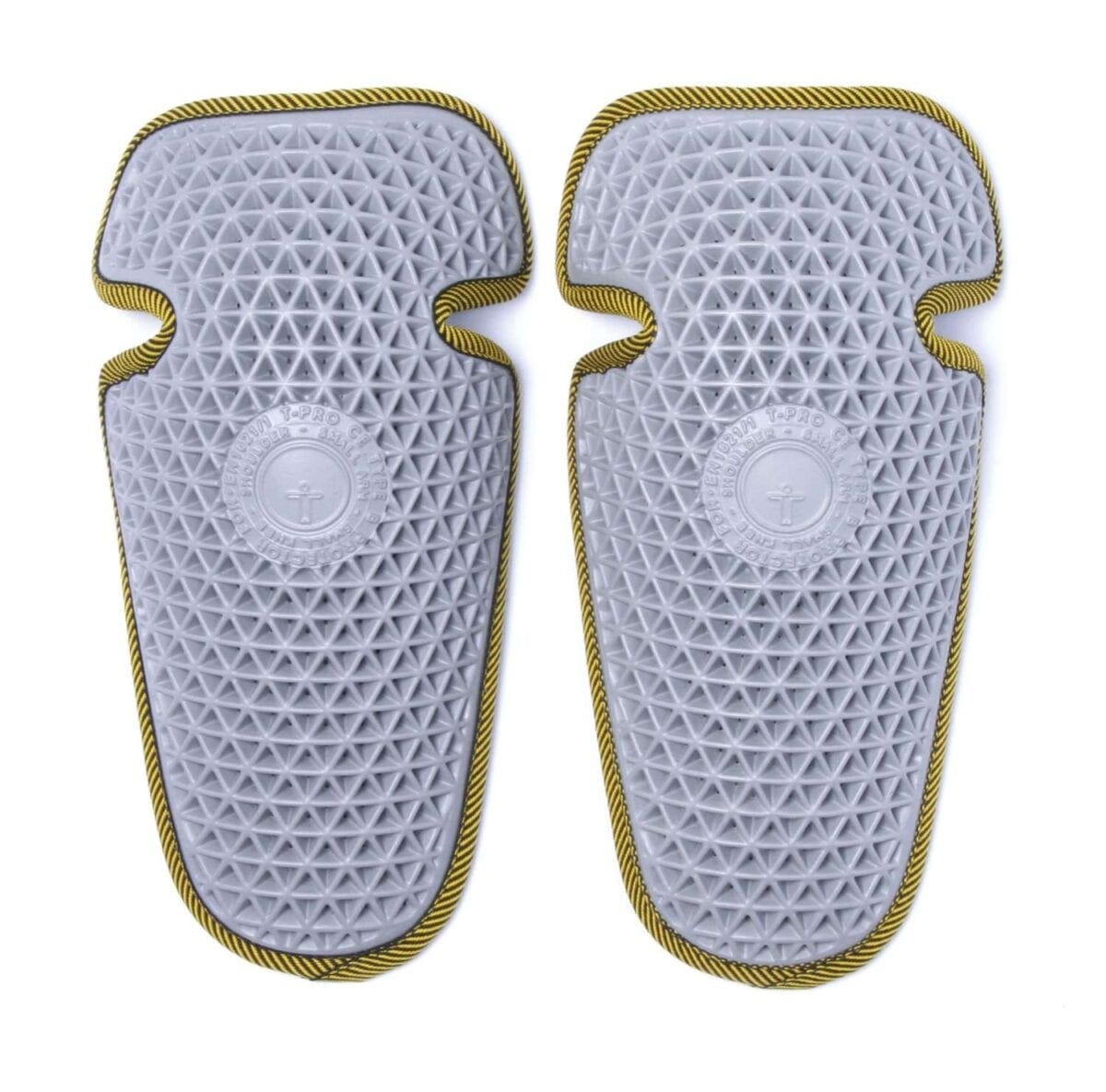 Once you've got it home
Now you've got your new jacket home, get out on the bike and use it! If you're using your textile jacket all year round, after a while you might find that it looks a bit grubby, so why not wash it?
By washing it you'll get rid of all the toxins and dirt from the road and wash out all the dead skin cells and sweat from the inside. Not only does it keep it smelling and looking fresh, it also benefits all the membranes inside the jacket as it 'puffs' them out again and keeps them working. You'll notice that your reflective strips are brightened too…
Ideally use a technical wash, there are a number of them on the market that will ensure that the breathability and waterproof qualities of the jacket are revitalised and not washed out.
If you don't feel confident washing the whole jacket, why not just take out the removable liner?
Check the label – if it specifically says 'Do not wash' then don't – if unsure speak to the manufacturer
Don't use fabric softener – this will ruin your gear
Remember to empty your pockets – you never know, you might find some money in there!
Take out the body armour
If you're planning on washing it in the washer, then be sure to run a rinse cycle beforehand to clear the washer of any chemicals left over from your normal wash, ensure you rinse it properly and consider re-treating the jacket with a waterproofing spray.
When it comes to drying your jacket, there is lots of discussion as to whether tumble drying jackets is OK. We suggest hanging it up to dry in a warm room or outside on a nice dry blustery day.
Understandably leather jackets can't be put in the wash, but you can keep yours looking good and working well by treating it with a leather-food which acts as a water repellent. Leather is skin, so just like yours, it needs moisturising to be kept at its best.