Not so long ago if you rode with a pillion the only ways of communicating with them were to shout and hope you could be heard over the noise of the bike's engine, or some form of sign language – but that's all in the past now.
When motorcycle intercoms first appeared they were hard-wired systems. Basically, you could have a conversation with your pillion through a microphone and an earpiece, all of which would be powered by the bike's battery. Naturally these systems (though revolutionary at the time) had a number of drawbacks. You had to remember to unplug when getting off the bike; you couldn't easily swap from bike to bike; and perhaps the biggest drawback compared to modern systems was the inability to talk to other riders.
The real turning point for motorcycle intercoms was the widespread acceptance of Bluetooth technology. Even hard-wired intercoms could now be used to allow riders on different machines to talk to one another.
But Bluetooth wasn't the only wireless technology that's helped with the widespread acceptance and use of motorcycle intercoms. Batteries that can be recharged via a USB port have meant that intercoms have now almost universally become truly wireless. No longer do you need to be tethered to your bike by a power lead if you want to use an intercom system.
DO YOU NEED ONE?
But why would you want to use an intercom on your bike? Well, it's far easier to talk to your pillion; if you're riding in a group you can easily keep in touch with fellow riders and even if you always ride alone it makes using a motorcycle-specific sat nav much easier, as you simply pair that via Bluetooth to the intercom's speaker in your helmet. You can also use that Bluetooth compatibility to pair a mobile phone or mp3 player to the intercom.
When it comes to choosing a motorcycle-specific intercom the main players are Sena, Cardo and Interphone. All three manufacturers offer similar functionality and features and the final choice can come down to the look and feel, price and what other riders are using. If you regularly ride with people who all have Cardo systems why buy a Sena?
Cardo, which describes itself as the world's market leader in wireless communication systems for motorcyclists, has a range of systems that includes sets designed to fit some HJC and Shoei helmets as well as a universal fit option. The choices don't end there either as there are solo ride specific and multi-ride units too.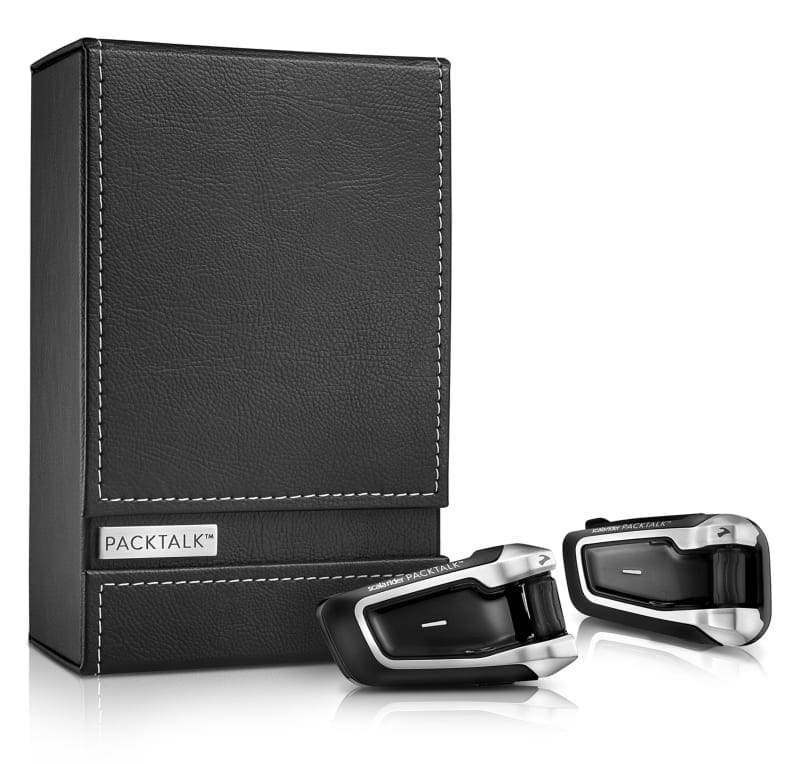 Sitting at the top of the Cardo range is the Packtalk, which you can buy a single unit or a twin pack. The latter option (with a recommended retail price of £400) is useful if you have a regular pillion passenger.
So what do you get for your money? Well, obviously, two wireless intercom units that clip onto a bracket you mount on your helmet. A useful feature as you can quickly slide the intercom off when it's not needed and leave the bracket in place. Also in the box are speakers that you put inside your helmet with Velcro and a matching microphone. However, how do you justify the cost? Well, it's all down to the feature list. For general communications between headsets, the Packtalk makes use of Dynamic Meshwork Communication (DMC) and then if you want to hear instructions from a sat nav or take a call on your mobile the Bluetooth technology seamlessly cuts-in.
The joys continue with the knowledge that the Packtalk even has a built-in FM radio, which can make a long solo journey a less boring event if you have to take the motorway.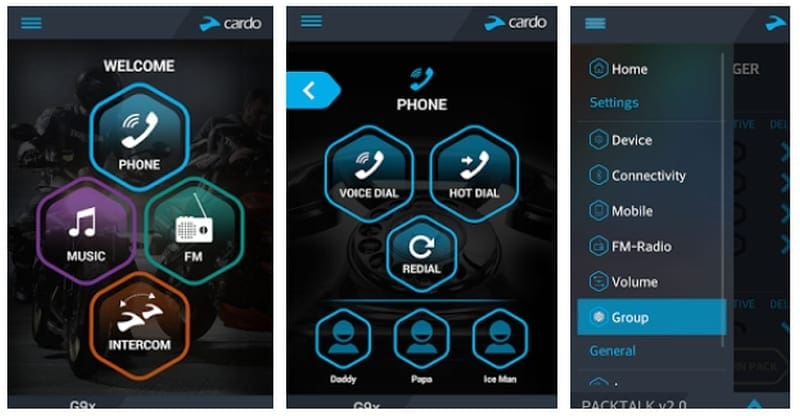 As is the way of the world today you can even get an app for your mobile that integrates with the intercom. The SmartSet app gives you the ability to use your phone and play the music you have on there, as well as customise the Packtalk's settings. This is potentially a good thing if you have a handlebar mount for your phone… in fact, it might be worth investing in a phone mount and a waterproof phone case as the controls on the Packtalk are complicated; a series of buttons on the outer face of the unit and a second control that you push or turn depending on what features you want to access.
I'm sure it's one of those things that once you get used to it, it becomes second nature but when following the instructions for the first time.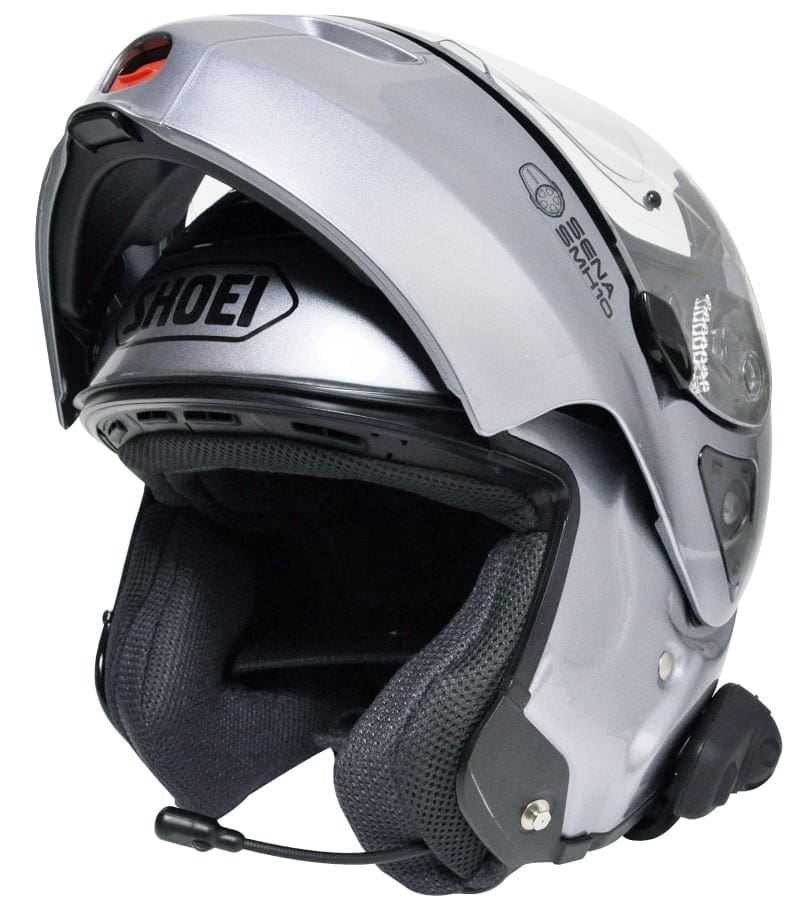 For ease of use, it's worth considering the Sena intercom range. Having had a Sena SMH5 twin pack for a number of years I've come to appreciate its simplicity of operation. With a recommended retail of £220, the twin pack SMH5 sits at the lower end of the range but it was once a high-end option. It's still not a bad choice; it's just that technology has moved on and progress costs.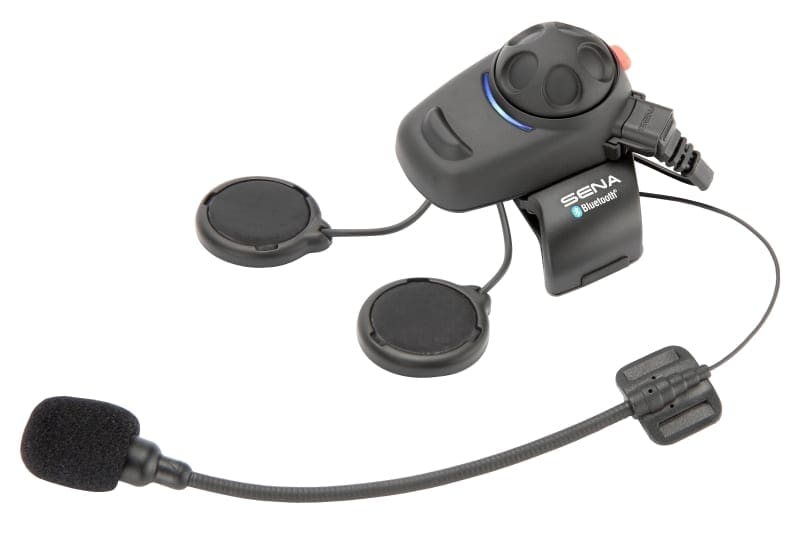 However, one point I really like about the SMH5 is just how easy they are to use. With the exception of turning the unit on and off and resetting it (all done via the little red button on the back) all you have to worry about is the dial on the side. To toggle through the various functions, you simply turn the dial and then press or press and hold.
It's a good job it's so easy to use and flick between functions because if you're using the SMH5 to listen to directions from a sat nav, you can't hear messages from other users (such as your pillion). For me, this isn't a problem because if I don't acknowledge her, my regular pillion knows that I'll be using the sat nav option and she simply taps the dial on my intercom unit to toggle it through the options so she can talk to me again.
On that note, it's perhaps worth pointing out how easy it is to match the SMH5 to a motorcycle GPS system; turn it on, then turn on the sat nav; next go to the settings screen, then to the Bluetooth menu; highlight the Sena intercom and select it. Job done!
Over the years that I've been using the SMH5, I've never had any problem with either unit. The microphones and in helmet speakers simply do what they are supposed to and each unit is easily charged with a standard USB2 lead and you get one of those included in the box too.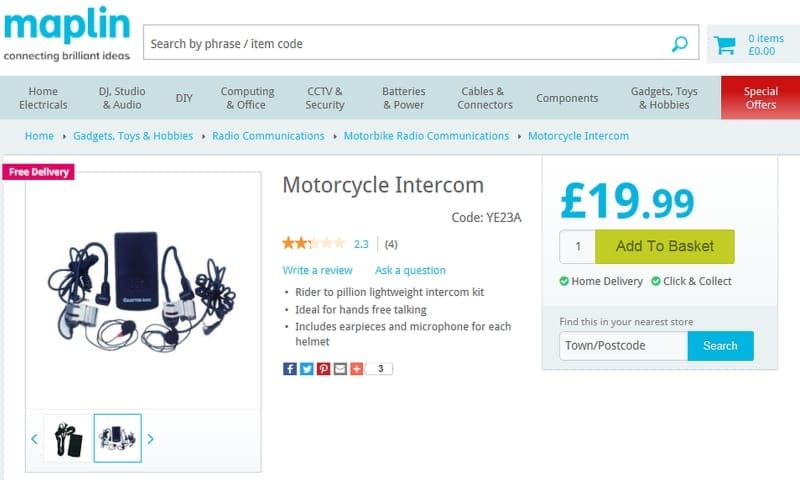 Now, I appreciate that not everyone wants to, nor can afford to spend a few hundred pounds on an intercom system. The good news is you don't have to, as at the other end of the price scale high street electrical retailer, Maplin, has a basic rider-to-pillion intercom system for a mere £20.
Make no mistake you get what you pay for when it comes to motorcycle intercoms and £20 gets you a very basic system. All this kit does is allow rider and passenger to talk to each other. The reason it's so cheap is that the microphone and earpiece for each helmet are wired into a single control box. There's no wireless connectivity here and no Bluetooth compatibility, so no listening to music, taking calls on your mobile, or getting GPS directions through the headset.
Sticking with the subject of headsets, this is another area where the Maplin unit differs from more expensive systems. Unlike them, it uses a single in-ear headphone. You have to put it in your ear and try and keep it in place while you get your helmet on.
Another significant difference is how the intercom is powered. Premium intercoms such as those from Sena and Cardo use internal, rechargeable lithium Po batteries. Maplin requires you to keep putting AAA batteries in the control unit.
At the end of the day, like so much about today's motorcycle accessory market, it's very hard to get something that doesn't do what it's supposed to do. In the case of rider-to-pillion and rider-to-rider intercoms, it's basically the same story. The main difference when it comes to parting with your money is just how advanced you want the system to be. To draw an analogy between mobile phones and bike intercoms; the Maplin unit is like a mid-90s Nokia which does what it's supposed to, but it's not sexy and doesn't do anything else. If you're a fan of modern smartphones that run the Android operating system and let you browse the web, then the Sena SMH5 will satisfy your needs. If you're the kind of person that likes to have the latest version of the iPhone and all its whistles and bells then you're definitely going to want to look at either the latest high-end Sena units or the Paktalk or one of the other feature rich intercoms from the top of the Cardo line-up.
Words/images: Duncan Moore