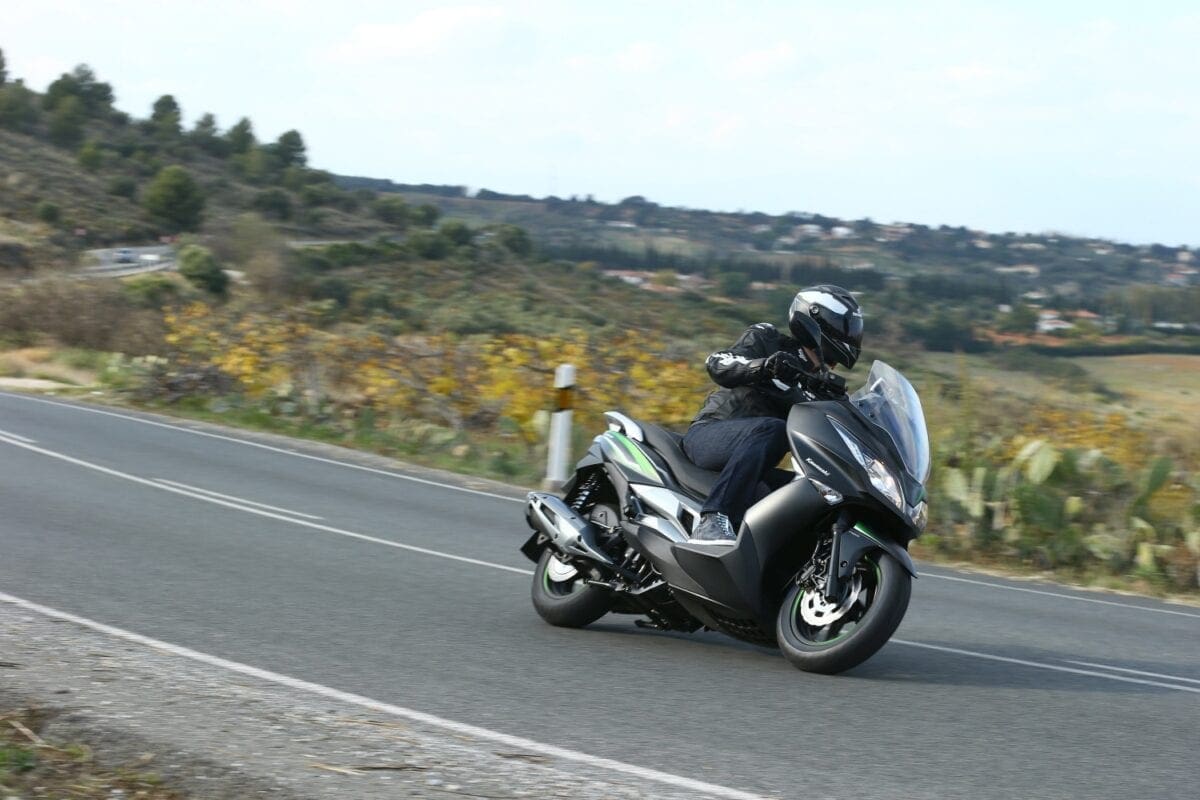 Brand-new for 2016, Kawasaki has launched the J125, an A1 licence-friendly 125cc scooter with the sporty looks of a city sprinter and the roomy comfort of a maxi-scooter.
This is not just another model to add depth to the bike giant's line-up; it's a direct challenge for the top spot in the high-end 125cc scooter market – Honda Forza and Yamaha Xmax better watch out, there's a new kid in town!
The new scooter is effectively a 125cc version of the popular J300 maxi scooter that the company launched two years ago, and benefits from the design and technology of its big brother. But whilst it maintains the large size of the J300, this new scooter is designed primarily for cities rather than the open roads. Its mission is to become a real alternative to public transport.
This is a scooter that means business. It has been well thought through, from the design elements borrowed from Kawasaki's sports bikes to the various clever scooter-specific solutions. And with the sports heritage and prestige that come with the Kawasaki brand, this is likely to be a tempting option for anyone looking for a sporty, blue-blooded scooter to rule the city streets with.
The J125 is Kawasaki's first scooter in the 125cc class in Europe – and only the second in its entire range. The new scoot joins its big brother, the popular J300, and the Japanese manufacturer is hoping to repeat the sales success with the new machine. Kawasaki's range of scooters might not be anything like the size of its competitors' fleets, but it now offers scooting options for both A1 and A2 licence holders.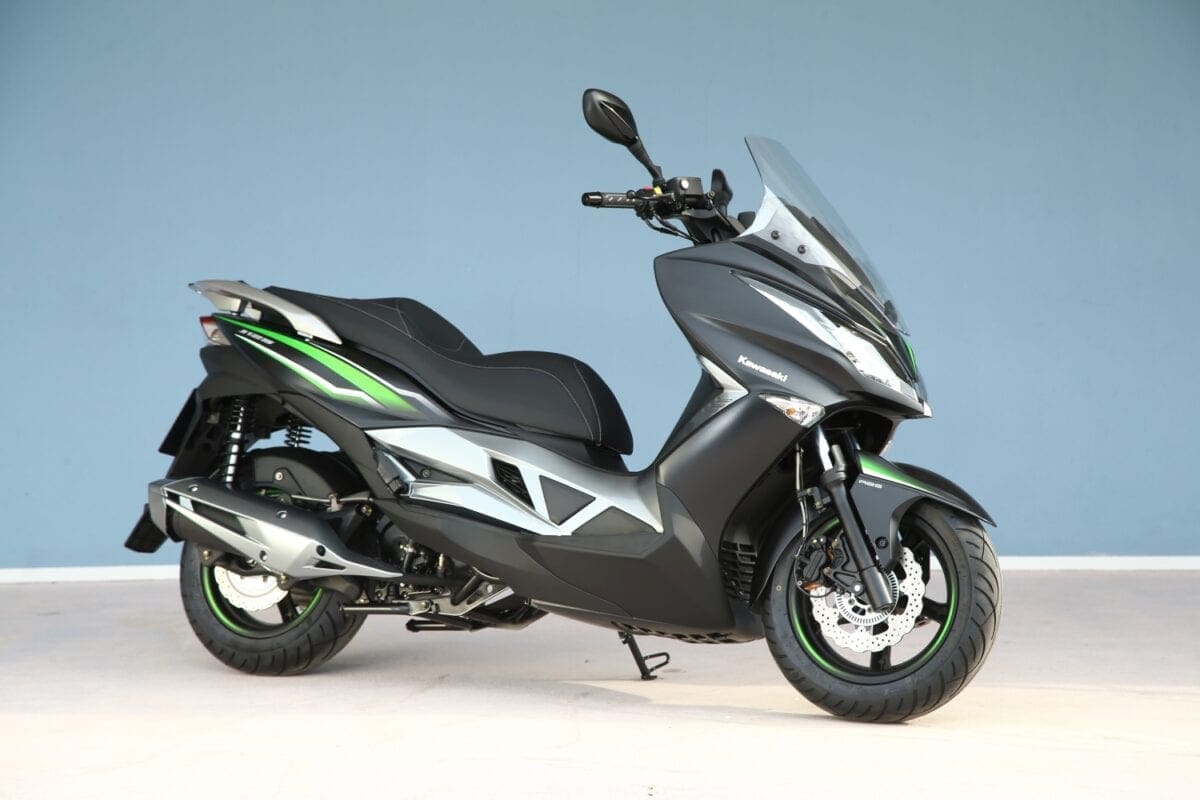 Looks
For many new riders, the J125 could be their first taste of Kawasaki machines and the company has made sure that the look and feel of the new scooter is true to the sporty Kawasaki image.
Maybe it is just that Kawasakiness (yes, it's a word!) of the scooter that makes this a good-looking machine. The J125 inherits its styling from the J300 and the front of the scoot in particular has a real sporty look about it. The large multi-reflector headlights with their sharp lines that sweep round to the sides wouldn't look out of place on a sports bike.
A particularly nice design feature is how both front and back indicators have been embedded into the body of the scooter to make the lines look sleek and clean. At the rear, the lights have also been designed in a way that compliments these sporty lines.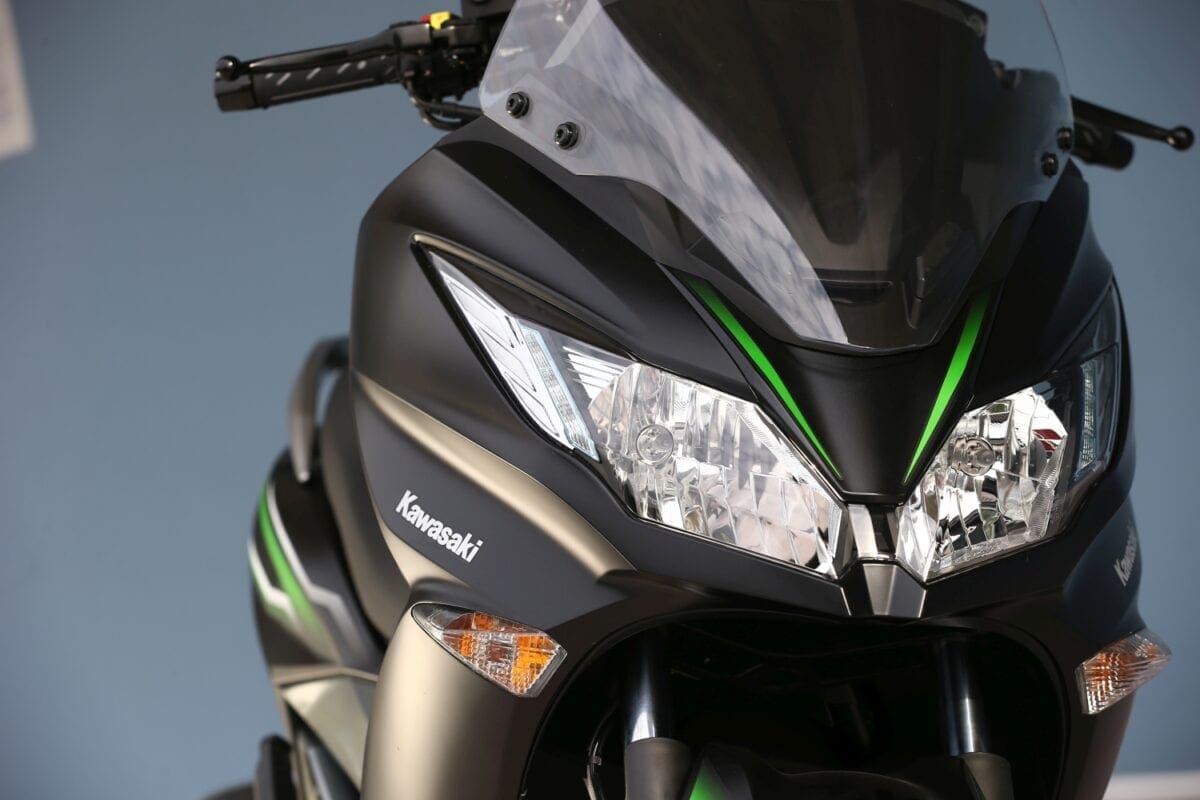 Engine
The J125 is a large machine for the 125cc category and I was a bit suspicious of how much power it would have. It turns out I didn't need to worry. Hiding under the elegant exterior is a surprisingly lively 125cc liquid-cooled SOHC four-valve single-cylinder engine. It delivers a claimed peak power of 10.3kW at 9,000rpm and maximum torque of 11.5Nm at 7,000rpm. These figures are very close to that of its closest rivals, and in fairness, there's not much more you can squeeze out of a 125cc engine and still keep it economical and meet the emissions regulations.
What I particularly liked about the J125 is that the power delivery is very smooth even when you open or close the throttle fully, thanks to the instant fuel delivery and the butter-smooth Continuously Variable Transmission (CVT). It would appear that the partnership with Taiwanese scooter specialist KYMCO in designing the scooter has paid off.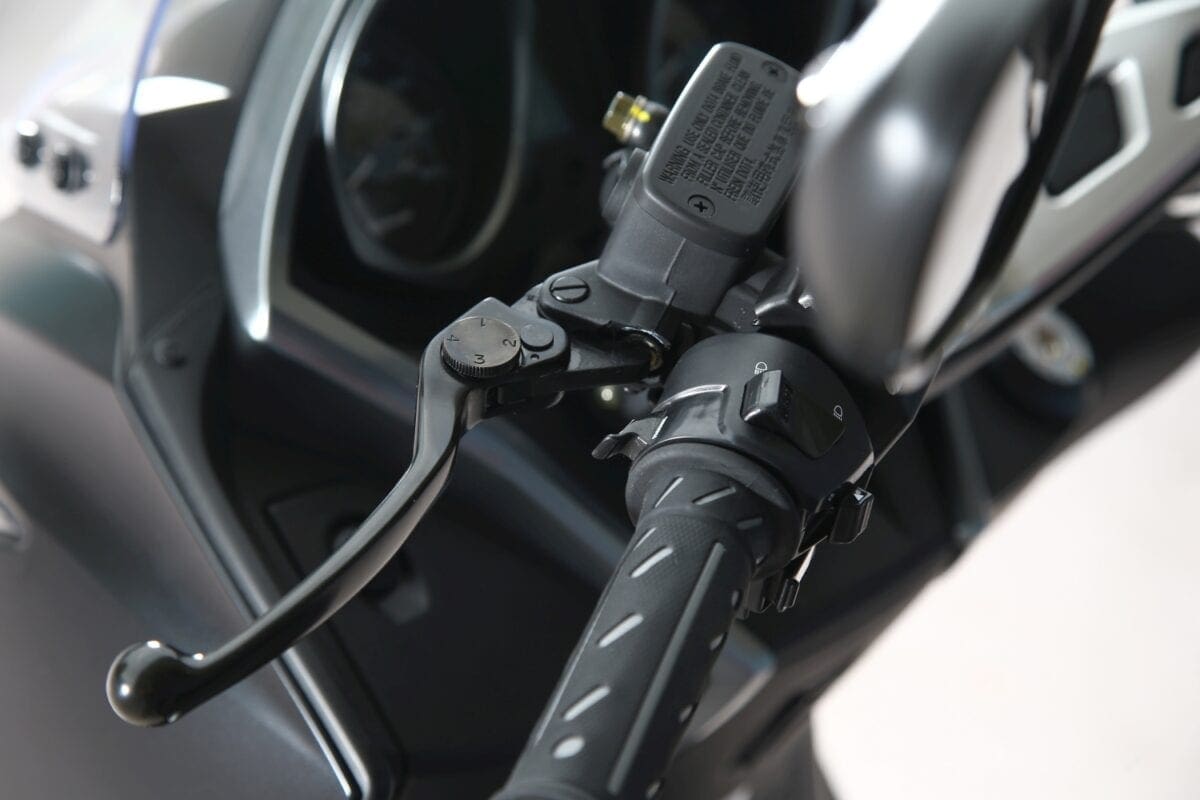 Handling
Right from the start the scooter felt responsive, and because it's a fully automatic twist and go machine; you can just open the throttle and accelerate hard without having to worry about gears.
The J125 is a fairly heavy scooter at 182 kg, but it feels agile and manageable. Because it accelerates well it was easy to nip in and out of traffic in the city, while out on the open road the J125 still managed to keep up with traffic, achieving a top speed of just below 70mph. For a city scooter that's not bad at all, but for a long commute on A-roads you might want a bigger machine.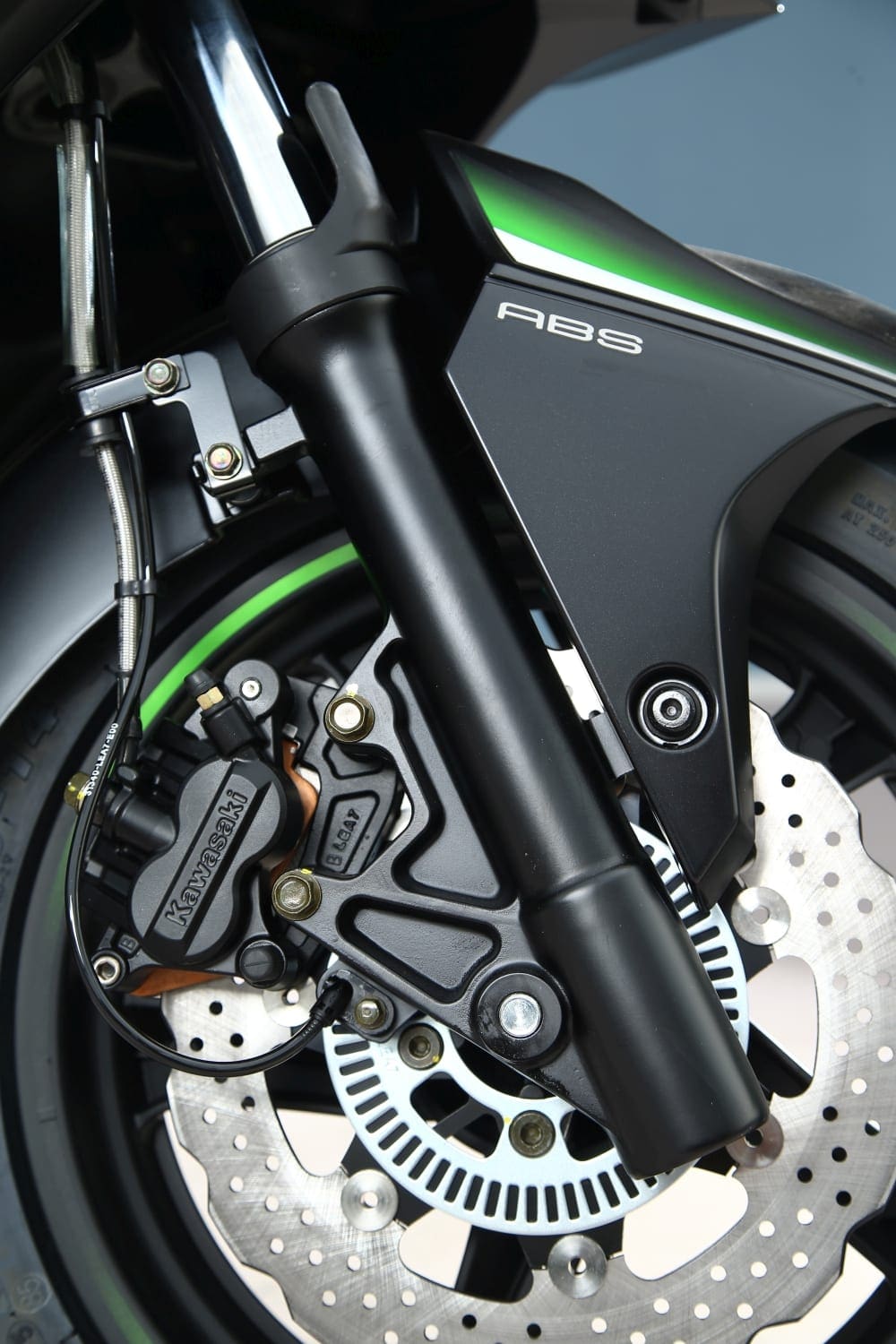 Comfort
Our test ride covered just over 60 miles and there was never a moment of discomfort all day. There is plenty of room on the scoot for even a larger rider to stretch out. The seat is enormous and perfectly sculpted to offer some support for your lower back.
The footboards are roomy, and you can shuffle your feet about on longer journeys. The riding position overall is very relaxed and the screen (although not adjustable) kept the wind away from me. In all honesty, I'd have happily done another 60 miles if we had time.
For a pillion passenger there's a large and comfy seat, foldable foot pegs and a grab rail. It's a sizeable scooter so it should be fine two-up although we didn't test it with a pillion.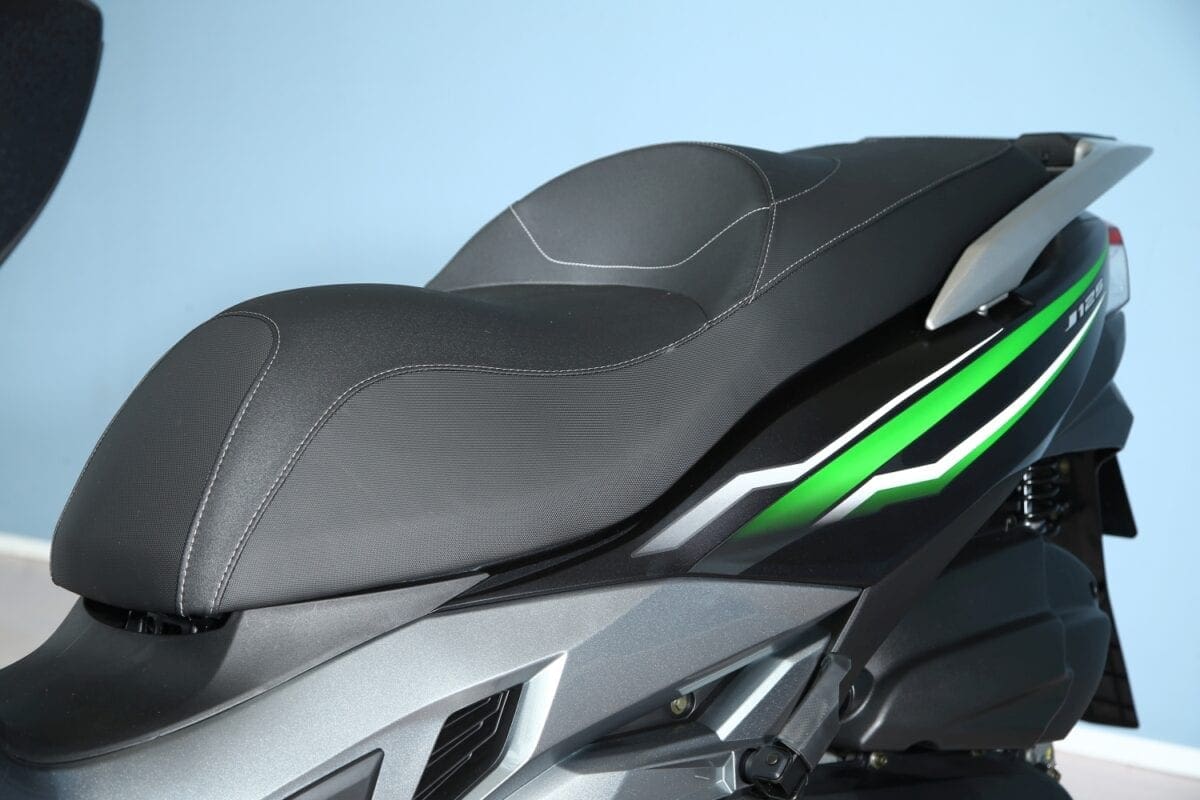 Equipment
The dash is easy to read on the go and consists of an analogue speedometer and tachometer dials flanking a multi-function LCD panel, which houses the odometer, dual trip meters, service mode, clock, fuel gauge, coolant temperature gauge and engine warning symbol. The tachometer gives the scoot more of a motorcycle feel, even if it's not strictly speaking necessary on a twist and go machine. Fuel consumption and distance to empty would have been nice additions to the digital screen, but not essential.
There are no rider-controlled gadgets, which makes the switchgear simple and easy to use. The controls for electric start, indicators, hazards, lights and horn are all exactly where you'd expect. Brake levers are adjustable, which is a nice touch and adds a level of comfort, especially on longer journeys.
Both front and rear brakes have single petal discs (front 260mm, back 240mm) with two-piston calipers. All models sold in the UK have Bosch ABS, which works well. The rear brake is perfect for shaving off a little bit of speed when necessary and the front brake has enough power to bring the scooter to a rapid stop if needed.
Suspension worked well on the test ride. There's a 37mm telescopic fork at the front, and preload adjustable (five settings) twin shock absorbers at the rear. I started the ride with the standard setting, which was perfect for city riding, and then added a bit of preload (very easy to do by simply twisting the adjusters by hand) for the faster part of our route. This improved the handling on fast corners and made the machine feel firmer and more stable.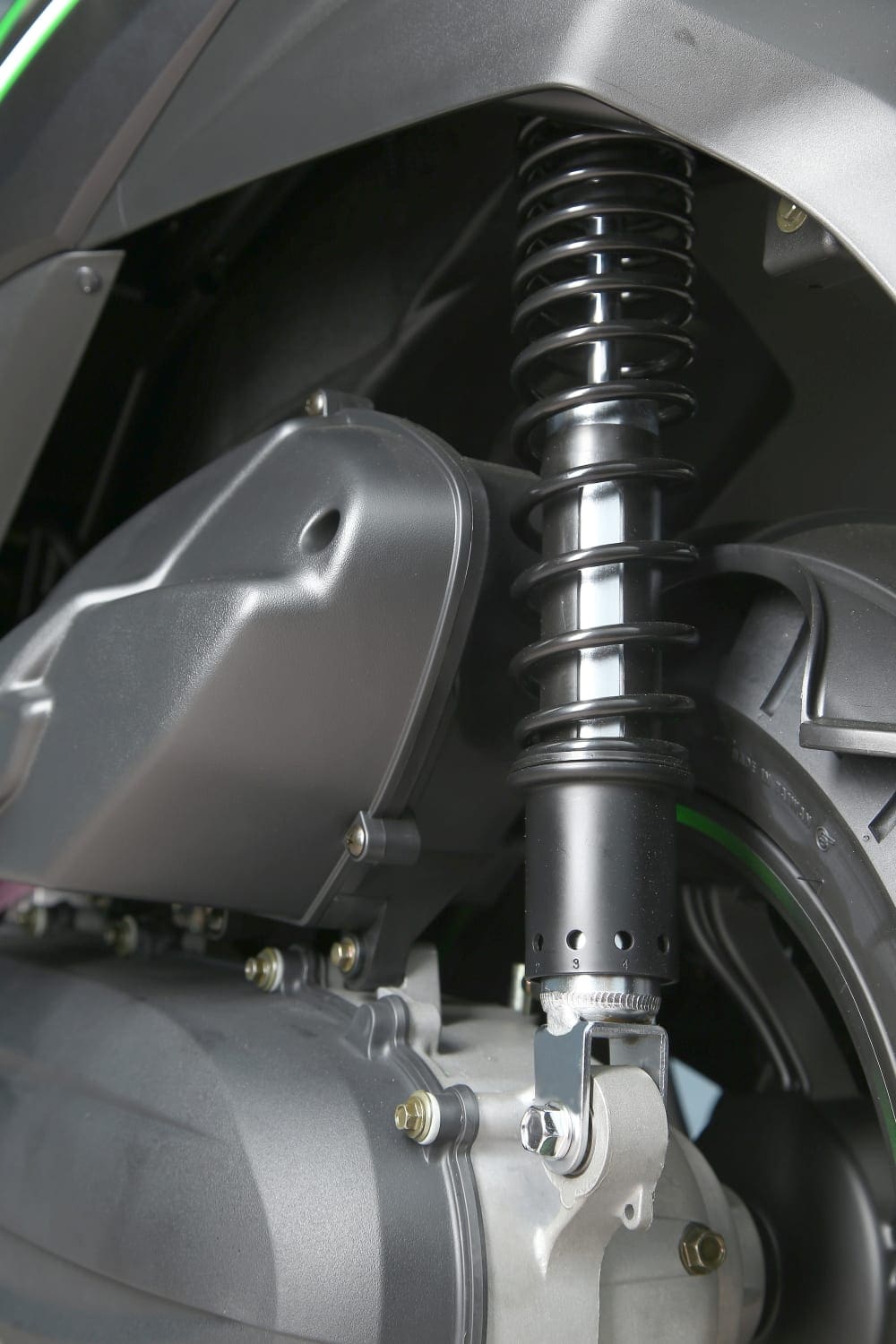 Storage
With a big scooter like this, you want a decent amount of storage – and the J125 offers plenty of space for almost anything you might want to carry on a scooter. There's a large underseat storage compartment big enough for a full-face helmet and an A4 document case (boo!) or your favourite biking magazine (yay!). There's a light that comes on automatically when you lift the seat so you don't have to rummage around in the dark, and the seat stays open once lifted up.
For smaller items, there's a glovebox, which has a useful 12v accessory outlet to plug your heated clothing, phone charger or sat nav into. There's also a cargo hook and a rear carrier. And if that's not enough, GIVI top cases are available as optional extras. You can certainly load this scooter with a lot of stuff.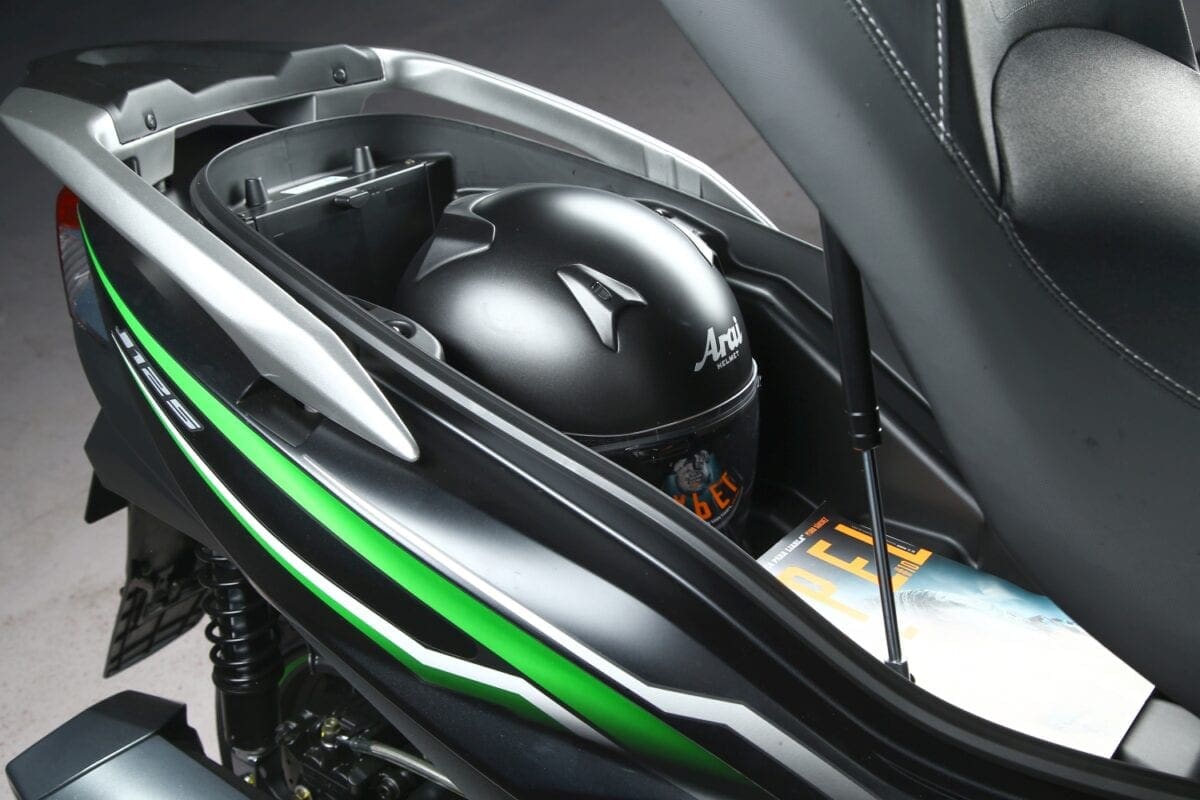 Should I buy one?
There's certainly a lot to like about this big 125cc scooter. It offers the comfort of a much bigger machine than most scooters in this class and I can't fault the looks. There's enough power to comfortably cruise in the city and even do short distances on the open road, but for faster roads and longer distances, you're better off going for the J300.
Kawasaki's aim was to create an alternative to public transport in cities and for that purpose this scooter is ideal. If I had a short urban commute I would certainly choose a scooter like this over public transport, and if Kawasaki's calculations are correct I would even be saving money doing that.
This is a good quality scooter for A1 licence holders and city commuters, which has been priced competitively. When it lands in the UK in late January it's likely to follow the success of the J300, which according to Kawasaki outsold the Z300. No wonder Kawasaki is looking to expand its scooter range.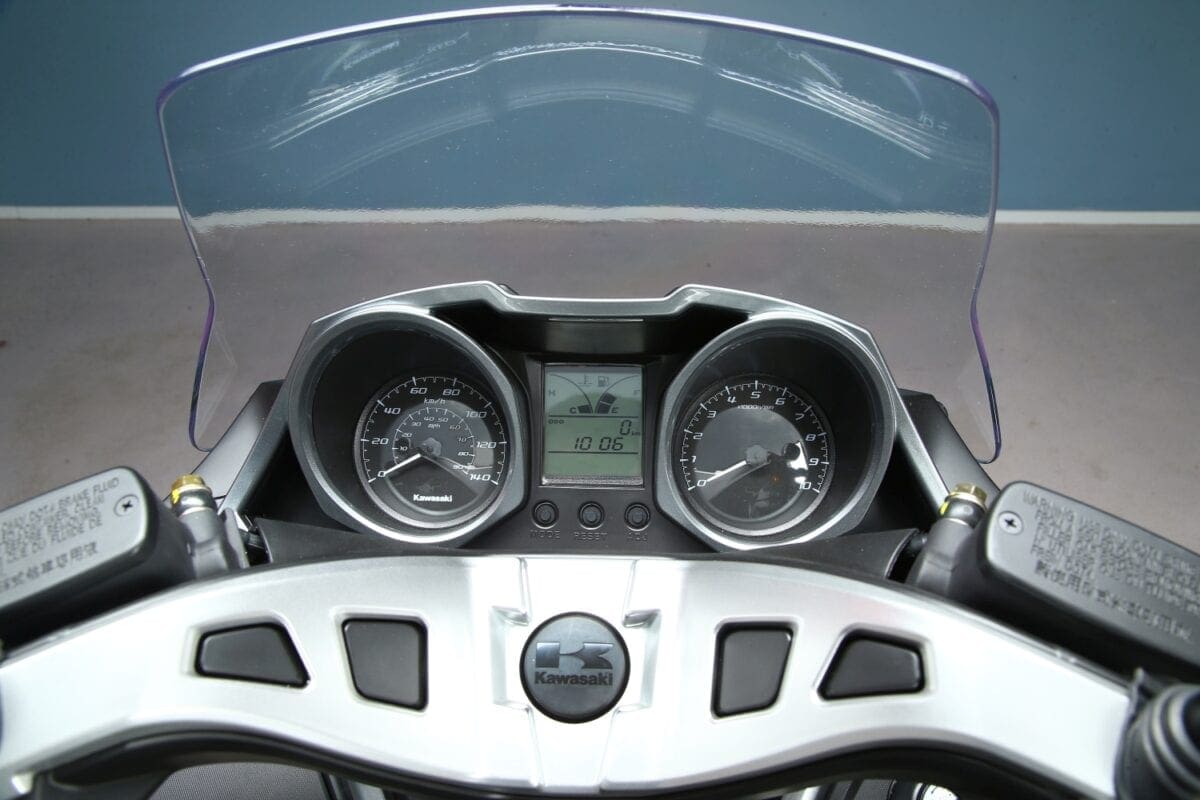 Tech spec:
ENGINE
Type: liquid-cooled, 4-stroke single
Displacement: 125 cm3
Bore/stroke: 54.0 / 54.5mm
Compression ratio: 11:7:1
Valve system: SOHC, 4 valves
Fuel system: fuel injection: φ27 mm x 1
Ignition: ECU control (full transistor)
Starting: electric
Lubrication: forced lubrication, wet sump
DRIVETRAIN
Transmission: CVT with centrifugal clutch
Final drive: belt
Primary reduction ratio: 2.201 ~ 0.829
Final reduction ratio: 10.413 (49/15 x 51/16)
FRAME
Type: tubular diamond, steel
Wheel travel: 110mm (front), 100mm (rear)
Tyres: 120/80-14 M/C 58S (front), 150/70-13 M/C 64S (rear)
Caster (rake): 28.0o
Trail: 113mm
Steering angle (left/right): 40o / 40o
SUSPENSION
Front: φ37 mm telescopic fork
Rear: twin shocks with 5-way adjustable preload
BRAKES
Front: single φ260 mm petal disc, dual piston
Rear: single φ240 mm petal disc, dual piston
DIMENSIONS
Overall length: 2,235mm
Overall width: 775mm
Overall height: 1,260mm
Wheelbase: 1,555mm
Ground clearance: 145mm
Seat height: 775mm
Curb mass: 182kg
Fuel capacity: 13 litres
PERFORMANCE
Maximum power: 10.3 kW {14 PS} / 9,000 min-1
Maximum torque: 11.5 Nžm {1.2 kg¦žm} / 7,000 min-1
PRICE
£3,799
(Metallic Anthracite Black and Metallic Frosted Ice White)
£3899
(Special edition Metallic Black/ Candy Green)
CONTACT