Looking after your bike is easy! John Milbank shows you how with his 2000 Honda CBR600FY:
Whenever I look for bikes to buy, I'm shocked at how few machines have even a basic record of maintenance. I'm not talking about original-dealer stamped service books (though I do love them) – I'd be happy with a receipt for some oil, and some basic interest from the owner in a motorcycle's well-being.
A service every year costs money, and that's one thing a lot of us haven't got much of, but oil's the lifeblood of our bikes: it not only lubricates the engine's internals, transmission and clutch, it's a coolant, a cleaner, a sealant and a protectant.
Yes, a dealer-history is great, but if money's tight, or you simply want the incredibly rewarding feeling of 'doing it yourself', then get the spanners ready. Nothing fills a potential buyer with confidence more than an owner with a raft of receipts, and a real understanding of how their bike works. After all, mechanical knowledge breeds mechanical sympathy.
What you'll need
These articles are a guide to help show just how easy looking after your bike can be. Some of the jobs I'll be doing I've done for years, and some I'll admit to being very nervous about, until now. Investing in a workshop manual should be your first step, and being a bit obsessive, I like to use both Haynes and Clymer.
Otherwise, there are a couple of things I consider essential (besides the oil and filter of course)… An oil filter removal tool costs about a fiver, and simply cups over the filter, allowing you to use a socket-set to remove it, and a torque-wrench to replace it. A torque-wrench is expensive, but I consider it to be the most valuable tool in my garage. I have two, covering 8-60Nm, and 20-100Nm, but there are plenty of options around. The least I've needed on my CBR is 7Nm (I guessed, based on my wrench's minimum) and the most is 93Nm, – check in your workshop manual to choose the best for your needs. A calibrated 3/8-drive wrench from Sealey, covering 10-100Nm costs £179.94. It might seem like a lot of money for such a simple task, but it's a tool that should last a lifetime, and will be used on every job you do. It'll also save you a fortune in sheared bolts and damaged studs (that's the bitter voice of experience, as a teenager working on a MkII Ford Escort).
I always spend a little extra on premium quality oil (in this case, Silkolene's Comp 4 10w40), and while you can get some great quality pattern filters from www.wemoto.com, I like to use genuine ones, as I think they look good when a buyer checks out your bike.
Let's get spannering…
Find some level ground to work on the bike, then drop it onto its sidestand, even if it has a centrestand. The plug is at the back left of the engine, so it helps drain all the oil. Run the machine for a few minutes to warm the oil, before shutting off and removing the key and the oil filler cap. Pop them together to one side, and you won't forget that there's no oil in the bike!
It's worth giving the drain bolt and the area around it a wipe clean first. Now pop a drip-tray under the bolt, then carefully unscrew it.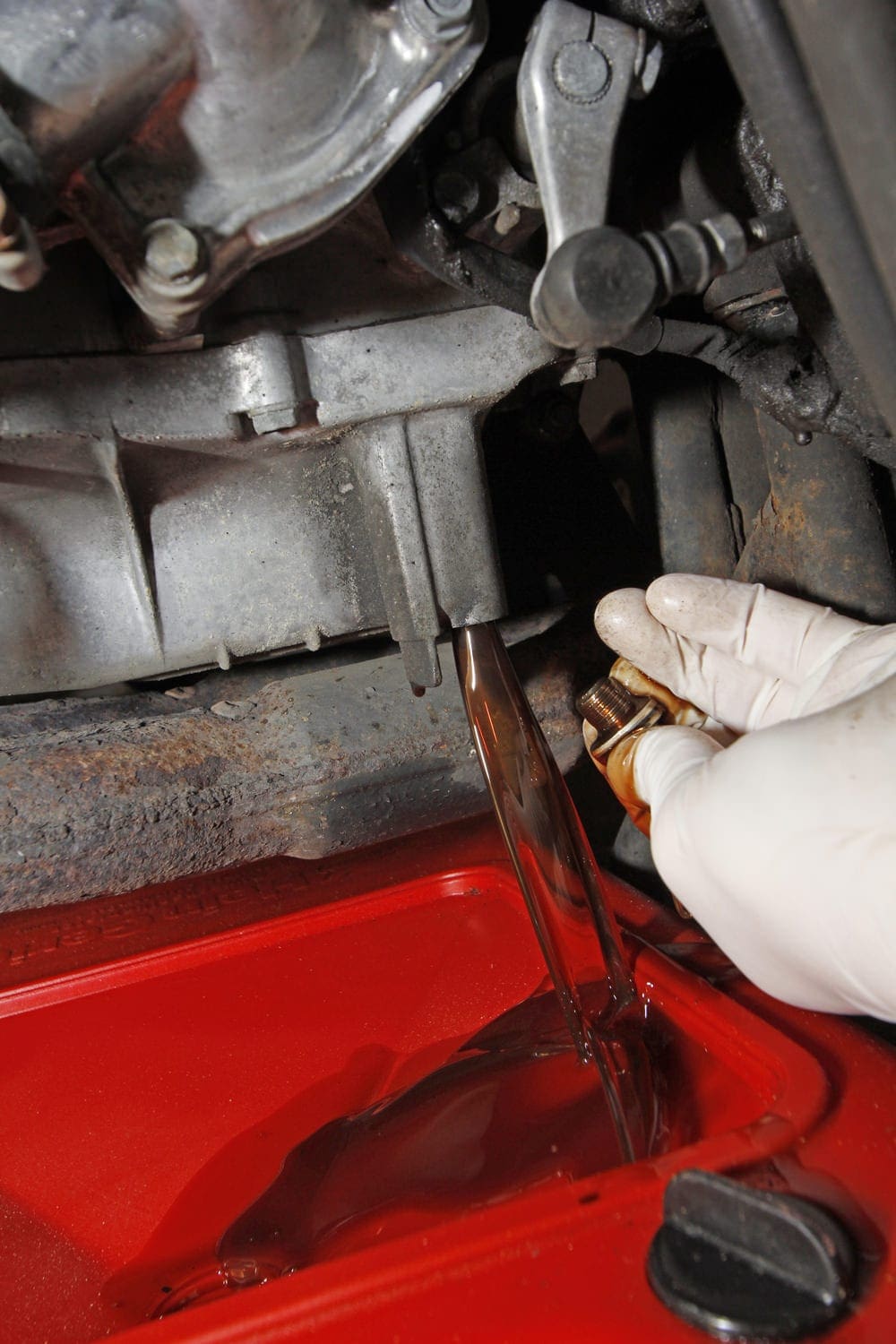 As it gets towards the end, hold it by hand so you can whip it out of the way, and let the oil pour straight into the tray. If you're working on your girlfriend's Dad's nicely block-paved drive, it's probably worth having some newspaper down too (there's that bitter voice again).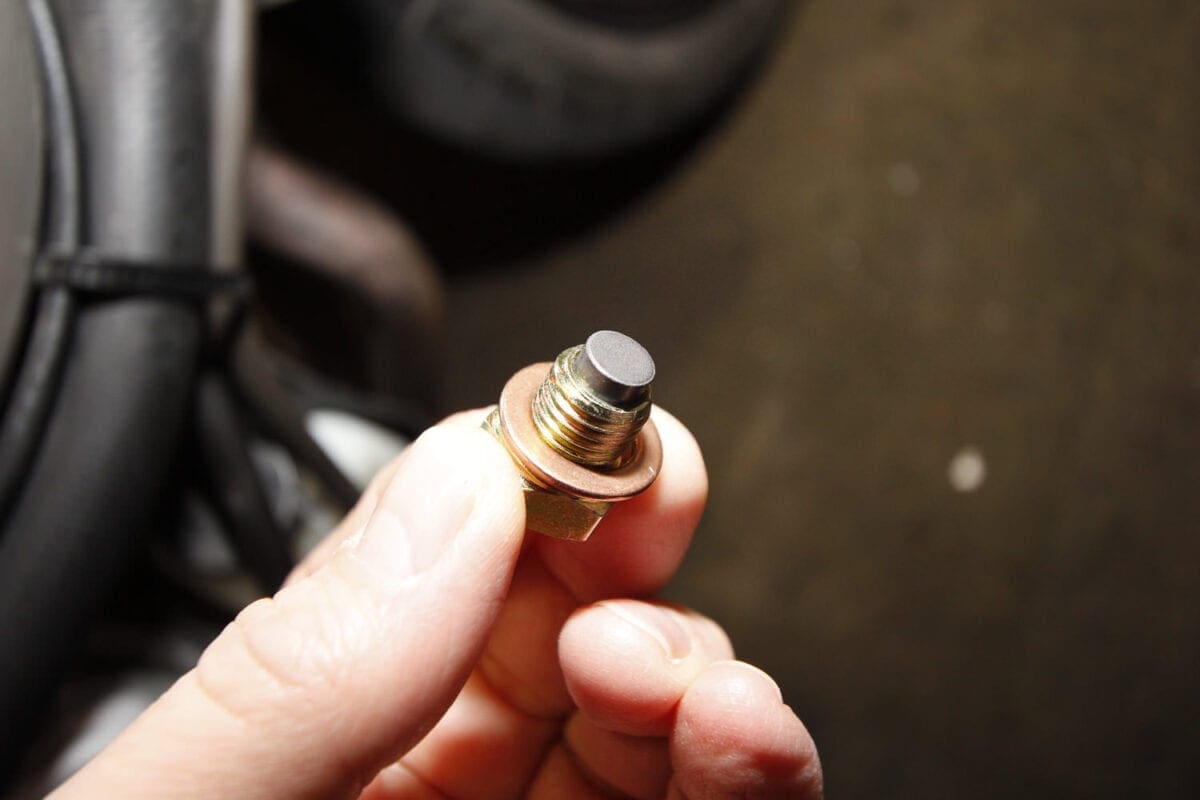 Have a cuppa, then when the oil's all drained out, make sure the old washer came off the bottom of the engine, and pop a new one on the drain bolt. You can reuse the original bolt, but I've taken the opportunity to fit this nifty magnetic one from www.wemoto.com. Costing just £5.36, it'll help catch any stray particles, and warn me of any problems next time I remove it.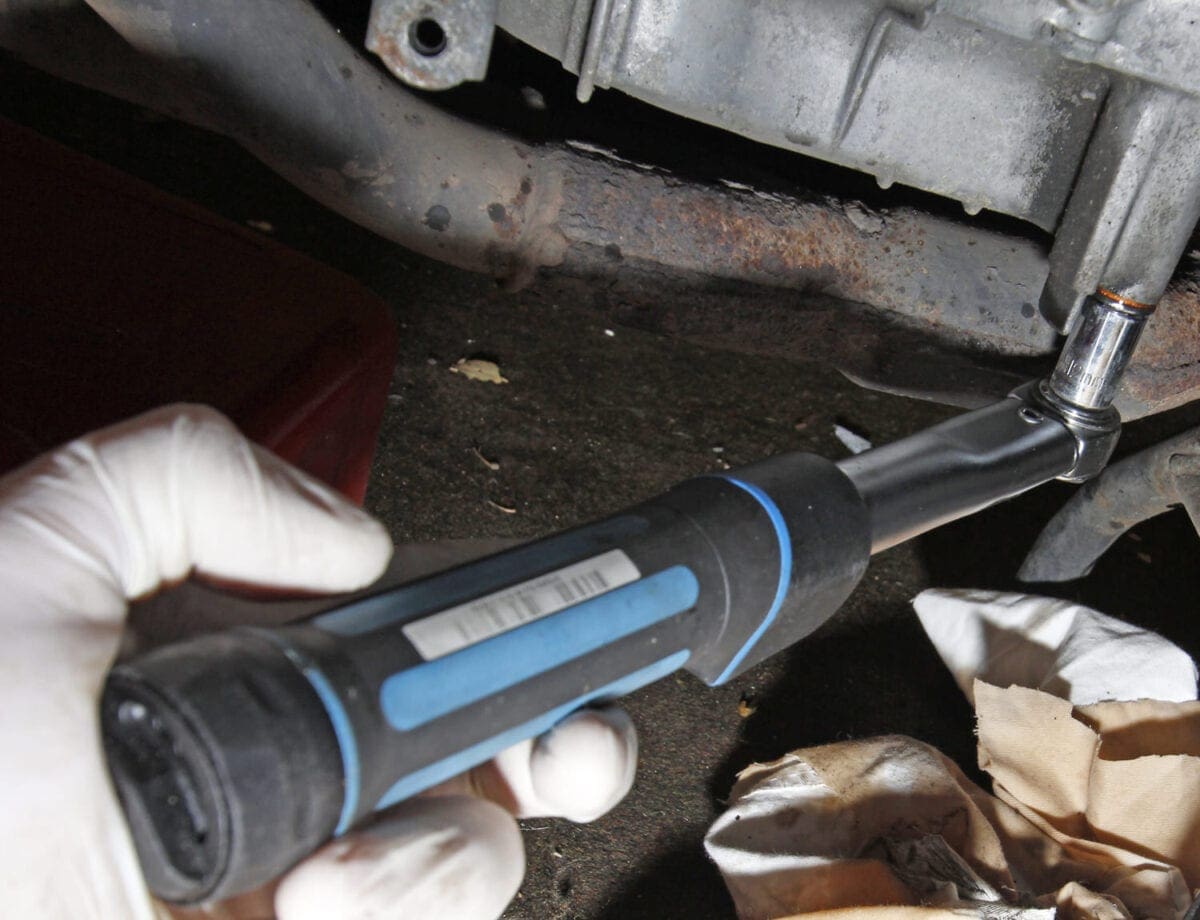 Check the torque setting in your workshop manual, then fit the bolt in place. If you don't have a torque wrench, ask Santa for one, then do it up tightly by hand using a spanner or socket set.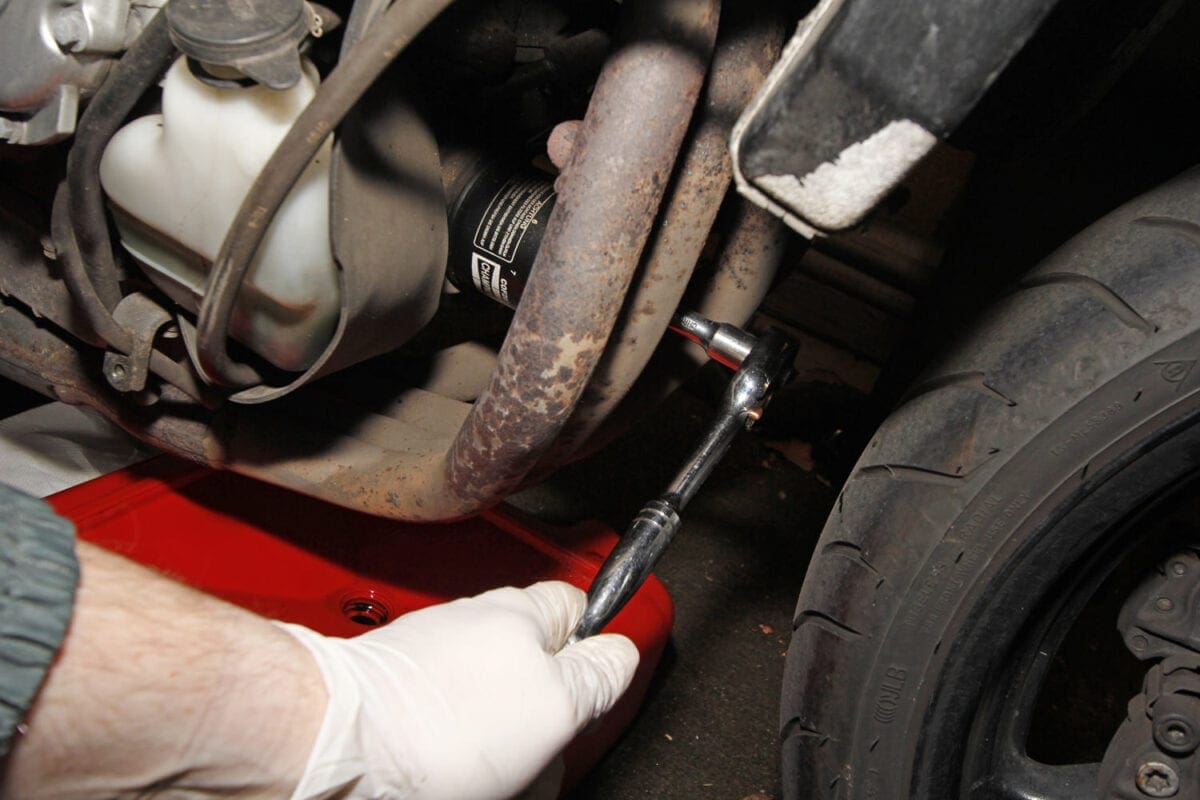 Now push your drip tray under the oil filter, clean the area, then using the filter removal tool, spin it off the engine. If you don't have the tool, you might be able to undo it by hand, otherwise use a strap or chain tool.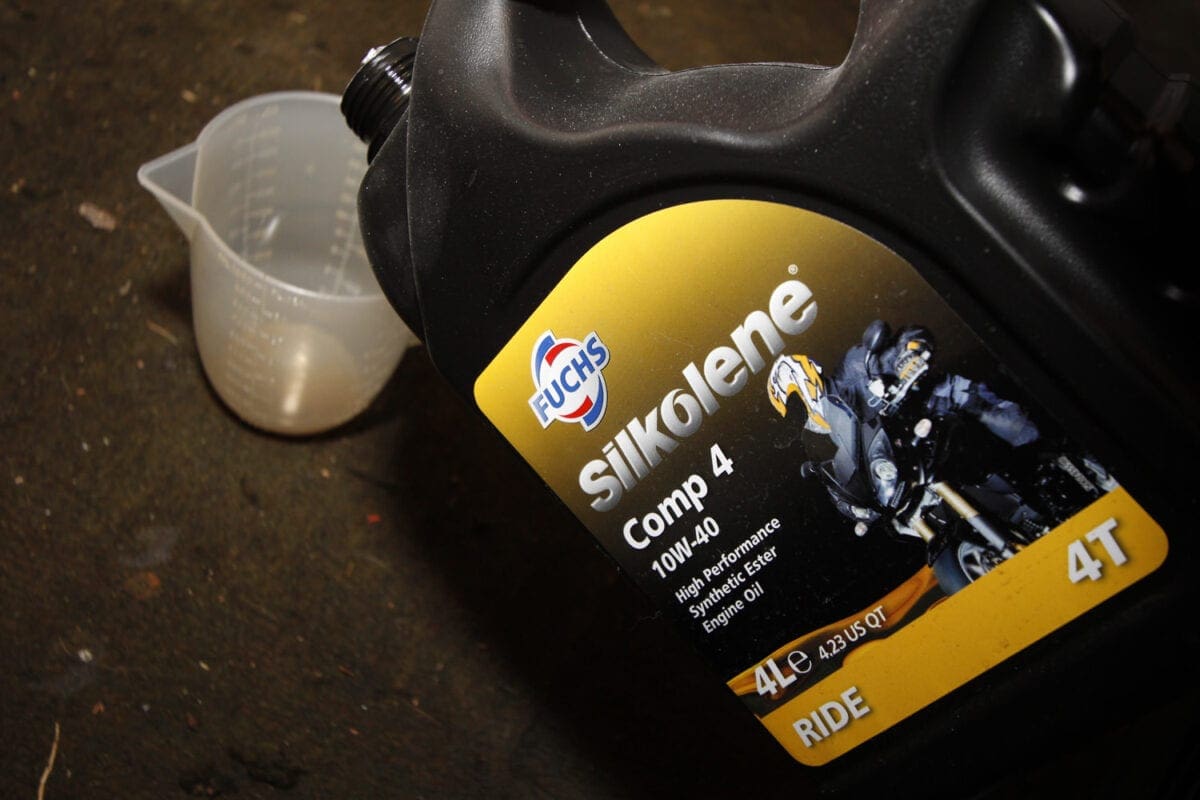 Check how much oil your bike needs, then pour some into a measuring jug.
Wipe a thin smear of fresh oil onto the rubber sealing ring, then approximately half-fill the oil filter with oil from the jug (this counts towards the total capacity). This isn't a step that's mentioned in the workshop manuals, but it can help prevent airlocks in the system.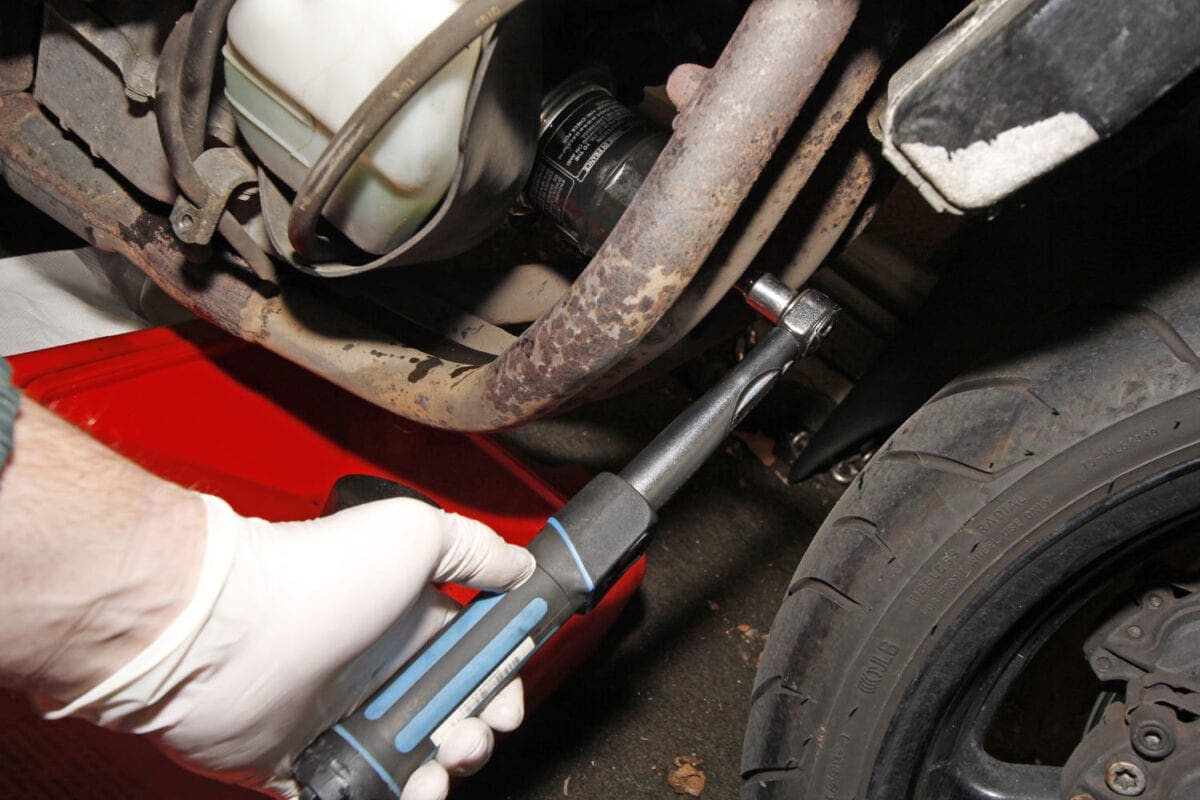 Wipe the engine where the filter seats, then spin it back on, using the torque wrench to tighten it up. If you don't have one, follow the instructions on the filter case, or do it up as tight as you can by hand (don't use a chain or strap tool, as you could damage it).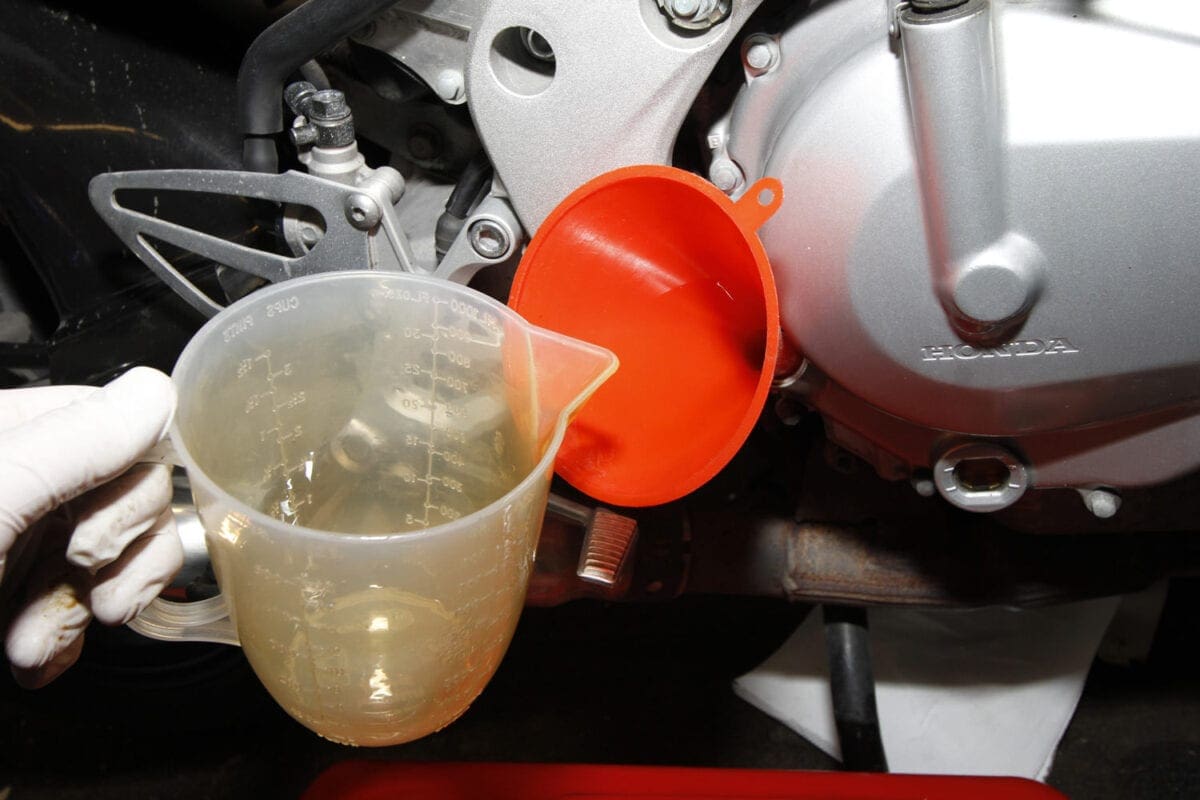 Now, using a funnel, carefully pour the specified amount of oil (minus what you put into the filter) into the engine.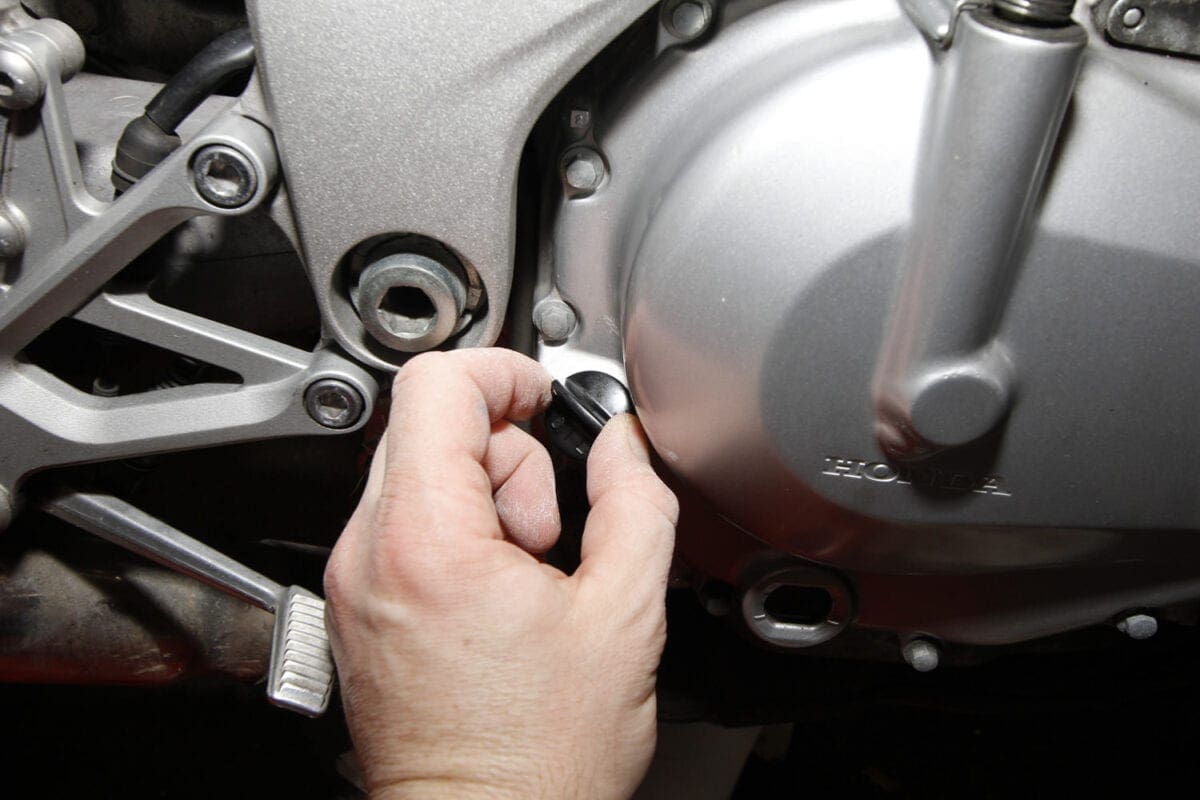 Refit the filler cap, then run the bike for a few minutes, keeping a close eye on both the pressure light, and the sight glass (if you have one). Shut the bike off, and top it up if the level's dropped slightly. Check for leaks around the drain bolt and filter, then that's it. Job done!
For a great range of parts and spares, check out www.wemoto.com, or call 01273 597072
---
Advert
---
Enjoy everything More Bikes by reading the MoreBikes monthly newspaper.
Click here
to subscribe, or
Read FREE Online
.
Sign-up to the More Bikes Newsletter
Enter your e-mail address below and get regular updates straight to your inbox… You can unsubscribe at any time.