Friday 13th is known for being unlucky for some, but not 31-year-old, Adam Corner. He collected a brand new, Kawasaki J125, with a year's free insurance provided by Kawasaki Insurance, after winning a competition run in conjunction with Twist & Go magazine.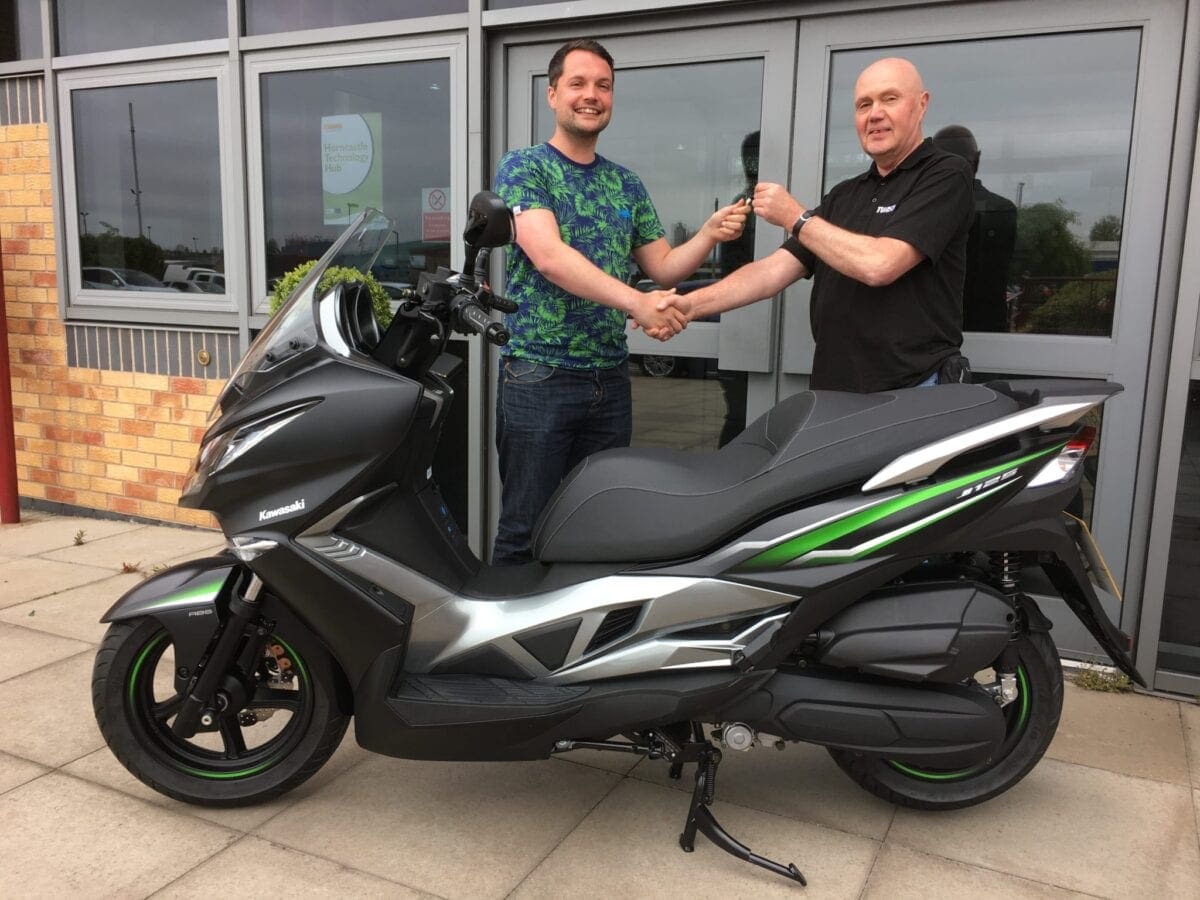 After winning the competition, Adam travelled to Lincolnshire – Twist & GO HQ – to be presented the keys by editor, Mau Spencer.
A grinning Adam said, "I saw the competition on the Twist & Go website and entered. I didn't think for a minute that I would win though. It was amazing when I got the email telling me that I was a winner. I didn't believe it at first – I've never had anything brand new like this before!
 "I have a ZX-6 and an ER-6f already so it will go in my garage nicely next to those. I'm going to give the ER-6 to my brother now that I have this.
 "I'm planning using it for my commute to work, at the moment I cycle, but with the under-seat storage and economical engine, this will be perfect – plus it looks so comfortable. I still can't believe it."
 The traffic beating J125 joined the Kawasaki line-up last year, alongside the other scooter in the stable, the J300. Featuring a 125cc liquid-cooled four-stroke engine, ABS braking, generous under-seat storage and Kawasaki styling, the J125 is A2 compliant.
Editor of Twist & Go, Mau Spencer, said, "It's fantastic that Adam will be using the scooter every day to commute to work – the more people that do that, the better. We love giving away bikes and scooters and it's always nice to hand over the keys in person so you can see how happy they are with their prize. A big thank you to Kawasaki Motors UK and Kawasaki Insurance for the prize."
For more information on the J125 and other Kawasaki models, visit: www.kawasaki.co.uk