A guide to keeping your motorcycle or scooter in tip-top condition, with the help of a cover.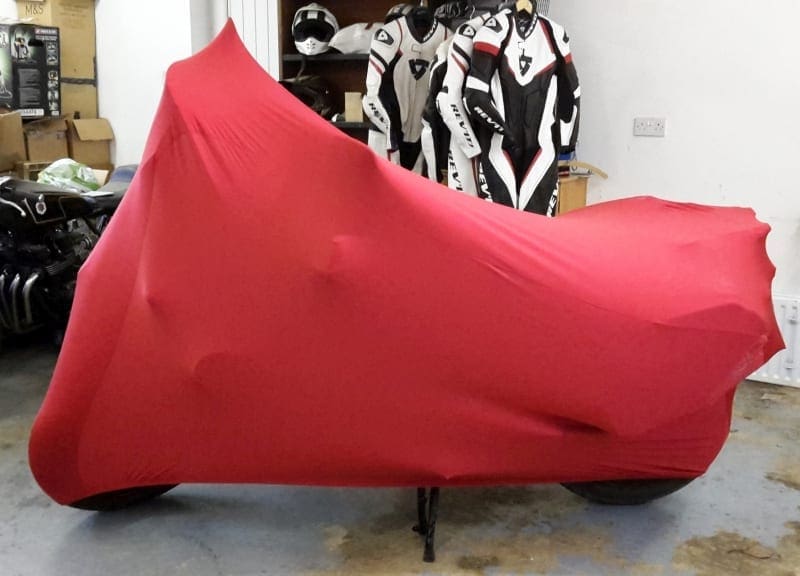 You might not have a garage, shed or living room in which to stash your motorcycle or scooter – but that doesn't mean your steed has to suffer. From simple rain protection to premium, custom-fit, breathable, lockable covers, there are an abundance of options available to keep your ride safe and secure. To help you find a motorcycle cover to suit your needs, here's a breakdown of everything you need to consider:
Weather protection
If you have no choice but to store your bike out there in the open all year round, you'll need a cover with all the weather protection features you can get. Moisture, sun, wind and dust are unkind to motorcycles, and having your pride and joy sat out in the elements unprotected is something you should try and avoid.
Water-resistant or waterproof?
If your motorcycle has to deal with rain regularly, get a cover that has a waterproof lining to keep out the worst of the water. Most covers are water-resistant, which mean they will protect your bike from moisture, while retaining some breathability and allowing condensation to evaporate, which should help prevent corrosion. Water resistance is good for most uses, but if you're shopping for a cover to keep your motorcycle dry in a torrential downpour, you may want to pick up a cover that is waterproof.
Sun/UV protection
Direct sunlight can rob paint of its colour and shine, and can create water spotting after a downpour too. In order to protect your bike from harmful UV rays, get a cover that has UV protection. Much like UV sunglasses that shield your eyes from the invisible but harmful UV rays, a motorcycle cover with ample UV protection will shield your motorcycle's paintwork and keep it looking like new.
Heat-resistant fabric
Typically, you'll need to let your bike cool down before you can cover it – but, many manufacturers are incorporating heat-resistant panels, so you can throw the cover on right after a ride. If you opt to forego this feature, just make sure you let your bike cool completely before putting your cover on, because the thin plastic material typically used in motorcycle covers can melt quickly.
Security
One often-overlooked benefit of a motorcycle cover is that it can hide your bike not only from sun and rain, but from unwanted eyes too – most thieves will be less likely to scope out your bike, if they can't see it in the first place. It's worth noting that if you want your bike to go unnoticed, you want your cover to go unnoticed as well. A top-of-the-range cover with your bikes logo plastered across it won't help.
Some covers also come with built in additional safety features, including space for a chain or lock so you can fix it to your bike, or even to the floor.
Indoor motorcycle covers
If you're lucky enough to have space in your garage or shed to store your bike, that doesn't necessarily mean you should forego the use of a motorcycle cover. Just because your ride is safe from harsh conditions and unwelcome attention, doesn't mean that it's fully protected from garage dust and unexpected workshop spills.
For indoor storage, a loose and light fabric that can breathe while keeping dust and dirt off of your paint job is perfect; most of these covers have soft, abrasion-resistant liners on the inside to keep your paint scratch-free when putting it on and off.
Motorcycle cover sizing
When you're shopping for a motorcycle cover, size does matter. You'll need to ensure its big enough to fit your bike and it's accessories, but you don't want one so big it will droop down onto the ground and picking up dirt, debris and water – and flapping in the wind. Ideally, you should look for a cover that features an elastic bottom edge to help keep it secure. Elastic hems can make for a nice, tight fit, but they can be a bit of a pain to get on and off – so the other option is to pick up a cover with a zip.
Transporting your cover
Of course, the more protection that your cover comes with, the heavier it will be. If you're keeping your bike somewhere different every night, it could be worth considering a half-cover – these covers don't cover your entire motorcycle, just the most important parts, and since they have less material, they're a lot easier to pack with you on the go.
---
Advert
---
Enjoy everything More Bikes by reading the MoreBikes monthly newspaper.
Click here
to subscribe, or
Read FREE Online
.
Sign-up to the More Bikes Newsletter
Enter your e-mail address below and get regular updates straight to your inbox… You can unsubscribe at any time.