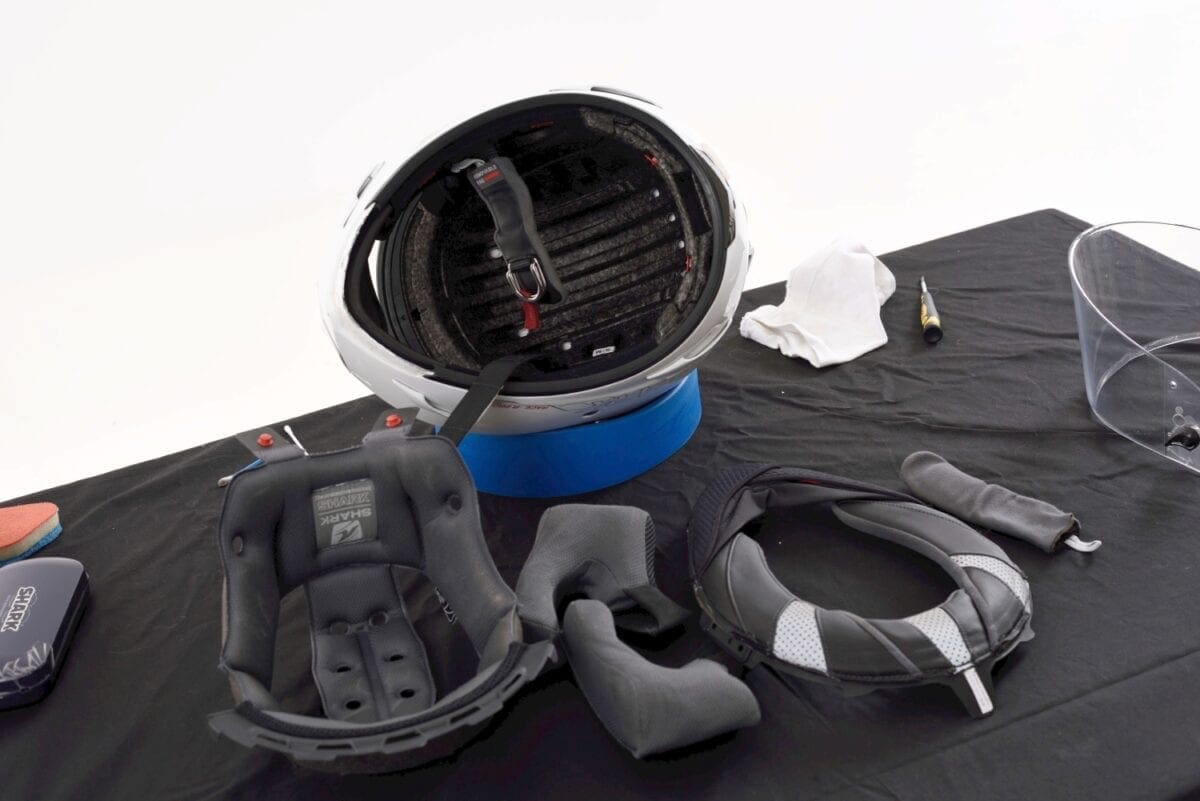 Find out how to look after your motorcycle helmet with these top tips from a pro…
Your helmet has a very important job – it's there to protect your noggin should you unintentionally part company with your bike or scooter; and it protects you from the elements so you can concentrate on enjoying the ride. We hope that you never need to test out the protective qualities of your lid, but if you do need to – we want to make sure it works as it should. Which is why it's important to make sure it's performing at its best…
As you may know, there's a general 'rule of thumb' when it comes to the time to get a new helmet – it's suggested that you should replace them at a maximum of five years. This is down to a number of factors including normal wear and tear, hair oils, sweat (which can affect the lining) and exposure to chemicals such as fuels (which can degrade its performance) – plus, helmet safety development (advances in materials, designs and standards) is always improving.
There are no laws to when you need to buy a new helmet and these are just guidelines – after all, the 'life cycle' of a helmet will depend on the amount you wear it, the kind of riding you do and in what conditions. Plus, if you drop your helmet or damage it, then it will need replacing straight away. However, by looking after your lid you will prolong its life and ensure it stays on tip top form.
Introducing our expert…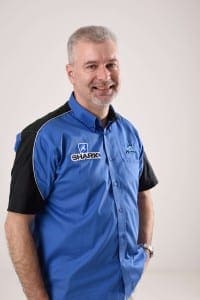 Mark Eilledge has been working with motorcycle helmets for nearly 20 years. He's worked with Nolan, X-Lite, Arai and is currently the Racing and Technical Manager for SHARK. As well as spending his days visiting motorcycle dealers throughout the country to provide staff training, he also attends every round of the British Superbikes to look after sponsored and supported riders as well as the World Superbikes and MotoGP when they come to the UK – he's a seriously busy guy!
Looking after your lid
1. CLEAN IT
"It's really important to clean your helmet first so that you can see everything clearly. You'll find that if you give it a wipe over after every ride then you'll find it easier to keep on top of it. Take the opportunity to check that your visor mechanism is working and all your buttons for vents are functioning. If it's a flip front, does it still flip up easily? Take the visor off at this point and clean that too.
"We'd recommend using hand soap and water or an approved helmet cleaner and soft cloth – there are special products out there such as "Shift it Grimebuster", which may look like a scourer but it's not, it's designed for plastics and paintwork and doesn't scratch – never use a household scourer on your helmet!"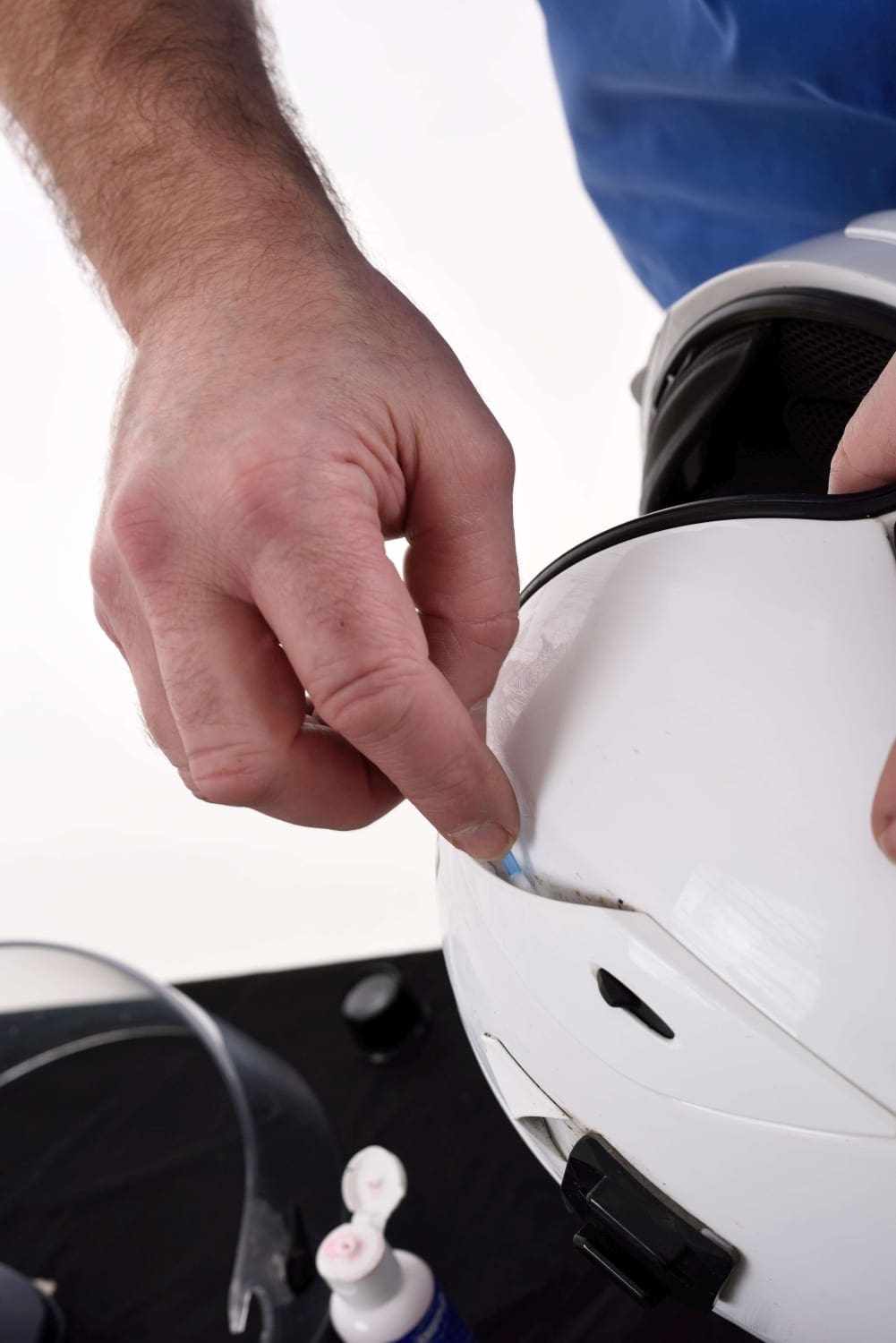 "You can really get into cleaning your lid – use cotton buds to get into the vents and clear them out. Often little bugs can get inside and work their way through the vent and into the lining of the helmet and rot there – lovely thought isn't it?! If they don't get through then they just sit in the vent and block the air circulation meaning that the ventilation system isn't working as it should."
"I use a small screwdriver wrapped in a cloth which I run round the front section to get into the little gaps and around the visor fitting mechanism."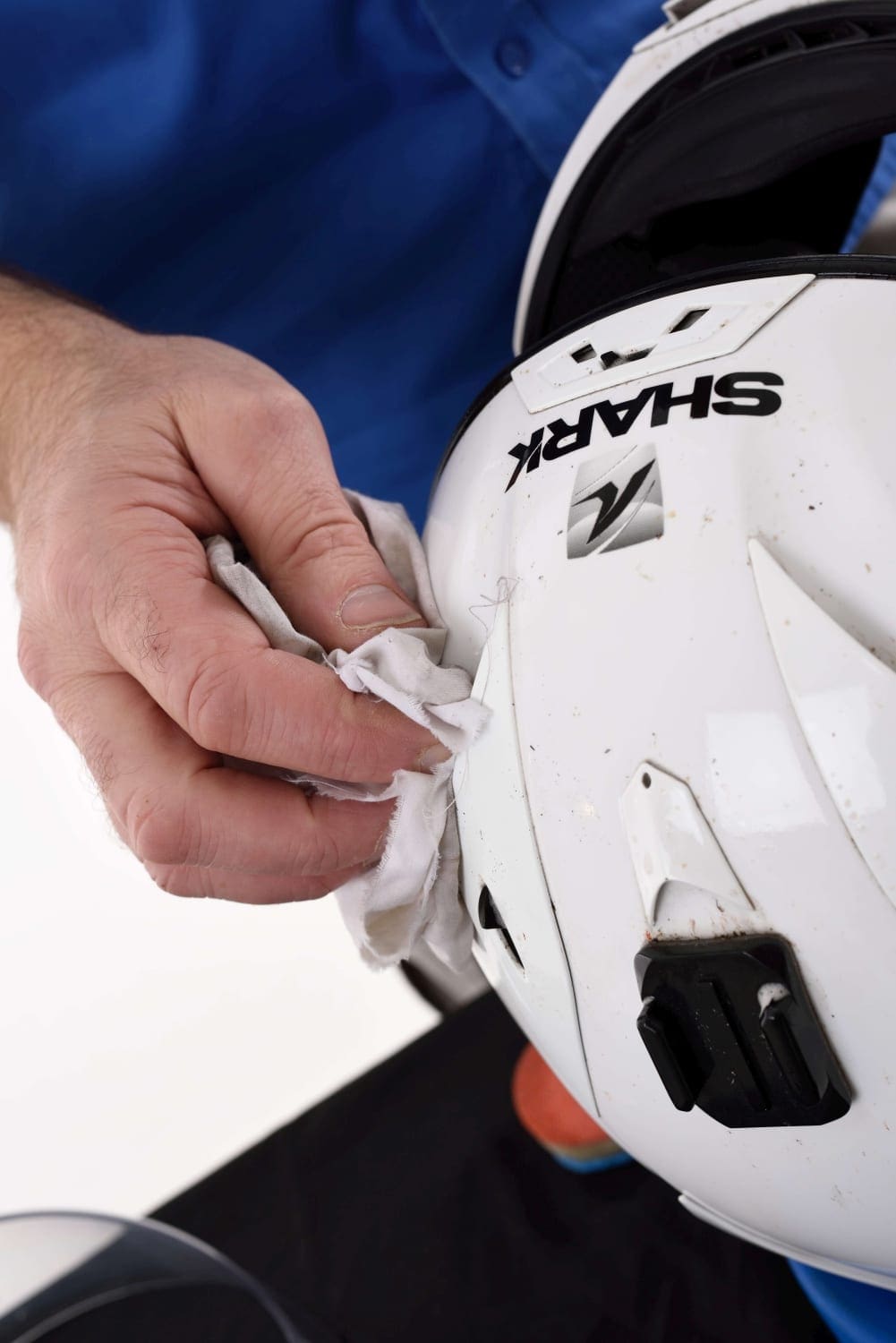 2. CHECK THE OUTSIDE
"Now that it's clean you can check the outside shell for any damage or scratches. Sometimes, damage to the outside can show if it's had a knock and could indicate that there is damage to the inside lining – however, bear in mind sometimes there are no marks or scuffs on the outside. If you throw your helmet into the corner of the garage or leave it on a shelf in the utility room, it may get knocked without you knowing – so prevent this by keeping it in a safe place."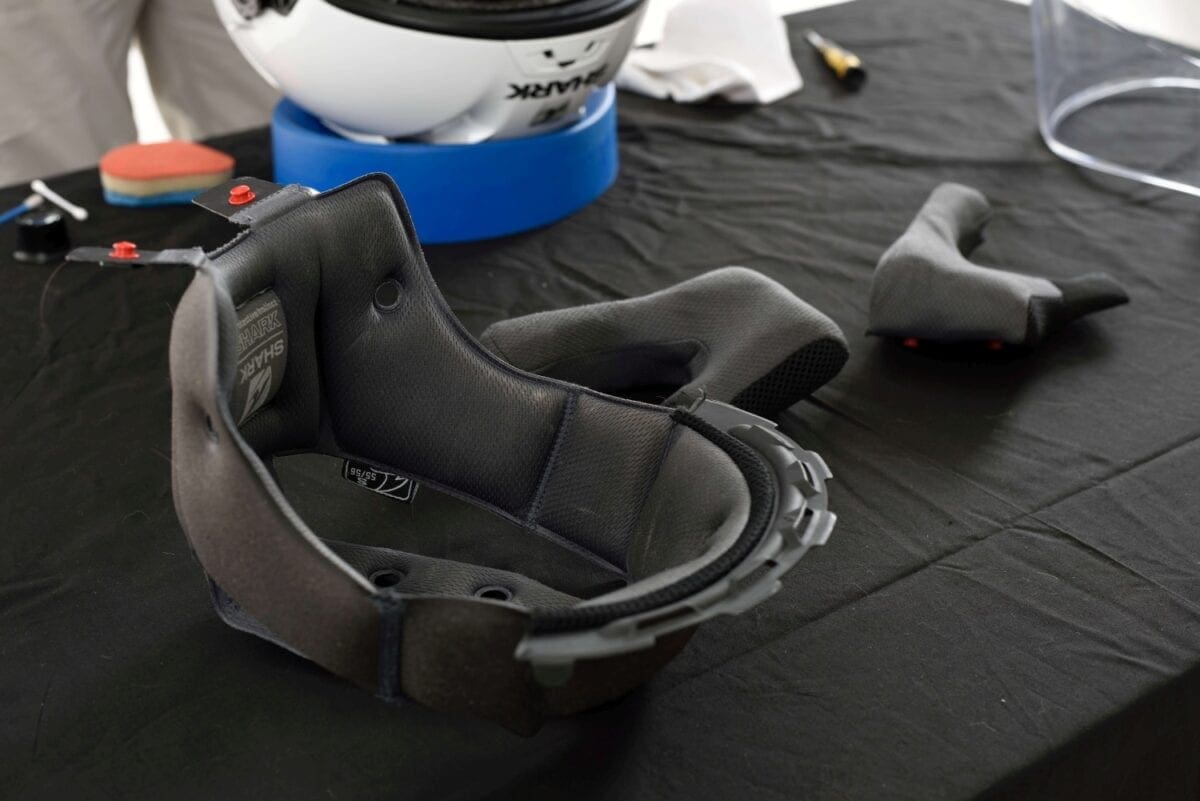 3. REMOVE YOUR LINERS
"If your helmet has removable liners then take them out. Essentially, a helmet wears from the inside out- put it this way, imagine using the same pillow case for three years – the helmet starts to deteriorate because of the acids and the sweat from your head. By taking out the liners and washing them you're getting rid of the bacteria and making them last longer by cleaning them – not to mention making the helmet fresher and cleaner – which is much more appealing to put your head in!
"Depending on how old or dirty your helmet liners are, you can get new ones – but on a number of helmets you can wash them to freshen them up. You can either stick the liners in a small washing net and put them in the washer on a delicate wash, or you can wash them by hand with a mild soap (baby shampoo). Work in the soap into the foam and be sure to rinse it properly. It's all about the rinsing – getting all that dirt and bacteria out of the sponge. Don't rinse it properly and you could end up with a helmet that smells like stale milk…"
4. INSPECT THE INSIDE
"Now that the liners have been removed, you'll be able to see the polystyrene on the inside of the helmet so you can check it for damage or discolouration that could indicate a weakness in protection. Give the inside of the shell a wipe round with a baby wipe to clean it out – and remember those little flies that have worked their way in through the vents? You'll be able to see if there are any and get rid of them now."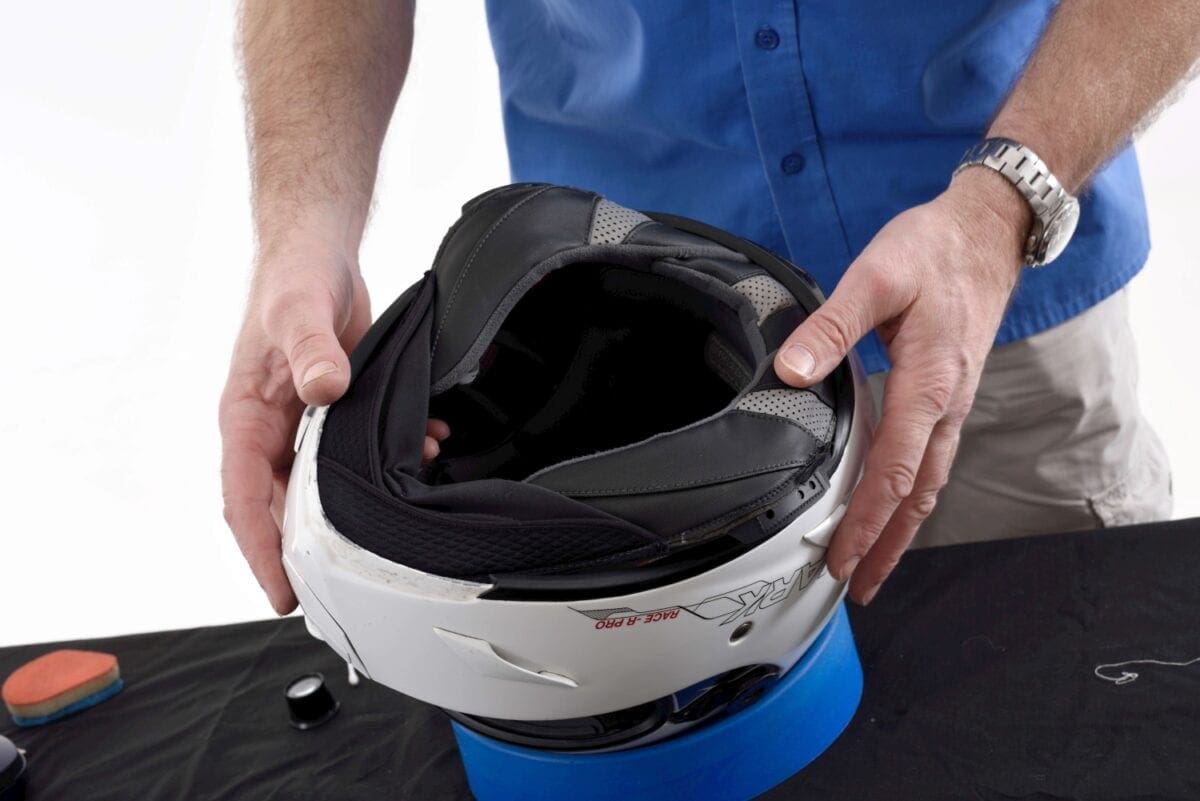 5. PUT YOUR LINERS BACK IN
"Once your liners are dry then you can put them back in and start to reassemble your lid. We have video links on the SHARK website for all of our helmets as sometimes people can find getting the liners back in a challenge – but it's all down to practice and knowing the technique."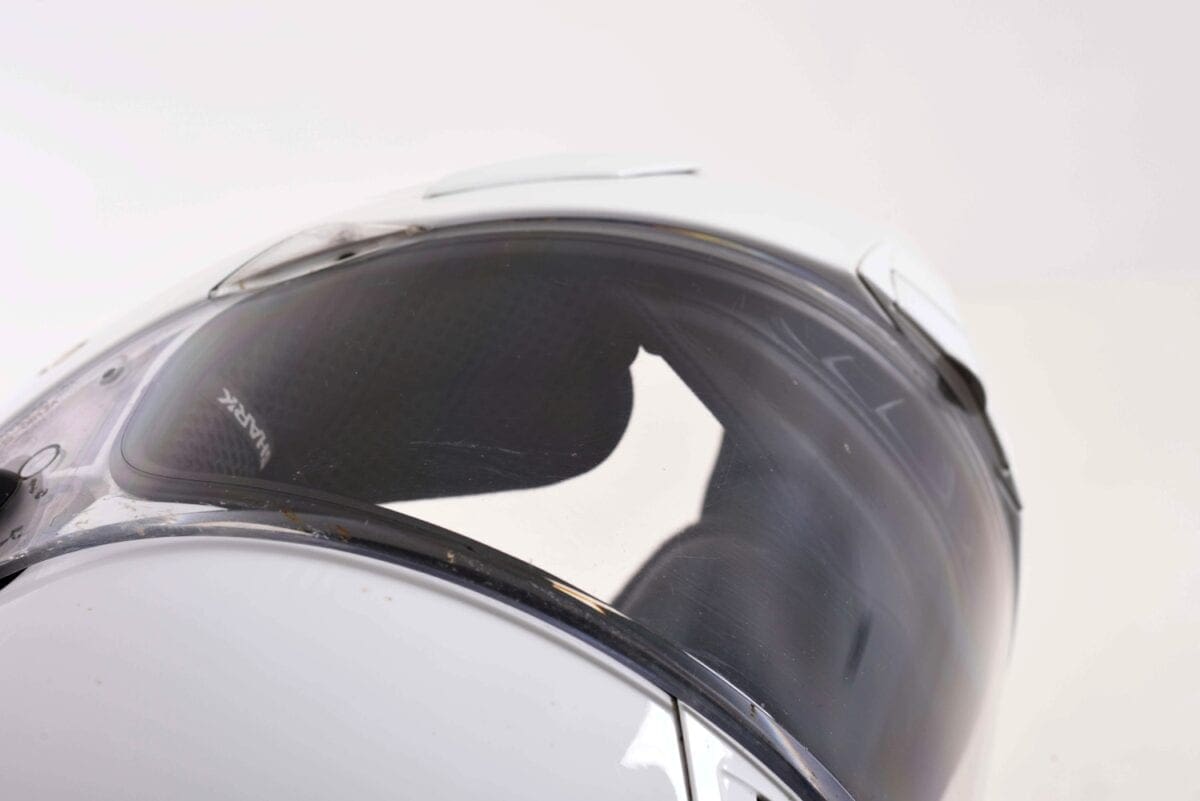 6. TAKE A LOOK AT YOUR VISOR
"Now's the time to inspect your visor for scratches and stone chips that could affect your vision. By regulation, visors must have a certain percentage of scratch resistance, but this doesn't protect them completely and scratches can't be polished out from the plastic like they can on something like a car door. Scratches are distracting for riders as they can spread the light – especially at night or in bad weather – which can obscure your view.
If the visor is fine then pop it back on – if not, you might want to order a replacement one. Also, if you have a Pinlock fitted or need to put an anti-fog treatment on it, then do it before putting it back on. Anti-fog visors or inserts must be clean to work effectively."
---
Advert
---
Enjoy everything More Bikes by reading the MoreBikes monthly newspaper.
Click here
to subscribe, or
Read FREE Online
.
Sign-up to the More Bikes Newsletter
Enter your e-mail address below and get regular updates straight to your inbox… You can unsubscribe at any time.