The Herald Café 125 is the first taste of a modern retro Café racer I've had – and I thoroughly enjoyed the experience.
Riding over the Lincolnshire Wolds and around some of the back roads, which suit a 125s lack of power, was great fun. As an added bonus I have got more comments pulling away on the Herald than any other bike. Non-biker friends thought it looked good; my daughter said it was cool and a biker at Tesco's said with affirmation: "That's a nice bike that – wow!" It's also fun to ride and my first experience with this brand for the 300-or-so miles I've done has been a positive one.
A look round the bike first – let's check out some of its features. The five-gear 125 engine is claimed to put out 9hp and in my opinion it's not enough; you need six gears on a 125 and the full 15hp to be able to keep up with traffic on modern A roads without it feeling under-powered or getting completely swamped. A trip on the A1 coming back from Stamford in the wet and wind was a prime example of this. I couldn't get over 65mph on the speedo on the hilly sections and was really ringing the hell out of the throttle – please Herald, at least use the 15hp limit; your bike would be instantly better in the usability stakes.
Maximising the positives
But let's focus on the engines positive's; the gears are well spaced up to fourth and then there's a big jump to fifth gear (hence my preference for a six-gear option to keep the revs up and maximise the smaller capacity engines' usefulness). Now talking of keeping the revs up boys and girls, it is a lot of fun on the Café; you just nail it everywhere. A trip down some barely single track roads to East Kirkby Airfield was idyllic. Lovely scenery, sunshine and huge grins; the power was never an issue – in fact it was extremely fun having to work the engine to keep it on the boil. More power and one more gear would see small capacity Café racer perfection.
Brakes, tyres and suspension: the front brake is strong enough and the rear links with the front, I like it; controlled and pretty sharp stopping when required, although clearly not as safe as ABS systems which might put-off some potential parent purchasers. The suspension is OK; the bike has quite an old-fashioned feeling, long and low, but steering input is minimal and the RaceTek branded shocks are adjustable with dials, which I set to soft and this made the rear feel better and the front less jittery over bumpy roads. I like the fact you can dial-in the suspension setting with the easy-to-use dials which adds to the Café's potential to be tailored to lots of different people's riding styles. The tyres work in the dry and are adequate in the wet, slipping once over a metal grid more than big brand tyres have slipped on the same bit of road in the past; perhaps a set of branded tyres would make a far safer and more enjoyable ride.
The styling is spot-on; I enjoyed evenings spent looking at the bike, it's easy to wash too and has been coming up a treat even after getting very dirty on the wet ride back from Stamford. Finish has been good over the last two months too and it would be nice to see how it would have held out through winter, not least because I would enjoying it being with me for a few more months, instead of it being returned. The long petrol tank with its aluminium strap and lovely chrome filler cap, brown faux leather seat, black spoked wheels and stylish side panels are spot-on; the paint is very deep-looking and the metallic silver is extremely shiny with the subtle Herald logo a nice touch. I'm impressed with the finish, hence the reason for wanting to hang on to it and put it more to the test. The black air-cooled fuel injected engine is smart, as are the basic upside down black forks; both are great lookers with lots of smart chrome bolts throughout and the frame is neat. The various wires and cables upon closer inspection would look better hidden, but I don't think that's practical on a mid-range priced 125. The exhaust tops-off the Café; it sounds throaty, both on tickover and at low speed; it's good for the look in town and being stainless it should stand the test of time. Then there's the LED lights all around, including the striking front headlight, mini indicators and round rear light – oh, and the matt black front and rear mudguards.
Easy rider
Riding the Herald Café is easy; the seating position is good and 60 miles felt comfortable. The controls operate smoothly and the only slight issue I had is that you have to lift up the side stand before you start the bike (although I do realise this is done for safety reasons).
The headlight is strong and other road users notice you day or night – a superb feature. Popping back to the styling, I like the aluminium brackets which hold it on too. And the looks really are that good you keep coming back and being pleased with them.
This package from Herald has hit the Café Racer trend bang on the head and lives up to their website quote. This is one uber-cool Café Racer, of the moment with all the practicality of a four-stroke 125 and I didn't see a petrol warning light since I filled-up and was now 80 miles down the line; so it has a big range and appears to be doing around 120 mpg – not to be sneezed when trying to keep running and commuting costs low.
I keep on finding more bits I like and could get animated about, as this bike is far cooler than a basic roadster and almost as practical. Before it goes back, I'm going out on it right now to do a few more miles – I'm impressed and really gelled.
Words: Andy
Images: Gary
SPECIFICATION
ENGINE: 124cc single cylinder, four-stroke
POWER: 9.9bhp @ 9000rpm
MANUFACTURER'S TOP SPEED: 55.9mph
WEIGHT: 126kg
FUEL TANK CAPACITY: 12 litres
PRICE: £2449 (plus OTR)
CONTACT: www.heraldmotorcompany.com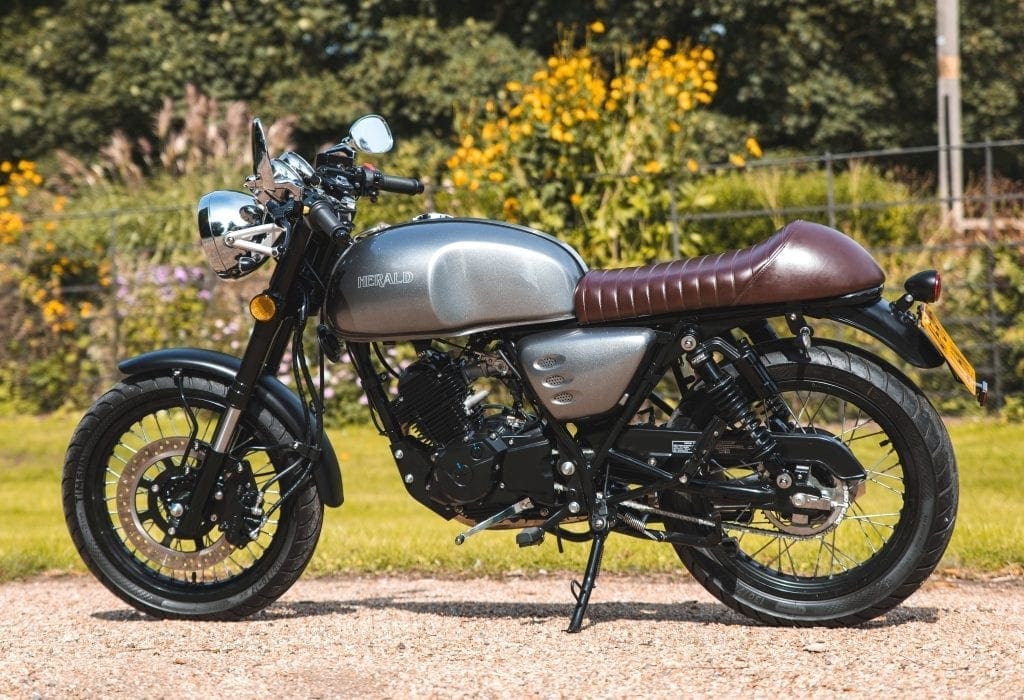 ---
Advert
---
Enjoy everything More Bikes by reading the MoreBikes monthly newspaper.
Click here
to subscribe, or
Read FREE Online
.
Sign-up to the More Bikes Newsletter
Enter your e-mail address below and get regular updates straight to your inbox… You can unsubscribe at any time.