This SWM SM 125 R looks bang on; it's sharp, definitely down with the kids and gathers a hell of a lot of attention wherever you go. More than I have ever experienced before, on anything I've ever ridden.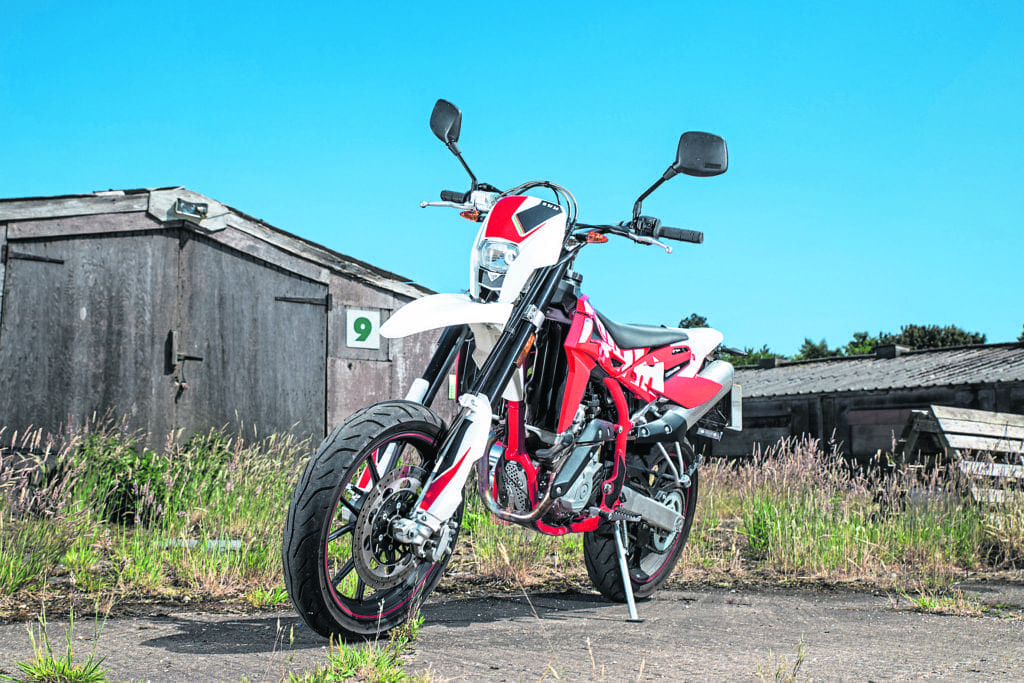 When Ross handed me the keys I tried to think like a 17-year-old and do some 17-year-old things: ride around town a lot; to my friends' houses; go out and ride for no particular reason; go to Skeggy; and then try and do a ride as a 30-plus to see how it worked as a commuter or alternative motorcycle for an older new biker.
To keep up to date on everything On 2 Wheels, like our Facebook page or follow us on Twitter here.
I've ridden a good few 125s recently, including the AJP PR3 125, the Yamaha XT 125 R and the Yamaha YZF 125R, so I've used these as my reference points.
Too hot to trot
My first ride on the SWM SM 125 R was on a scorching June afternoon; initial impressions as I pulled away were that this is very much a 125 where you use the gears a lot! First gear gets you going just above walking pace, and third and fourth give quite pleasant acceleration along tight, twisty country roads. The visibility is fab sitting up high above hedgerows and the non-blurry mirrors are a huge safety asset, especially on a machine designed for new riders. Controls are light and easy and the dipped beam headlight is always on; although the levers lacked adjustability, they worked for me at just under 6ft and the seating position itself gives lots of potential to move around the bike, or to stand up and ride down your street, or a local dirt road like you're an off-road hero, or stick your leg out in keeping with the Supermoto look, while the bars provide a lot of leverage.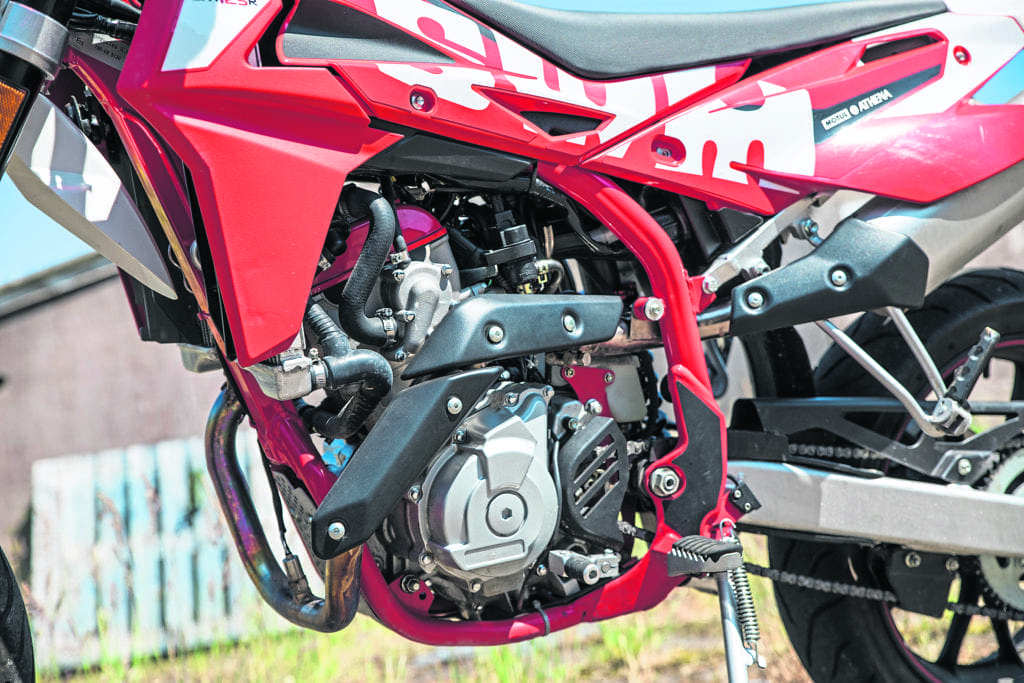 This first outing finished in town and having adjusted to the way the SWM felt and went by that point I was starting to enjoy the exhaust note which sounds superb, particularly in built-up areas both on and off the bike. The handling, grip, superbly progressive front brake and linked rear brake are all excellent, and the tyres seemed to grip well on the hot Tarmac too.
To keep up to date on everything On 2 Wheels, like our Facebook page or follow us on Twitter here.
The seat is pretty high and very firm; an hour is fun – anything beyond is painful. The fuel injection is jerky when small throttle openings are required around really tight bends where I felt this Supermoto-styled machine should excel. SWM needs to refine the fuel injection mapping supplied with this model to make the bike more user-friendly – the usability and accessibility gained for road riders and new riders in particular, would be huge if this adjustment was made. I found it frustrating because the bike looks so good and more than that, the fuel injection could be remedied without changing the bike's character.
My favourite ride on one summery evening was through the Bardney Bends, near the Lincolnshire town of Wragby, then on to the picturesque Wickenby Aerodrome. The motorcycle performed well along some quite challenging roads. I rode around my earlier fuel injection woes by opening the throttle harder and thoroughly enjoyed the trip, taking the main road back to establish top speed performance as surely any 17-year-old would. Despite pretty low gearing, I got up to 67mph and held 60mph or above along the A-road, despite several long inclines. I finished the ride with another fun blatt through my local town.
By the time I had to give the SWM SM 125R back I didn't want to; the constant gear changing had become fun and it took me back to being a youth, obsessively changing gear to keep momentum. The visibility is epic and the morning before handover was spent on several short sorties into town and to the local garage running errands, enjoying the accolades from various approving gents, none of whom guessed it was a 125 – surely a good thing. The bike's looks were approved wherever I went.
Pros and cons
In summary the SWM SM 125 R is fun and it's a looker with its Supermoto style and the red and white colour scheme not to mention its spoked alloy wheels, red engine rocker cover, water cooling, and upside down forks. It handles like a dream, has superb brakes, grippy Kenda tyres, a commanding riding position, a strong engine for a 125, and safe mirrors – all massive plus points. The dash display lacks a fuel gauge (although there is a fuel light) and a gear indicator which would allow you to make better use of those six gears.
The seat is rock hard, but if you're planning on commuting or riding short distances, this won't be an issue (the short tank range means you have to get off after a couple of hours to refill anyway); if you're planning regular long trips, this should be more of a consideration and a teen holiday should be possible.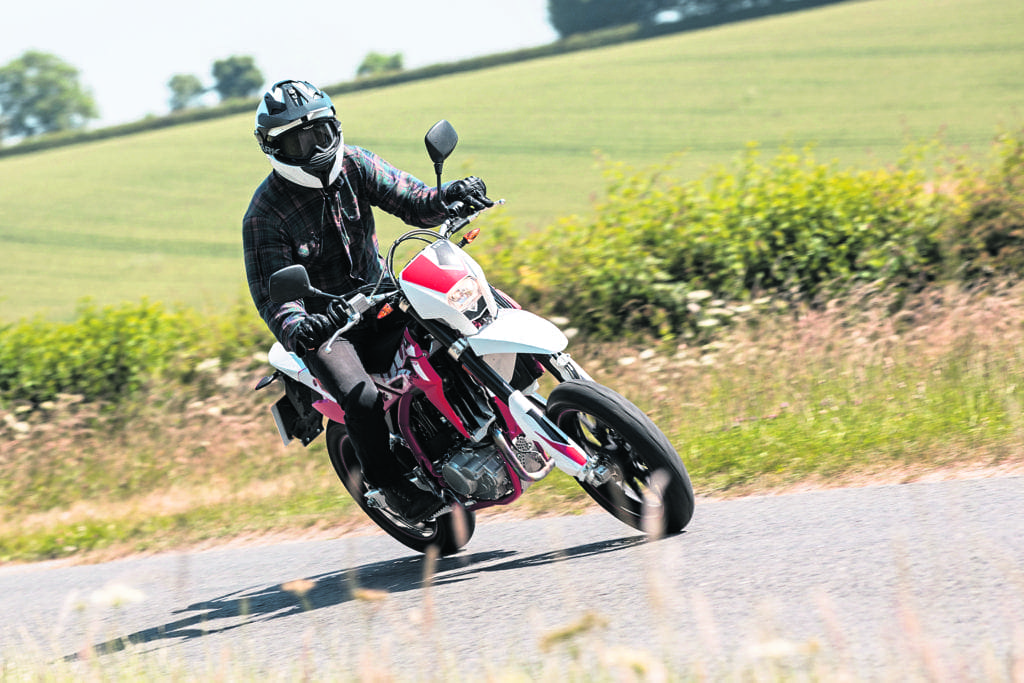 All that said, the cool factor alone at sweet 17 would outweigh any discomfort. My gripes for rider usability would be the fuel injection mapping which could be improved at small throttle openings and the over-hard standard front suspension which can be adjusted to suit (as is the rear shock absorber) and with more time I would have done this.
To keep up to date on everything On 2 Wheels, like our Facebook page or follow us on Twitter here.
Looking at other comparable 125s, the price seems competitive for something with this much kit. If you're in the market for a small capacity Supermoto, then the SWM SM 125 R is definitely a bike to try and you'll probably grow to like it a lot.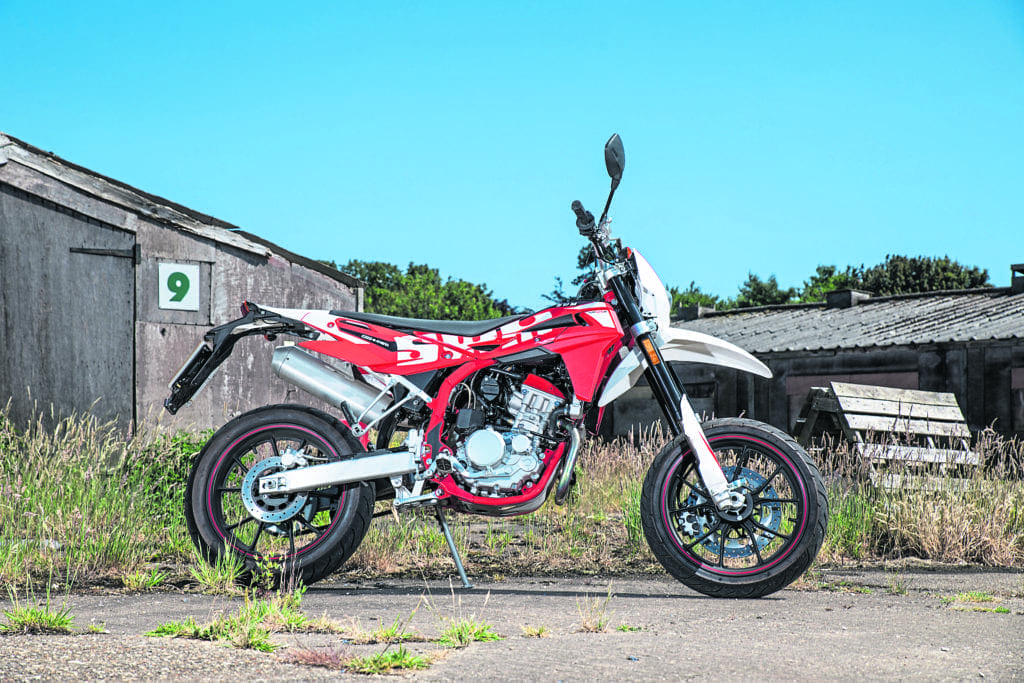 It might not be as immediately accessible as some softer alternatives, but it will probably hold your attention longer. My advice would be to try the SWM RS 125 R version too, as this gives even greater options like the spoked trail wheels to help you explore off-road trails too. It's hard to comment on the finish after a few afternoons, but it oozes quality touches and nice materials on the important bits such as the frame, engine, brakes and suspension.
To keep up to date on everything On 2 Wheels, like our Facebook page or follow us on Twitter here.
---
Advert
---
Enjoy everything More Bikes by reading the MoreBikes monthly newspaper.
Click here
to subscribe, or
Read FREE Online
.
Sign-up to the More Bikes Newsletter
Enter your e-mail address below and get regular updates straight to your inbox… You can unsubscribe at any time.