Is the 150cc Django worth £100 more than the 125? Read on…
150cc bikes are a rarity on UK roads, for the reason that you need to pass the full motorcycle test and gain an A2 licence before being allowed to ride one. Why go through all that rigmarole and expense when you'll end up riding something barely any faster than the 125 you could ride on a CBT?
Things are different in China, India and parts of Africa, where a 150 is the biggest bike many people can ride, so as a result, countless thousands are buzzing around there and for some Indian and Chinese manufacturers, a 150 is the biggest-engined two-wheeler they make. But across Europe, 125 is the limit, hence the dearth of 150s here.
Peugeot still thinks there's a market here worth servicing, citing older A licence holders who might want to downsize, but aren't obliged to stick with a 125; or commuters whose journey involves some faster main roads on which a 125 might be out of its depth – for this lot, a 250cc scooter means more fuel, higher insurance, higher purchase price, and maybe more performance than they really need. For them, says Peugeot, a 150 makes sense. And the company does have form, offering us Brits 150cc versions of the old Elyseo and Elystar scooters.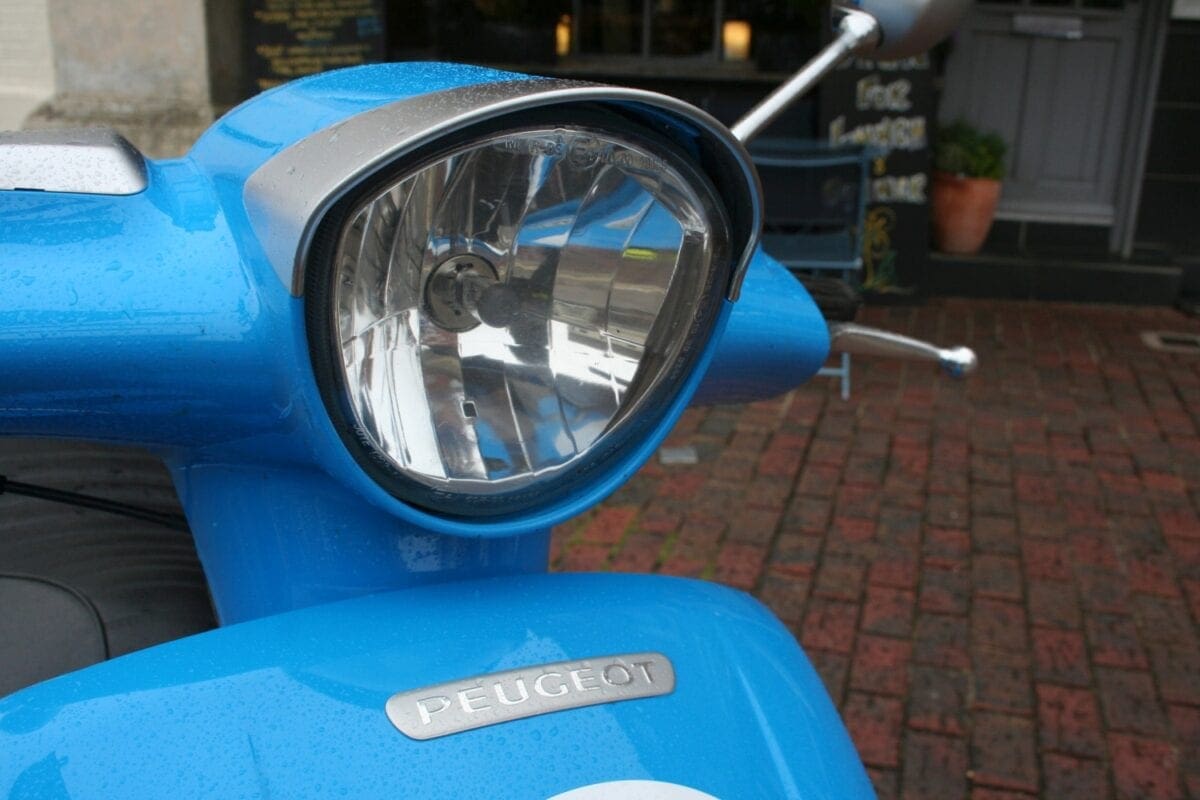 ENGINE, CHASSIS
With the Elystar long gone, Peugeot is returning to the 150 market with its long-awaited retro scooter, the Django, which we tested in 125 form just a few months ago. As a 150, it's pretty well identical to the 125, and the only change (apart from a very subtle chrome badge inside the apron) is the slightly larger engine. At 150.6cc, it's not a lot bigger than the original 125 and with 9.6bhp available it offers 9% more power.
Everything else is the same as the 125, and the engine is a fairly low-tech unit, air-cooled with two valves and fed by a carburettor rather than injection. It's made in China, a joint venture with SYM, and the whole scooter is assembled in Peugeot's own factory in the land of the dragon. That makes it less authentically European, but several hundred quid cheaper than a Vespa.
Wherever it's made, the Django appears pretty well screwed together. It's a simple machine all-round, except for SBC (Syncro Braking Control) linked brakes which deliver 80/20 front/rear stopping power from the single discs at each end. No ABS, but all operated by the left-hand lever, and just the thing for commuters who don't want to juggle brake balance on greasy roads.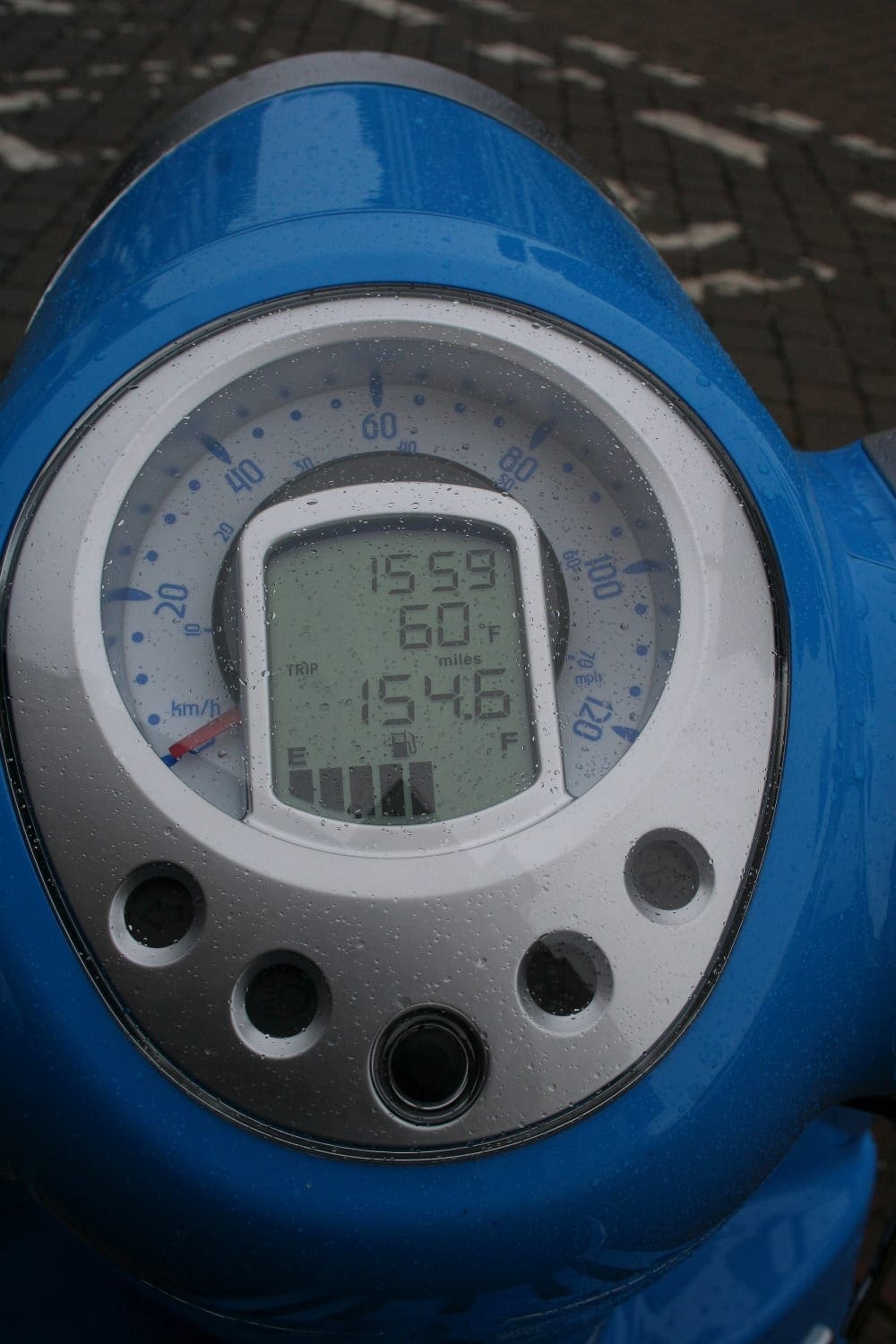 STYLING
The Django is more about style than what goes on under plastic bodywork. The shape is inspired by Peugeot's own late 1950s S57 scooter, and they've done a superb job. Even more so on the Sport, the long and low stance recalling German touring scooters of the same era. It's an elegant shape, and clearly not yet another Vespa clone, with LED lights, careful use of trim and colour schemes all helping to create a '50s ambience. If Cliff Richard hadn't used a Routemaster bus for 'Summer Holiday', I reckon he and Una Stubbs would have cruised down to the south of France on something like this. Well, possibly.
The Django 150 is available in the same four trim levels as the 125: Heritage (entry level, single colour); Evasion (two-tone paint, chrome, whitewalls); Sport (solo seat and racing numbers); and Allure (two-tone, colour matched screen and topbox). All are mechanically identical except for the Heritage, which doesn't have SBC braking.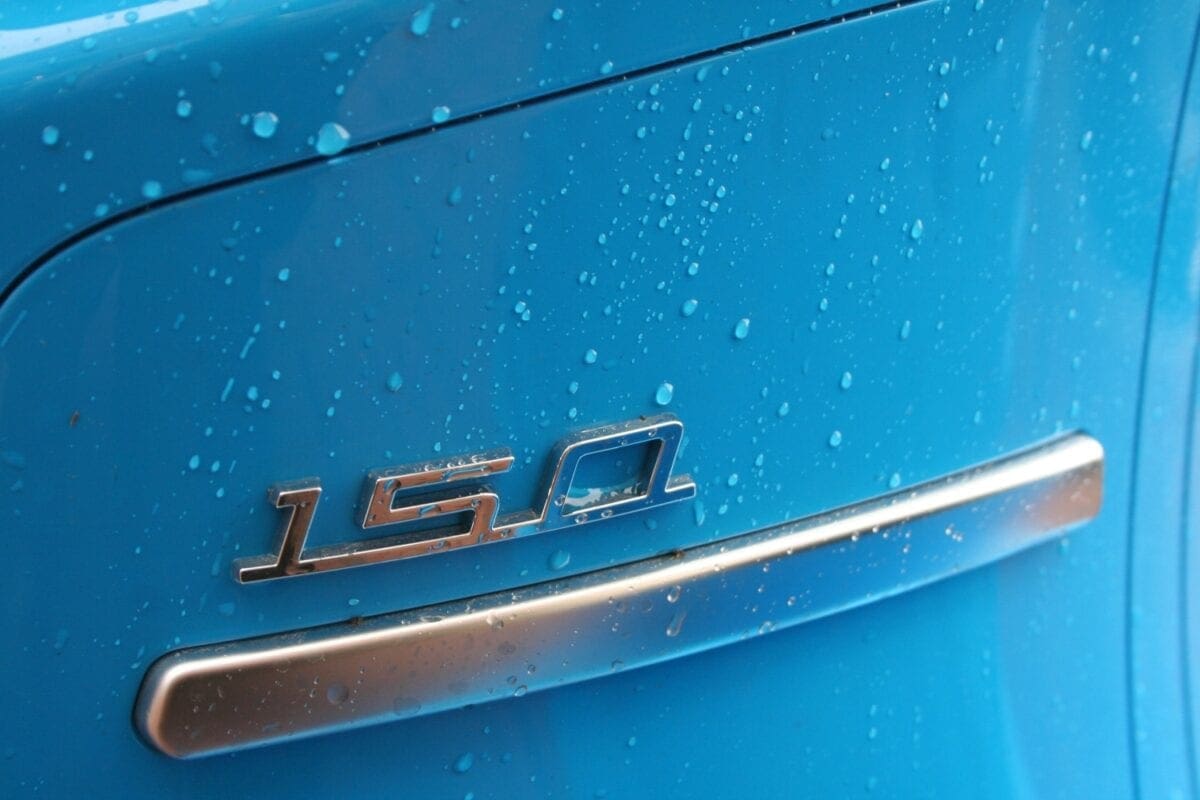 EQUIPMENT
We tested the Sport, which despite the name doesn't go any faster, brake any harder or go round corners quicker than any other Django. But it does have that lovely boat tail rear end and single seat. A passenger seat is part of the package, to be kept in the garaged and bolted on when occasion demands. Sport buyers also get a selection of stick-on numbers to adorn those white roundels (a mild form of customising).
On all Djangos you get that simple retro speedo with a digital display for fuel gauge, ambient temperature plus a service warning and a phone charger in the right-hand cubby. Luggage-wise, the underseat space is useful (though not big enough for a full-face lid) and in solo form you could bungie stuff on behind the seat.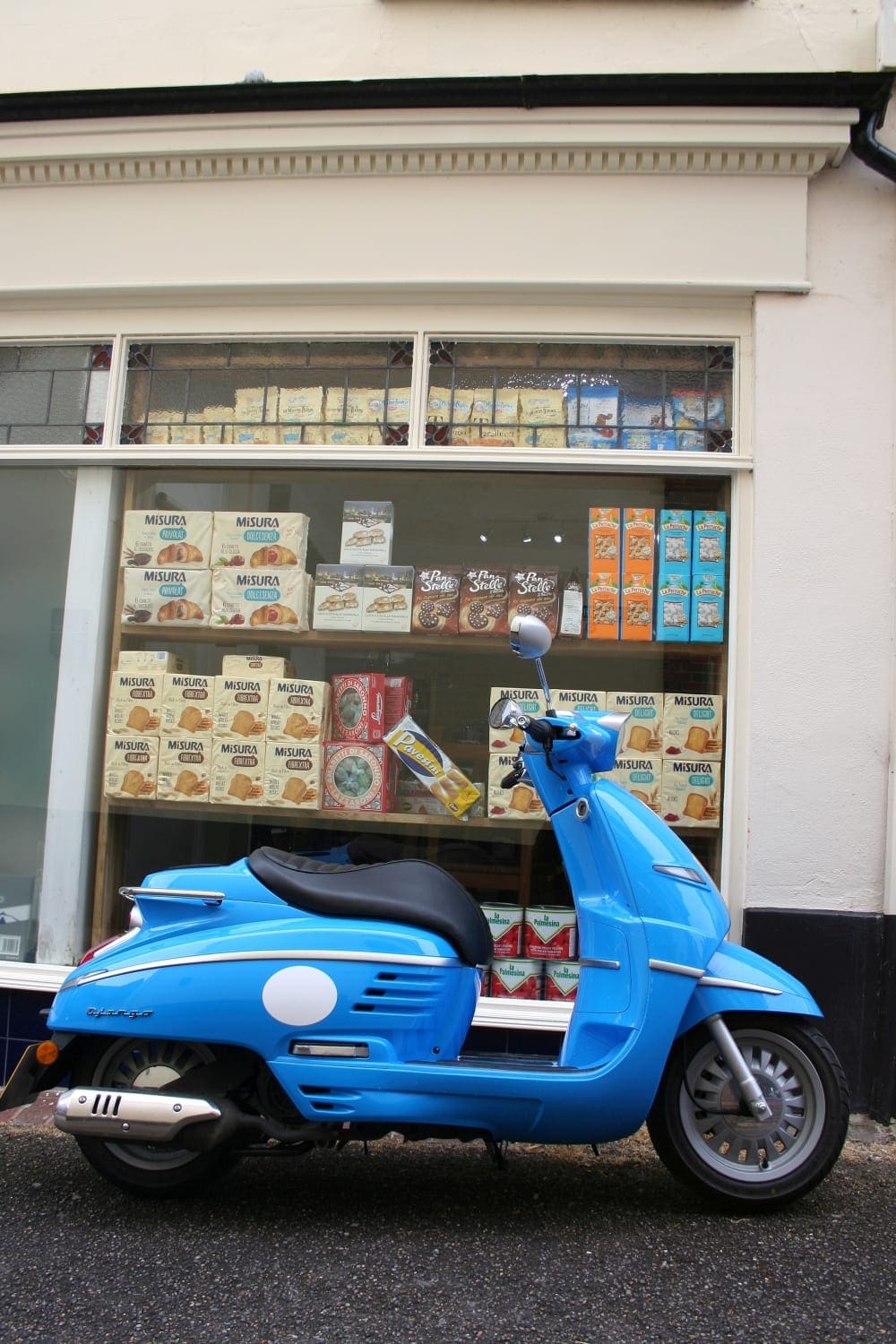 ON THE ROAD
How much faster is it than the 125? Well you wouldn't expect a 9% power increase to make that much difference and the 150 can still only call on 10.8bhp, which is less than some 125s.
The good news is that it's noticeably quicker than its very slightly smaller brother, quite nippy off the mark and up to an indicated 50-55mph, then more slowly up to a 60-65mph cruise, which it holds up moderate hills. In other words, the 150 will hold its own on dual-carriageways and even motorways where the 125 would be doing HGV speeds. The big Django (it's all relative) would even creep up to 70-75mph on the speedo, but only downhill. Overtaking is possible, but still needs space.
The 150, although a low-tech motor, is just as quiet and smooth as the original; in fact the whole scooter is very civilised, easy to hop on and ride into traffic. The riding position feels natural, the seat is low and the only ergonomic fault found was the left-hand switchgear, which is too far away from the grip.
In the easy riding stakes, it's the linked brakes that take the biscuit – you soon learn to ignore the right-hand lever (which still operates the front disc only) and use the left-hand one to bring both on together. The balance is just right – on very wet tarmac, I was just about able to lock up the rear wheel on hard braking, but that wasn't a great problem. I like linked brakes like these – they're a boon for novice riders and useful for the rest of us.
That's backed up by reasonable handling, helped by 12-inch wheels (the Cheng Shin tyres didn't cause ructions) and a longish wheelbase makes the Django more stable than some smaller scoots. It's all very reassuring, which is what you want on any scooter short of a sporty job. A good lock and the easy riding characteristics make it a cinch to slip through rush hour traffic. Actually, Richard Davies, boss of Peugeot importer, Three Cross, reckons many Django owners are buying their retro scooters for weekends, rather than the daily grind.
Back in the day, people used to go touring on 150cc scooters (and smaller!) and you could on a Django today. I'd had enough of the seat after 150 miles, and a screen would be essential, but otherwise it would do the job. In fact, that's my next project – I wonder if Una would still be up for a trip down through the back roads of France?
Words /images: Pete Henshaw
LICENCE REQUIREMENTS:
A2
WE SAY
Worth £100 over the 125, but not worth getting a full licence for
SPEC
ENGINE
Air-cooled single-cylinder 151cc
POWER
10.8bhp
BRAKES
Linked system
Front: 200mm disc
Rear: 200mm disc
TYRES
Front: 120/70-12
Rear: 120/70-12
SUSPENSION
Front: telescopic forks, non-adj
Rear: single shock, non-adj
WEIGHT
130kg
SEAT HEIGHT
770mm
TANK CAPACITY
8.2 litres
COLOURS
Blue, silver
CONTACT
www.peugeotscooters.co.uk
PRICE
£2899
Django who?
The scooter is named after Django Reinhardt, the legendary 1950s French jazz guitarist who and partnered violinist Stephan Grappelli in some stunning displays of virtuosity.
---
Advert
---
Enjoy everything More Bikes by reading the MoreBikes monthly newspaper.
Click here
to subscribe, or
Read FREE Online
.
Sign-up to the More Bikes Newsletter
Enter your e-mail address below and get regular updates straight to your inbox… You can unsubscribe at any time.