Well I was wrong about the chaps from Battery Motorcycles. Those clever little boffins have not only gone and pumped the outside full of Botox, but they've also made some internal tweaks that put the new RLI into a happy place.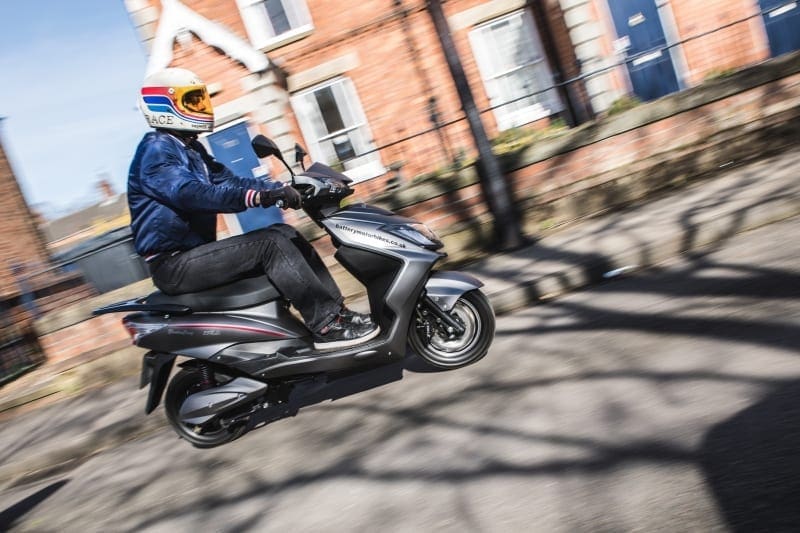 When you're told that you're riding the same bike but with a face lift, it doesn't exactly fill you with a sense of joy. What can be that different if all that they've done is thrown on some new plastic and a set of different lights. How is this going to make a riveting read for the punters?
To keep up to date on everything On 2 Wheels, like our Facebook page or follow us on Twitter here.
Visually stimulating
Now here's the rub. I'm not going to say that the styling of the old RLi was everyone's cup of tea. I was a glass half-full kind of guy when I first saw it, but the new RLi is all that and then some. The changes start with a newly-formed and angular set of body panels that give it a more modern and almost space age kind of look. The addition of front open storage pockets and a bag holding hook (commonly known as a curry hook) plus a very useful USD power output for charging your phone or powering a sat nav. Nothing really out there – but a massive change from the flowing curves of its older brother. They make this a seriously useable city machine. In the grey colour of the test bike we had, it suits its new shape very well. This continues with the dash that now sports a lot more starship console look than the old LCD display and I approve massively. It's brilliantly easy to see all that is needed and just enough flair to make you smile.
Internal tomfoolery
I used the word 'tomfoolery', but really what I should be saying is internal upgrade. Well upgrade in one way as in the motor has been swopped out for a design that includes curved magnet to make the spacing between them and the coils closer, meaning that the actual output of the motor can be reduced from 2kw to 1.5kw yet still achieves the same performance. It's like when Ford started turbocharging their small 1.4 petrol-engined Fiesta. A smaller engine, but with tweaked internals and equal if not better output than the older 1.6 petrol version, including mpg. It's an all-new and smaller hub-mounted 72v electric motor, but with equally as much performance. It still gives you the same (or maybe I should reword that to similar) output to a petrol 50cc scooter, but with a more direct feed to that rear wheel – a lot less lag. 30mph (top speed) comes along quickly, meaning that in traffic you never feel like you're holding anyone up. In fact I found myself regularly first away from the lights.
To keep up to date on everything On 2 Wheels, like our Facebook page or follow us on Twitter here.
As I experienced with the other 25 RLi I rode at the end of last year in horrendous conditions, the handling is great for the price. With only small scooter wheels (tyres are 100-80-10) and limited suspension travel this is not an off-road beast. But then look at it; it's been designed to nip around town, so apart from the cave-like potholes that we are all now used to dodging this is a street-going scooter and nothing else; and in that respect it copes with and handles all the roads I took on with great ease. The ride was comfortable and with this scooter weighing-in at next to nothing in the great scheme of things it was a blast to throw about and filter through the traffic.
The new LED headlights are a brilliant upgrade on the old RLi's filament bulb and really make a night ride no issue at all, the addition of very smart LED running lights add to the styling and cool new look. The boffin's have also fitted it with a really useful rear wheel locking mechanism that activates with a simple key and just stops the back wheel turning. I'd still recommend a good chain and lock as well but it's a really good factory fitted deterant.
The battery options are always in a state of flux if you will excuse the expression. The bosses at batterymotorbikes.co.uk are always looking at different versions and options to give the customers to fill the need, whether that be cost implications or just a need for more range. At the time of going to press you have the options of the following Amp hour (Ah) of the battery. These are 20, 25 and 50 Ah.
The cheaper 20Ah is a sealed 'Lead Acid' (SLA) battery. It travels around 30 miles on a charge.
The 25 and 50Ah batteries are 'Lithium Polymer' (LiPo) and travel about 50 or 100 miles respectively. The bikes weight varies from 85-110kgs depending on the battery.
Seale 'Lead Acid' (SLA) batteries are heavier, whilst the 'Lithium Polymer' (LiPo) is lighter and therefore makes the bike handle with a little more agility.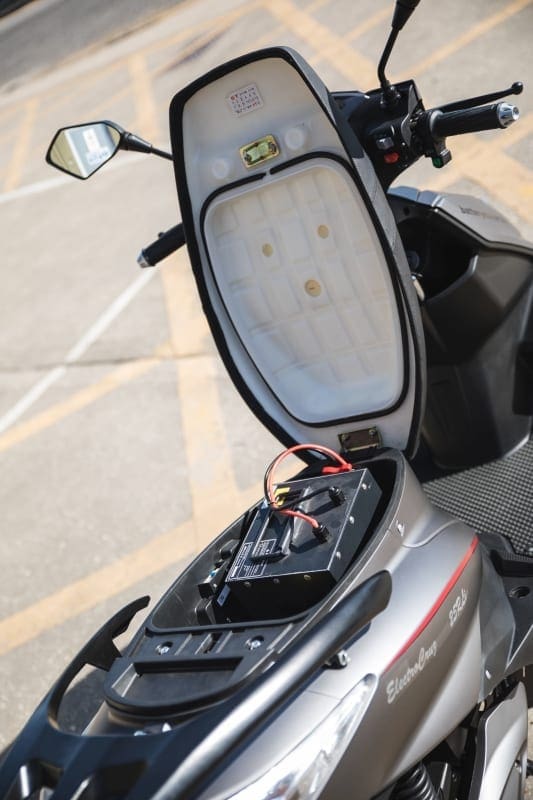 SPECIFICATION:
Electrocruz 25 RLi
BATTERY: Removable 72v 50Ah Lithium Polymer
RANGE: 100+ miles (estimated)
TOP SPEED: 28-30mph
CHARGE TIME: 6-7hrs from flat
APROX WEIGHT: 95kg
RRP: £2299 (incl VAT)
CONTACT: batterymotorbikes.co.uk
O2W RATING: 7 stars
---
Advert
---
Enjoy everything More Bikes by reading the MoreBikes monthly newspaper.
Click here
to subscribe, or
Read FREE Online
.
Sign-up to the More Bikes Newsletter
Enter your e-mail address below and get regular updates straight to your inbox… You can unsubscribe at any time.