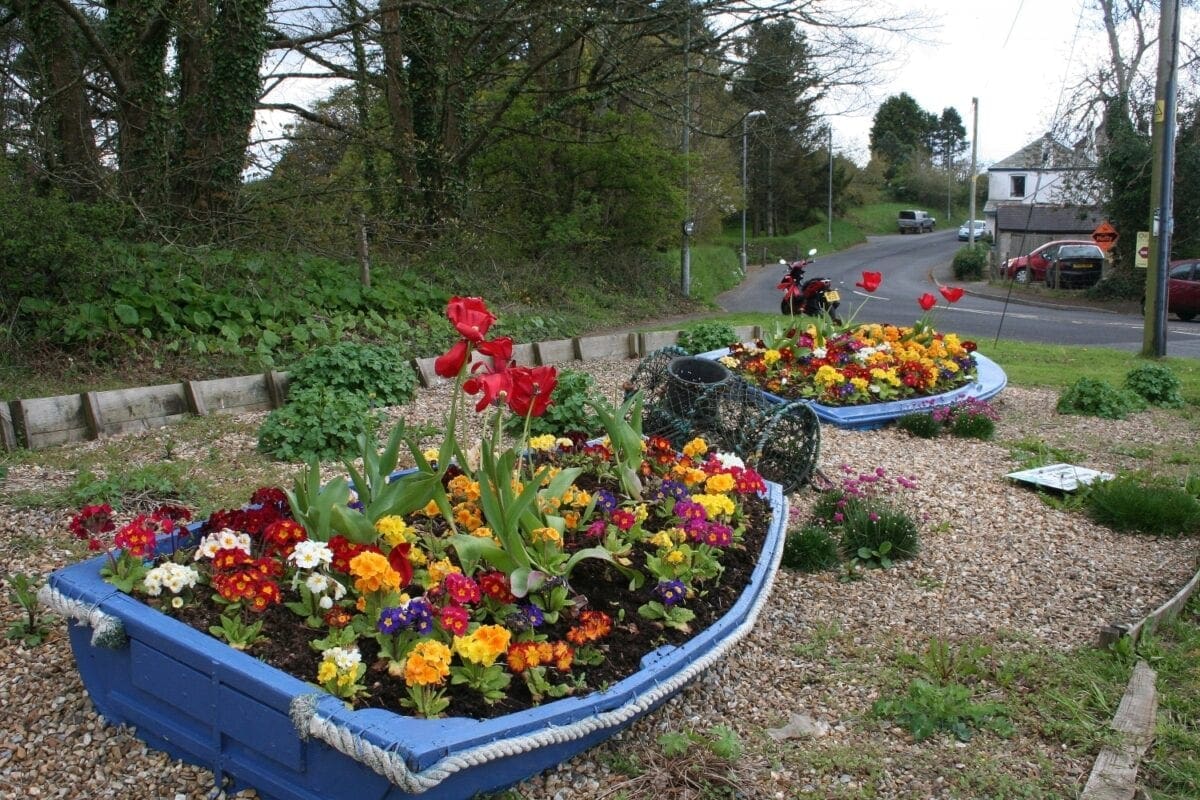 Forget Poldark; the best way to experience southwest England is on a 125cc scooter.
There's a pattern to 125cc road tests, whether they're for T&G, or any bike magazine. Get some decent pictures, ride through the nearest town or city, add some out-of-town miles on a dual-carriageway, and you're done; a morning's work, tops.
That's all very well, and the magazine business being what it is, it's usually all the time we can spare. But what if you want to scratch below the surface and find out what a scooter's like over a longer distance? This is worth doing because, (1) you get a better idea of its abilities and, (2) as I've said before, you really can do distance on 125 if you can keep off motorways and aren't too ambitious about loads. Ewan McGregor and Charley Boorman did a lot for our public profile, but contrary to the impression they gave, you don't need 1200cc to go travelling.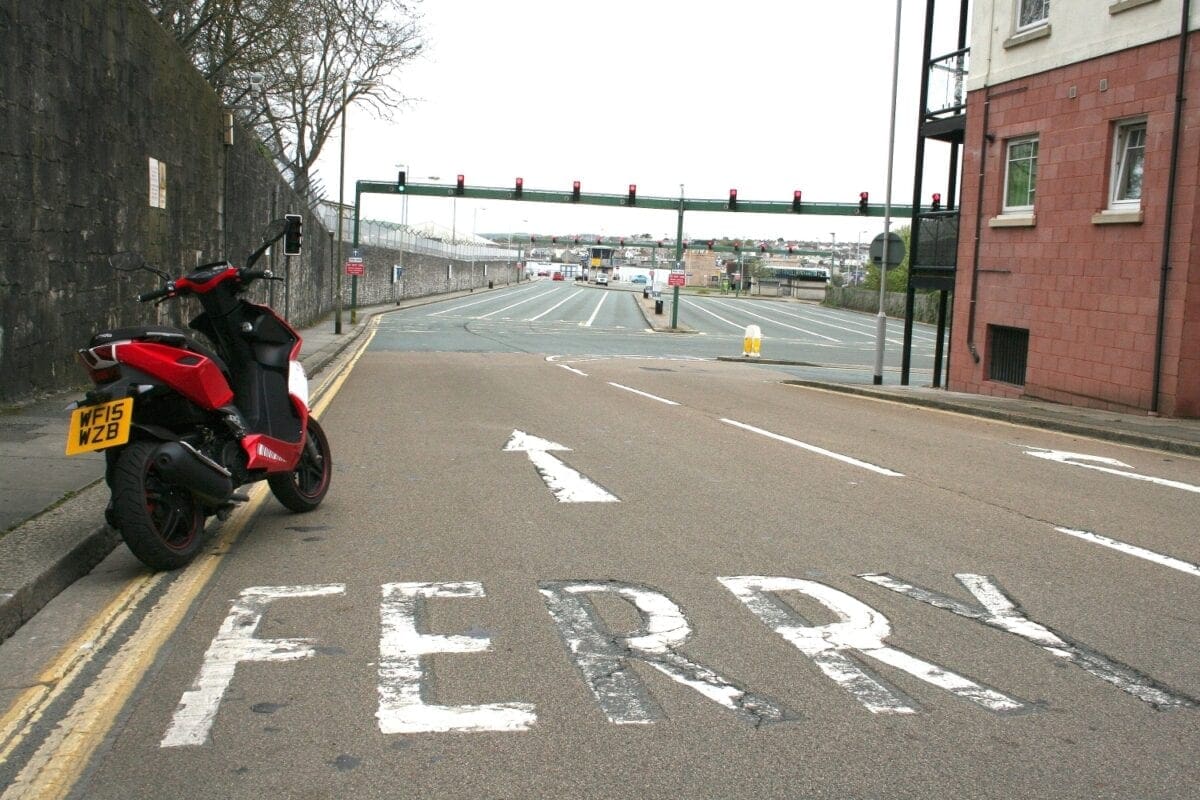 OVER THE WATER
All of this was a good enough excuse to take Lexmoto's new Diablo for a two-day tour of Devon and Cornwall. Not exactly Long Way Down, but far enough to give a good idea of what it's capable of. I wouldn't be taking camping gear or going two-up, but 300 miles over all sorts of roads should reveal whether this is a genuinely usable scooter or one which gets a fit of the frights at the thought of a 40mph-plus limit.
The Diablo clearly has ambitions to be a Ducati Panigale, or at least to look like one. It's an odd mix of sharp styling, decent brakes, 13-inch wheels, and a bog standard air-cooled two-valve motor, albeit one claiming 8.6bhp rather than the 7bhp some Chinese scooters are stuck with. It's still a long way from the almost 15bhp of a Honda Forza 125, but then the Lexmoto is one-third of the price.
Leaving Lexmoto's base outside Exeter, I headed down the A38 for Plymouth to make up time after a late start – a shame that a strong westerly was blowing in the opposite direction, seeing us flat out at an indicated 55mph and touching 60mph downhill. The motor was smooth, but far from the rip-snorting fire breather suggested by the Diablo's styling.
The rough plan was to cross south Devon and Cornwall by ferry. Britain's two south-western-most counties are pierced by several big estuaries – some bridged, but others have ferries, just like the old days. And there's something faintly archaic about queuing for 10 minutes, watching the ferry meandering towards you in its own time.
The Torpoint ferry on the edge of Plymouth isn't quite like that. It's easy to find (just follow the signs); it has a multi-lane marshalling area (like a cross-channel ferry) to cope with the rush hour. It looks very well organised, but I still messed it up, blocking a lane whilst watching the ferry coming in; apart from the odd dirty look, I think I got away with it. Another idiosyncrasy of the Torpoint ferry is that bikes only pay westbound, and cars eastbound, which sounded weird until the lady taking the money enlightened me: "We can get 150 bikes come through in the morning, and we can't cope if bikes and cars are trying to pay at the same time". In any case, at 30p a time for bikes, it's still cheap.
From the ferry it's straight onto the A374, a twisty and tempting piece of tarmac, popular with bikers judging by the number of yellow warning signs. We total 2% of traffic on this road, but half the deaths. A lot of single bike crashes are down to rider error, but the A374's well-worn tarmac doesn't help…
Another twisty A road takes us to picture postcard Looe harbour, over the water, then steeply out the other side, to our next ferry. Once we've regained some height, the road is fast and swoopy before dropping down a precipitous slope to the Fowey estuary. At first glance, this looks like an idyllic spot with quiet, calm water flanked by wooded hills; so the industrial scale china clay port, complete with ocean-going ship is a culture shock. The ferry works on the same principle as Torpoint, on a smaller scale. Chain ferries are more correctly described as 'land bridges', because they're always connected to land (a piece of tech trivia worthy of Stephen Fry and the elves of QI).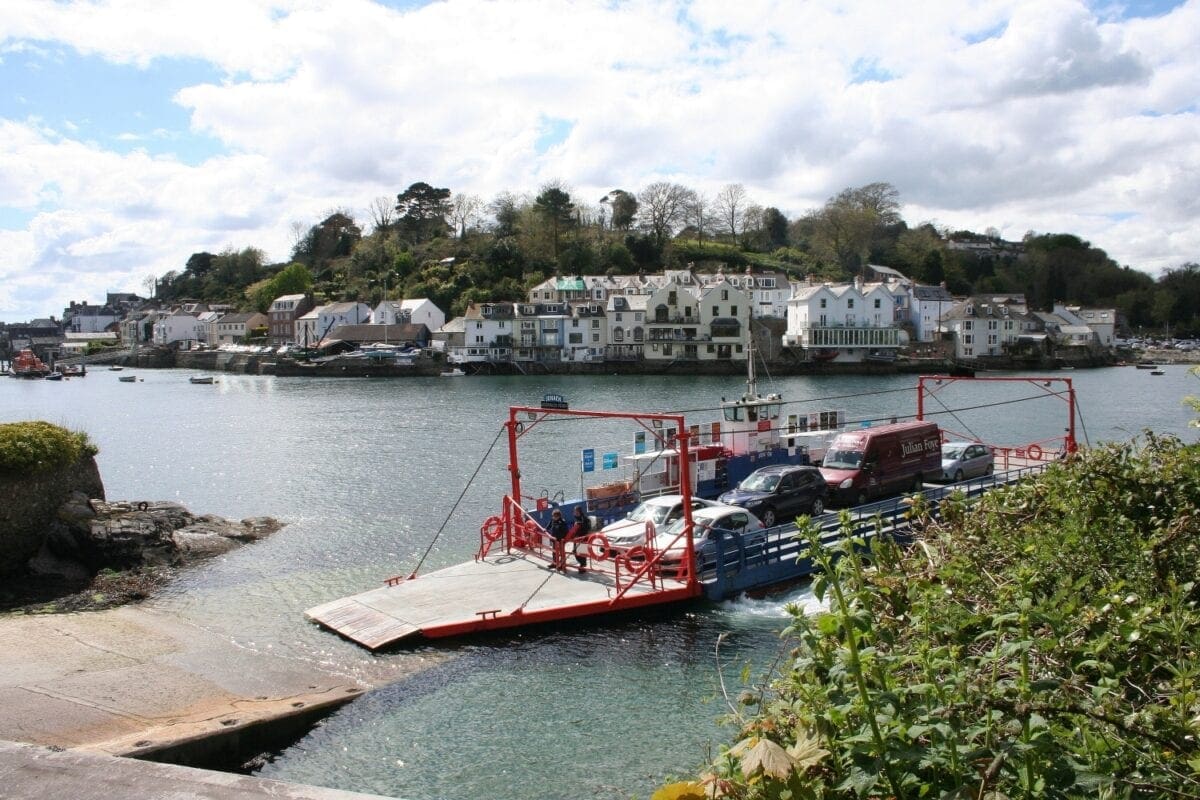 OVER THE BORDER
The Fowey ferry costs ten times than Torpoint, but it's still worth £3; then we skirt around St Austell (where men in Vectras don't seem to like filtering scooters) and onto the tractor-infested roads towards Truro. The Diablo may lack ultimate speed, but it has useful overtaking ability from low speeds, whipping past giant farming machines on short straights. At Trelisick, our final ferry of the day is the King Harry, before catching the fast A39 and 394 to Helston, over high ground with sea glimpses. The climate is mild here, so much so that some gardens have palm trees and Earl Grey tea is grown nearby. Absolutely true – you can buy Cornish-grown tea in Waitrose.
Leaving south Cornwall, a twisty B road takes us to Hayle on the north coast – not far away because Cornwall's thinner than a size zero supermodel this far west. Out of Hayle, a brilliant B3301 coast road winds its way through sand dunes and then onto the clifftops with superb sea views and entertaining tarmac as icing on the cake; for a real clifftop experience, visit Hells Mouth Cafe. This is one of Cornwall's most spectacular coast roads – if you're ever down that way, do it.
We spent the night in St Agnes, home to old tin mine stacks and some surf shop graffiti, and next morning pass through Newquay, Britain's surfing capital. The surf's up with white breakers crashing onto Fistral Beach (in fact, it's crashing so vigorously, that there isn't a sandy-haired surfer dude to be seen).
Onto Padstow on another coastal B road which drops down to beaches and climbs its way out again, the road switching from two-lane blacktop to virtually single track with no white line, and back again. This isn't a problem for the Diablo, but bigger vehicles can cause mayhem; at one point I'm filtering past a long tailback, to find a massive tractor and trailer in front; it can't move because the Merc driver coming the other way can't seem to reverse. I'm soon past and free – for all I know they're still there.
Two minutes later, we're flying along the romantically-named Atlantic Highway (the A39); it's fast and open with enough twists to be entertaining on a 125 most of the time. At Bude, we leave the coast and head inland across what is now Devon. The roads swoop up and down, superb black-topped roller coasters with little traffic (a good reminder that not all of England is crowded and congested). Devon is our second biggest county, so it has some space.
The party's almost over at Tiverton; from here we're back to busy roads and roundabouts before heading towards Exeter. It's been a good two days, and the Diablo has proved surprisingly comfy over distance. Come on Charley, make your next big trip on a 125.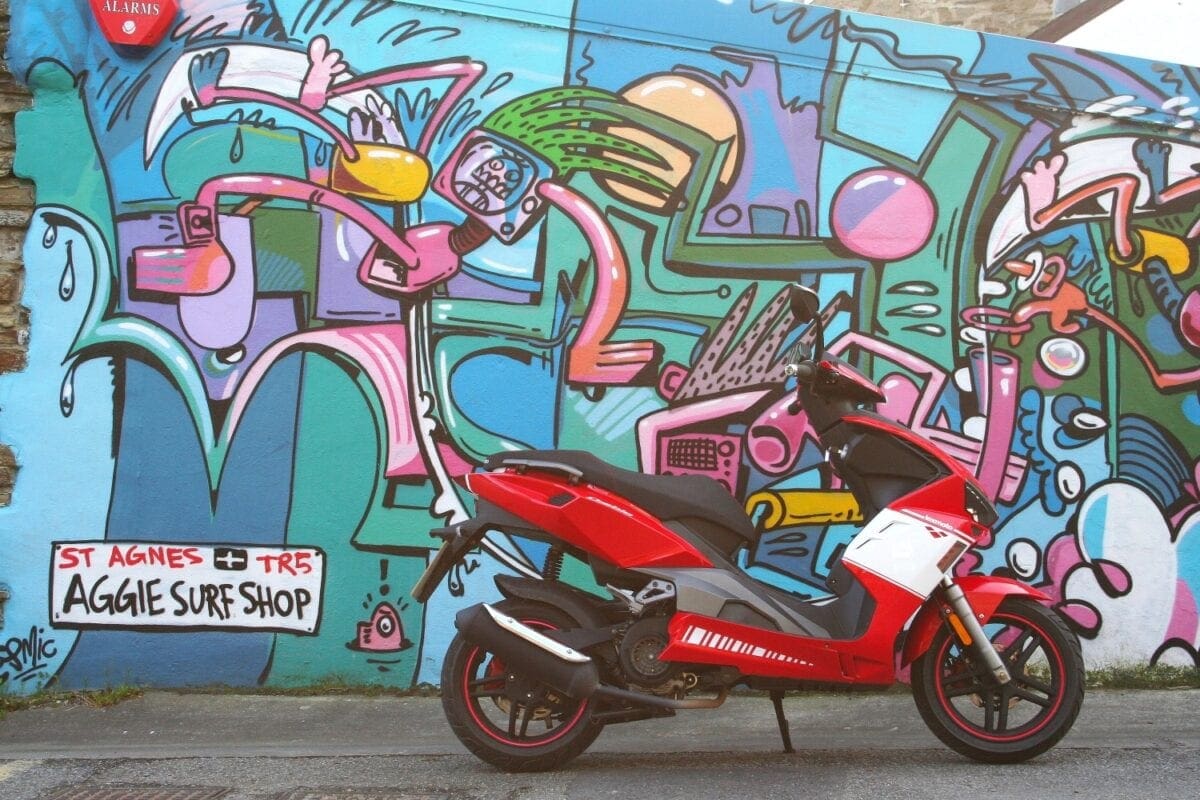 THE LEXMOTO DIABLO
This latest Lexmoto scooter really does look the part of a sporty little Italian scooter (even though it's from China). The 8.6bhp motor doesn't match the looks, with decent enough acceleration, but it struggles to better 55-60mph on the flat, even without a headwind. It's got more power than other Lexmoto scooters, but less than their geared 125s, even the commuter-friendly ZSF. The Diablo has the sort of performance you'd expect from a low-powered 125; it has no trouble keeping-up with town traffic, but open road overtaking is mostly out of bounds.
On the other hand, the Diablo handles well on its 13-inch wheels, stable and unfazed by undulations, with no signs of scraping or wallowing (at least ridden solo). The single rear shock is pre-load adjustable, so it should stand up to heavier riders. That's backed-up by good brakes (discs at both ends), with a twin-pot caliper on the front (the calipers are red, which obviously helps).
Surprisingly for a sporty scoot, there's no rev counter, there isn't enough underseat room for a full-face lid, and the seat was tiptoe high for me (5′ 6"). But it was comfy enough for 300 miles, and it managed 93mpg; not as economical as a geared 125, but about what you'd expect.
STAR RATING
8 out of 10
SPEC:
ENGINE
Air-cooled single-cylinder 125, SOHC
POWER
8.6bhp @ 8000rpm
BRAKES
Disc front and rear
TYRES
Front: 120/60-13
Rear: 130/60-13
SUSPENSION
Front: telescopic forks
Rear: single shock, pre-load adj
WEIGHT
110kg
TANK CAPACITY
6.3 litres
COLOURS
Red, Black
CONTACT
www.lexmoto.co.uk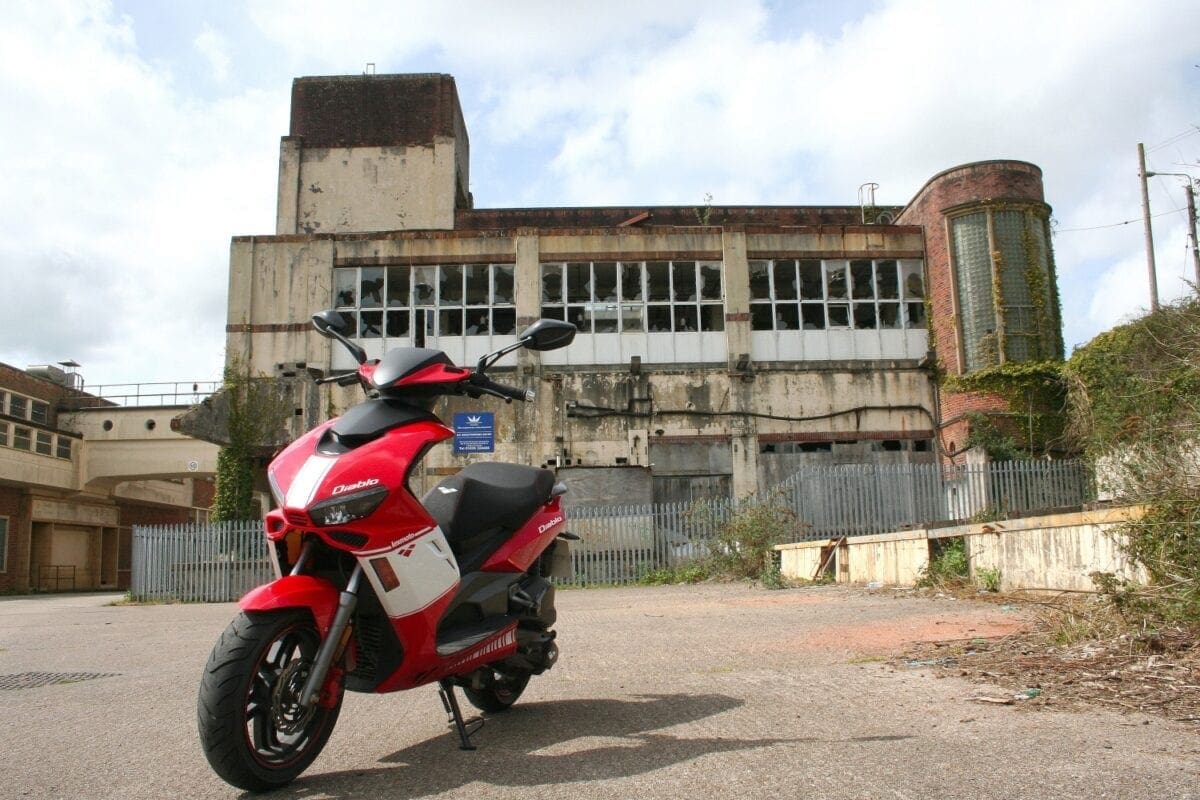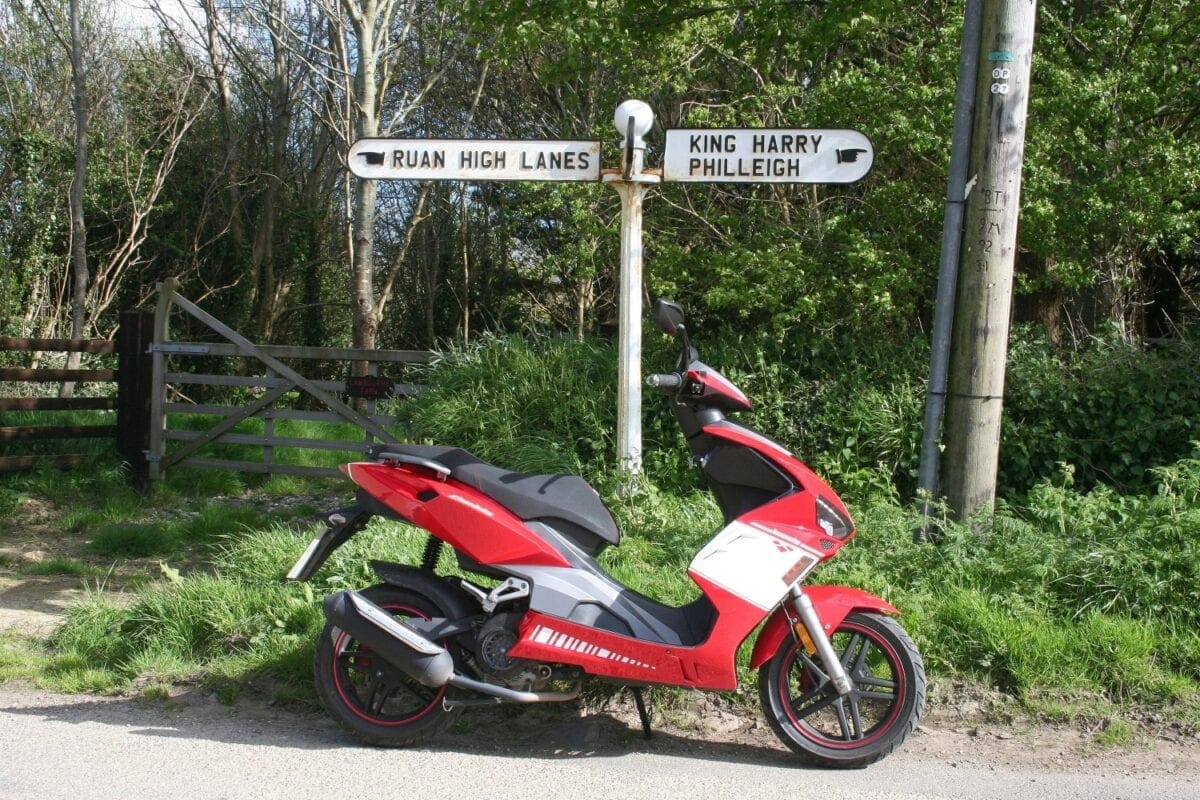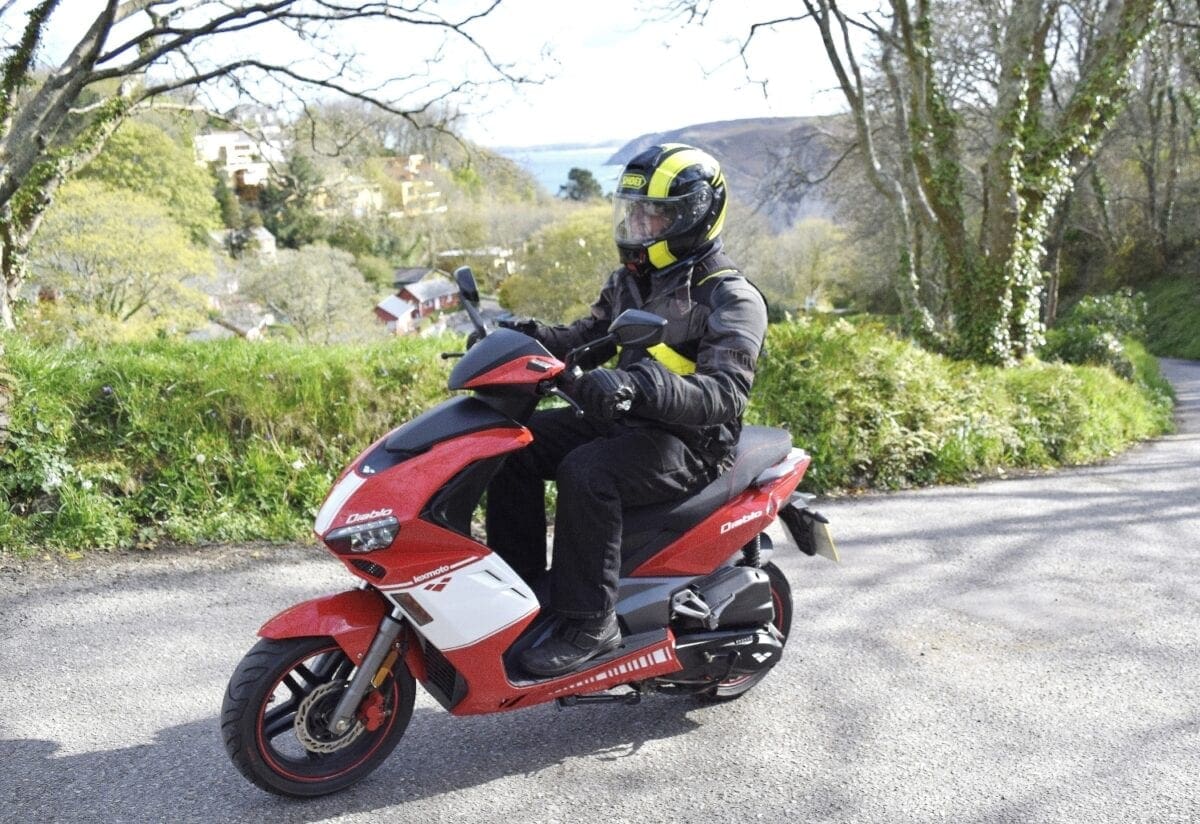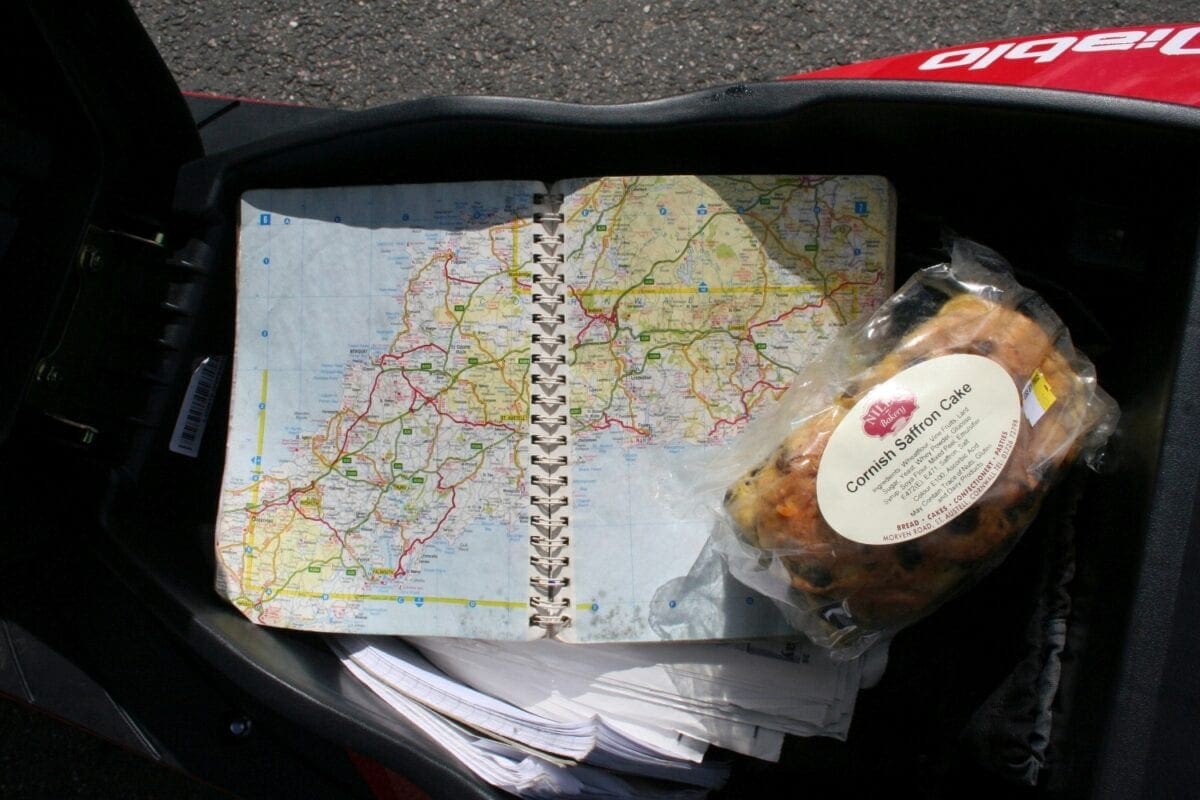 ---
Advert
---
Enjoy everything More Bikes by reading the MoreBikes monthly newspaper.
Click here
to subscribe, or
Read FREE Online
.
Sign-up to the More Bikes Newsletter
Enter your e-mail address below and get regular updates straight to your inbox… You can unsubscribe at any time.