Suzuki's mini-Strom makes the adventure touring class more accessible than ever. But can it deliver enough to tempt riders away from big bikes?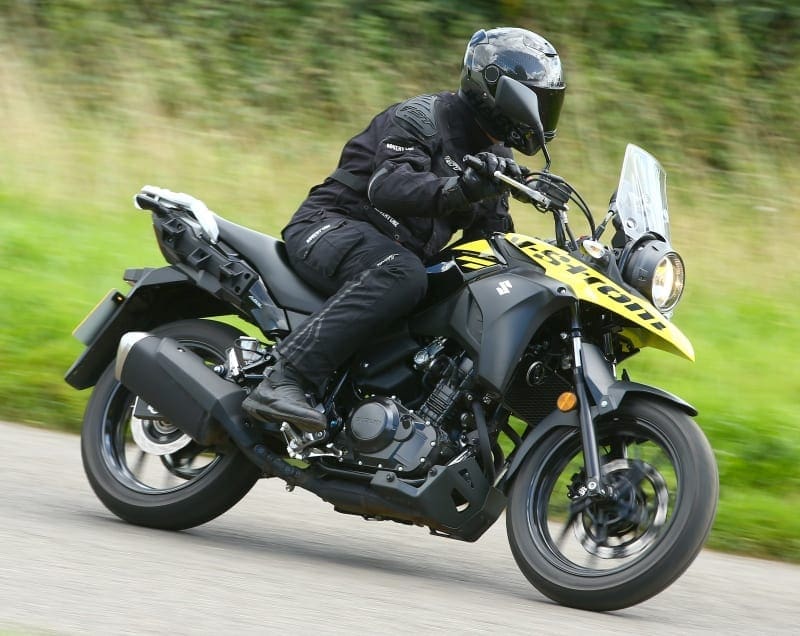 Around a year ago there wasn't really such a thing as a small adventure bike segment in any meaningful way. Then, at the international bike shows towards the end of 2016 bike manufacturers, one after another, pulled the covers of their new small-capacity adventurers, and all of a sudden a whole new breed of bikes was born. We now have the off-road focused Honda CFR250 Rally, and the more road-biased Kawasaki Versys-X 300, with the BMW G310GS still waiting to be released. And now we also have the Suzuki V-Strom 250 – a bike that Suzuki wants to position as a road-focused option for touring and daily riding. The idea behind the bike is that it will suit both experienced riders wishing to downsize, and younger new riders who want a bike that's easy to ride and manageable. With Suzuki's V-Strom heritage, the hope is that the new bike will slot into the family as the baby-Strom, the friendly and accessible face of adventure touring.
Looking big
The bike bears a striking resemblance to the bigger V-Strom 1000 and 650 with the same round headlight design and an adventure 'beak' at the front; and although it comes in red or black, it's the yellow one that most links it with the family traits. At 'only' 250cc it's naturally smaller, but it looks substantial and purposeful in its own right. However, making the bike big was not what Suzuki intended – the whole point of the V-Strom 250 is that it's a smaller adventure touring option for people who want not just a smaller engine, but also a more manageable bike size. With that in mind, the seat height is 800mm (much lower than the V-Strom 1000's 850mm) and the bars have been raised and pulled back to make it easy to reach them.
A small detail, but a pleasant one (if you don't enjoy cleaning nooks and crannies) is a long front fender that means you don't need to buy an extender just to keep the engine from being covered in road grime.
Suzuki engineers were clear about this being a road-biased bike. Not aiming for too much off-road use has allowed them to keep the exhaust end can low, which in turn means that panniers can be fitted on both sides without the pipe getting in the way.
Jumping on the bike, it feels just like intended: small, manageable and still adventurous. The dash has a 'negative' display with white digits on black background, clearly indicating speed, revs, gear, as well as giving you a choice of odometer, two trips and fuel consumption.
On (and a bit off) road
First impressions are very positive, with the small size and weight (at 188kg it's 44kg lighter than the V-Strom 1000) of the bike combined with the soft and gentle suspension making it feel like the bike simply floated over the imperfections on the road surface. The rear shock is easily preload-adjustable by removing the seat and using the tools provided; but I was happy with the factory settings, enjoying the armchair-like comfort that still kept the bike in shape even through quick turns.
A short dual-carriageway stretch proved that the bike can keep up with motorway speeds, but I also found that the small windscreen created a fair bit of buffeting around my helmet above 60mph. Talking to others on the ride, opinion on the level of buffeting varied greatly, meaning that your height and the type of lid you wear will make a big difference. If this was my bike I'd remove or change the screen, but then again, I'm a bit picky over screens, often finding them more bother than use.
Another modification I'd make is the bars. They're not bad, but for an adventure bike, I would want them wider to give a bit of extra leverage and make the most of the generous steering angle.
The stock bike doesn't come with luggage, but you can add a top case for £350, panniers for £625 and a tank bag for £95 (all would make sense if you plan on taking the bike touring).
One give-away sign that the V-Strom 250 is a road rather than off-road oriented bike is the wheels: rather than a large front wheel for dirt, the bike features 17in wheels front and back. On Tarmac the setup offered nice quick steering, and even on a short trail section the bike felt well composed. The riding position is quite pleasant when you're standing on the pegs, with the tall bars helping to stay in control, but if you really want to take this bike off the Tarmac, proper knobbly tyres would be needed, and a larger front wheel might be worth considering.
Overall, the V-Strom 250 riding experience is a pleasant one, with everything from the suspension and brakes to engine performance and handling working well, without any particular element standing out.
Inazuma heritage
The 248cc, four-stroke, liquid-cooled, SOHC, parallel twin engine is inherited from Suzuki's Inazuma 250, and the Suzuki engineers are quick to remind us that the V in V-Strom stands for versatility and not a reference to engine configuration. Although the engine's not new, it's been updated to increase low- to mid-range torque, fuel economy and ease of riding. And naturally it needed to pass the new Euro 4 emissions tests too.
Suzuki engineers have designed the cam profile to maximise acceleration performance between 12.4mph and 55.9mph, as this is the range that's used most often. And sure enough, on the road the engine feels eager to rev and accelerate, with the short gearing increasing the feeling of rapid progress.
Top speed is limited to around 85mph, meaning that the bike will be fine for cruising on any roads, but you're unlikely to hit the sort of speeds that cost you your licence.
With the 17.3-litre tank and the improved fuel efficiency Suzuki reckon you can get 300 miles from a tankful.
Is it a bird? Is it a plane?
So, what's the verdict? The real test will be the sales figures, although nobody really knows how well this new category of bikes will be received. As a standalone bike, the mini-Strom feels a capable and practical option if you're looking for a small-medium size adventure bike. It's likely to be more tempting to new riders rather than those coming down the cc-ladder as there's some tempting 500cc and 650cc options offering more performance and still a step down from the litre-plus category. But for those moving up from 125s this is a tempting option that ups the performance to a level that makes riding that little bit less like hard work.
There's also been a bit of a trend to travel long distances on small-capacity trail bikes, which might help with sales. Whatever the case, the V-Strom 250 offers a good level of service in this category, hopefully helping to introducing a whole new generation to biking.
Words: Mikko
Images: Suzuki
O2W RATING: 8 stars
SPECIFICATION
LICENCE: A2
ENGINE: 248cc, 4-stroke, liquid-cooled, SOHC, parallel twin
SEAT HEIGHT: 800mm
KERB WEIGHT: 188kg
FUEL TANK CAPACITY: 17.3 litres
PRICE: £4599
CONTACT: bikes.suzuki.co.uk
---
Advert
---
Enjoy everything More Bikes by reading the MoreBikes monthly newspaper.
Click here
to subscribe, or
Read FREE Online
.
Sign-up to the More Bikes Newsletter
Enter your e-mail address below and get regular updates straight to your inbox… You can unsubscribe at any time.