Piaggio Medley 125
High tech features and loads of underseat space on Piaggio's latest 125
The last thing Piaggio needs, you might think, is a brand-new big-wheel 125. They're already offering 13 scooters of all shapes and sizes from the 50cc Fly to the 500cc MP3, and that's not counting the big range of Vespas and the two new Wi Bike pedelecs. But then, the Italians are scooter specialists and given their vast home market (not as big as it used to be, but they still bought over 170,000 powered two-wheelers last year) probably know a thing or two about what scooter buyers want.
Piaggio say the new Medley is a more sophisticated big-wheel 125 than the existing Liberty, which is still available. And although they stress that the Medley isn't aimed at Honda's SH125, it clearly is. The SH was the best-selling scooter in Italy in 2014, while the Liberty languished in 8th place, so Piaggio had to do something to grab some market share back.
Styling
There are only so many ways to style a big-wheel scooter, and without getting outlandish it's difficult to make something truly distinctive. Piaggio has done its best on the Medley with some nice side strakes, and the alloy wheels are pretty, but the scooter doesn't really stand out. There's an 'S' version in brighter colours, for an extra £100.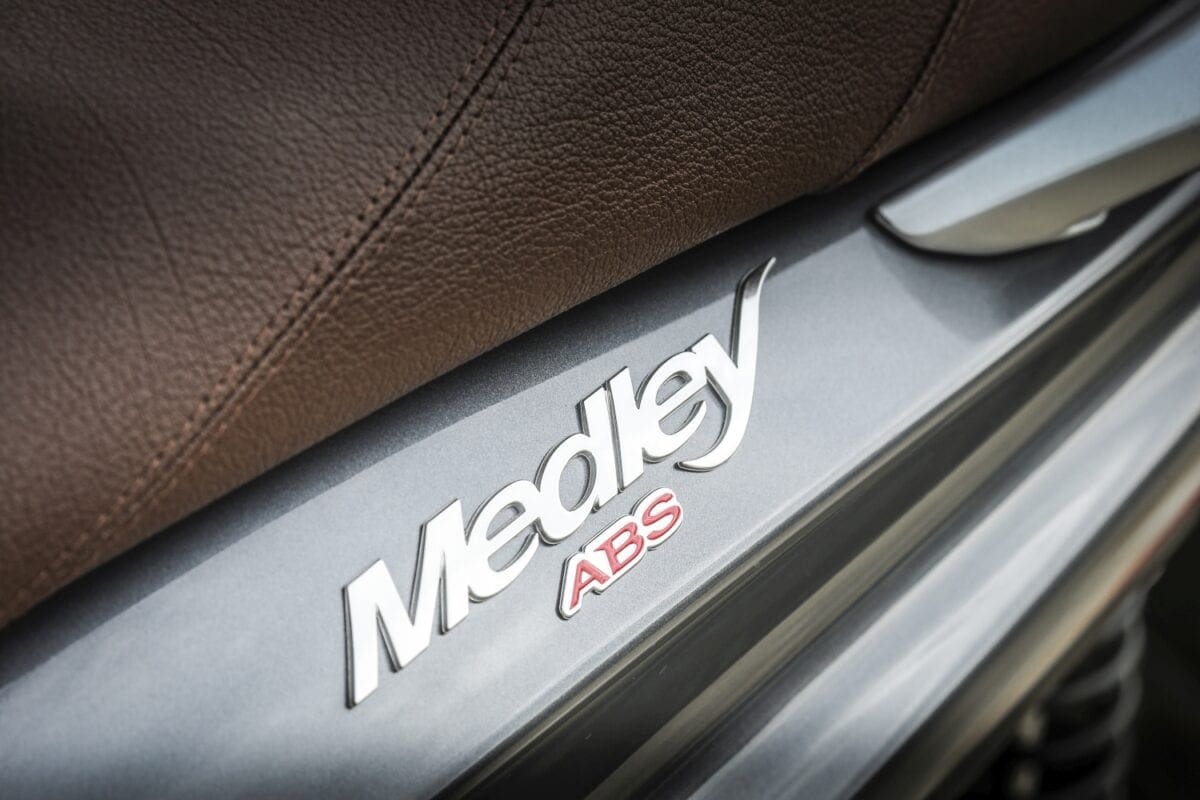 On the other hand, I'm sure Piaggio's marketing department has decided that Vespa caters for those looking for pleasing aesthetics, while Piaggio-branded scooters are working tools for commuting and shopping, and they're probably right. In fact, someone on the launch suggested that many Italian riders buy conservative-looking scooters with aprons and muffs, because their priority is practical transport that enables them to wear clean and elegant clothes. Brits on the other hand, would rather bundle up in Gore-Tex and ride a cool looking scooter. Interesting theory…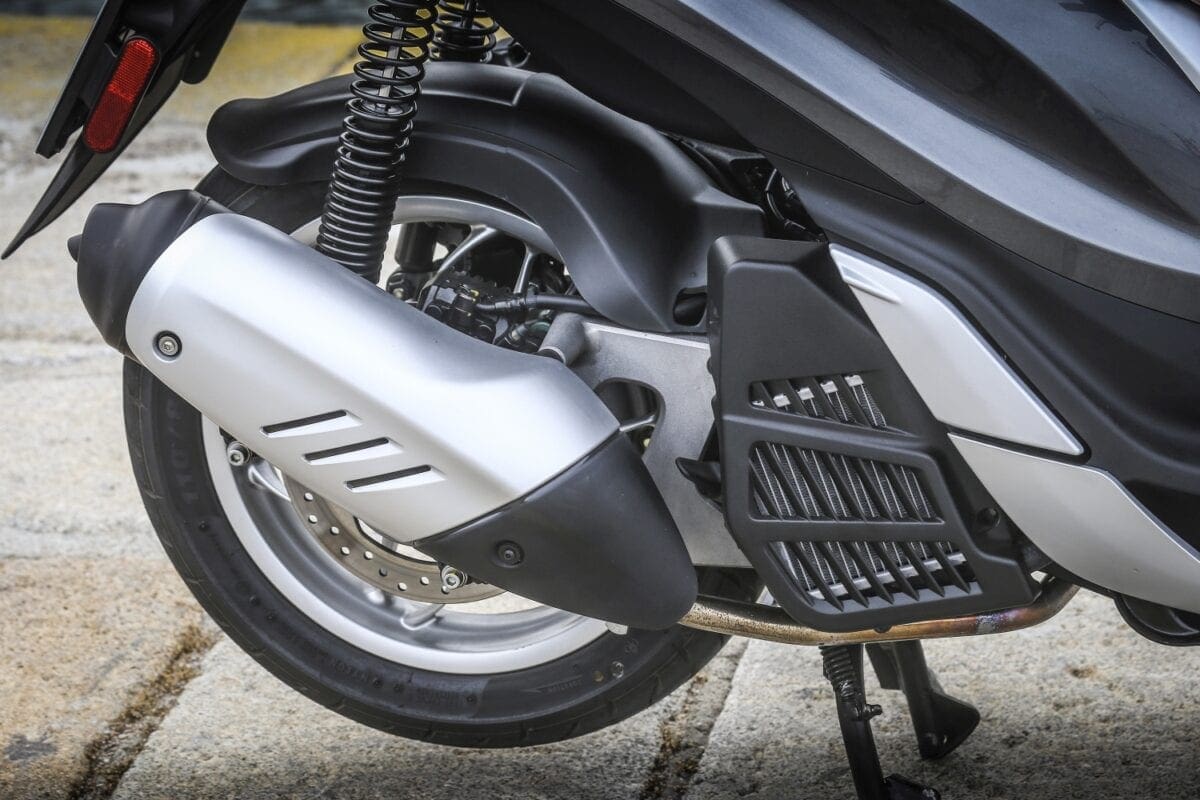 Equipment
The Medley's raison d'etre isn't styling, but its high-tech features. The i-get engine (sounds like the latest acquisitive accessory from Apple) is new; a liquid-cooled four-valve unit that offers 12.3bhp at 8250rpm, making this one of the more powerful 125s. There's also a 14.5bhp 150cc version, which won't come to the UK; but a 200 is on the way, which we probably will. Integral with the new engine is a stop-start system that automatically switches the engine off after a few seconds of waiting at the lights. Nothing new there, but the clever bit is that the starter motor is mounted directly on the crankshaft, making frequent stop-starts quieter and more efficient.
The frame is a conventional pressed steel job and the suspension is similarly ordinary (front forks and twin rear shocks), but the Medley does have two-channel ABS as standard for both front and rear discs, which are linked.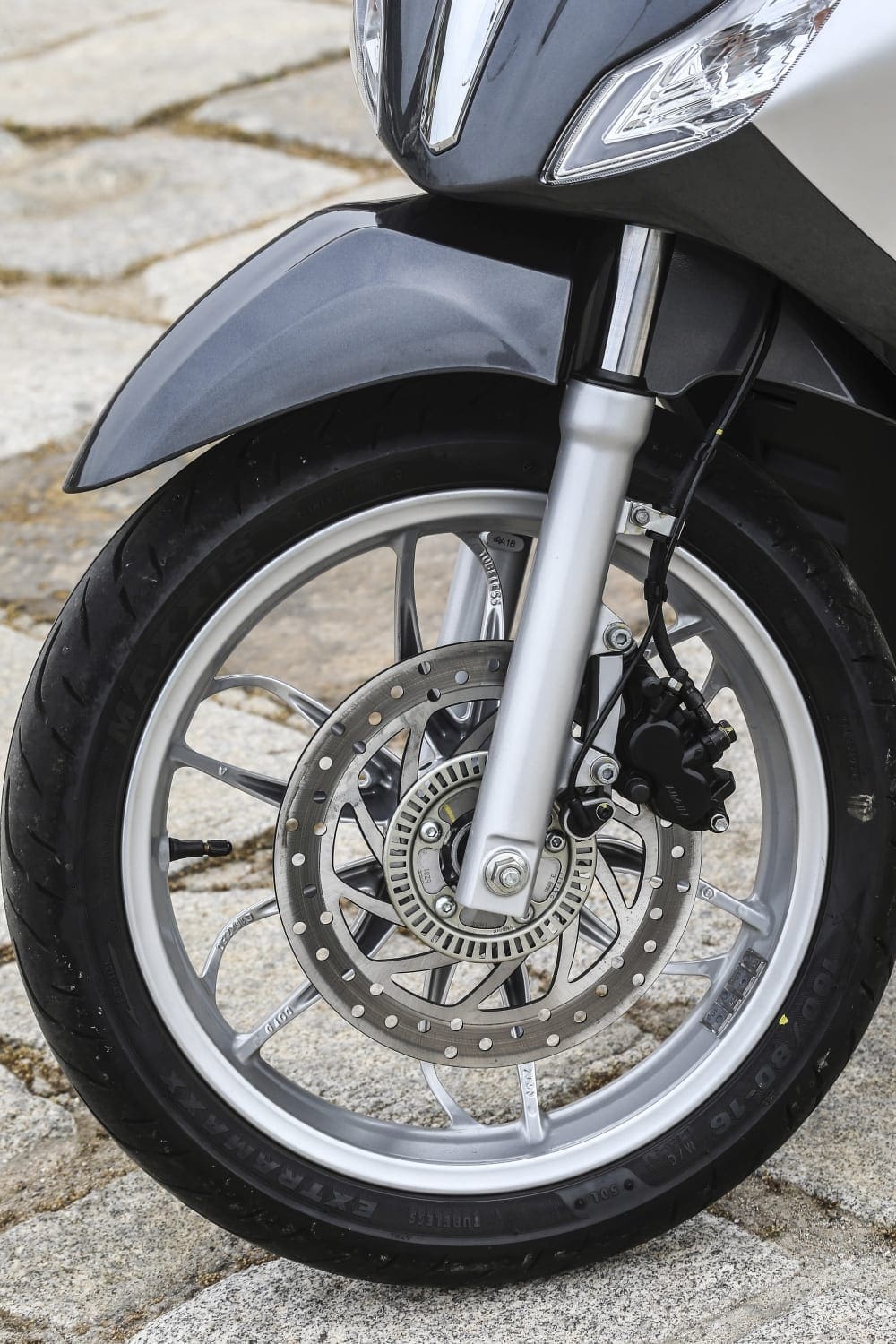 Of the convenience features, two stand out. First is a massive 36 litres of underseat space – a lot for a big-wheel scooter – which they've managed by moving the fuel tank to under the floor. You can just about squeeze in two full-face lids, though probably not of any make. The other stand-out item is the optional Piaggio Multimedia Platform (PMP) which connects to your smartphone via Bluetooth, enabling it to display useful information like speed, revs, instantaneous power and torque – my favourite is the lean angle display, and wouldn't we all have wanted one of those at 17… There's also a bike finder feature, which will locate your Medley in an unfamiliar city (if you've forgotten where you parked) and a sound system, which allegedly uses the scooter's body as a giant music diffuser (can see that going down well in certain small market towns on a Saturday night).
On the road
High-tech aside, how does it ride? The seat is high-ish and wide-ish, but otherwise the Medley is easy and convenient to ride, as you'd expect. The i-get motor fires-up quietly and is very smooth right through the range – Piaggio claims a fast warm-up, thanks to a close-mounted radiator. There's enough power to give zippy acceleration up to an indicated 60mph, but beyond that, the final few mph are more reluctant, topping out at 65-68mph – not quite as quick as some 125s. The upright riding position is also blowy at speed, but low and high screens are available at £100 and £150 respectively.
This scooter's natural habitat is in town, and there it excels. It's slim and light, just right in for slipping to the front of red light queues. When you get there, the stop-start will switch-off the engine after about five seconds, then restarts automatically when you twist the grip. If you insist, you can turn the stop-start off, but it's very unobtrusive.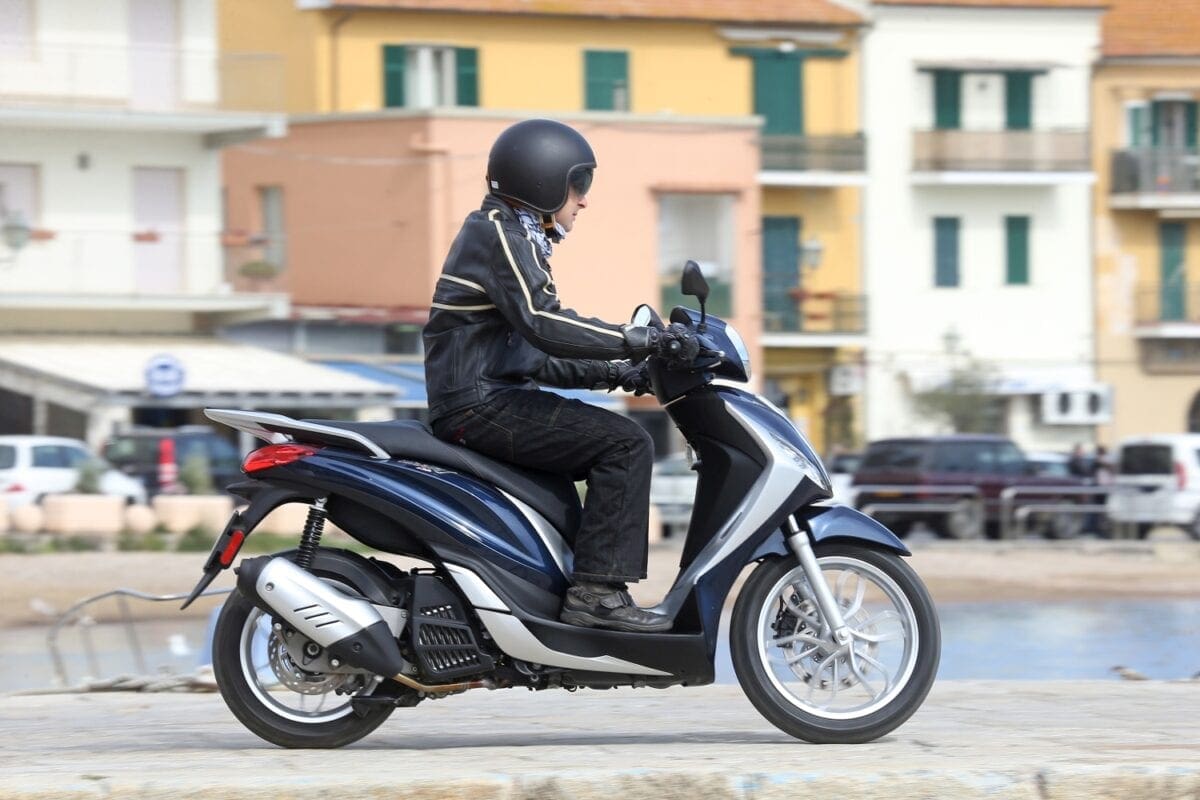 Bigger-wheeled scooters usually handle well, and the Medley is no exception, with the 16-inch front, 14-inch rears giving stable handling through town and also up in the twisties above the Italian coast, while the suspension coped well with cracked tarmac and potholes. Used hard, the ABS comes on quite early, but I'd still rather have it than not, and the Maxxis Extramaxx tyres gripped well.
As well as that big underseat space, you get a small front cubby with a USB port, but no specific phone holder. Instrumentation gives a lot of info, with speedo, fuel, engine temp, clock voltmeter and ambient temp, though if you pay £124 extra for PMP, your smartphone will give even more. We didn't get a chance to check fuel consumption, but Piaggio claims 135mpg on WMTC, the standard consumption test for powered two wheelers – don't expect that in the real world, but at least it's a guide to comparing with rival scoots.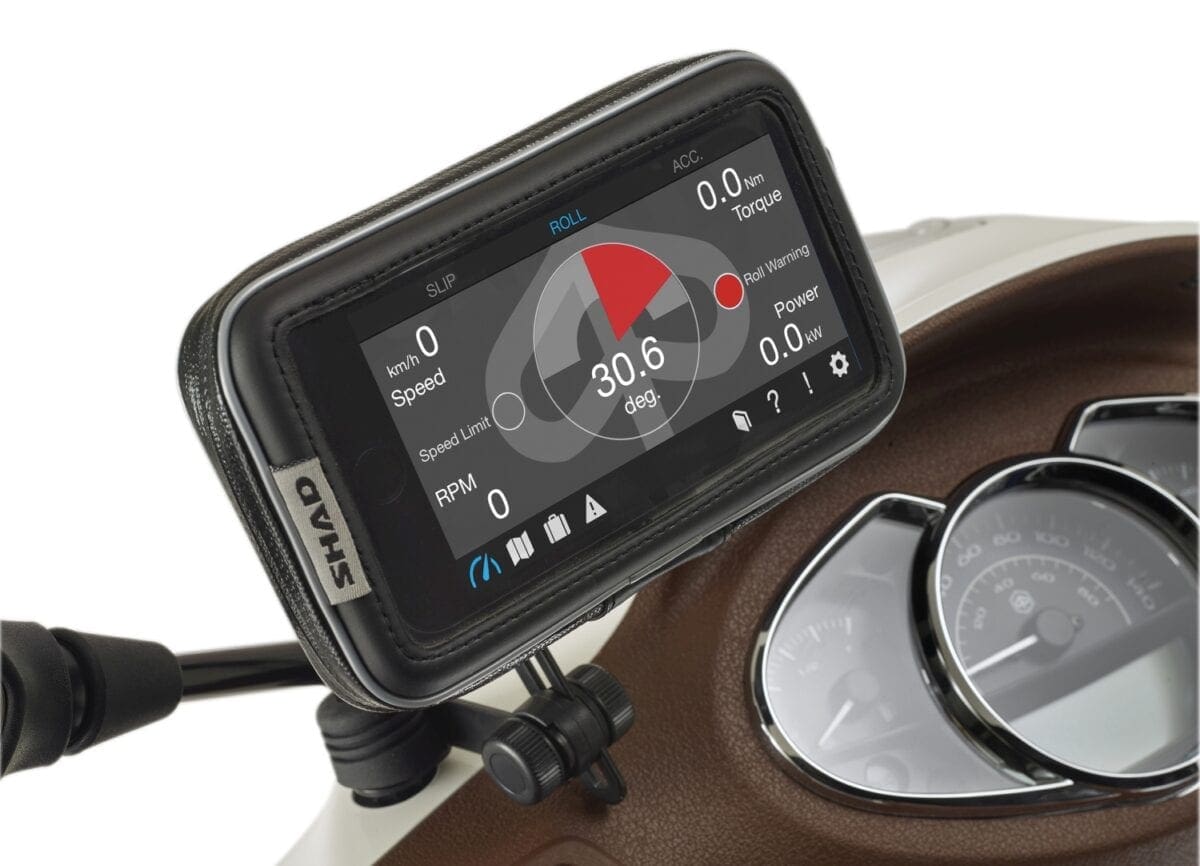 Costing £300 more than the Liberty in Britain, the Medley looks well worth the extra dosh, especially as service intervals have been extended to 6000 miles, with a belt change at 12,000.
SPEC:
ENGINE: Liquid-cooled 4-valve SOHC, 125cc
POWER: 12.3bhp @ 8250rpm
BRAKES: Disc front and rear
TYRES: Front:  100/80-16. Rear: 110/80-14
SUSPENSION: Front: telescopic forks. Rear: twin shocks, pre-load adj
WEIGHT: 132 kg
FUEL CAPACITY: 7 litres
COLOURS: White, grey, blue
CONTACT: www.uk.piaggio.com
PRICE: £2671 (OTR)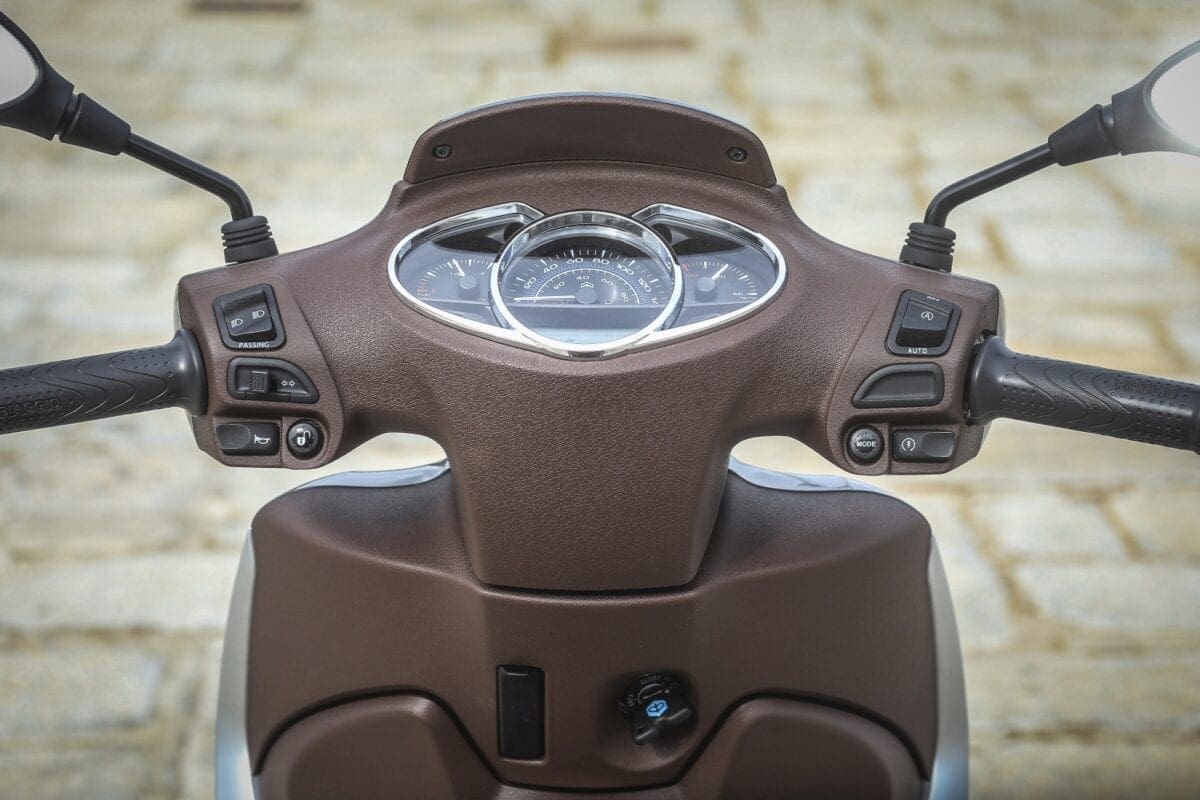 Words: Pete Henshaw
Pictures: Piaggio