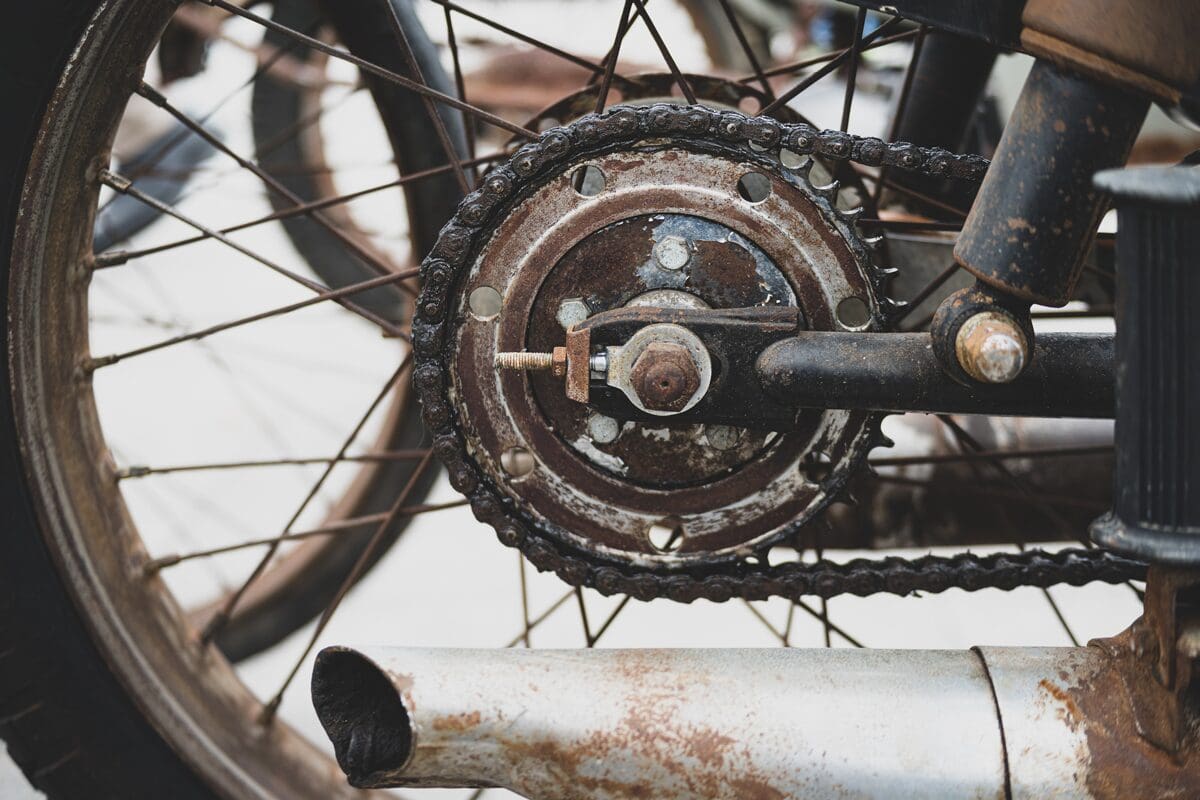 In theory, it's simple. In reality, it's simple too… as long as you keep a cool head and don't get taken in by a well-polished shiny bike. Follow our simple to use guides and you should be fine.
Buying nearly new – Bikes up to two years old
Buying a nearly new bike should be easy. The bulk of the depreciation has gone, it won't need an MoT for a while and there could even be some warranty left. Mileage should be somewhere between 4000-6000 and everything should still look immaculate.
In theory, these are the bargain buys – nicely run in but still sharp and feeling new. Dealers can offer as good value as private sales here. They have to maintain a price difference between new and used stock and they will have bought the bike in for a better price than you could ever get­it's their job after all.
Corrosion
Any signs of corrosion, especially on the exhaust down pipes, the nuts and bolts or the fork legs, suggest it's seen some winter use.
This isn't a problem, but chances are that it will be even worse under the fairing where you can't see and there's a possibility that the brake caliper pistons will be sticking too (which will also mean the discs are probably warped).
Paperwork
The bike should have both keys and both alarm fobs (if fitted) or the master key for the factory immobiliser if it has one plus all the paperwork including original sales receipts and fully stamped service book.
Exhaust
Many owners replace the exhaust for a sleeker or noisier item, which is fine as long as they still have the original. If not, at this age, then the bike may have been crashed.
It is illegal for a dealer to sell a bike for road use with a not-for-road-use exhaust fitted.
Damage
Bodywork should still be immaculate at this age and minor damage isn't always a disaster. Check for signs of crash damage and repair. Peel back stickers (which often hide scratches) and don't believe the "I scuffed it on a wall" excuses for scrapes on mirrors and handlebar ends.
Finance
Nearly new bikes are the most likely to still be on finance so make sure you do an HPI check fast.
Track bikes
Very low mileage sports bikes with scuffs and scrapes or tuned engines and uprated suspension might not be the innocent bargains that they seem.
Many ex-race bikes find their way back on to the road after a season or two. Their original bodywork, lights, clocks etc will be immaculate, so any bike that looks tattier underneath than on top should be treated with caution.
Consumables
The original chain should still have half its life left and the suspension and brake hoses will be good for another three years before needing an overhaul.
Brake pads tend to last around 5000 miles on the road and it'll probably be on at least its second set of tyres.
Batteries can be scrap after a couple of years sitting idle for six months a year, especially if there's an alarm fitted to keep draining them. Make sure all this stuff has been done.
Buying a three-to five-year-old bike – The trickiest ones of the lot
Most bikes of this age will be on their third or maybe even fourth owner. Many will have been dropped at least once and will have been personalised with aftermarket parts.
At this age, private sales are as good as a dealer. The bike should still be in decent nick, any early problems will have been sorted under warranty and because the bike was bought new before the price rises of 2009, it will still be changing hands based on old values.
Make sure you drive a hard bargain though or you could end up with a five­year-old bike for not much less than a pre-registered, delivery mileage new one.
Expect to find a tidy bike with no more than 15,000 miles showing, with most of the original paperwork, both keys and a reasonable service history.
Paperwork
Check the service records carefully. Low mileage bikes might only have had two oil changes in five years. Are there receipts to back up the service book stamps?
Don't overlook the HPI check either. These bikes are still expensive and surprisingly likely to have been written off.
Double check the bike's engine and frame numbers with those on the logbook and make sure that the names and addresses (in a private sale) match the current seller. Otherwise there's a chance this is a back street dealer.
Exhaust
If an aftermarket pipe is fitted, ask if the original is available. Some owners try and sell them separately. Ask them to refit the standard one and pay for the cost of re-adjusting any fuel I ing that's been modified to suit the race pipe. That should be enough to make them throw it in for free.
Chain and sprockets
The originals will probably be worn out by now. Hooked, filthy sprockets and a chain you can pull off them is just a £200 bill-in-waiting.
Suspension
Rear shock absorbers can have lost much of their damping by 15,000 miles and will need replacing or rebuilding (£200-800). Fork oil will also need replacing (£50 at a dealer).
Battery
Most last two to five years, so hopefully it has just been replaced. Budget around £60 if not.
Engine
Should be rattle free. Is the oil thick and golden (just changed) or runny and black (a couple of hard summers old).
Brakes
Rubber hoses will be past their best by now. Replacements are expensive but a set of braided steel items costs £100.
Get a friend to lift the front wheel off the ground and spin the wheel. Are the discs rubbing (warped)? Does the wheel run freely? If not, the calipers are sticking.
Corrosion
Have a good look behind the fairing for corroded engine cases or exhaust pipes. Most people clean the bits you can see, but few bother with the hidden areas.
Chassis wear
By this age a bike could be needing new wheel bearings, steering head bearings and swinging arm bushes, all of which could add another £500 to your bill.
Don't panic
If this sounds scary, then don't worry. Make your list of what needs fixing (don't forget our checklist from page 54) and use that list to knock money off when you're haggling.
Buying a 10-year-old bike – The best £3000 you'll ever spend… once you've read this
Private sale is best here because old bikes carry too much potential headache for dealers. Many dealers like to carry a few older bikes though because having stock at a range of prices brings people into the showroom. You're unlikely to find a truly mint 10-year-old bike, but there are some good, well-maintained machines around for not much money.
The best cheap bike is the best one you find for the money. Which means that going looking for a specific model will blinker you to some of the real bargains out there. Be open-minded and go for the best bike you find. The trick here is patience -you'll be kissing a lot of frogs before you find your princess. But better that than end up with a nightmare.
If you are lucky, it'll still have both keys and a full-service history (which means proper detailed receipts for every service, not just stamps in a book). If you're unlucky it will have a 10-year-old alarm, with one remaining, taped­together blipper, that constantly drains the battery through a bad earth and goes off every 10 minutes.
The cosmetics are only part of it though – don't be taken in just because something looks immaculate. But be realistic as well. The suspension might have lost some of its damping, but with a bit of adjustment you might be able to get acceptable handling and while the engine might not be as crisp as it once was, unless it's about to go pop, is that really a problem?
Crash damage
Get a mate to hold the handlebars straight and then get down on your knees and look along the length of the bike to make sure the wheels are in line. If not, it could just be the forks twisted in their clamps or it could be a twisted frame.
Engine
Make sure the engine is cold when you start it to see if there are any problems. Give it a few minutes to warm up and make sure the cooling fan comes on when it gets hot.
Check the oil for signs of a milky emulsion (which means the head gasket has gone) and listen carefully for rattles or knocks when warm.
If someone uses "the carbs just need setting up" as an excuse for rough running, walk away. If that's the reason, then why hasn't he done it? Smoke from the exhaust when the engine's warm means trouble.
Forks
Hold the front brake on and push down on the forks. Do they move smoothly? Are there any oil leaks from under the seals? Lift the rubber dust covers and check for old rags or tissue disguising an oil leak.
Paperwork
Scour the old MoTs for advisory notes -the things that'll cost you in the future. An HPI check is always worth doing, but don't be surprised to see some history on an older bike.
It might have been written off five years ago for cosmetic damage, but that doesn't mean it wasn't properly rebuilt and loved since then. Use it to knock a few quid off.
Consumables
Replacing worn tyres, a chain, battery, brake discs, brake pads, hoses and a clutch will cost as much again as you paid for the bike. Go for a machine that's had all this work done (with receipts) recently.
Exhaust
Unlikely to still be the original, especially on a sports bike. And the original will probably be long gone too. This is a haggling point unless the system fitted has the British standard BS 193 stamp because a road legal replacement will cost you money.