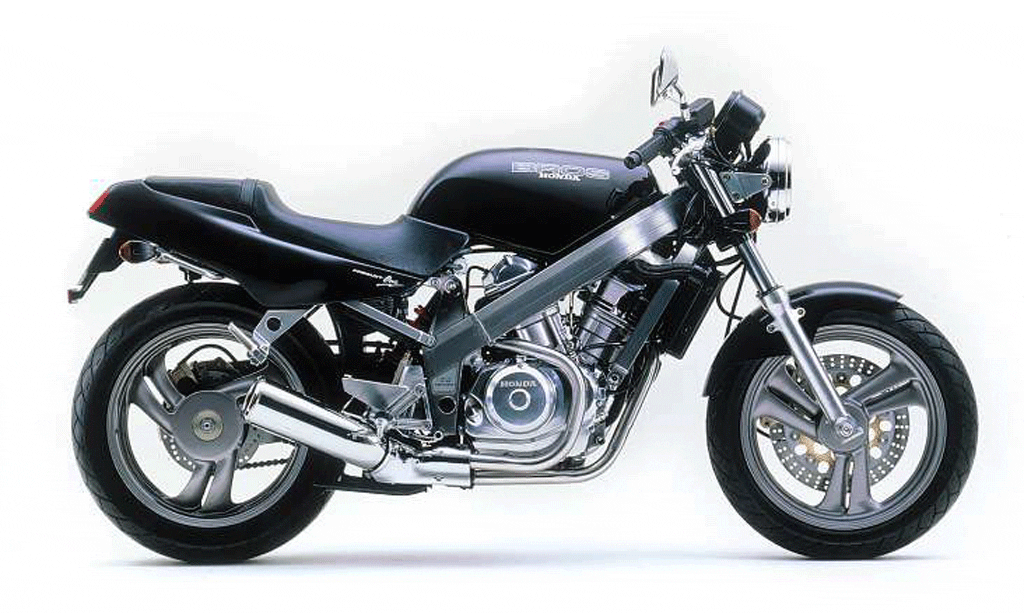 Congratulations, you've passed. This is where things get really exciting. Your first big bike will be very special indeed.
This is the machine that you'll have your best biking memories on. The one that sets you free from the queues, free from the frustration and shows just how dull the rest of your life has been up till now.
People can get very attached to their first big bike. Men (mostly) of a certain age, with years and years of riding experience, develop a strong irrational desire to revisit their first big bike; buy another one years later and restore it.
This is why classic motorcycling exists. Don't underestimate the influence this bike will have on your life. Here are our recommendations.
33HP options
There are two full licence categories. Those riders under 21 are restricted to a machine of 33bhp or less for two years before they can then go on to ride anything and those a little older can ride what they like.
This isn't as bad as it seems. 33bhp is enough to take a lightweight bike up to around 100mph, which means that you'll be able to cruise easily at motorway speeds with plenty in reserve for an overtake.
Plus, riding a 33bhp bike for a summer or two will make you a much better rider because you'll be used to using all the performance, making the most of the gears and working on your riding technique on a machine that is still beyond much of your ability but not by a magnitude of 100, like the 200bhp super bikes.
Or look at it this way- 33bhp is almost three times as powerful as the 12bhp learner machine you were riding yesterday.
Imagine that in car terms – passing your test in an 80bhp Vauxhall Corsa and being given the keys to a 240bhp Mitsubishi Evo. Suddenly things don't look too shabby. Over the next few pages, we'll show you a selection of what's out there.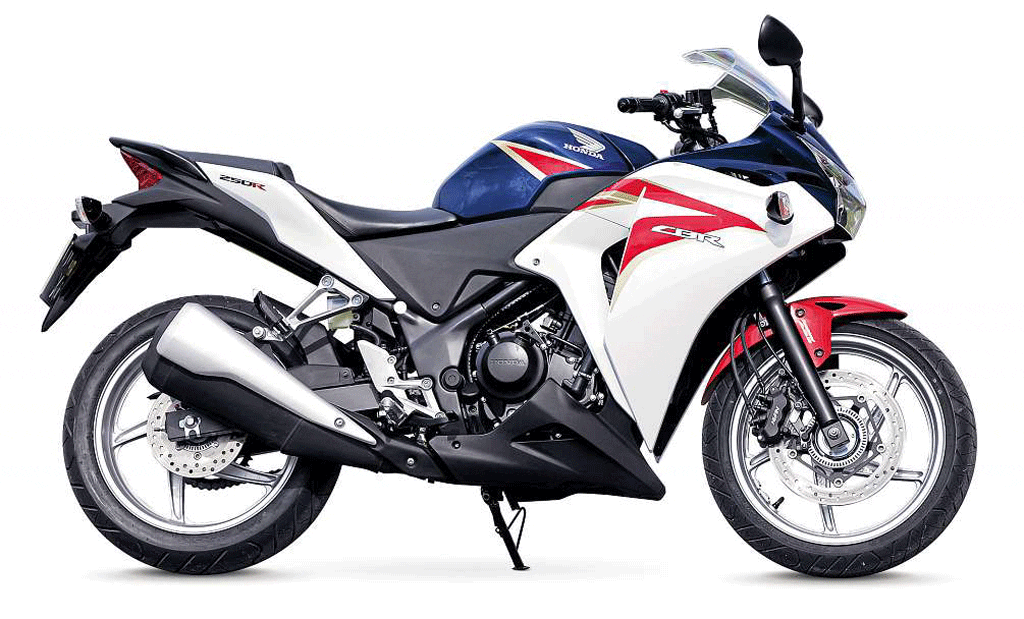 New Bikes
Honda CBR250R
New for this year, which is good, because it's up-to-date, but bad because it means there are few used examples around yet.
The CBR250R has a single­cylinder four-stroke engine that makes 26bhp and gives decent performance; enough acceleration to beat the traffic, plus relaxed 75mph cruising thanks to a tall top gear.
The CBR also scores highly on fuel economy with an easy 65mpg available even when being thrashed. Take it steady and you should see anything up to 75mpg.
The full fairing makes it look like the other CBRs and keeps the windblast off at speed while adding a couple of mph to the top speed. Plus all the usual Honda niceties are there. It's comfortable, feels well built and has the kind of neat finishing touches that Honda do so well.
The instruments look great and give plenty of information and the chassis handles well­cornering with confidence and holding the road well over bumps.
A couple of years on this would make you a very handy rider and there's enough performance, comfort and ability to make the CBR a practical all-rounder too. Long trips are no problem and at £3700 for the standard bike (an ABS option adds £300) it's highly recommended.
Kawasaki Ninja 250R
Been around for three years now which means there are plenty of used examples around for decent money if you can't afford a new one. But you'll need to be quick because they don't hang around for long.
The heart of the Ninja is a 33bhp, twin-cylinder, four-stroke engine based on an older Kawasaki (the GPX250R) from the mid-1990s which means the technology is long proven and you can expect reliability.
The baby Ninja looks the part and goes pretty well too-a good 10mph faster than the Honda, but also around 10mpg more thirsty.
Always fun to ride though, in or out of town. Wind the engine up and keep it in the top third of the rev range and you'll be surprised how many other bikes the Ninja will keep up with.
The Kawasaki also has more of a big bike feel than the Honda. It's bigger, heavier and a little more solid. Which is no bad thing as that extra mass adds a bit of ride quality on bumpy roads.
Priced at £4549, the Kawasaki is also a good deal more expensive than the Honda, but the spec is much higher and strong demand for used ones means depreciation is minimal.
Kawasaki KLX250
Dirt bike cool, long travel suspension but a low seat. Trail bikes have all the size and presence of a full size bike, with none of the size-matters sports bike prejudice.
The four-stroke single­cylinder engine has brisk acceleration to 70mph, but soon runs out of puff, topping out at 90mph when the combination of 22bhp and the aerodynamics of an upright piano (with candles) finally conspire against it.
That focused riding position also makes the KLX hard work on long journeys, but the flip side is that it's good enough off-road to handle a few paths and trails.
In town the KLX is king­nipping between traffic, soaking up the bumps with a lofty view over the car roofs. Ridden sensibly, the Kawasaki gives 65mpg, ridden like a loon that drops to 50mpg.
With a tank holding less than two gallons that means a fill up every 100 miles. At £4500, it's not cheap, but then it's not built down to a price either.
Yamaha YBR250
Simple, old-school roadster offering decent performance and good fuel economy from the 21 bhp, single-cylinder engine. The combination of 70mpg and a four­and-a-bit gallon fuel tank means you should theoretically be able to squeeze 300 miles from a tankful (£25) of gas.
The YBR is a good old fashioned motorbike using up-to-date technology. It's cheap-to-run, efficient transport; fast enough to beat the cars away from the lights, nimble enough to slip through the traffic and easy to handle too. Not flash, but definitely fun and built to last.
List price is £3799, which seems a lot for such a basic motorcycle, but there are deals to be had if you shop around.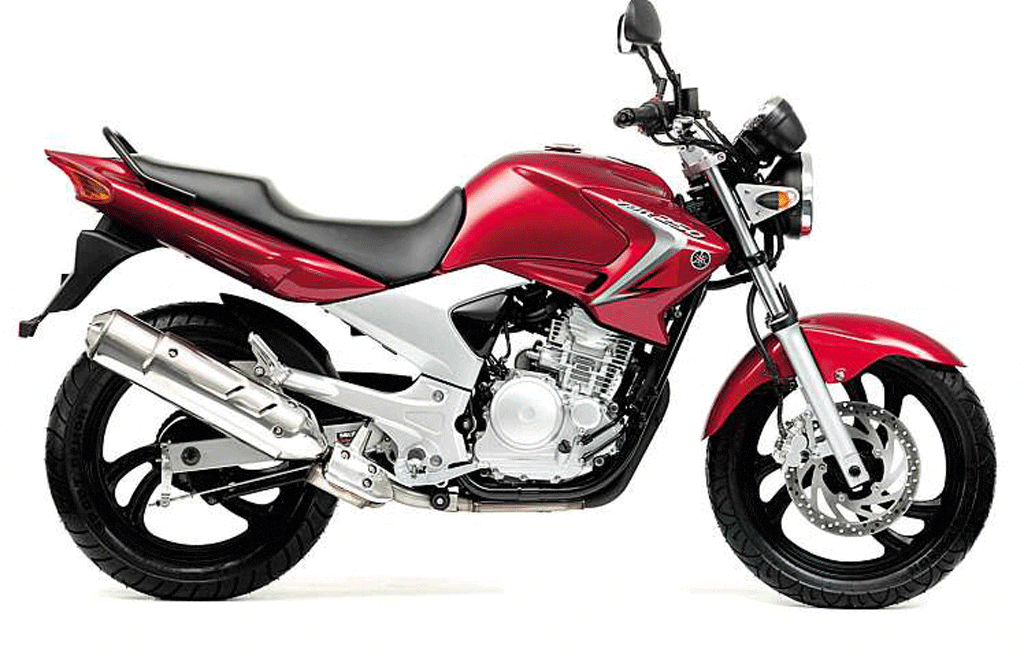 Used bikes
The 33BHP regulations caught manufacturers napping. The previous regulations had a single restriction of 12bhp for learners, but after that, anything went, so 125cc learner bikes either made 12bhp to start with or (in the case of the two-stroke machines – which make more power per cc than a four-stroke – were restricted from around 25bhp down to 12bhp.
Most of the 250cc machines made after 1980 made more than 33bhp, the only exceptions being a handful of four-stroke commuter bikes, the odd 250cc cruiser and a couple of 250cc trail bikes.
Few of these machines sold in any great numbers and those that did sell are now old and usually tired. Which might make them cheap, but the last thing you want as a new rider is a bike on its last legs, forever breaking down and costing a fortune to keep going.
The best option in used bikes by far is to buy a new(ish), smaller capacity, lightweight machine (which will be easy to handle and boost your confidence) and get it restricted. Or even better, find one that's already been restricted.
Yamaha XVS250 Drag Star
With 21 bhp as standard, you won't have to restrict this one, but you won't feel short-changed either.
Yamaha's Drag Star range of cruisers have a deserved reputation for looking good, going well and being built to last. The 250cc version uses a well-proven V-twin engine in a full-sized, low-slung chassis that feels like a big bike, sounds good and handles surprisingly well for a cruiser too.
They sold steadily when new, but you'll need to have patience to find a good one for sale -they don't come up too often.
Aprilia RS 125 (unrestricted)
If you really want something crazy, how about this? Aprilia's RS125 is the sportiest of the 125s and once derestricted makes almost 30bhp with a lightweight sporty chassis that's as fast through the corners as almost any of the bigger superbikes.
It's hard to ride well-needing focus and ability to keep the highly-strung engine on the boil and get it through the turns. But, if you put the work in, you'll learn more about how to ride fast, piloting one of these around the countryside than on any other 33bhp machine.
Honda Bros 400
If you can find a good one, then buy it because for £1000 there's no better 33bhp machine. Honda UK never imported the Bros officially so all the bikes out there are grey imports -Japanese market models imported independently in the mid-1990s.
The Bros has a low seat, a slim, sporty chassis and a great V-twin engine that makes 31 bhp in a punchy and fun way while being as reliable as your mum. It also sips fuel and, being so slender, it gets through gaps that even other bikes can't manage.
Unfortunately, all these attributes also made them the perfect London courier machine, which is where most of them ended up. So the chances of finding a tidy, low mileage (the clocks read in kilometres) example are slim but well worth tracking down.