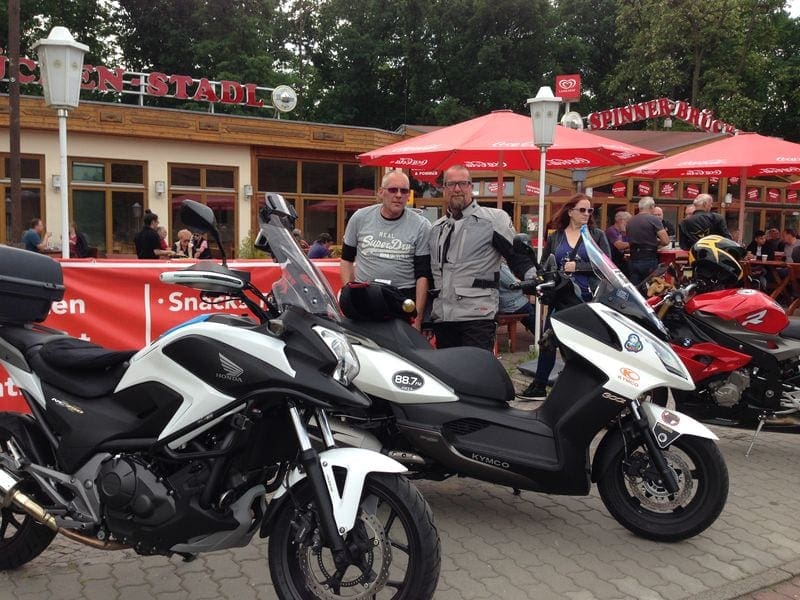 Impossible? Not to scooterist Steve Cooper and his fellow rider, Tony Green; they recently undertook a challenge to break Markus Mayer's 2015 long-distance scooter ride of 1050 miles in 24 hours. So it's over to Steve Cooper to tell us in his own words how they achieved it:
"I like France; in fact I like France a lot!
However I tend to like France a lot less when the one commodity (fuel) that we really needed, has simply run dry. Due to strikes at refineries across the country, we found there was a severe lacking, and to rub-it-in, the BP station opposite the hotel, where our ride was due to start, sat closed, mocking and vacant.
This was very annoying! Annoying because on this particular day my fellow rider Tony Green and I were setting out to prove that not only could you ride 1000 miles in a day (as collectively we both have several times) but you could safely pass the 1200 mark while at the same time attempt to break Scomadi's record of 1050 miles in 24 hours.
To verify our attempt we needed timed fuel receipts, not only for the start and finish but also to verify our way-points during our ride. Witnesses would also be required in case doubters thought that we'd fabricated any of it. On the topic of witnesses we noticed that there are very few available (especially sober ones) at around 2am in French hotel car parks! So without a receipt to prove the pair of us were there, we had to resort to photographing our bikes odometers just before we left to confirm our departure time plus our respective mileage. We'd do the same again on our return around a day later.
Tony (with just one-and-a-half hours sleep) would be riding a Honda NCX 750 and I (with two hours sleep) would be using my trusty KYMCO Downtown 300, which at the point of writing seems to have spent at least two-thirds of its life competing in endurance events. That says a lot about its ability and durability. I like my KYMCO; I like it almost as much as I like France, so a week before this ride it went to Colwin Motorcycles in Sittingbourne where it received a new belt and rollers, a pre-emptive oil change plus a pair Michelin Power Pure's. Tony would be employing the use of a throttle lock and an Airhawk seat cushion, but I declined as the Downtown's seat is already very comfortable and the throttle a very light one.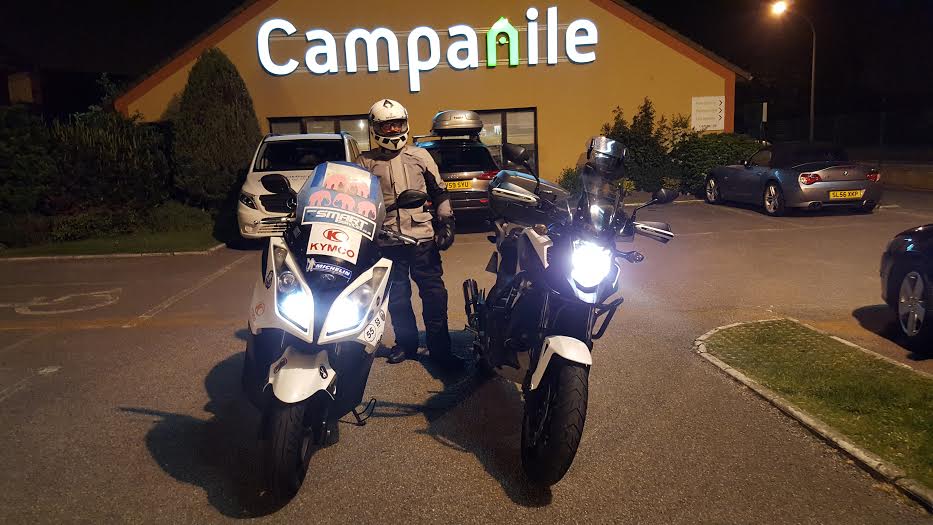 SETTING-OFF
At exactly 2.05am we mounted our respective rides, gunned their very different engines, then gingerly rode out of the hotel gate towards the coastal road that would take us north towards Oostende. Within minutes of leaving I disgraced myself by riding down the southbound slip road as opposed to the north. I stopped, kicked myself for not paying attention, turned the KYMCO around, nodded sorry to Tony then hung my head in mock shame all the way to Gent. As we rode towards it, riding parallel with the coastline, a peach-coloured moon hung in the sky off to the right for a good hour or so. I was trying to convince myself that this was a good omen.
Even though it was just past 2.30am the coastal road was rammed with freight. Overtaking it was proving to be difficult, as often two trucks would run next to each other for miles as one attempted a pathetic attempt to inch past the other.
The printed map that I'd taped to my screen for convenience decided that it didn't like being helpful, so it detached itself from the inside of my screen then proceeded to flap around like an errant sail. Another brief stop ensued while I taped it back in place. The tape I was using was as blue as the language I was using!
That done we pressed on, swinging east for Antwerp, then broke-off right after a couple of junctions for Duisberg, Essen and Dortmund.  We were heading for Berlin where we would meet our witnesses, briefly eat then return to Calais aiming to complete the attempt in 22 hours. We ideally wanted to complete fuel stops no longer than 15 minutes and stretch our fill ups to 150 – 170 miles per tank, so this should equate to two-and-a-quarter hours of riding between fill-ups.
Our progress to Essen was a quick one as the roads were nice and empty but as we reached the city limits we had to slow to an agonising pace. The Autobahn turns into an 80k limit as it trundles through the town centre parallel to the tram stations. It felt like someone has put an invisible thumb on your screen as you wrestle with the morality of breaking the speed limit. Dortmund felt very similar, but had no such delays due to a deep viaduct cutting the town in two. Our speed increased as we press on for Kassel where we are treated to the beauty of the German countryside. For the next couple of hours all we could see were green rolling fields of corn being tossed around by the wind. It was so beautiful it could well have been CGI. I had to keep reminding myself to keep looking forward and not either side of me at the gorgeous flowing vista that stretched for miles in each direction. We were making great progress until we encountered a three-car pile-up that blocked both lanes of the Autobahn. As we picked our way through the traffic our progress was accompanied by a crescendo of drivers leaning on their horns at the audacity of us 'English trailblazers' trying to make a way to the front. Is filtering through traffic illegal in Germany? Even if it is prohibited, we weren't going to sit in traffic when we could see clear roads ahead. We were in a bit of a rush after all!
At our next fuel stop we called upon our witnesses at Berlin to confirm our ETA at the Berlin city limits. Once completed, we pressed-on for the loop around Kassel. We stopped for a brief glance at the map as the sun looked like it was in the wrong place. It felt like we were heading in the wrong direction, but once we'd checked the map to reassure ourselves we were heading East, we remounted then cracked on toward Leipzig Airport to avoid the city's centre. With the planes on our right, we sped toward Berlin and seemed to be bang on time for our liaison. Moments later, as we joined the 'on' ramp for the Berlin Ring Road, everything stopped – for miles!
We both assumed that it was due to an another accident, but as we slowly edged through the traffic we realised that three out of the four lanes had been conned-off for repainting the white lines! All the vehicles converging into this bottleneck had their doors open, which is always a sign that they'd been there a fair while. The stack of trucks and cars found themselves all having to funnel into the last remaining lane, which by the time we got to the front, was creeping forward slower than an asthmatic snail. As we again once gingerly meandered our way through the traffic, another crescendo of horn blaring erupted in our wake. Even a German biker broke lose to tag on the back of our rebellious train. Once we were finally clear of the logjam we sped on to meet our first witness who was patiently waiting at the old border post between Brandenburg and the outskirts of Berlin. Introductions and apologies were made and we were taken to the Spinners-Brucke on a Vespa GTS to where we'd meet our second witness.
The Spinners-Brucke (or Mad Bridge) is a famous motorcyclist's hang-out which is usually heaving with bikes and scooters at the weekend; it provided a perfect launch pad to our turnaround point at Avus just 10 minutes away.
We were touched by a stroke of genius – while we fuelled-up and headed up the dual carriageway for Avus, witness number 2 would order our food and by the time we returned it would be on the table. Awesome!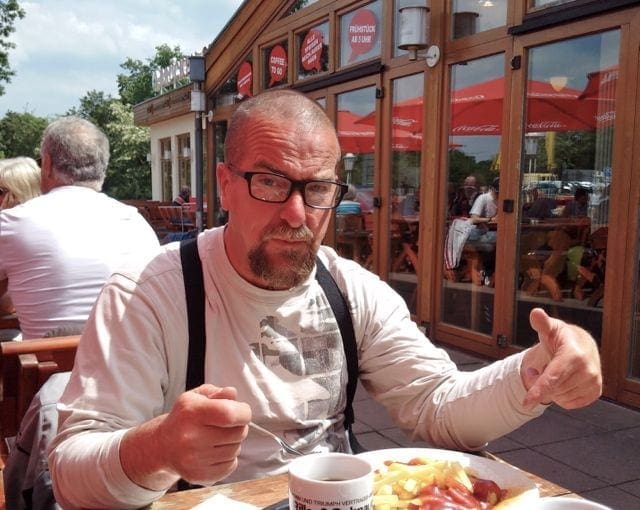 Just before we filled our tanks for the return journey, a moment of weirdness materialised. As we rode into the petrol station opposite, we both saw a man at the back of a box van with a set of trimmers giving another man a haircut while three more 'customers' watched on… Very odd! That wasn't the best of it. Tony then saw a guy get out of a car on the station's forecourt and start playing his guitar to anyone who would listen. Maybe if we had time to stay we could have thrown money, or at least learnt the chorus, but thanks to the earlier traffic jams we were running behind schedule, so we re-joined the road to Avus to pose in front of the famous hotel.
As the hotel would be our furthest point on the ride, proof would be needed to document that we'd been there, so we took turns to pose in the layby opposite a gauntlet of imposing rusting grandstands. I'll explain…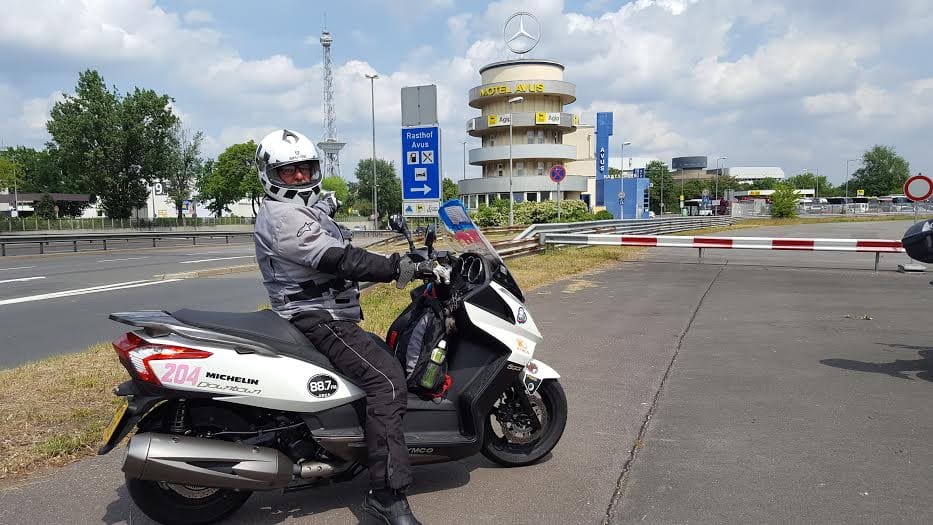 Avus is the site of a racing circuit and the hotel used to be commentary box/viewing point at the end of the straight. They raced there from 1921 to 1998, so rather than waste precious minutes riding into Berlin central we thought that it would make an ideal landmark to start our return journey. Pictures taken we worked our way around the back of an enormous truck park and back on to the road to where our food was waiting.  We arrived back to discover that it was delicious as the menu said it would be. We did our best to be convivial to our hosts, but both our minds were still racing, so after 45 minutes rest we got kitted-up and ready for the return journey.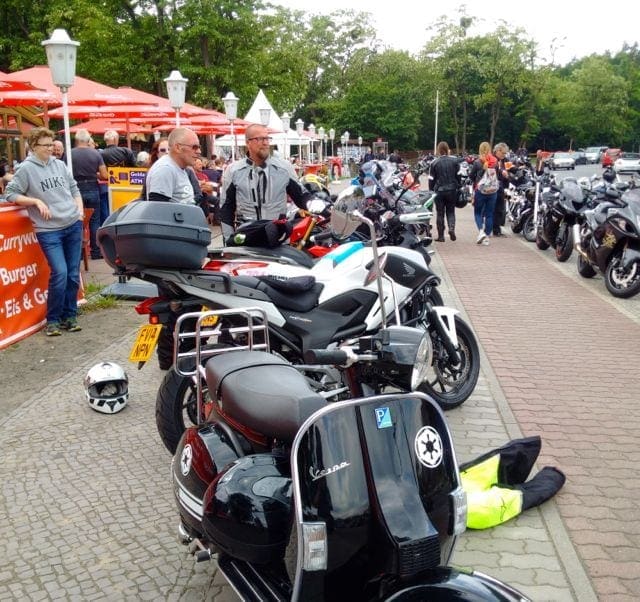 RETURN TO SENDER
By now it was 1pm and we had already covered 639 miles so all we needed were another 561 and we were done.   Ahead on mileage we scrapped a route that would take us further north into Holland, then left it up to the Nav to get us home. Oddly enough it came up with exactly 561 miles, so we hit confirm and left. As we re-joined the ring road to head back west, the traffic on the opposite side had actually got far worse. We rode for about seven miles, but all we could see in the opposite carriageway was stationary traffic bumper-to-bumper whereas all we had were clear empty roads. Now I've always thought of the Germans as the masters of organisation, but to almost close the capital's highway at the weekend is shambolic.
The Autobahn '2' took us in the direction of Hanover in a very speedy fashion, so it swiftly became a pattern of ride, stop, fuel, nibble, drink then repeat. There was a bit of levity caused by a road sign outside Essen announcing we were passing the town of 'Wankum'. The dark cloud that we spotted on the outskirts of Antwerp didn't look that menacing at first, but as we got closer, it grew a black as pitch while lightening started to flash diagonally across our path. A few moments later the deluge started. Biblical 'Matrix' rain landed on us with such volume that Tony's Nav started to scroll through its own menu unaided. Two cars drowned me as they overtook and created two graceful identical bow waves that washed over my legs as they passed by on either side – Nice! It was the kind of downpour where the raindrops are so 'fat' that they bounce back up off the road – but to the Michelin's credit, they cut though the deluge beautifully.
As we were about 150 miles out from Calais and roughly two hours from journey's end, we decided not to sit it out under a petrol station forecourt, but plough on through the storm. Soon after deciding to press on, I felt the first trickle of water breech my waterproofs and cascade along the seam of my thigh sending a cold shiver down my spine.
UPPING THE ANTE
Whichever direction we rode the storm seemed to pre-empt our intended transit and adjusted its course accordingly. With the rain slowly petering out behind us, we retraced our route around Antwerp's ring road, then got our heads down for the final blast to the coast. Our penultimate fuel was coming, so as we were both wanted to end on a high, we agreed to up the anti.
We had been riding for around 20 hours and although we were aiming for 22 hours to complete the ride, 21 was looking possible so we stiffly got back on, engaged in a brief conversation about breaking the speed limit and gunned it toward the hotel for the finish. I have to say that even though you are riding with a friend, it can also be a very solitary experience. The coastal road back to Calais is dangerous enough during the day, what with a never-ending crosswind and lunatic lorry drivers, but at night it can be positively scary. There's very little lighting where there should be, plus a multitude of slip roads stream-in from the right containing drivers that have no idea how to merge… They just pull out! Whatever the risks, we chose to ignore them because we were minutes from finishing. Granted riding at around 85 mph over many of the blind brows seems reckless now, but at the time it felt justified. Sadly our misdirected efforts were all in vain as we finally rolled in at 11.15pm, making our time 21 hours and 10 minutes with a total of 1214 miles ridden.
At the finish, both of us were totally shot to bits but never-the-less excited at achieving our goal and breaking a record. We congratulated each other, then stumbled, John Wayne style, to our respective hotel rooms to catch-up on some much-needed sleep.
If you ignore our stop at Avus, we averaged 60 mph while consuming £160 worth of fuel, while attaining 60 mpg – which I thought was pretty good going! My only real casualty was a blister on my right thumb from holding the throttle open, twinned with a pair of tender buttocks – and 'NO' I'm still not going to use an Airhawk or throttle lock! The Downtown in response had one 10mm nut loosen-off a little around the rear mudguard. It didn't even fall out. The oil level remained the same throughout. That's not bad considering that this is the third time I've put this scooter through this special kind of torment and a testament to its reliability and build quality that it hasn't shown even a hint of failure.
I'd like to thank Tony, KYMCO UK and Colwin Motorcycles Sittingbourne for their never-ending support and interest. Tony has an air of cold determination that borders on being obsessional; believe me that's a good quality to have when riding long distance. He's the complete opposite of my last team-mate on a previous adventure, who at 900 miles, did an amazing impression of the GTS I was riding and fell to bits!
So with 1200 miles in 24 hours under my belt, is there anybody else up for the challenge?"
Steve Cooper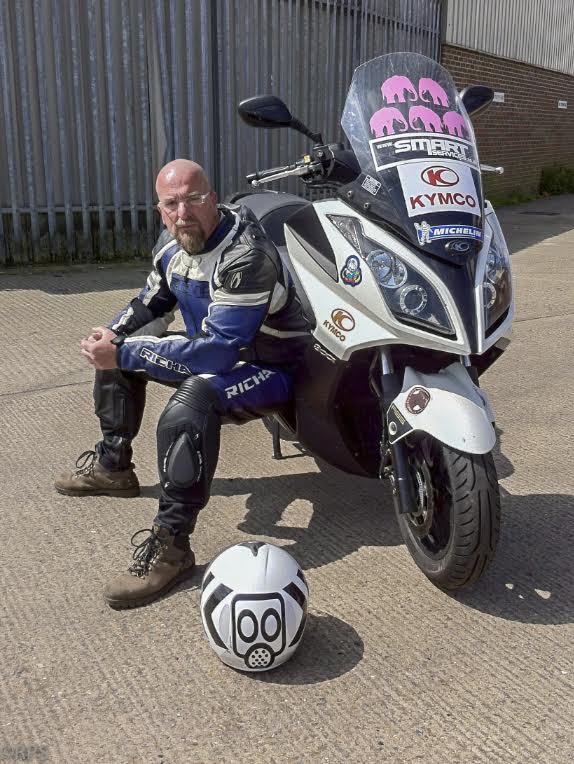 ---
Advert
---
Enjoy everything More Bikes by reading the MoreBikes monthly newspaper.
Click here
to subscribe, or
Read FREE Online
.
Sign-up to the More Bikes Newsletter
Enter your e-mail address below and get regular updates straight to your inbox… You can unsubscribe at any time.